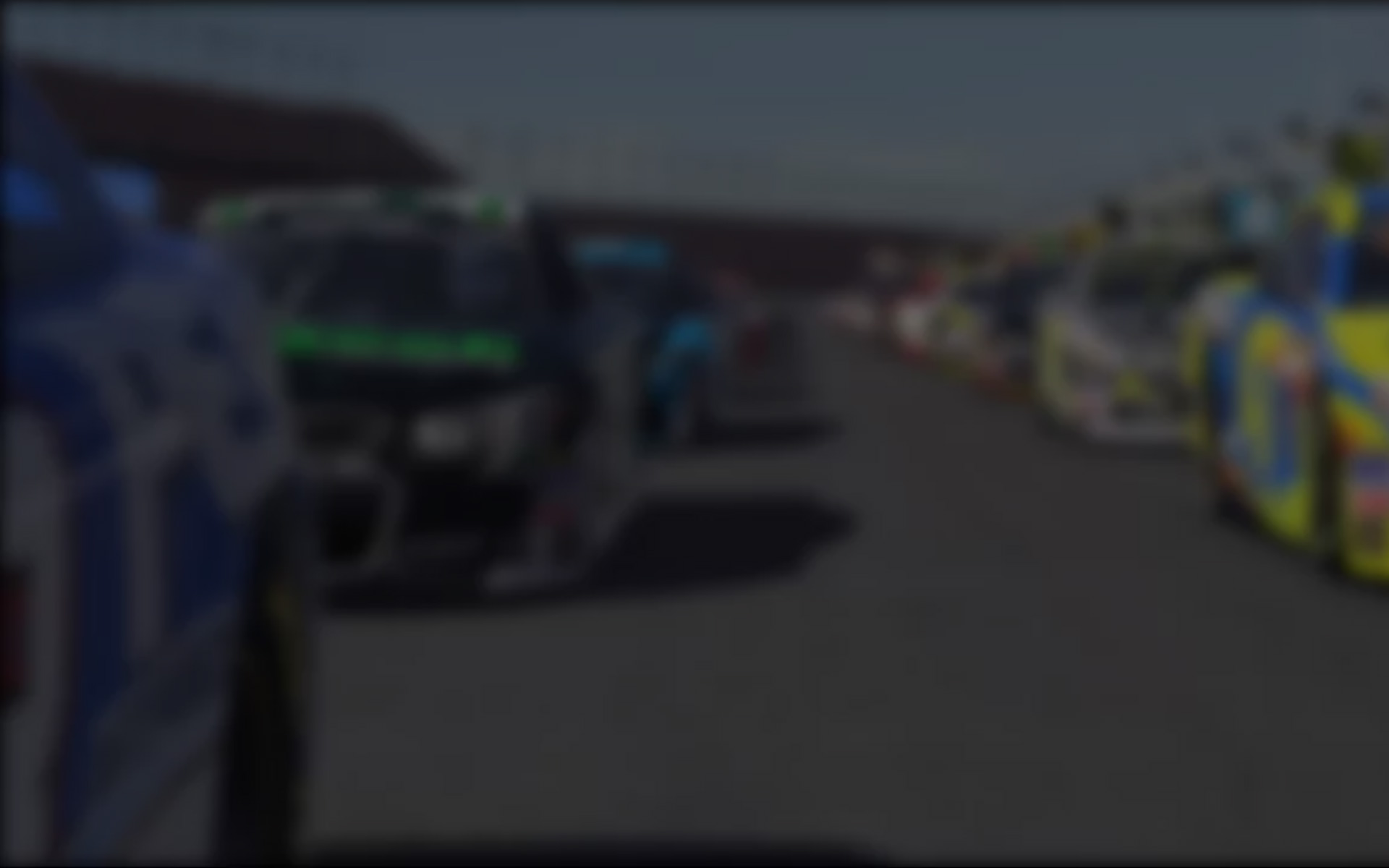 September 22nd, 2014 by JaimeB
22 year old sim racer James Frizzell has been able to work his way up to the top ranks of iRacing through his consistency. Since beginning his iRacing journey just 15 months ago, Frizzell has already established himself as a consistent driver, with 14 career oval victories in 300 starts and nine road course wins in 189 starts.  However, it is his top five statistics that are truly outstanding:  Frizzell has finished in the top five in over a third of the oval races he has run, and in nearly half of his road course starts. When he isn't winning, he is getting his car to the finish in one piece.
Although that consistency may not be quite as important in sim racing as it is in real racing, his steady, clean driving has earned Frizzell a Class A license in both oval and road racing, with a 2610 road iRating and a 4288 oval iRating.
When he isn't in his home sim racing, James Frizzell is in a classroom, studying applied economics at UNC Greensboro. You can learn more about James in this week's edition of Get to Know…
Q:     How long have you been sim racing?
A:    I've really been into sim racing since 2009 or so, when I got my old copy of NASCAR Racing Season 2003 back out and bought a Driving Force GT Wheel (I've since upgraded to a G27).  I actually used to race Papyrus' NASCAR Racing 1994 and 1999 Seasons on a keyboard (and later joystick) when I was little, but I definitely didn't treat it as a "simulation" back then.
Q:    How did you get started in iRacing?
A:    I used to watch Kevin O'Keefe's and Matt Orr's YouTube videos and I had gotten tired of racing the AI and the occasional league on NR 2003, so I decided to give iRacing a try in June 2013.  The cost always was a put-off to me but, though I can't sugarcoat that this game is expensive, I think the enjoyment has proved to be worth it.  I quickly gobbled up hundreds of dollars' worth of both oval and road content and the rest is history.
Q:    Which race car driver in any racing series do you like the most?
A:    I've been a Jeff Gordon fan ever since I can remember.  I started watching NASCAR when I was a toddler and I can't ever remember liking anyone else.  I don't necessarily root for anyone in Indy or Formula 1, though I do watch both.
Q:    What type of hobbies do you do outside of iRacing?
A:    I enjoy meteorology and do a lot of posting on weather forums.  I also mountain bike when I can, which unfortunately isn't that much these days now that I am in graduate school.  I also enjoy Microsoft Flight Simulator and strategy war games like Hearts of Iron III and Victoria II.
Q:    What is your most memorable experience on iRacing?
A:    At the moment, I would say winning the NiS Fixed second split race in June back at New Hampshire is my most memorable experience.  I've had greater points races since then in the top split, but actually winning one of those long NiS races was so rewarding, especially since I choked away an earlier victory in the full-length NiS Coca-Cola 600 in May.
"Oftentimes, I'll take a 20th-place car and end up in the top 10 at the end just by playing it smart and avoiding the carnage."
Q:    What car and track combination on iRacing would you like to drive in real life?
A:    I feel like the Dallara DW-12 at Montreal is an awesome combination.  The slow-speed chicanes are a lot of fun as it's tricky to get the power down.  My only hesitation is that those walls are close and it would probably hurt when I inevitably crashed into them…
Q:    What type of racing do you like to watch on TV?
A:    I watch NASCAR, Indy, and Formula 1.  I have watched NASCAR since I was young in the 1990s, but I only started watching Indy and F1 in recent years.  I also watch the 24 Hours of Daytona and the 24 Hours of LeMans yearly.
Q:    If you could drive in your favorite series, what team would you want to drive for and why?
A:    I'd want to drive for Hendrick Motorsports because Jeff Gordon has always been my favorite driver and you can't argue they have some great equipment this season with a combined 10 wins in the first 25 races.
Q:    What is your favorite racing series on iRacing and why?
A:    I enjoy the NASCAR iRacing Series the most.  I like longer races where I can pace myself and the NiS Series is perfect for this.  Oftentimes, I'll take a 20th-place car and end up in the top 10 at the end just by playing it smart and avoiding the carnage, even if I lack top 10 speed.  My second favorite series is IndyCar Road.
Q:    If there was one thing you could change about iRacing, what would it be?
A:    Give me a combined road/oval full-length series for the DW-12, just like the NASCAR iRacing Series.  I realize this is hard because iRacing doesn't have a lot of the Indy street courses, but it would still be great fun.  I also would support car-specific iRatings.
Q:    What is one thing that you love the most about iRacing?
A:    I just love the competitiveness and the flexibility.  I have grown tired of racing AI opponents and I always hated being boxed into just racing in a league once per week.  Instead, iRacing allows me to race other humans at almost any time I want, which is great.  Even for more league-like series such as the NiS, you have three-four opportunities per week to race, so even if I can't race on Thursday night for whatever reason, I can still possibly race on Sunday night.  I also love that most drivers race cleanly and respectfully.
Q:    Overall, how do you rate your success on iRacing?
A:    Frankly, I've been more successful than I ever expected coming into iRacing, especially on the oval side.  I was always pretty average in NR 2003.  I'm still not necessarily fast, but I'm usually pretty consistent and tend to stay out of trouble as much as I can.  I think I am certainly a decent oval driver and can at least keep the car on the track on the road side, which is often good enough to net halfway decent finishes.
---
You may also like...
---