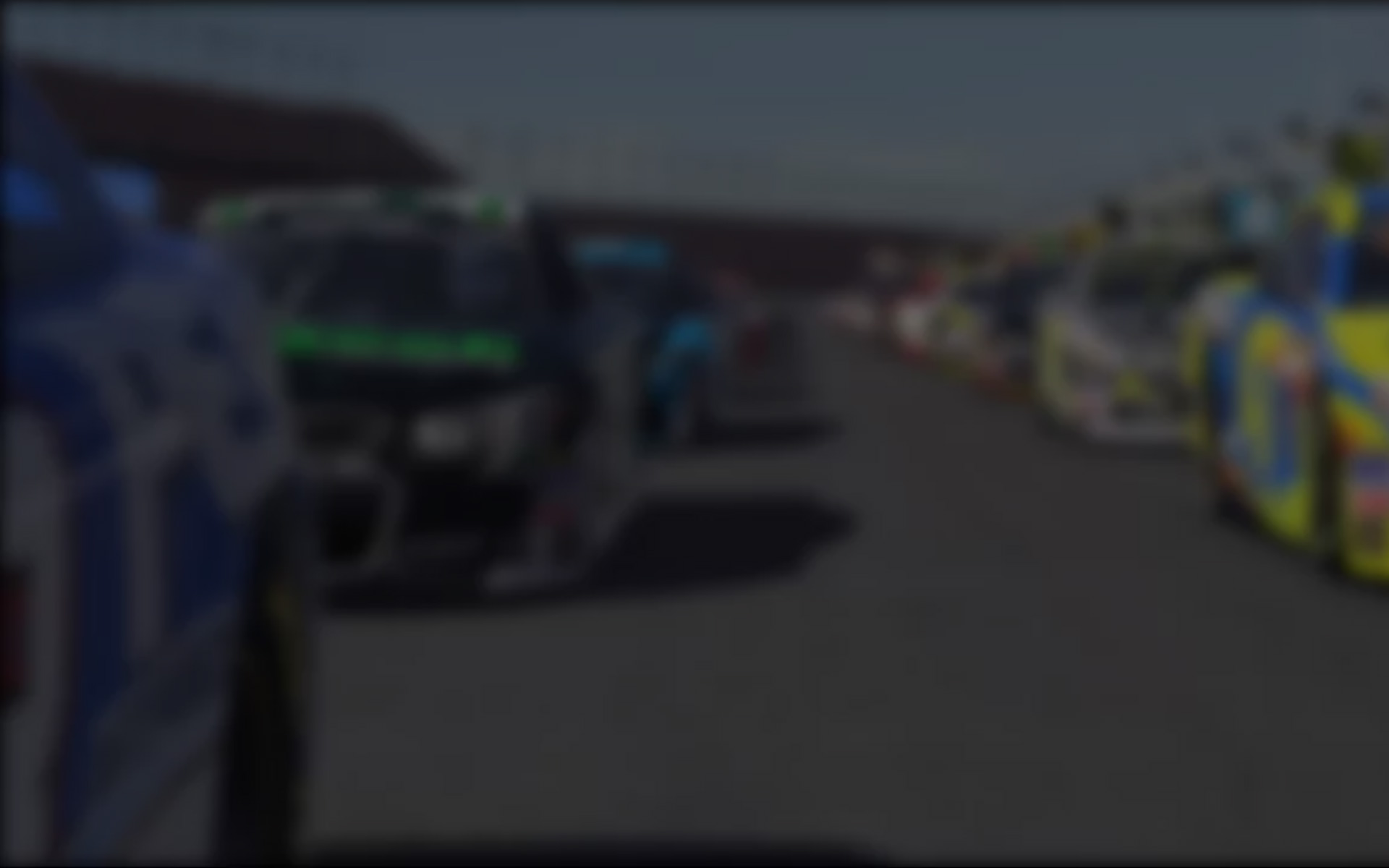 September 17th, 2012 by DavidP
Before I start, the reason there was no article last week was because I had lost internet connection and did not get it back for a week, hopefully this won't happen again.  — David
This week's featured iRacing member has accomplished a lot in the four months he has been on iRacing. He has earned a Class A license on the oval side on the simulation, an iRating of 3188 and has started a grand total of 335 oval races, all while attending LeMoyne College in Syracuse, New York. Although he has only been on iRacing for a few months, he has been racing on motorsport simulations for 10 years and it doesn't look like he will be stopping any time soon.
It has only taken Matt Stallknecht a few months to accomplish so much on iRacing. He has won 16 career oval races, including wins at Daytona International Speedway, Bristol Motor Speedway, Charlotte Motor Speedway and South Boston Speedway.
Q:    How long have you been sim racing?
A:    I've been sim racing for quite a while now. My first sim was NASCAR Racing 4 which released back in 2001, but I never really got a chance to delve into the game as it crashed my parent's computer about a month after I got it!  I mostly played console racers after that and discovered online league racing back in 2007 on NASCAR 08 for PS3. Since then, sim racing has become a competitive outlet for me and led me to try games such as NR2003 and rFactor.
Q:    How did you get started in iRacing?
A:    During my online racing tenure on EA Sports' NASCAR games, I would frequently hear people talking about this new game called iRacing which at the time was being released soon. As time went on many people I raced in online leagues, including folks such as Michael Conti, Nick Ottinger, and Alonzo Morales, migrated to iRacing and told me and many others in the console community about how awesome iRacing was and how it had revolutionized online racing. I was initially reluctant to migrate over to iRacing myself, but after getting a chance to try the service at the 2011 Indy 500 I finally decided that enough was enough and that I had to join the service myself. So I saved up some cash for about a year and bought a brand new computer and an iRacing subscription earlier this year and I haven't looked back since.
Q:     Which race car driver do you look up to the most?
A:    I look up to so many drivers…it's tough to choose just one. If I had to pick, I'd have to go with Joey Logano. We're really close in age and he's also from the Northeast like me, thus I've always really identified with him as a result. He is living out the dream life I've always wished to have. Plus, I like how he races and I feel him and I have a similar on-track style.
Q:    What type of hobbies do you do outside of iRacing?
A:    I am a sports junkie, so my hobbies outside of iRacing include playing and following the traditional stick and ball sports (and racing of course!). I am a big Atlanta Falcons fan and a huge fan of Syracuse Orange basketball and football. I am a bit of a health nut, so I spend quite a bit of time at the gym working out and focusing on staying in shape. I would also be remiss if I didn't mention another big passion of mine: writing. I write for a racing website called Frontstretch.com and I am currently majoring in communications at a small private school called LeMoyne College in hopes of one day becoming a full time sportswriter. My dream is to one day work for a major sporting news outlet such as ESPN.
Q:    What is your greatest accomplishment on iRacing?
A:    My career is still young here on iRacing, but if I had to pick, my greatest accomplishment thus far on iRacing would probably be a win I had at Talladega in the B Fixed Series. The race was stocked with a number of Pros and high iRating A Class drivers such as Bryan Blackford, Joshua Gerrald and Derek Crone to name a few and it currently stands as my highest SoF win at a 4015. I nipped Blackford at the line after a late race restart and it felt awesome to run up front and win against such a group of talented racers.
"I strive to be the best in everything I do, and sim racing is no different."
Q:    What is one long term goal that you hope to still accomplish in iRacing?
A:    In the long term, my goal is to one day earn my pro license and compete full time in the Driver's World Championship. I strive to be the best in everything I do, and sim racing is no different. I have a ways to go before I fulfill this goal, but I plan to work hard and improve as racer so I can fulfill said goal. I am confident that one day I will have that black stripe on my bumper, and I will do whatever it takes to get it.
Q:    What type of racing do you like to watch on TV?
A:    If it has four wheels and goes faster than five mph, I will probably watch it. I love all types of racing, but my favorite has and always will be NASCAR. I have loved NASCAR since I was very young and my interest in the sport continues to grow by the day.
Q:    How do you think your fellow iRacers see you?
A:    I think my fellow iRacers see me as a very competitive and clean driver who is also very aggressive, sometimes to a fault. I try my best to race others the way they race me, but I am still trying to find that perfect balance of controlled aggression and patience. Even though I am sure I have ruffled a few feathers since I've joined up here, I am confident that my fellow drivers see me as a guy they can count on to race them clean, but also race them hard. I am a passionate and competitive person at heart, and that certainly spills out into my driving style.
Q:    Who is Matt Stallknecht outside of iRacing?
A:    I have a pretty busy yet rewarding life outside of iRacing. As stated earlier, I am a college student (currently a sophomore) and I am very focused on my academics as I try to fulfill my dream of becoming a sports writer. Outside of that I'm a pretty typical 19 year old guy. I love to play/watch sports, party, and hang out with my boys and just generally have a good time. I enjoy watching and going to sporting events, movies, traveling to new places, stuff like that. I have a lot of friends and a loving family that support me in just about everything I do. I take pains to keep my iRacing life separate from what I have going on in real life, and thus iRacing very often takes a back seat to real life stuff when I have a lot going on. I also work part time at Dick's Sporting Goods selling shoes. So I definitely have a lot to keep me busy!
Q:     If there was one thing you could change about iRacing, what would it be?
A:    iRacing has done a great job with building a truly realistic simulation, but there are a few things I feel could be improved. I'd like to see dynamic track conditions at some point which would encourage us to move around the track and adjust our cars more during longer races. I'd also like to see plate racing be improved a bit so that it is more lifelike and less reliant on the two car tandem.
Q:    What is one thing that you love the most about iRacing?
A:    The thing I love most about iRacing is the fact that it is so lifelike. I've always wanted to race in real life, but financial and logistical issues prevent me from doing so. Luckily, iRacing is realistic enough to whet my appetite for real, competitive racing and it also offers a platform to bring the best sim racers together. I love what the folks at iRacing have built and it only continues to get better by the day.
Q:    Overall, how do you rate your success on iRacing?
A:    I would rate it at a C or C+. I have a lot of work to do in improving my ability be consistent out on track, and also to build competitive setups. Having said that, I feel I've accomplished a lot so far in my short time here and I am proud of the results I've delivered thus far.
---
You may also like...
---