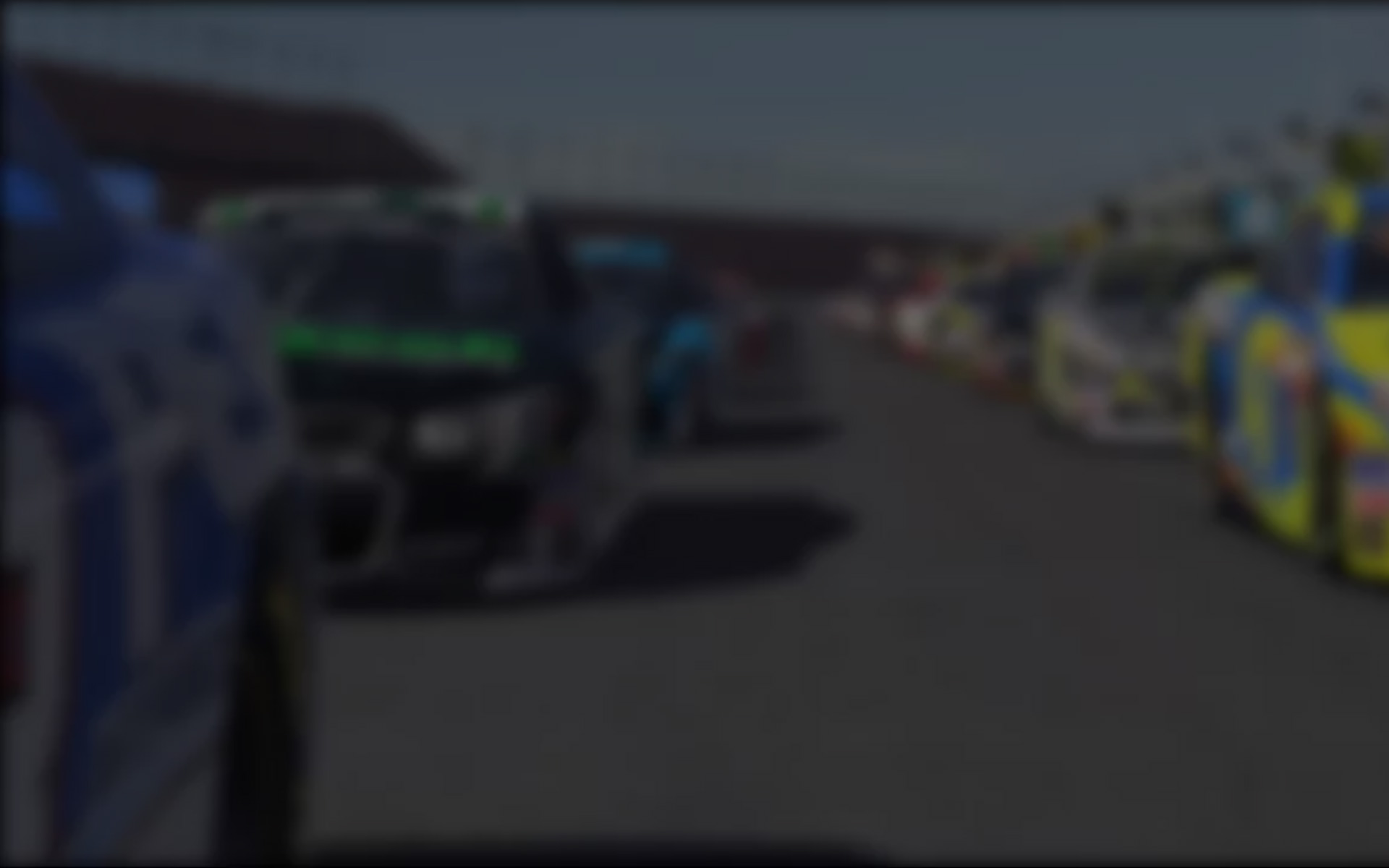 New York iRacer Nelson Rivera has been around the online racing service for a while, eight years and two months to be exact. A member since March of 2007, the soon-to-be-fifty year old is a well-seasoned veteran of iRacing and has achieved a lot in his sim racing career. In 632 total oval starts, he has amassed 27 victories and 235 top five finishes. In addition, he has also made it to the virtual championship stage in several series' on iRacing, most recently in 2011 when he captured the overall championship in Season 1 of the NASCAR iRacing Class B Series Fixed.
Join me in learning more about Nelson Rivera in this week's edition of Get to Know:
Q:     What attracted you to racing in the first place?
A:     I actually have to give this some thought because I'm not actually sure. I guess it was around the time my parents purchased their first car when I was 14 and yes, they were already in their 40s. You see, I was born and raised in The Big Apple where there wasn't a necessity to own a car because of the availability of NYC's transit system. The car was a used '73 Chevy Nova that I immediately fell in love with. Now my interest was focused on cars and this was the same year that CBS first broadcast NASCAR races flag-to-flag. In fact, I started watching anything with wheels that was broadcast on the tube so I was officially hooked at that point.
Q:     When did you start sim racing and how?
A:     I first learned of sim racing back in '96 while reading an article Stock Car Racing magazine about the Papyrus NASCAR sim. I remember thinking at the time how cool that would be to try but was disappointed to read that a PC was required which I didn't own at the time. That changed about two years later with a brand new Compaq PC. This was late in '98 I believe and Papyrus had released its updated sim, NASCAR 2 with the optional truck expansion pack. I also purchased a Microsoft Sidewinder wheel and peddle set and my sim career had begun.
Q:     How invested, would you say, are you into your sim racing?
A:     Hard to say. It's been about 16 years since I turned my first laps so I wouldn't be surprised if the financial cost at this point is in the five figure range.
Q:     Your most memorable race on iRacing and why?
A:     It's hard to pick just one but there are two moments that immediately pop into my head and the more recent of the two happened in what I believe was the first or second ever Pro Series season on iRacing back in 2010. It was at New Hampshire when I scored the most points for the week, outscoring the best sim and real racers at that time. https://www.iracing.com/iracingnews/iracing-news/new-hampshire-surprise
The other moment was back in 2000 I believe, in the Papy days when I scored a win at Daytona (modded version of Talladega) in a race sponsored by Thomas Superwheel (TSW) in which the winner received a wheel and peddle set courtesy of TSW.
"The car was a used '73 Chevy Nova that I immediately fell in love with."
Q:     What other hobbies do you do outside of sim racing?
A:     Currently I try to stay fit by cycling as I much as I can. I have a cycle trainer that mounts to the rear wheel that allows me to do this indoors during the colder months. This also transferred into an interest in watching the pro cyclist compete on TV in such events as The Tour de France and so on. I have mad respect for what these athletes can do.
Q:     What job, if any, do you do in real life?
A:     I work for Verizon as a Field Technician installing FiOS in the Newburgh, NY area. I've worked for them for 28 years and I really enjoy installing what I consider a superior product. I just wish one day that it would be available to everyone.
Q:     Funniest moment you have had on iRacing?
A:     I really can't think of any funny moments off the top of my head but if there was such a moment, I'm sure it was something I read in the iRacing forums a time or two. As we all know, they can be very entertaining at times.
Q:     Most bizarre moment you have had on iRacing?
A:     This is an easy one to answer. It was late in a Pro Series season a few years back and naturally, with only a couple of races to go, the competition was intense as qualifications for the iRacing Drivers World Championship were on the line. I don't quite remember where the race was but I believe it was a 1.5 mile speedway. We were under caution during the race and I had just exited the pits with the "one to go till green" message from the spotter. While trying to catch the tail end of the field, my cat (who's no longer with us btw) decides to jump on a shelf which displays about 50 die cast cars. The noise of several cars hitting the floor was enough to distract me for a couple of seconds resulting in tagging about 1/4 of the rear of the field under caution. I'll never forget that one.
Q:     If you were given the opportunity to race in real life, would you take it and why?
A:     Absolutely! It's been a dream of mine since I was a young teen. I've always had confidence behind the wheel in anything I drove. Unfortunately, besides sim racing, 13 laps at Dover in The Monster Racing Experience, and about three years of enduro racing at Riverhead Speedway in Long Island, most of my experience driving is commuting to and from work.
Q:     Most exciting thing you've in real life this year?
A:     Well, it hasn't happened yet but I will be experiencing my first ever cruise to Bermuda with my girlfriend in a couple of weeks. I'm excited about that and can't wait.
Q:     Name one place you want to visit this year.
A:     We're actually planning on attending the NASCAR race at The Glen this August so we're going to try and visit the Baseball Hall of Fame in Cooperstown along the way. The Hall of Fame has always been on my bucket list.
Q:     What is one race you would like to see live at the track that you haven't yet?
A:     I would love to see a NASCAR race at a short track at either Martinsville or Bristol. I've never been to a NASCAR Sprint Cup race track smaller than a mile.
Q:     Name three sim racing related goals you would like to accomplish in 2015.
A:     My immediate goal is to finally reach the 5000 iRating mark. I came really close about two years ago and right now my focus is to reach that landmark and stay above it once and for all. Hopefully that will happen soon and if it does, I'll make an attempt to try and qualify for this year's Pro Series in Season 3, considering the my iRating is enough to propel me into the top split consistently. My third goal is to not be a tool on the track while I attempt these goals.
"My third goal is to not be a tool on the track while I attempt these goals."
Q:     Name three real life related goals you would like to accomplish in 2015.
A:     Simply just trying to be the best dad, friend, and person I can be. Also, I'll be turning 50 this year so that includes staying healthy so I can stick around for a while.
Q:     What is one thing you absolutely want to see iRacing add this year?
A:     I can not wait for dynamic track surface and weather to be introduced to iRacing. This will be a game changer…literally.
Q:     Talk about your family.
A:     I'm a single dad with a 21 year old son, Nicholas, and a 16 year old daughter, Savana. I've been divorced for about seven years now and without a doubt, the leader of my support team these days is my girlfriend, Myra. We've been together for about two years now and I couldn't be more blessed. I also have to mention my sister, Julie. She's been by my side through all my struggles in life.  Of course, I wouldn't be here without my parents who are both still alive and strong today, so I am truly blessed.
---
You may also like...
---