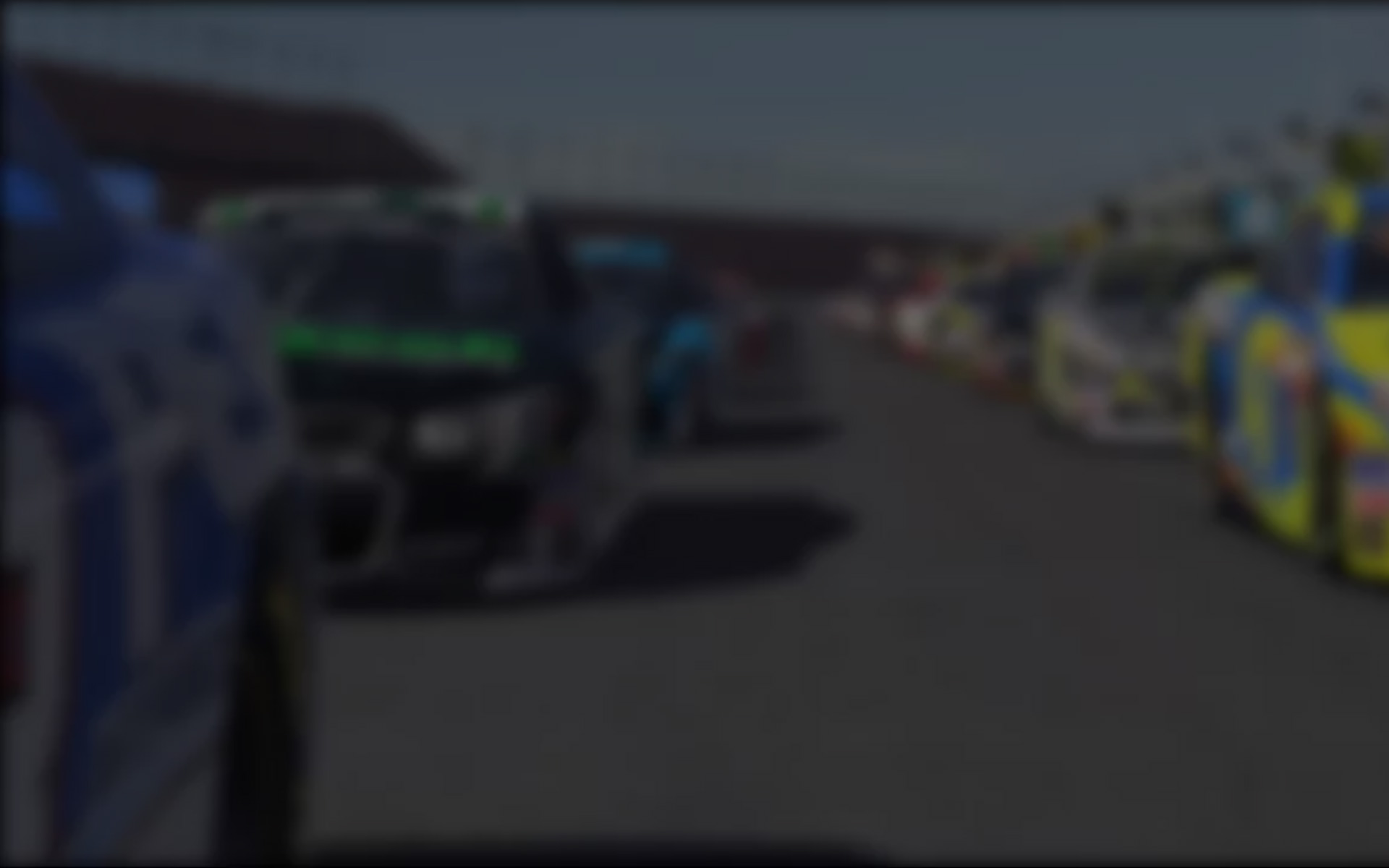 This week's featured driver may be more recognizable off the virtual track than on. Besides being the former team owner of a two-time championship winning iRacing IndyCar series team, he is the voice of Glacier TV, and has commentated on a variety of events, including many of the races in the 2012 iRacing.com World Tour, including the recent Talladega 500, the GRAND-AM Premier Series, and is currently broadcasting this season's iRacing.com Road Pro Series. If you haven't guessed by now, this week's featured driver is Wil Vincent.
The 24 year old who lives in the United Kingdom, has accomplished much since joining iRacing in December of 2010. He has scored 12 career wins in the 205 race he has started on the oval side of iRacing and he is the former owner of Team Afterburn who won two IndyCar championships during its one year on iRacing, and is currently the Team Principal at Banshee Autosport. So you know who Wil Vincent is, you know what he has done, but do you what he thinks about iRacing? Do you know what his most memorable moment on iRacing is? Continue to read, to find out…
Q:     How long have you been sim racing?
A:     I started sim racing back in the 1990s, with the Crammond Grand Prix line of games for PC, and played GPLfor about a year. After a hiatus, I decided to pick up rFactor, and got back into sim racing from there.
Q:     How did you get started in iRacing?
A:     Being a big Indycar fan, I was often caught watching coverage on IndyCar.com, and having an iRacing advert appear every time I loaded the stream page. I was looking for a new challenge, and after watching a broadcast of a simulated Indycar race, eventually I bit the bullet, subscribed, and never looked back.
Q:     Which race car driver do you look up to the most?
A:     Dan Wheldon. I grew up in Milton Keynes, and every week, I was reading in our local paper about how this local kid was making a big noise over in the States. Watching him win the 2005 Indy 500 made me a lifelong fan, and to me, he was the model driver. The understanding that you're not going to win every week, but still give it your absolute best, and have time for those who cheer your name was all Dan, and I'm one of those who sorely miss him to this day.
Q:     What type of hobbies do you do outside of iRacing?
A:     Commentary (Who'd have thought!), web design, and failing miserably at learning to play the bass guitar. Though, saying that, hobbies are over-rated in my opinion. Try everything, and just concentrate on the things you can be good at, because they are the ones you'll likely enjoy in the long term.
Q:     What is your greatest accomplishment on iRacing?
A:     This is a tough one. There was this one Indycar Strength of Field race back at Charlotte which I'm going to have go with, I somehow got pole for the race, but had to win it the hard way, playing a very risky strategy (which my team mates at the time said would never work) — running to a very strict fuel number, whilst keeping the draft from the lead pack. I ran out of fuel in T2 on the last lap, but everyone else had to make a pit stop, and I lucked out and took the victory. By far the best win I've ever had, and it finally showed the doubters that on my day, I could rise to the occasion. It's by far my biggest win, and seeing as I love strategy races, was the perfect match of hard driving, and thinking.
Q:     What is one long term goal that you hope to still accomplish in iRacing?
A:     Simple: Commentate the iRacing.com Indianapolis 500. Commentating is as big a part of my sim-racing experience as being in the car itself, and you could argue that developing on one isn't so dissimilar from the other. So guys, if you're reading, call me! (I'm actually going to the Indy 500 next year. How cool would it be to commentate the iR Indy 500 from Indy? 🙂
If I had to stick to driving activities, I'd say get to the point where I can be in the top 10% of Indycar road drivers. The beauty of the car is that it's a multi-disciplinary machine, and being able to be competitive on both road and oval is key to me being able to say "I'm a good Indycar driver." I've got a long way to go, despite almost 6 months focusing on testing more than racing, but I'll get there… Eventually!
Q:     What type of racing do you like to watch on TV?
A:     Indycar, NASCAR, V8 Supercars, BTCC, ALMS, and occasionally Formula 1. (I have been known to fall asleep during F1 races however, waking up only when I hear the playing of the German national anthem, signifying another Vettel win.)
Q:     How do you think your fellow iRacers see you?
A:     Someone who will speak his mind, and fight for his corner, but also someone who's accepted to be a fair (And on occasions fast) competitor. I think there are only a handful of people, who I could place in the "Dislike me" column, but it's impossible to be liked by all (And I'd be foolish to even try). I suppose my sarcastic nature and the fact I won't roll over and accept people's word as the gospel may be partially to blame for that, but in the words of a famous comedian from this side of the pond "Bothered?"
I'm also lucky enough to call a number of people friends off the race track, and I'd hope that these value my friendship. Having hooked up with a couple, it's great to meet the faces behind the names, and I'm looking forward to next year when I get to finally meet many great guys (Including my all-time Sim Racing Idol, JP).
Q:     Who is Wil Vincent outside of iRacing?
A:     I'm a student, studying a Master's Degree in Environmental and Spatial Planning, specializing on the idea of public participation in the field. Aside from this, I'm the chair of my university's student council, I'm working on about three research papers, whilst holding down a full time job as a planning consultant. Because of this, my blood is now 96.2% Coffee, specifically Starbucks Tribute Blend.
"My blood is now 96.2% Coffee, specifically Starbucks Tribute Blend."
Q:     If there was one thing you could change about iRacing, what would it be?
A:     Grid Girls? A bigger variety of birds? Pit Crew members to avoid hitting?
On a more serious note, the ability to TT your way to class A, and essentially never have to step on track with another driver. Traffic is such a big part of racing here on both road and oval, and both appreciating and understanding the way the car handles differently around other drivers is so important if you're going to be a safe, competitive driver, and the current system makes it possible to take the easy way out.
That said, there's not another sim in the world where feedback is taken onboard and worked upon, and the fact you CAN ask this question says a lot about the awesomeness of iRacing.
Q:     What is one thing that you love the most about iRacing?
A:     Being able to race shoulder to shoulder (fender to fender, door to door, side pod to side pod, etc., etc.), with some of the best Sim racers in the world, in an environment which is competitive, and formal.
Q:     Overall, how do you rate your success on iRacing?
A:     Breaking 3000 iRating on oval is something I can be proud of, and the effort that I put into getting there really did pay off (A number of people played their part there, you know who you are, and thank you!).
I was, for the most part incredibly proud of what was achieved back with Team Afterburn, but that's more due to the commitment of others, and showed just how things could work beautifully when everyone worked together. I'm sad at how the team ended, but it was the right time to do so, and being in a capacity where I can still help / work with other drivers in a different capacity is something which I enjoy. Fostering talent is something which is rewarding to all parties concerned, and the guys at Banshee deserve all credit for all they've achieved, especially as they've done it the hard way.
My road course abilities have improved, but there's still a long way to go. I know I'll never make pro, but I've managed to get part of the way there, and it's just a case of pounding out the laps and getting more comfortable.
---
You may also like...
---