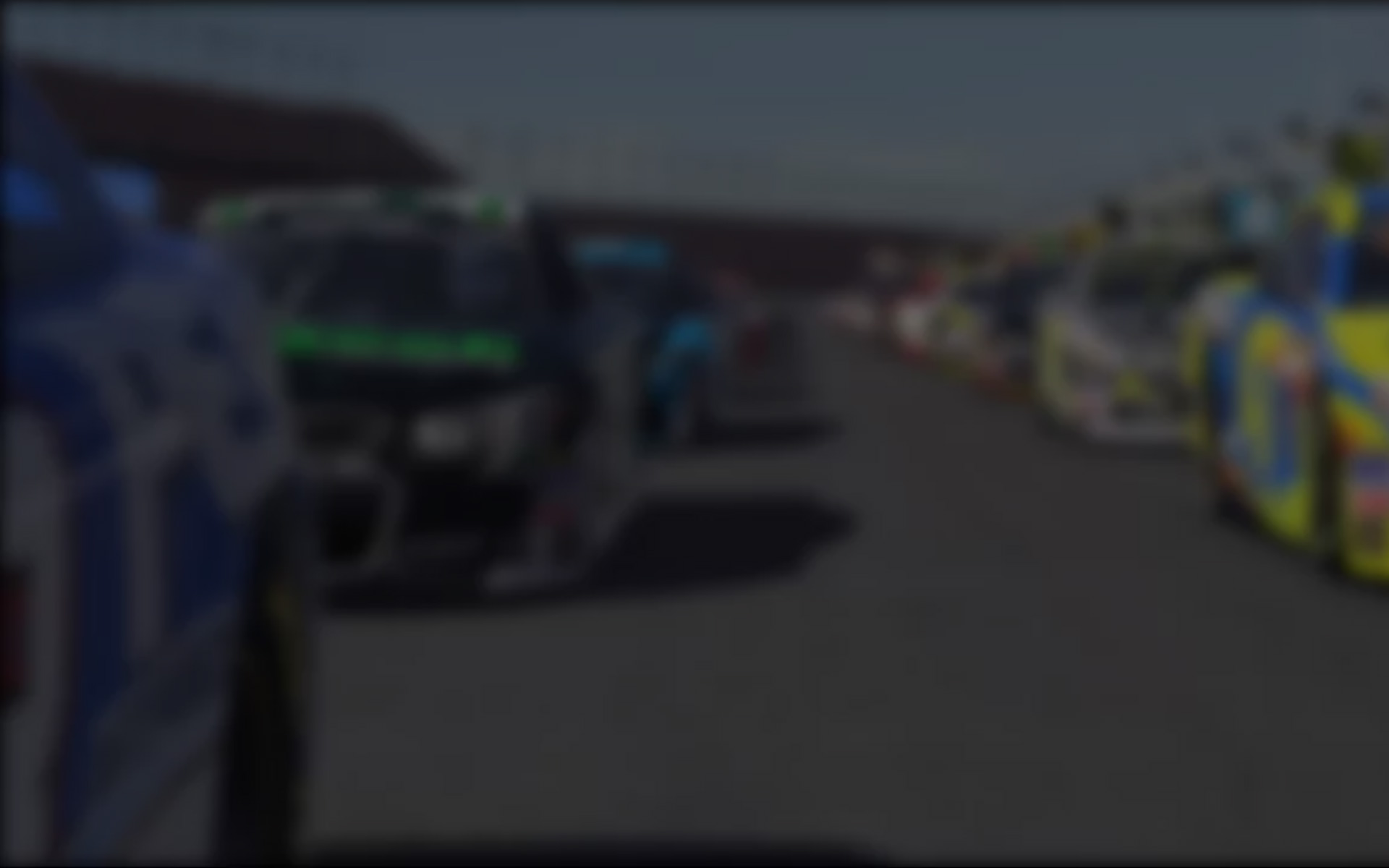 Adam Gilliland held-off Jared Crawford in a door-to-door battle to the checkered flag as the field wrecked behind them to win the season opener of the 2013 NASCAR iRacing.com Series World Championship at Daytona International Speedway. The win is Gilliland's first victory in just five career NiSWC starts. "I had an amazing car in both qualifying trim and race trim.  I can't thank (teammates) Matt Whitten and John Ritchey enough," said Gilliland.
The series debut of the Gen-6 Chevrolet SS and Ford Fusion came down to a one lap shootout with Gilliland on the inside line being pushed by Tyler Hudson and Crawford on the outside pushed by Brad Davies. Gilliland looked to be the odd man out against teammates Crawford and Hudson after losing his teammate Whitten to an accident earlier in the race.
Hudson's Ford quickly pushed Gilliland out to a half-car lead, with Crawford and Davies holding strong on the outside. Things started to get interesting when Hudson lost contact with Gilliland in the middle of Turns 3 and 4 coming to the checkers. This gave Crawford a big run coming off of Turn 4, which Gilliland barely blocked. Davies tried to take advantage by shooting the gap in the middle but got turned sideways which triggered a massive crash.
Even after being blocked, Crawford still had enough momentum to get alongside Gilliland, but ran out of racetrack as the two Chevies crossed the stripe.
Crawford finished just .020 seconds back in second with only a nose separating him from victory lane. Landon Huffman slid across the line for third, Matt Bussa came home forth and Brandon Kettelle finished fifth.
"I had an amazing car in both qualifying trim and race trim.  I can't thank (teammates) Matt Whitten and John Ritchey enough." – Adam Gilliland
The evening started off with an extremely tight and surprising qualifying session which saw Whitten and Alex Warren sharing the front row.  The entire field was separated by just .053 seconds. Last year's Daytona pole winner Thomas Lewandowski started way back in thirty-first with two-time NiSWC defending champion Ray Alfalla rolling-off a lowly thirty-seventh.
Even more shocking was the fact that last year's championship runner-up, Michael Conti, failed to qualify, dealing a damaging blow to his championship hopes.
The action started early when outside pole sitter Warren spun on Lap Six, collecting Alfalla in the process. Alfalla had looked very strong in the early going, moving up quickly from his starting spot before the crash.  The two-time defending series champion had to settle for a forty-second place finish and, like Conti, has basically already used-up his "drop week" in the scoring.
During the ensuing yellow flag, most of the field headed down pit road for gas, knowing this might put them in the window to make the race on just one more pit stop. Curiously, Whitten and Gilliland both elected not to pit.
After the restart on Lap 10, the next 60 laps were run under the green flag. With 90 laps remaining on the restart, many drivers thought they could potentially make it on fuel by splitting the online race into two 45 lap runs. Gilliland and Whitten, however, needed another caution and it looked for awhile that they would not get one. The racing was fairly calm throughout the pack despite 37 lead changes.
The two leaders finally got their yellow on Lap 70 when Steve Sheehan spun and hit the wall. This allowed Gilliland and Whitten to pit for the fuel they needed without losing touch with the pack, though they would have to fight back through the field.
When the green dropped again the two-some wasted no time in driving right back to the front.  It looked like the race was going to come down between the two of them, but Whitten was involved in a multi-car wreck on Lap 87 when Patrick Baldwin got a little too aggressive with the side drafting down the back straightaway.
This left Gilliland to fend for himself as the racing got very intense up front.  A couple times, the lead pack was three wide for multiple rows including the battle for the lead. Things got crazy again on Lap 95 when Kettelle scrubbed the wall and got sideways in Turn 3, sending John Gorlinsky, Brian Schoenburg and others spinning and crashing. This set up the one lap dash to the checkers that saw Gilliland nose-out Crawford.
With Daytona in the rear view mirror drivers are left to regroup and move on to next week's race Las Vegas Motor Speedway. With 1.5 mile tracks making up the bulk of the 18 race schedule, Vegas will be a great barometer as to which cars are strong and who needs to work more on setups.
While Gilliland, Crawford and the rest of the top five finishers at Daytona are off to a fast start, others such as Alfalla and Conti desperately need to right the ship before they dig themselves to deep a hole. Make sure to tune into iRacing Live and MRN.com next Tuesday night at 9 pm eastern to catch who strikes it rich in Sin City!
---
You may also like...
---