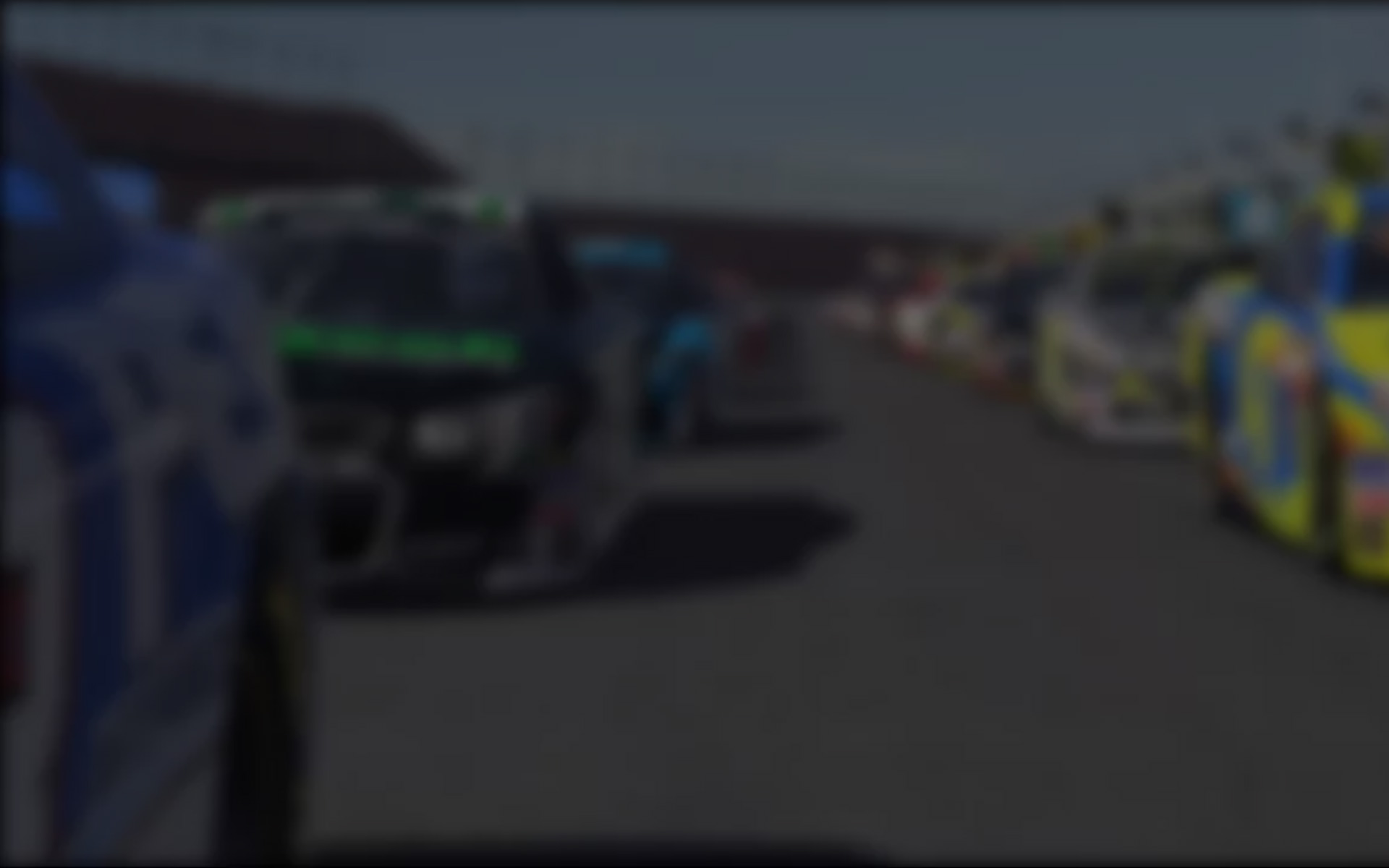 John Gorlinsky rallied from an early spin to win at Atlanta Motor Speedway; his first win of the 2012 NASCAR iRacing.com Series World Championship season. After finding himself well behind the pack in forty-second place, and still only up to thirty-ninth spot with only 56 laps to go, the veteran sim-racer used some timely cautions, smart strategy and superb driving to slice his way through the field to claim the victory
"It feels really good to win a race with some strategy and hard racing, especially with all of the speeding penalties, spins through the grass, shenanigans that went on," Gorlinsky said.  "I pride myself on those two things and I've never been able to align them both in the same race on such a big stage."
"It feels really good to win a race with some strategy and hard racing." – John Gorlinsky
Gorlinsky took the lead for good on Lap 136 by getting a great restart and taking the lead from Michael Conti, who had dominated the second half of the race. From there, he held off Ray Alfalla and Conti, who had an incredible battle for second, with Alfalla prevailing with five laps remaining.
"Pit crew was not on their game tonight, which led to trying some strategy late in the race," said Alfalla. "Almost didn't pay off, as yellows kept getting in the way of progress, but came home second."
Alfalla started from the pole and looked poised to make up for a dead-last finish in the previous race at Michigan. He led 63 laps early on, but his pit crew had a slow stop, allowing Conti to pass him on pit road. While Alfalla appeared to be a bit faster than Conti, the dirty air and frequent cautions blunted the defending series champion's ability to mount a serious challenge.
Gorlinsky spent the middle part of the race trying different strategies in an attempt to get to the front. He took the lead briefly, but was on old tires and quickly fell back. Another strategy ploy failed when he was caught speeding on pit road. Undaunted, he rolled the dice again and hit it big when he pitted before the leaders late in the race, hoping there would be enough yellow flag laps to stretch his fuel to the finish.
When the rest of the leaders (minus Conti who also pitted earlier) ducked-in to the pits for their final stop, Gorlinsky stayed out. The several yellows which flew afterward not only enabled him save enough fuel to go the distance, the caution laps enabled him to cool-down his tires, allowing Gorlinsky to keep Alfalla at bay.
After a caution-free race at Michigan, many drivers expected another smooth race at Atlanta. Instead, there was a surprisingly high number of yellows; 15 to be exact, which slowed the pace for 62 of 162 laps. The racing in the middle of the pack was intense and cutthroat due to Atlanta only having one fast groove. Plenty of bold moves — and blocking — provided plenty of action.
Behind Gorlinsky, Alfalla and Conti, NASCAR iRacing.com Pro Series driver Dylan Duval passed Kevin King late in the race to grab fourth with King settling for fifth, while Jason Karlavige backed-up his win at Michigan with a solid run to sixth place.
Alfalla and Conti scored the exact same amount of points at Atlanta, so the gap between them remains at 13 points with two races remaining. King slipped back a bit and now trails by 30 points.
Nick Ottinger also lost ground on Alfalla, but still remains fourth in the standings. Ottinger had trouble on the green flag, and went eight laps down. Taking advantage of the many caution flags and free passes, Ottinger fought all the way back to the lead lap only to be involved in a crash that left him thirtieth at the finish.
Patrick Baldwin dealt with an ill-handling car all race, avoided the wrecks and salvaged an eleventh place finish, and so remains fifth spot in the points as Atlanta Motor Speedway recedes in the mirrors.
The NiSWC makes its second visit to Chicagoland Speedway for Week 16, and the championship fight is now down to two. Fresh off a solid second place finish, Alfalla will be looking to put the championship away in the penultimate race of the season, just as he did last year. Conti cannot catch-up without some bad luck befalling Alfalla, but as we saw at Michigan, anything is possible.
---
You may also like...
---