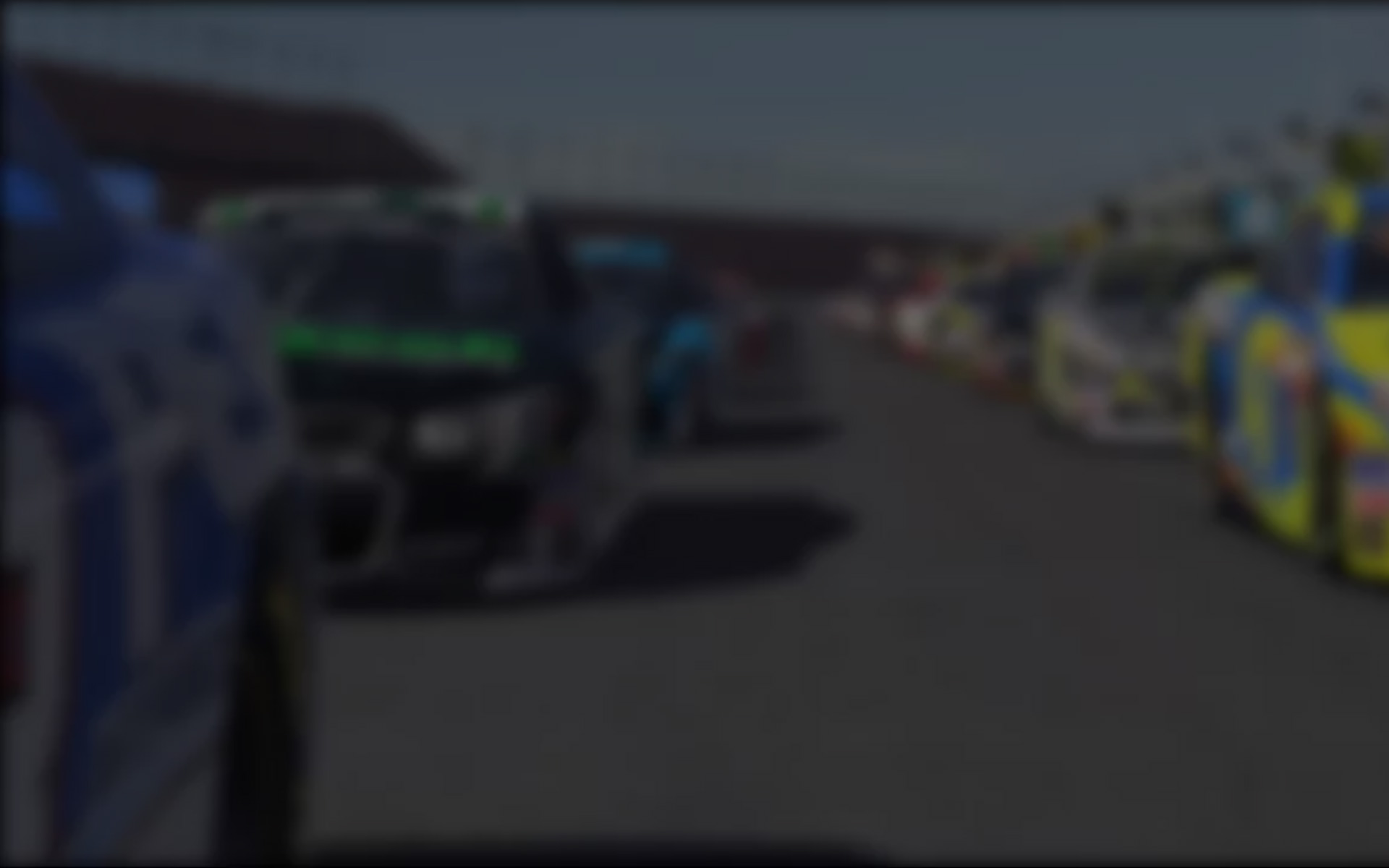 September 26th, 2014 by JaimeB
Last season Grand Prix Legends debut at the Indianapolis Motor Speedway was  dominated by Finnish sim-racers in a thrilling race with dramatic overtakes at over 200mph and colossal crashes up and down the field.  The GPL's return to The Brickyard in Season Three would be no different, well apart from the Flying Finns that is.  What follows is more "carnage report" than race recap as just seven of the twenty participants went the full race distance and only eleven sim racers were around for the finish.
With a rolling start there wasn't much happening in way of overtakes aside from an impressive Karl Modig who jumped four spots to eighth place within the first two turns. The action quickly escalated when seventh-placed Samuel Close went deep into Turn Three, made contact with the barrier and launched into a violent tumble.  Thankfully only one other sim-racer was affected: Robert Reynolds in P19 clipped Close and was sent spinning into the barrier himself.  Both drivers retired shortly after the incident, reducing the field to 18.
Not long after Close's Turn Three incident Leo Graae went wide in the final corner, smacked the barrier and suffered similar consequences to Close,  tumbling down the Start/Finish straight into an early retirement.  And then there were 17 . . .
Graae was nicked by another Lotus when Jeff Sparks drove underneath him at 120mph while Daniel Steinemann suffered minor damage after hitting the pit wall while taking evasive action.  Steinemann continued for a few laps until contact with Robert Plumley at Turn Four sent him into the barrier.  And then there were 16 . . .
Plumley began his own love-affair with the barrier a few laps later heading into Turn One.  Minor contact triggered an unstoppable chain reaction which sent him spinning across the track, but still in good enough condition to limp to the pits for repairs.
Lap Nine was a double-whammy for DNFs as first Tom Hutchins caught understeer mid-corner through Turn Three, clipped the barrier, and spun onto the apron before driving to the pits and retiring.
At almost the same time as was Hutchins spinning out of the race, Christopher Mellor rotated into retirement at the exit of Turn Four.
And then there were 14 . . .
The next victim of this lethal car and track combination was Steve Sarlis who was challenging Frank Guzzo for seventh on Lap 13 when he went just a bit too wide exiting Turn Two and suffered mechanical damage as as consequence.  And then there were 13 . . .
After a half dozen mercifully uneventful laps, Benjamin Schlarman broke the string by putting his Lotus 49 into the barrier as well.  The eighth retirement of the day featured – by actual count — seven barrel rolls and a back flip, and reduced the field to an even dozen.
The ninth and final retirement of the day came on Lap 25 when Guzzo hit the wall exiting Turn Two at 150mph and — predictably — suffered severe mechanical damage.  The good news is that  Guzzo narrowly missed Glenn Dyson by a matter of inches as his wayward Lotus 49 swooped across the track.  Guzzo retired shortly thereafter.  And then there were 11 . . .
With the chaos (finally) settled, the race was all but decided.  Claridge had led nearly every lap since taking the lead on Lap Seven, but had been unable to shake  Jason Wells.  Wells made some moves on Claridge, and while some were successful, none proved permanent.  As the duo approaching the finish line for the final time (Lap 30), however, Claridge suddenly began to lose power and was sitting duck for was easily Wells.  Moments later the soft, depressing sound of an engine running out of fuel enveloped Claridge as he coasted across the line in second place.
In the end Wells' win was good for 103 points while a disappointed Claridge collected 97 points, enough for first and third for the week with runner-up Michael Morrison earning 102.  The 92 points Nick Gudkov earned for a quiet third place finish in the race, three seconds behind Claridge and 15 seconds ahead of Modig, were good enough for fourth for the week.
---
You may also like...
---