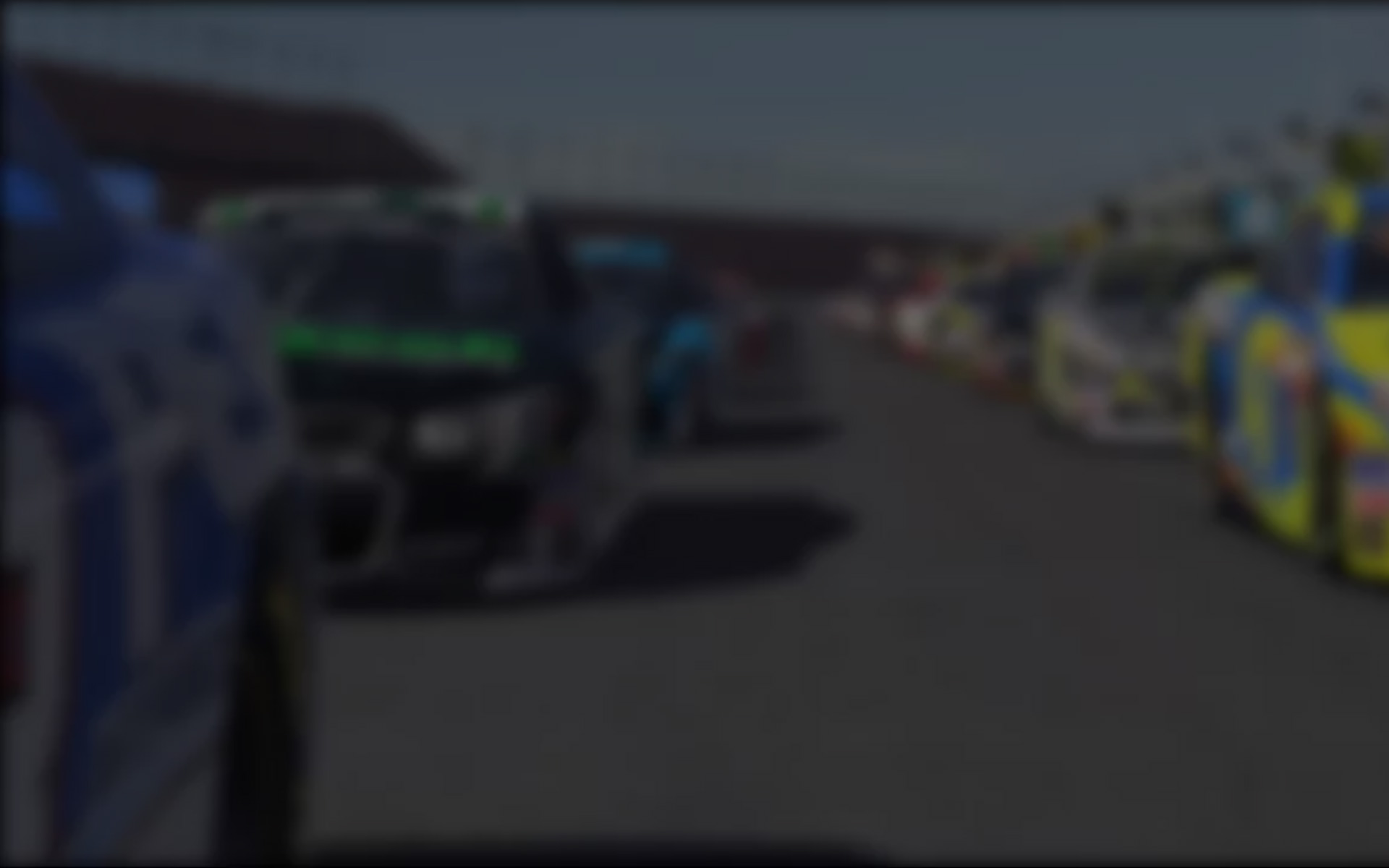 Whenever Watkins Glen hosts the Grand Prix Legends the entertainment level is high, so when the sim-racers and their Lotus 49s arrived in the Finger Lakes for a 15 lap race (with boot) we expected nothing less a spectacular race.  Victor Perelman took pole position ahead of Darwin Meints and Sandeep Banerjee, but a nearly full 30 minutes of sim racing separated them from a good finishing position and a nice points haul.
The action started almost immediately for Robert Plumley in P10 as he got a much better start than the cars ahead of him, but not quite as good a start as Michael Grisinger in P11.  As they launched down the Start/Finish straight they went four-wide and in a flash there was contact between Plumley and Grisinger which sent Plumley into the pit wall before flipping and tumbling over the wall and into the pit lane.  Plumley retired on the spot without even making the first corner.
The action wasn't exclusive to the mid-field, however, as Meints attacked Perelman at the outside of Turn One, taking the lead of the race almost immediately.
Daniel Steinemann in sixth was one of the two slow movers who contributed to Plumley's four-wide incident at the start of the race, and was clearly struggling at the onset after dropping to 10th by The Loop.  Steinemann's struggles continued at The Heel when a snap of oversteer cost him two more positions.
Steinemann's bad luck seemed to shift to Steve Sarlis who was one of the two drivers to overtake Steinemann because of his oversteering moment.  Sarlis got loose at the very next corner, but his "moment" resulted in contact with the barrier and damage to the car.
Lap Two proved to be almost as exciting as Lap One thanks, first, to Mikael Engberg from P4.  Engberg was trying to make a move on Banerjee for third place under braking for The Loop but overshot the corner by a pretty huge amount and ended-up dropping to sixth instead.
Thankfully for Engberg, his bad luck seemed to transfer to Banerjee who caught some oversteer at Turn Nine, similar to what afflicted Sarlis.  Banerjee was able to keep his Lotus out of the barriers, but like Engberg dropped to sixth as a result of the spin.
After three laps behind Meints, Perelman decided enough was enough, and made the exact opposite move that  Meints had made on him on the opening lap at the same location.  Perelman took the inside line at Turn One while Meints ran out wide and had a slower corner exit speed, giving Perelman the lead.
Steinemann's run of bad luck continued on Lap Seven when he went wide through the Esses and made contact with the barrier, forcing him to pit for repairs from P13.
A lap later came some more excitement, but for a new sim-racer.  Glenn Dyson had been running a relatively quiet race after moving up to seventh from fifth on the grid when suddenly a back-marker ahead contacted the inside barrier at The Loop and was launched into the air in front of Dyson.  Dyson reacted the same way most would, by hitting the brakes, but that sent him into a slide and lost him heaps of time (but no positions, further emphasizing just how lonely his race was).
Banerjee was having a pretty quiet race himself in sixth, especially after Dyson's spin on Lap Eight.  By Lap 11 Banerjee was well back of  Engberg in fifth, but was still pushing hard with only five laps remaining in the race.  An understeer moment at Turn Three, similar to Steinemann's, sent Banerjee into the very same barrier but with terminal results, as he retired on the back straight.
Despite the chaos and carnage of the opening laps, some nice wheel-to-wheel racing developed all through the field,  most notably from Andy LaRoe who initiated a multi-corner battle with Dyson from The Loop to The Heel, moving into sixth with only two laps remaining.
Dyson knew he didn't have much time to retake his position from LaRoe and, with a big gap to Grisinger behind, he could afford to take some risks.  Lap 14 didn't start well as he lost ground to Dyson in the first few corners, then took a turn for the worse when  a spin at The Heel sealed his fate in seventh place.
In the end Perelman won by over six and a half seconds from Meints with Bruce Snelson coming home third.  Snelson never got much of an opportunity to attack Meints but got close enough to apply some serious pressure in the final laps before finishing only four tenths behind the second place finisher.  John Bonta in fourth was another sim-racer who a quiet race, as he was nine seconds behind Snelson, and eleven seconds ahead of Engberg at the checkered flag.
---
You may also like...
---