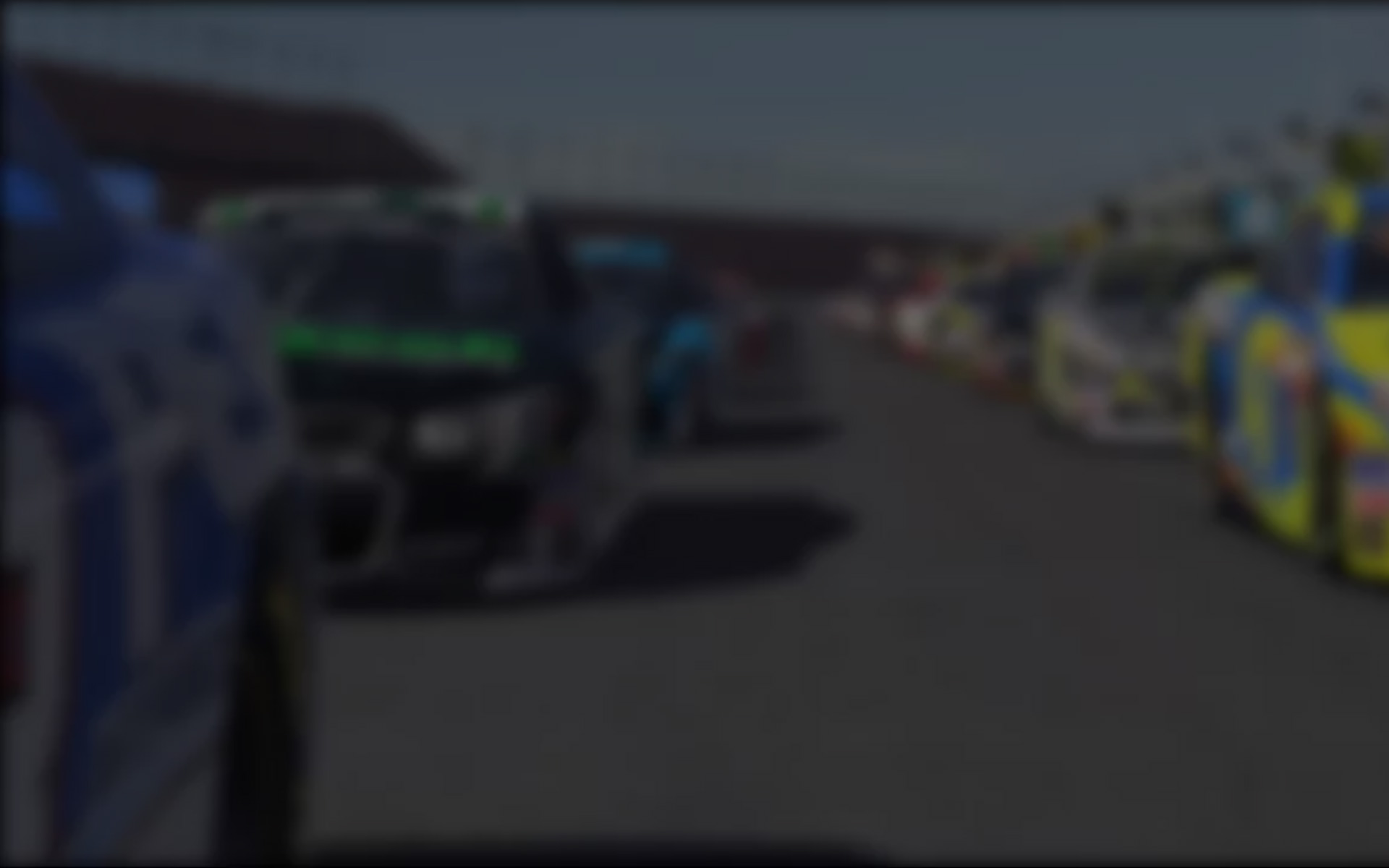 The rolling hills of the virtual Mid-Ohio Sports Car Course played host to Round Five of the GRAND-AM iRacing.com Sports Car Series, the multi-class online racing championship for digital replicas of the Ford Mustang FR500S and Riley MkXX Daytona Prototype. Open to members of the iRacing Motorsports Simulation service, the 12 week series pays visits to many of the full-blown GRAND-AM Rolex Series Championship circuits that are represented with millimetre precision, pitting enthusiasts from around the world against each other in real-time online competition.
DP
Following a pair of victories on the Mid-Ohio circuit, 'local' Wyatt Gooden claimed 300 points, the top score of the week, and the highest tally recorded in the season so far, by virtue of iRacing's 'Strength of Field' system.
"Something about me and Mid Ohio were just fit for each other," shared the Cleveland resident this week. "Perhaps it's just coincidence that it happens to be my home track, but whatever it is I'll gladly take the success I've had here both in the real world winning the VW TDI Cup race in 2010, and now in iRacing! Another great week of racing here all in all."
The maximum haul for the American sees him maintain his position at the top of the Division One standings ahead of Jaro Honzik who finished second behind Gooden in the same high point scoring race.
"After what seemed like 30 minutes of being half a second behind Wyatt I made a mistake," Honzik confessed. "We were passing Mustangs on the start/finish straight and Wyatt got past a Mustang into Turn One and I choose to stay behind and lost a second or more. One lap later I did it again in Turn One, another mistake and I lost another second. Then I was passing a Mustang but there was a little misunderstanding and we touched but not that hard.  But after that I completely lost my pace, no idea it it was because of that contact or just my tyres died."
Taking the final podium spot behind Gooden and Honzik in the 39 lap race – and in the weeks Divisional standings total – was England's Blake Townend, who clawed his way up the order from sixth on the grid in his only race of the week to secure 260 points.
Australia's Chris Buckley earned the plaudits at Mid-Ohio as Riley MkXX Daytona Prototypes Division Two top scorer. His 141 points for a second place finish in his lone race of Round Five put the virtual-racer 11 marks clear of Fernando Bento. The pair's top finishes now sees them sitting at the pinnacle of Division Two, with Bento carrying a 43 point advantage over Buckley overall.
After a 'white-knuckle ride' race, Matthew Davis secured Division Three's highest total of the week with a pair of podium finishes, ensuring the American remained atop the divisional standings ahead of Iker Estefania as the GRAND-AM iRacing.com Sports Car Series departed the 2.4 mile track. "That race was the hardest I've ever had to drive for so many laps," Davis said. "I was sweating and out of breath by the finish, and that was to only finish second to PJ Stergios.
In the end, it might have been second, but it was the most Championship points I've earned in a single road race."
Although Kjell-Einar Svendson continues to lead the Daytona Prototype Division Four standings, it was Jacob Desmarais who claimed maximum points and moved into second in the divisional championship. "I noticed my rival Kjell-Einar Svendsen did well in his race, and I needed to up my game to have any hopes in catching him this season," the New England based sim-racer shared post race. "I landed a lucky split in my next race, and did a nearly flawless run to pick up third and 142 points, which was just enough to edge Svendsen out."
One of the closest battles in the GRAND-AM iRacing.com Sports Car Series can be found in Division Five, where the top three drivers are separated by a mere 27 points. With a pair of wins to his name at Mid-Ohio, Tyler A. King has now eked out a slender margin from Duncan Marais and Damien Capelani, who share the overall divisional second spot on equal points. A further 100 points back, Scott Husted and Olivier De Prins will be looking to make up ground on the leaders when the series heads to The Netherlands' Circuit Park Zandvort.
Todd Martelle (Div 6), Scott Bennett (Div 7), and Don Davis (Div 8), continue to lead their divisional championships after five rounds; as do Sylvan Depech (Div 9) and Joshua Friedrichs (Div 10).
Ford Mustang FR500S
With five rounds of the GRAND-AM iRacing Sports Car Series complete, Samu Snabb continues to lead the top division's Ford Mustang standings by over a hundred points; this despite dropping points to Scott Michaels, who claimed top honours at Mid-Ohio. Competing in just his second round of the championship, Michaels claimed 277 points via a victory in his solitary race of the week.  With the eight best results from the series' twelve rounds of racing counting towards a virtual-drivers overall total, the Englishman should be climbing up the order as the season draws to a close. Continuing his relentless pursuit of Snabb, European iRacer Marcus Jirak occupies second in Division One, 24 points ahead of Kimmo Suominen.
Using his guile to steer clear of the superior Prototype class Rileys on the track, Chris Keogh was rewarded with the Division Two's highest points finish, to retake his spot at the top of the divisional championship ahead of Mathieu Gagnon. "I feel kind of bad, I don't really deserve the win," said Keogh at the end of his only race at Mid-Ohio. "I was just trying to drive defensively and grab myself a solid finish to take later in the week with me. But, while all the prototypes were playing nice with me, they were not being as kind to my competition."
After seeing his divisional lead cut to a handful of points ahead of the multi-class racing at Mid-Ohio, Dimitar Stefanov bounced back with a win and podium finish, to claim the top score of the week in Division Three and give him 31 points worth of wiggle room. Maintaining his momentum from the championship's visit to Homestead-Miami Speedway, Andrew Bakke collected 103 points from Round Five to exert more pressure on Matthew Davis who occupies second overall in the division, with the pair separated by just 15 marks.
Taking his third win of the season so far, and the top score in Division Four, Tim Bamberger maintains his steely grip on the overall divisional standings table, with the American now 97 points clear of  Ricky Hardin, who is holding off Eric Miller by 12.
As the GRAND-AM iRacing.com Sports Car Series heads to its next round at Zandvort, Robert Lawrie continues to head the standings table of Division Five in the Mustang class. The Englishman took the second best points total of the week, behind Thomas Christian, in a titanic battle for the podium.
"The highlight was one great start-to-finish fight with Jasper Groeneweg, grabbing P2 in class after one mistake coming into Thunder Valley by Jasper on the last lap," said Lawrie.  The top finish of the week by the aforementioned Christian moves the Florida-based sim-racer up to third in the overall standings, behind Mike Nachtigal, but ahead of Jason Boisson and Valerie Cote.
There's no change at the top of divisions six, seven, and eight, with John McNamara, Ryan Cowley and Hal Kemrite all maintaining the status-quo of their respective divisions. In the ninth division, Lance Nasseir has edged his way back to the top of the table, edging out Matthew Wise; whilst Division 10 has Ricky Dalton just holding onto to his divisional lead by a slender six points.
---
You may also like...
---