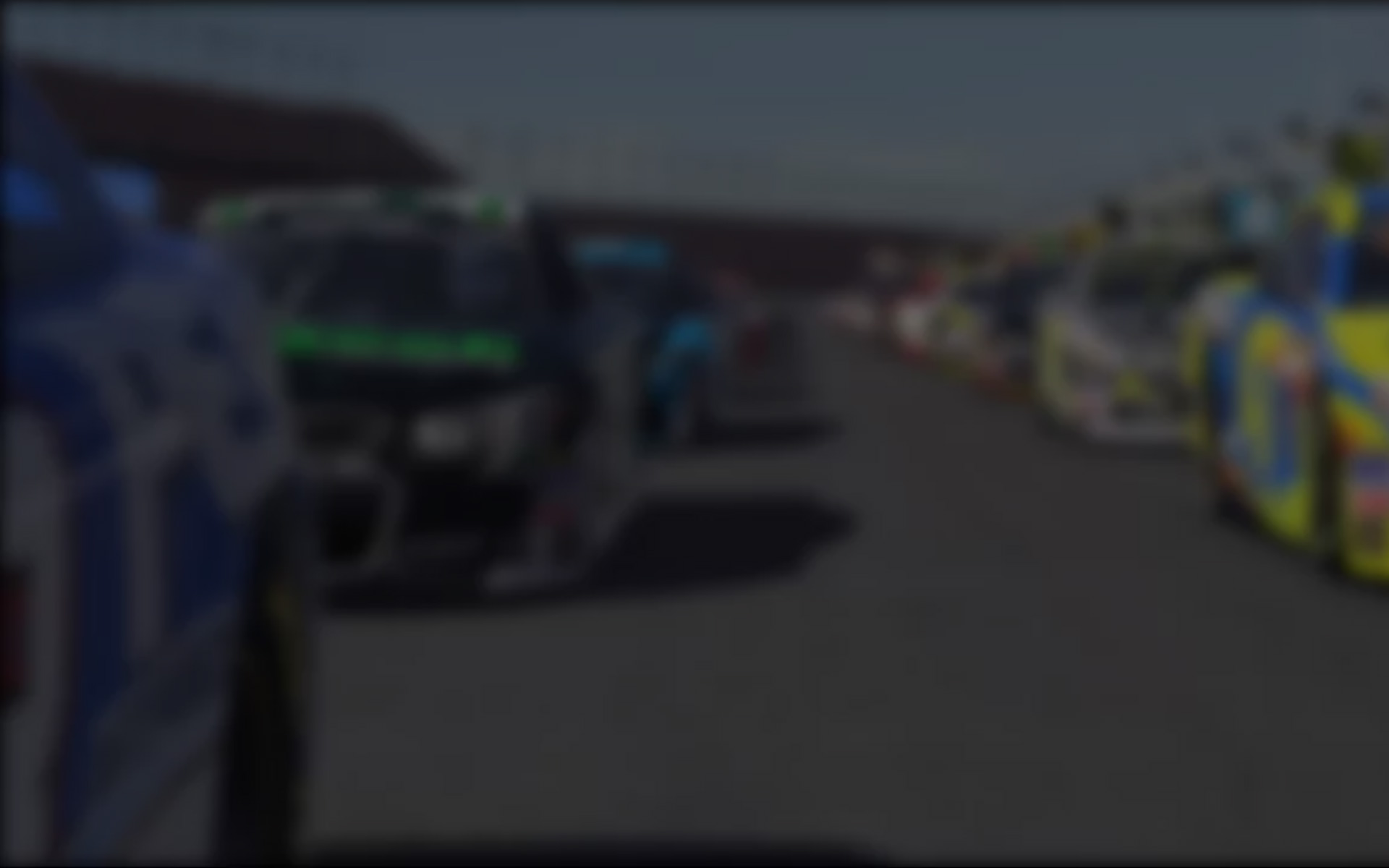 With a renaissance of the form that sealed him the 2010 iRacing.com World Championship Series Road Racing title, Greger Huttu sailed to a virtually unchallenged pole-to-flag victory at the digital Virginia International Raceway (VIR) to close the gap to current series points leader Klaus Kivekäs.  Starting from pole position, the Team Redline sim racer did have an initial scare as the field headed to Turn One on the opening lap when teammate Luke McLean missed his braking point and breezed underneath Huttu mid-corner en route to the outside tyre-wall.  Unfazed by the near-miss, Huttu settled into to carving-out a lead, but was unable to shake Kivekäs, who shadowed his countryman until the first round of pit-stops.
"I wasn't sure what to expect from this race; I like the track and it's one of my favourites but it's a bit crazy in the Williams-Toyota FW31. It's so easy to make a small mistake which usually means that your car is either in a tyre barrier or hanging off of some tree branch," Huttu shared post race. "Klaus was following me closely on the first stint and he seemed to have a bit more down-force as he was faster in some of the corners, especially the fast ones. I had more straight-line speed I think but with the draft it didn't allow me to pull away. I don't know if Klaus lost time with a lapper or something, but just before the first stops I got a small gap and then was able to pull away slightly."
"It's so easy to make a small mistake which usually means that your car is either in a tyre barrier or hanging off of some tree branch." — Greger Huttu
With Kivekäs' car no longer filling his mirrors after the first round of pit stops, the current iWCSRR champion stretched his legs and extend his lead unchallenged to the chequered flag. "I was happy to see that I went one lap longer (than Kivekäs) which allowed me to increase the gap during the stops. I also pitted a lap later during the second stops and from there it was just about controlling the race and not making any silly mistakes. It feels awesome to finally have a great race and get a win," Huttu added.
For My3id's Kivekäs, second place finish was an inevitable conclusion once the 2010 champion had taken advantage of the pit-stops. "I didn't get the best of starts but gained a position in Turn One thanks to Luke McLean's adventures," the Finn wrote this week. "I was able to follow Greger quite closely during the first stint and hoped that strategy would play to my advantage. Unfortunately, he went one lap longer so after the first round of pit-stops I was over three seconds behind. Pretty quickly after the stops it became clear that it was game over as Greger started to pull away and I just couldn't get more pace out of myself. For the rest of the race I drove around alone trying not to fall too far back in case Greger made a mistake or something."
Helping the My3id Team claim two-thirds of the Round Six silverware, Hugo Luis capitalised on a mistake by his running-mate Jesse Nieminen, to claim the third spot on the podium at the end of the 58 lap race.
"The race went way better than I expected, because I was struggling like a runaway pig with the bouncing, kerbs and happy-tree corner," the Brazilian told inRacingNews. "I decided to give up from trying to drive on the limit and focus on just driving safe.  I really couldn't afford another disastrous race, so I was following Jesse closely until the first pit-stop, when I ran over the lollipop guy and that cost me something around four seconds. After that, unfortunately Jesse had a spin, giving me the third position and the shot for the podium, so then I just tried to guarantee that result."
"I ran over the lollipop guy and that cost me something around four seconds." — Hugo Luis
Although Nieminen 'only' secured a fourth place finish, VIR still represented a case of mission accomplished for the three-time iWCSRR race winner who earned 32 points to keep his championship bid on track. "My mindset going into this round was just to try to finish the race and get some points in the bag as I can't really afford any DNF's anymore," explained the My3id online-racer who sits 34 marks away from the series leader. "I saw Luke going wide to the grass in Turn One so I was up to third place which was pretty epic. I knew I wouldn't have much chance to match Greger's or Klaus' pace so I was planning on just trying to get to the finish without mistakes and hopefully keep the third place."
Much to his own and Team Orion Racing's delight, Matthias Egger claimed his career best finish in the World Championship series, with his first ever top-five placing at iRacing's Virginia International Raceway. "I have still no words for yesterday, a brilliant weekend for me," the Italian enthused. "At the start I maintained my position and reached the fifth place because of Luke's fault. I was not able to keep the pace of the four pilots in front of me so I concentrated to gain seconds from Ilkka Haapala and Ray Alfalla. For luck I was able to do that so after the pit-stops I gained a lot of seconds thanks to my very good pace."
"I think I spent about 30 seconds on the grass plus the time spent in traffic trying to get positions back." — Ilkka Haapala
Paying the price for a series of errors that sent him off-track on several occasions, Haapala had to make numerous passes on Alfalla to secure his eventual sixth place finish. "I think I spent about 30 seconds on the grass plus the time spent in traffic trying to get positions back," the Team Orion racer confessed post race. "Coming home with a sixth place after such a horrible performance, I have to consider myself lucky. Valuable points."
Starting from twenty-first on the grid, Bryan Hietkotter sliced his way through the field at VIR, to place his virtual Williams-Toyota FW31 in eighth position, the Californian's second top-ten Championship finish in three races. Radicals Racing's Blake Townend was unable to mount any challenge to the American, as the Englishman found himself locked in a battle with Andrea Baraldi midway through the race, allowing Hietkotter to make a clear breakaway. Once Baraldi made a mistake at  Oak Tree turn, Townend was able to cruise to a ninth place finish ahead of Dion Vergers, who also gained from the Italian's error.  Baraldi eventually came home eleventh ahead of Ben Cornett.
With six rounds of the iRacing World Championship Series complete, Kivekäs (234) continues to head the standings table, with a 34 point lead ahead of My3id team-mate Nieminen (200).  With his first win of the season (and having only participated in five of six races so far), Huttu takes ownership of third position on 176 points, giving him an advantage of 15 marks over Hugo Luis. Dipping his toe into the top-echelon of the championship standings, Cornett holds fifth spot a handful of points ahead of Alfalla and Haapala as the iWCSRR heads to the sun-baked roads of the Mazda Raceway Laguna Seca in a fortnight's time.
---
You may also like...
---