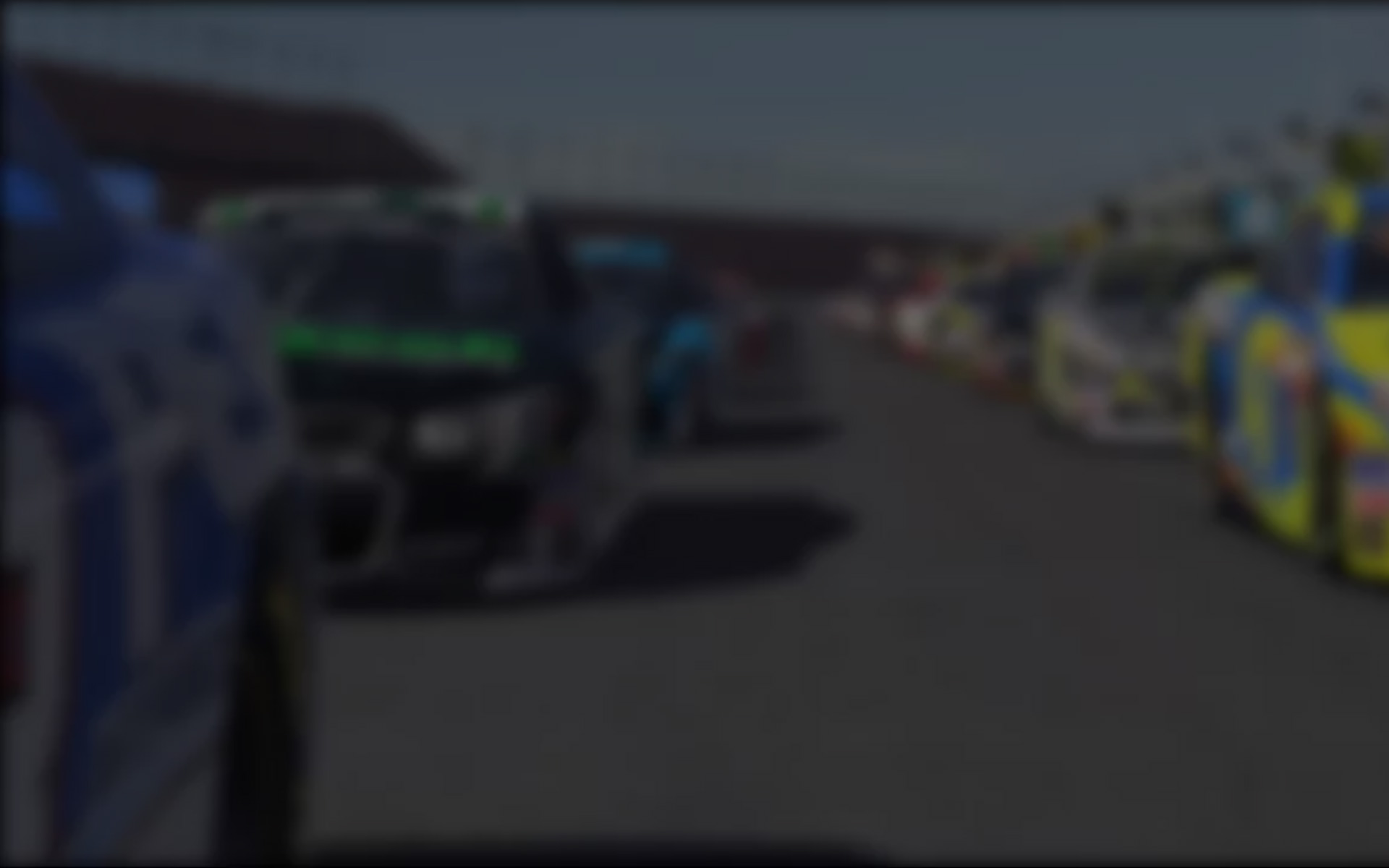 Robert Hall captured his first career NASCAR iRacing.com Series World Championship win at Kentucky Speedway, using pit strategy with 18 laps remaining to take a lead he would hold to the finish. While erstwhile leaders Ray Alfalla and Steve Sheehan played it safe and took four tires on the final round of pit stops during a caution, Hall and teammate Kevin King took just two tires apiece and exited the pits first and second.
With the help of two more cautions in the last 15 laps, Hall held the competition at bay despite not having the best car or the freshest tires. "I really can't believe I actually won one of these things.  I think that's the first time I've ever made a good call in the pits," Hall said. "The car was decent the whole race.  I had about fifth or sixth place car and that's pretty much where I ran the whole race until the end."
2011 NASCAR iRacing.com Pro Series champion Alex Warren finished second, less than a second behind Hall. Alfalla only managed to get to third with his fresh tires, while King slipped to fourth and Michael Conti edged Patrick Baldwin for fifth place.
"I really can't believe I actually won one of these things." — Robert Hall
The only incident in the first half of the online race came early – Lap One to be exact – when King and John Gorlinsky made contact, sending Gorlinsky for a wild ride through the grass entering Turn Three. The resulting crash collected nearly a dozen cars, many of which suffered considerable damage.  Following the early yellow, the race ran caution-free until Lap 68, when a spin by Josh Berry brought the longest stretch of green flag racing of the event to a close.
Sheehan started on the pole and dominated for much of the evening, leading 92 of 134 laps. At times he looked untouchable, sprinting to a five second lead on the first long run of the race. However, Sheehan's strong effort came undone in the pits, where his crew could not keep his track position. He ended-up getting shuffled back in the running order and was involved in an accident, finishing eighteenth.
"Unfortunately another very good points run got flipped upside down for the third race in a row," Sheehan said.  "I really should not be this far back in points, but I feel very pleased to be running as well as I have been, consistently."
"Car was great, pedals were not."  — Ray Alfalla
Points leader Alfalla had a problem of his own, namely a malfunctioning gas pedal that prevented him from getting 100 percent throttle down the straightaways. The problem worsened as the race neared its end, and kept the defending series champion from challenging Hall for the win.
"About as frustrating as a third place can be," Alfalla said.  "Car was great, pedals were not. Did all I could through the turns in order to open a gap for the straights."
Nevertheless, with his third place finish, Alfalla padded his championship lead slightly and now leads Conti by 16 points. Nick Ottinger came home ninth in the Blue Grass State and still sits third in the standings, 43 points back of the lead. King and Baldwin round-out the top five in the standings, but are over a full race worth of points out of the lead, and will need help to catch the top two.
Next up on the NiSWC schedule is Dover International Speedway, a fast, high-banked one mile oval. The Monster Mile is known for its tight, door-to-door racing and big crashes, making track position the name of the game once again. Defending race winner Thomas Lewandowski could use a good run, as he currently sits a distant twenty-eighth in the points after finishing thirtieth last night.
With two tires being the winning call at Kentucky, it would come as no surprise to see drivers desperate for a win try a similar strategy at Dover. Only seven weeks remain in the 2012 season, so those running for the championship as well as drivers fighting for a Top 25 finish and a guaranteed spot in the 2013 NiSWC are feeling a sense of urgency.  Business is starting to pick up, so do not miss a lap of racing by tuning-in to iRacing Live to catch all the action from Dover in two weeks' time.
---
You may also like...
---