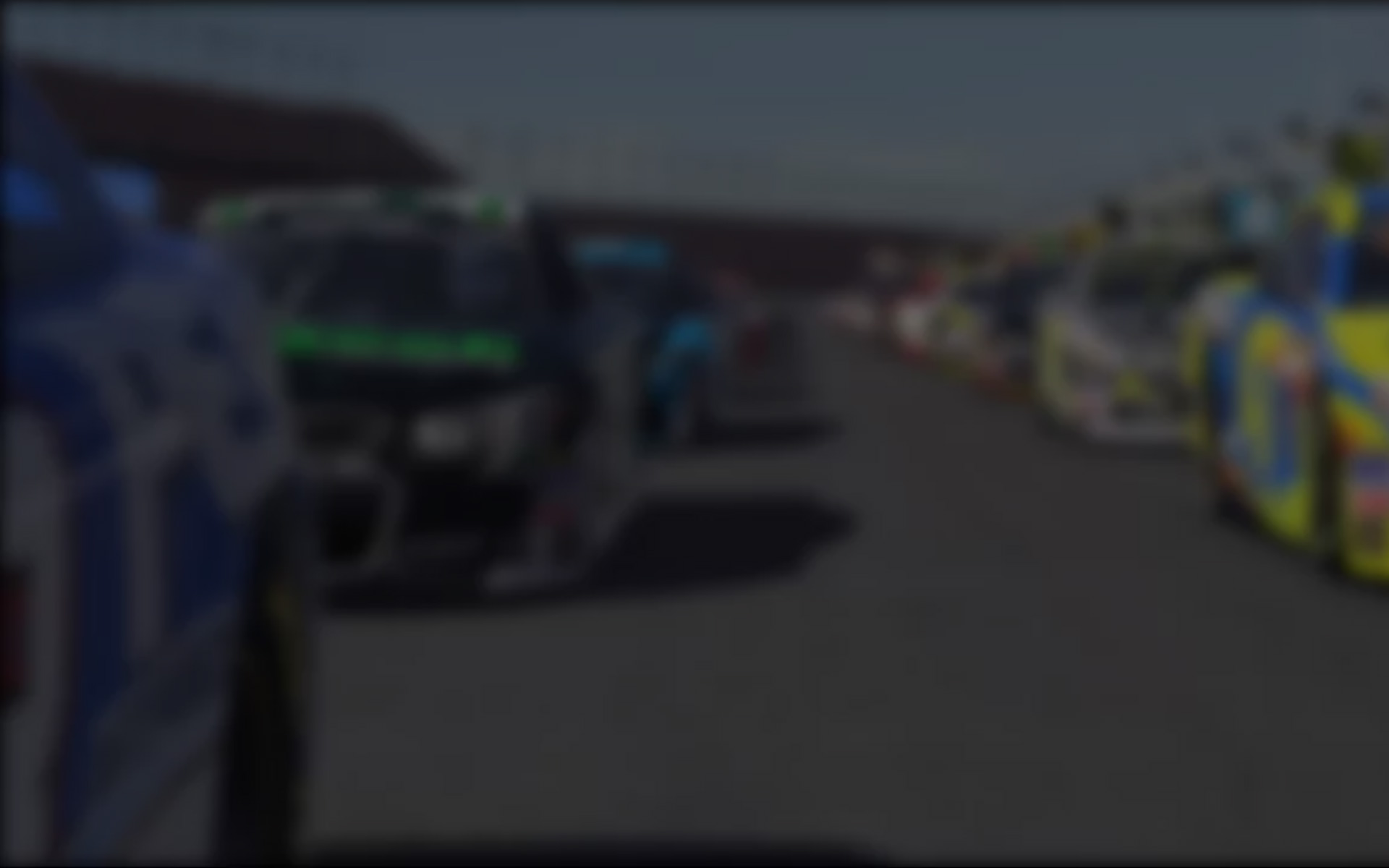 Round Two of the iRacing.com V8 Supercar Championship presented by Big Pond headed back into Australia, to one of iRacing's newest tracks — Oran Park. As Madison Down took Round One with Richard Hamstead finishing in second it looked like it might go the same way in Round Two.  However, Hamstead's win in the early online race set-up an entertaining main race with all the drivers electing to fuel save as that would be the quickest road home.
Down continued his strong form by taking pole position with a record lap time, breaking under the 66 second bracket with a 1:05.905.  Richard Hamstead, Justin Ruggier and Joshua Muggleton were all on 1:06.0, with George Maris fifth from Vail Riches, Michael Fabian and Scott McLaughlin. Paul Gallen and John Emerson would complete the top 10 starters for the main race.
When the lights green it was Hamstead getting the jump on Down as they made their respective ways into Turn One.   With Hamstead taking the lead, Down was left on the outside with Muggleton also getting the jump on Ruggier to take over third position. Back in the pack things turned bad when nose-to-tail contact causing a half spin by Leigh Ellis even as Cal Whatmore got pushed off the road. Things went from bad to worse from there, as contact between Matthew Barron and James McKnight led to McKnight hitting Ellis, putting both Falcons in the wall. The contact continued when Mitchell Abrahall tried to avoid the wreck and collected Samuel Collins in the process, sending Collins off into the dirt on the left as Abrahall speared across the track.  Marty Atkins tried to avoid the spinning Abrahall and turned across into Shaun Kelly which left all three in the tire wall.
Fortunately, what remained of the field soon settled into a rhythm with Hamstead and Down pulling away from the rest.  Muggleton was holding a nice gap to Ruggier as Riches rounded out the top five on completion of the Lap 13.  A lap later, Maris had an excursion at Turn One and fell down the order from P7.   Lap 22 saw Robert Hartley do his best to mimic Maris' adventure, running wide in the first turn but only losing one spot . . . to Maris.  Unable to stand the prosperity,  Maris lost control of his ANZ Falcon a few laps later in the last turn and, and in the process of flick spinning, hit the wall and then come into pit lane.
Hamstead would have a mirror full of Down all race but after 40 long, fuel-saving laps, the defending series champion took the main race win by .876s with Down's team mate Muggleton rounding-out the podium finishers 11 seconds back in third position.
Ruggier had to go "full conservation" at the end of the race to secure fourth ahead of Riches who, in turn, ran dry crossing the line just ahead of McLaughlin.  Fabian enjoyed a strong run to seventh position with John Emerson coming home eighth place just ahead of Hartley and Simon Black. Gallen had a great, race-long fight with Black but ended-up in 11th position with Matthew Barron and Anthony Kernich rounding-out the lead lap finishers.
Chris Luckey was the first driver one lap down ahead of Dylan Dulson, Abrahall and Carwyn May.  Whatmore and Atkins both finished seven laps in arrears, while Maris rounded-out the top 20 and was the last driver to DNF as Leigh Ellis was still running but 11 laps down at the end of race due to the Lap One carnage.  Collins, McKnight, Michele Curina and Kelly rounded-out the drivers to DNF from the race.
Top Five Drivers – Championship Points – Overall
1.    Madison Down – 510
2.    Richard Hamstead – 508
3.    Joshua Muggleton – 471
4.    Justin V Ruggier – 464
5.    Vail Riches – 436
Split Two Winner: Stewart Hall
Split Three Winner: Jason Scandolera
Split Four Winner: Jamie Peeters
Broadcast done by the crew at www.v8sonline.com.au
---
You may also like...
---