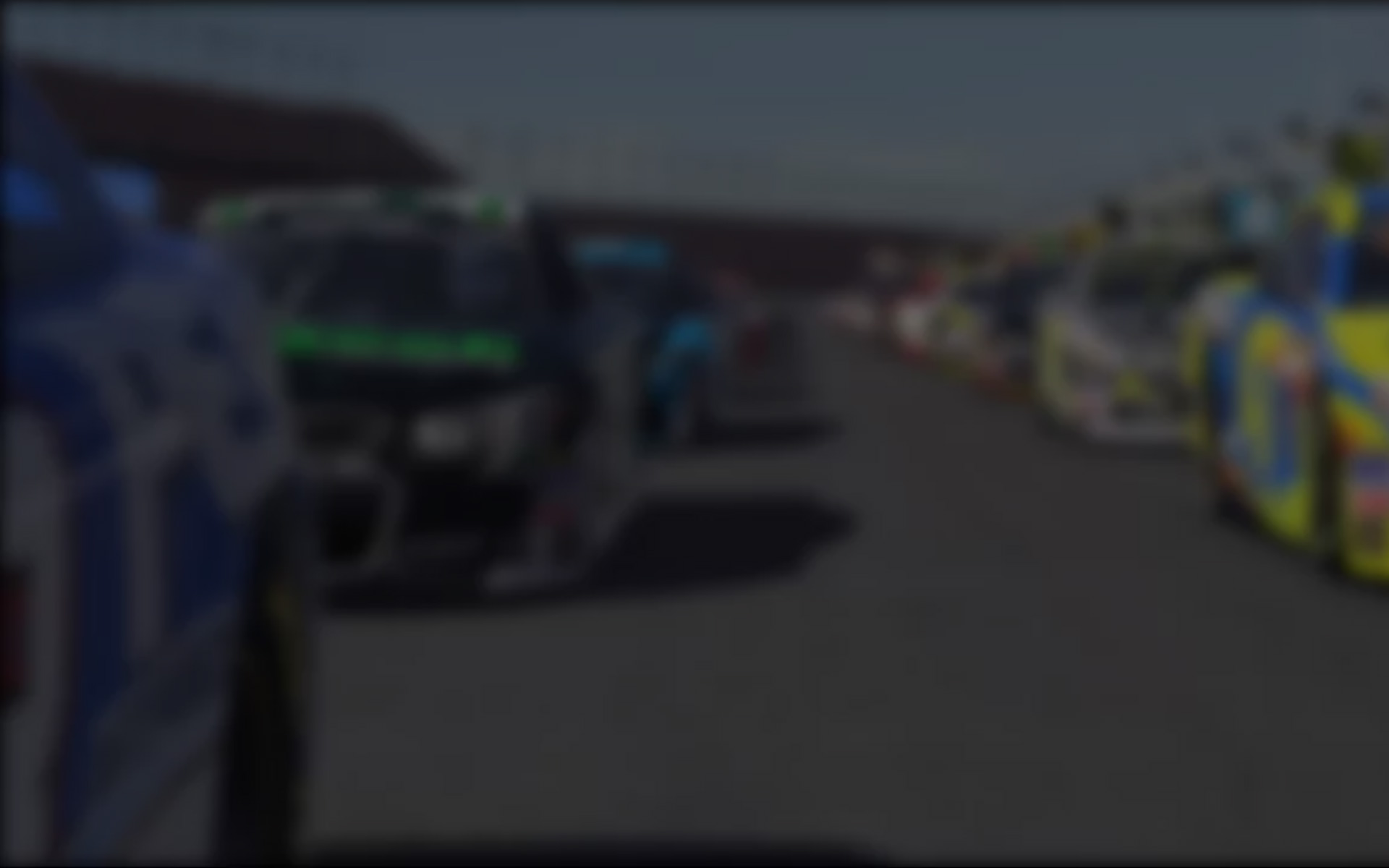 The final round of the  iRacing.com V8 Supercars Series presented by BigPond headed to the United Kingdom to race around the world famous Oulton Park circuit.  For the teams and drivers it was the first time they had driven on Oulton's 4.2km International Circuit.  Heading into the final week Richard Hamstead had only a two point lead in the championship and as it came to race day he found himself sitting on the grid in second place just behind Rens Broekman and one place in front of the man he had to beat for the title: Mitchell McLeod.
McLeod got the better of Richard Hamstead in Race One when going through Turn Four, Hamstead blew his motor which gave McLeod a big chance to win the title taking a 14 point lead into the final online race!
As no one went quicker in the final qualifying session the grid stayed the same with Broekman on pole with a 1:26.680 just ahead of Hamstead by .002s and McLeod just behind in position three, while ANZ Motorsport drivers George Maris and Justin Ruggier rounded-out the top five.
With qualifying all done and dusted it was time for the sim racers to hit the grid and as the lights went green it was Hamstead once again beating Broekman into Turn One and leading the way. With Broekman now occupying second place and McLeod keeping his position in third it was Ruggier getting the jump on his team mate as they head into Turn Three for the first time while Vern jumped the gun and had to serve a black flag, ending any chance for a good finish.
Unfortunately for Christopher Osborne, his race ended as quickly as it started when Osborne turned-in a bit too early in Turn Three, not knowing Jason Brunton was on his inside.  Contact resulted and — unfortunately for Clayton Brooks — as Osborne tried to save it, he spun straight into the right front of Brooks' car ending both their races and sending Osborne's car across the track into the path of Marty Atkins.
With all the Lap One carnage over, Broekman had to avoid a lagging Hamstead and into the last turn as the championship leader's car lagged out and then back in.  As a result, Broekman ran wide enabling  McLeod and Brunton to go through, pushing him from first to fourth after one lap.
On Lap Three McLeod had a run on Hamstead into Turn Five.  Hamstead blocked and McLeod went high, give Ruggier the chance to go underneath Mitchell for second place.  With Ruggier in P2, Hamstead now had some breathing space.
Having announced this would be his last race with Tatts.com, Scott U'Ren would have wanted to put on a show.  Unfortunately it was far from that.  On Lap Five he tried to make a move and then by the time he backed out it was too late and making big contact ending Thomas Guerrini's race into Turn 10.
Broekman began falling back into the path of Maris.   Maris finally got the move done into Turn 1 on Lap 13, and now had the chance to chase down McLeod, leaving Broekman to wondering what had happened after dropping from pole to fifth.
After his strong finish in Race One,  the main race wasn't going the way Josh Muggleton would have liked.  On Lap 16 a dive on Peter Read into Turn 10 saw contact between the cars, and on Lap 18 Muggleton caught a bump which sent him sideways onto the back straight, costing him four positions.
Maris has been catching McLeod at a few tenths a lap.   Heading into the last corner on Lap 22 Maris made his move to put ANZ Motorsport second and third on the road, with Hamstead now only three laps away from the championship.
With one lap to go Ruggier had closed the gap on Hamstead and heading into the last corner he was right within a tenth of the lead.  As Hamstead blocked and covered the inside line into the last corner, Ruggier tried to cut under for the exit.   Holding the inside line, however, Hamstead crossed the finish line first to take his maiden iRacing.com V8 Supercars Series presented by BigPond title!
While a fantastic showing from ANZ drivers Ruggier and Maris finished off the podium, it would be McLeod making it three straight second place finishes in the series, and rounding out the top five would be Broekman.
Once again Congratulations to Direct Clutch Services driver Richard Hamstead on the series win and well done to everyone on making it a fantastic series!
You can watch all the race replays on www.v8sonline.com.au and race recaps on YouTube under v8sonlineaustralia.
We would like to thank Jay Kennedy, Daniel Briant, John Emerson and Vern Norrgard who did broadcasting, race recaps and articles!
Next event on the V8 Schedule is the special event run by V8sOnline called V8 SuperChaos, pitting the high performance Ford V8 Supercar against the legendary Lime Rock Park Chicane.
You can catch all the action live from 7:30 AEST April 30th, and you can watch it all from www.v8sonline.com.au.
---
You may also like...
---