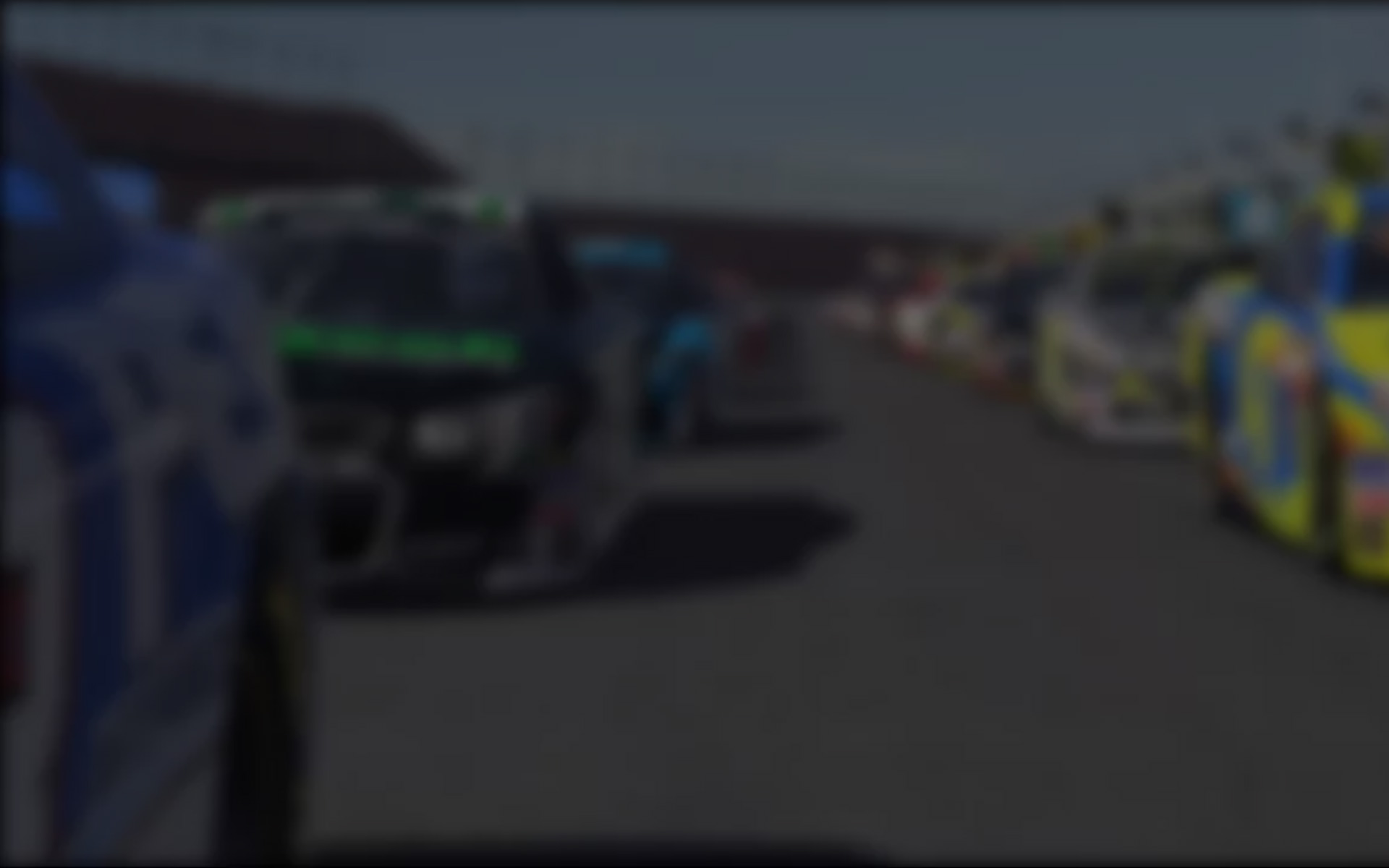 Round 4 of the iRacing.com V8 Supercar Championship presented by BigPond returned home to Australia for the first endurance event of the season at Phillip Island. With Scott McLaughlin dominating the first 3 rounds of the Championship, would anyone step up and stop him from having a perfect month of online racing?
Richard Hamstead grabbed the pole position with a blistering lap of 1:31.346 with Rens Broekman joining him on the front row with a 1:31.507. Justin Ruggier and Joshua Muggleton put their Ford Falcons on the second row ahead of Scott McLaughlin and Vail Riches, while John Emerson and Brad Ryan would start from the fourth row.  Mitchell McLeod and Shaun Kelly rounded-out the top 10 starters for the main race.
When the lights went green it was Hamstead getting a good jump and leading the field into Turn One with Broekman slotting into second and Muggleton and Ruggier going side-by-side through the first turn.  Now on the inside for Turn Two, Muggleton completed the pass with Riches moving in behind him as Ruggier ran a little wide. Just as everyone was settling down and into a single file, Marty Atkins braked a little (too) deep into Siberia and Richard Hunter's tail, spinning him around. Unfortunately, Richard Stamenkovic had nowhere to go but onto the grass and just as he re-joined the track he chopped a hit.
Lap 2 saw Emerson make a move on McLeod into Honda Hairpin and, on the following lap, Ruggier tried to make a move on Riches and just as Riches was about to turn-in.  Riches opened up the steering to try and give Ruggier room but it wouldn't be enough and Riches was forced wide, allowing McLaughlin through  as well. Going into Turn One Clayton Brooks would blow his motor on the downshift and end his night.
Riches' night would get worse on Lap 8 when contact into Siberia bent his steering.  On the following lap, he chopped another hit from behind, sending him off track.   At that Riches was at least able to continue; not so Clayton Brooks who blew his motor on the downshift for Turn One and ended his night.
The end of Lap 15 saw the first round of pit stops commence when third place runner Muggleton headed to the lane to try and undercut Broekman.   Ruggier reacted to Muggleton's early pit strategy on the following lap with Hamstead pitting from the lead on the end of lap 17, with Broekman soon following.
Muggleton's attempt to jump Broekman worked a treat as Broekman re-joined behind him and the battle for second place was underway! But Broekman lost a spot when he overshot into Honda, allowing Ruggier through into third on Lap 19.
The last person to pit would be McLaughlin, who stopped on Lap 21.   He re-entered the fray as Emerson drifted a little wide through Turn One.  With fresh tyres, McLaughlin he tried to hold the outside line but, with little room to account for the internet lag, contact ensued, ending Emerson's night.
McLaughlin made quick work of Ryan, with Broekman the next to fall on Lap 30 as the championship leader set sail for the battle for second with Muggleton and Ruggier were locked together, trading lap times. By the time McLaughlin caught them on Lap 34, Ruggier's tyres had lost their edge and, at Honda, Ruggier missed his braking marker and running wide. McLaughlin duly went through and set off in search of Muggleton.
Seemingly oblivious to the scrap for second, Hamstead cruised to his first main race win and stopped McLaughlin's main race win streak at three.  This would also be the first victory for the TTL in2simgear team and also close-up the championship battle.  Muggleton pulled-off one of his best drivers after his early pit stop and held onto second place, with McLaughlin in third place.  Ruggier's Lap 34 error cost him dearly as Broekman bested him for fourth place.  Ryan finished sixth ahead of McLeod and Shaun Kelly, while Riches fought back to finish in ninth and Christopher Osborne rounded-out the top 10 finishers. Simon Black and Corey Slade both ran out of fuel coming onto the main straight for the final time and concluded their battle by coasting to the line, albeit well down the order.
The Series now makes its initial foray to Circuit Zolder.  With its multiple chicanes, this unfamiliar track should make for an interesting race.
Top Five Drivers – Championship Points – Overall
1.    Scott T McLaughlin – 1060
2.    Richard Hamstead – 1014
3.    Justin V Ruggier – 962
4.    Joshua Muggleton – 914
5.    Rens Broekman – 894
Split Two Winner: Corey Osborne
Split Three Winner: Christopher Brooks2
Split Four Winner: Kane Baxter-Smith
Broadcasted done by the crew at www.v8sonline.com.au.  You can watch the replay here.
---
You may also like...
---