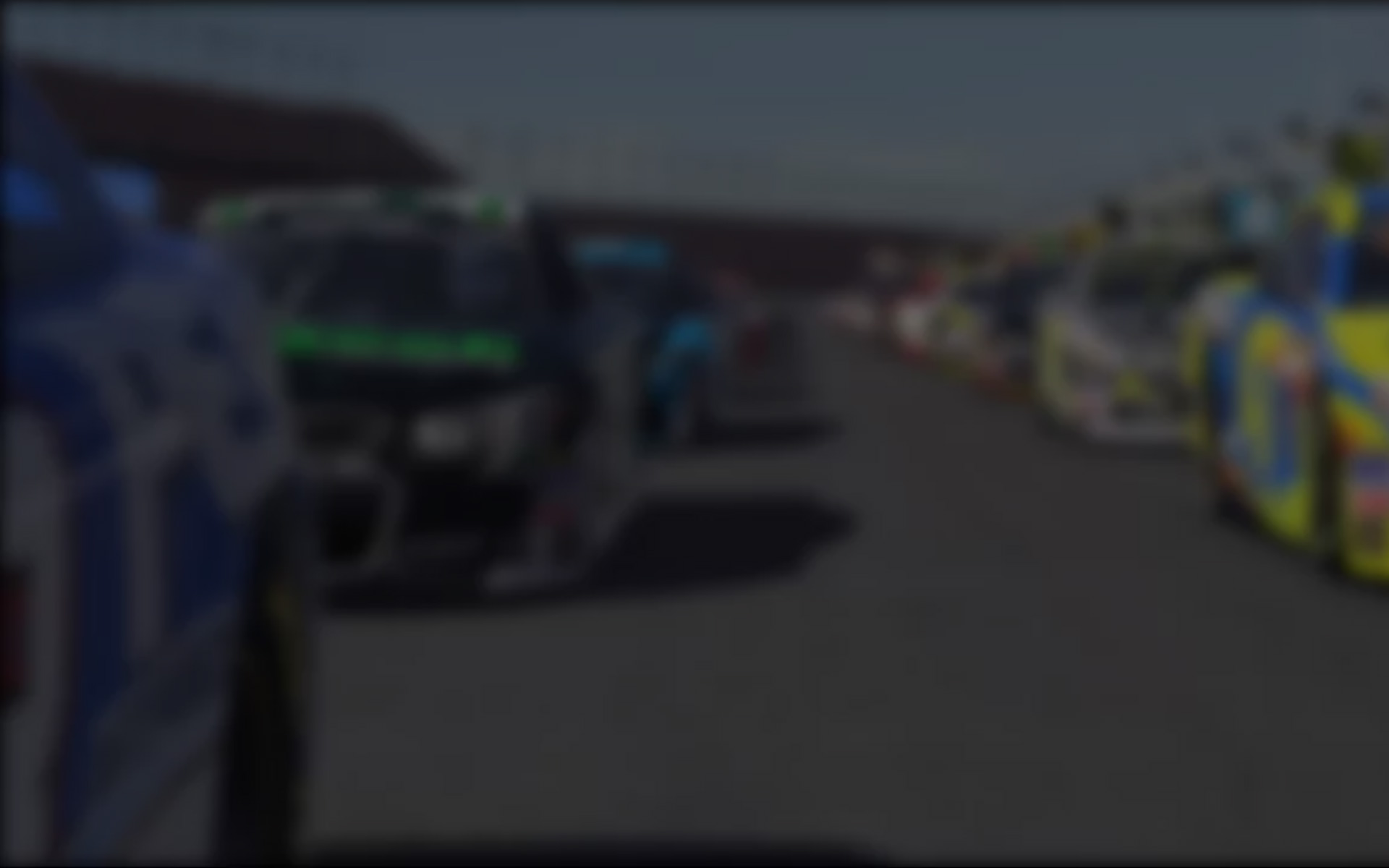 The battles were many and oftentimes costly. Still, the warriors eagerly arrived every week wanting more and ready to put it all on the line. Throughout these various tests of skill and stamina, some found triumph while others found only ruin and disappointment. However, after an exciting 12 Weeks of door-to-door sim-racing action from the iRacing.com V8 Supercars Series, we're pleased to announce the one driver who stood above the rest.
Ladies and gentlemen, a round of applause to the 2014 Season 2 iRacing.com V8 Supercars Series Champion, Team TTL driver, Richard Hamstead!
In the final weeks of the season, it was a very close battle for the championship lead between Hamstead and ANZ Motorsports driver, Jarrad Filsell. Although Hamstead had the upper hand because of his race wins, Filsell was by far the most consistent and was almost always finishing races in the top-five or better.
Approaching Week 12, the final race of the season, Hamstead had the lead over Filsell by only two points. As the cars gridded up at the starting line of Phillip Island Raceway for the 38 lap event, it was Hamstead who started on the pole with a blistering lap time of 1:31.129. He was followed by Trans-Tasman Racing (TTR) driver and nine-time champion, Madison Down. Starting in third was Shaun Kelly (TTR) followed the championship contender, Filsell. Rounding out the top-five of the starting grid was Kumho Tyres Australian V8 Touring Car Series driver, Justin Ruggier of Eggleston Motorsport.
As the lights turned green, the field got off to an amazingly clean start. Many were immediately holding their breath, however, as SDC Motorsports driver, James McKnight, Synergy Sim Racing driver, Wayne C. Bourke, Kurt Stenberg of KustomImage Motorsports and NASCAR iRacing.com Series World Championship driver Nick Ottinger went four-wide before they even reached Turn One, Doohan Corner. McKnight had the best launch off the line of the four but was on the outside of Turn One as Stenberg was able to squeeze between Ottinger and Bourke. Stenberg and McKnight were briefly side-by-side as they entered the Southern Loop of Turn Two. As the pack exited the turn, it was Stenberg who had popped out in front of the others but only to find himself in another battle with Demidov Motorsports driver, Ian Ford.
TTR driver, Leigh Ellis, saw his race go up in smoke on Lap 24 after recently exiting pit lane. Ellis, who was heading downhill towards Turn 10, had started in eighth position but was currently in twelfth as he was working his way through the field when the incident happened. Although this was definitely not the way Ellis wanted to end his season, he was forced to park it in the garage and ultimately finish 15 laps down in nineteenth position.
With some of the various top-ten starting drivers having incidents and moving towards the back of the field, this allowed drivers like Tony Autridge (TTR) to move up in the field. Autridge, who started in eleventh, kept the pressure on throughout the race and was able to bring it home in sixth. Other movers and shakers included Ottinger who started in thirteenth. Proving to all that he's not just an excellent oval driver, Ottinger was able to secure a solid top-ten finish and bring his Ford Falcon home in ninth.  Going the opposite way, however, it was Ruggier who found himself finishing in sixteenth after starting in fifth. Having to pit twice during the race, it's unclear if Ruggier simply didn't take enough fuel or if it was damage related.
As the laps winded away, Filsell remained in his starting position of P4 and maintained a roughly one to two car length distance behind Kelly. Filsell, eager to get around Kelly to score as many points as he could, just couldn't get the job done. It would be incorrect to say that he didn't try, however, as he made several attempts to pass. Kelly, however, was using an excellent defensive strategy which routinely put his opponent on the wrong side of the track whenever Filsell would manage to pull up alongside of him. The two briefly made contact at one point but that was the extent of their battle. In the end, Filsell finished where he started in fourth a little over two seconds behind Kelly who claimed the final step on the podium.
The race up front came down to the final lap. Although Down and Hamstead were able to quickly separate themselves from the field, that didn't mean they were going to give each other any space. Hamstead had maintained the lead for the entirety of the race but, coming to the final lap of the season, Down wasn't just going to let Hamstead have the race win without a fight. In what could be described as closely resembled the final lap of the 2013 Bathurst 1000 between Mark Winterbottom and Jamie Whincup, Down was close of the back bumper of Hamstead with mere inches to spare. As the two drivers headed towards the downhill Turn 10, Down kept the pressure on Hamstead. With only a few corners remaining in the season, Down simply wasn't able to get it done. Nevertheless, he finished the race in second position and a mere .260 seconds behind the race winner, Hamstead.
This Australian Strength-of-Field (SoF) race had a strength of 4572 and was split four times. The top five finishers from the other splits are as follows:
Split 2/SoF 2403
1-      Martin Carroll
2-      Joshua Burdon
3-      Jason Scandolera
4-      Sanjin Delalic
5-      Aaron Hamilton
Split 3/SoF 1574
1-      Craig Jones
2-      Andrew Vince
3-      Jamie M Eaton
4-      Taranto Twinrow
5-      Ian Bird
Split 4/SoF 1081
1-      Matt Morris
2-      James N Scanlan
3-      Daniel Cauneac
4-      Jeff Gauci
5-      Michael Bridges
A great and purely dominating victory for Richard Hamstead, he brings home the final win of the season and also captures the Season 2 Championship with 1951 points. Coming in a close second was Jarrad Filsell with 1926. Finally, rounding out the Season 2 podium is nine-time series champion, Madison Down with 1849.
With the season complete, below are the Season 2 Champions from divisions 2-10.
Division 2
1 Samuel Collins
2 Sam Sutton
3 Martin Carroll
Division 3
1 Todd Parkes
2 Rhys Goldfinch
3 Martin Creemers
Division 4
1 Sam Compton
2 Adam Harden
3 David Nenadic
Division 5
1 Mark Pickett
2 John Mifsud
3 Tony Lynch
Division 6
1 Andrew Williams
2 Jonathan Beikoff
3 Aaron Mcintyre
Division 7
1 Taranto Twinrow
2 Shane Best
3 Jason Quire
Division 8
1 Simon Pitt
2 Paul Chetcuti
3 Clifford Chapman
Division 9
1 Robb Charbonneau
2 Tim Craghill
3 Dave Dudley
Division 10
1 Shaun Thomson
2 Rene Oliveira Leal
3 Derrick Taylor
Congratulations to all of the winners! They've earned a much needed week off but I suspect that they'll be hard at work for the upcoming Season 3. With season 3 brings the final running of the current Ford Falcon. Although the existing Falcon has seen its share of ups and downs, many drivers both new and old are looking forward to the new Car Of The Future (COTF) coming to iRacing and bringing the classic Ford vs. Holden rivalry to the world of sim-racing.
To all who participated in this series and to all who have taken the time to read my articles throughout the season, I thank you. I look forward to seeing you in Season 3 as iRacingNews will be there to cover all of the action of the 2014 Season 3 iRacing.com V8 Supercars Series!
---
You may also like...
---