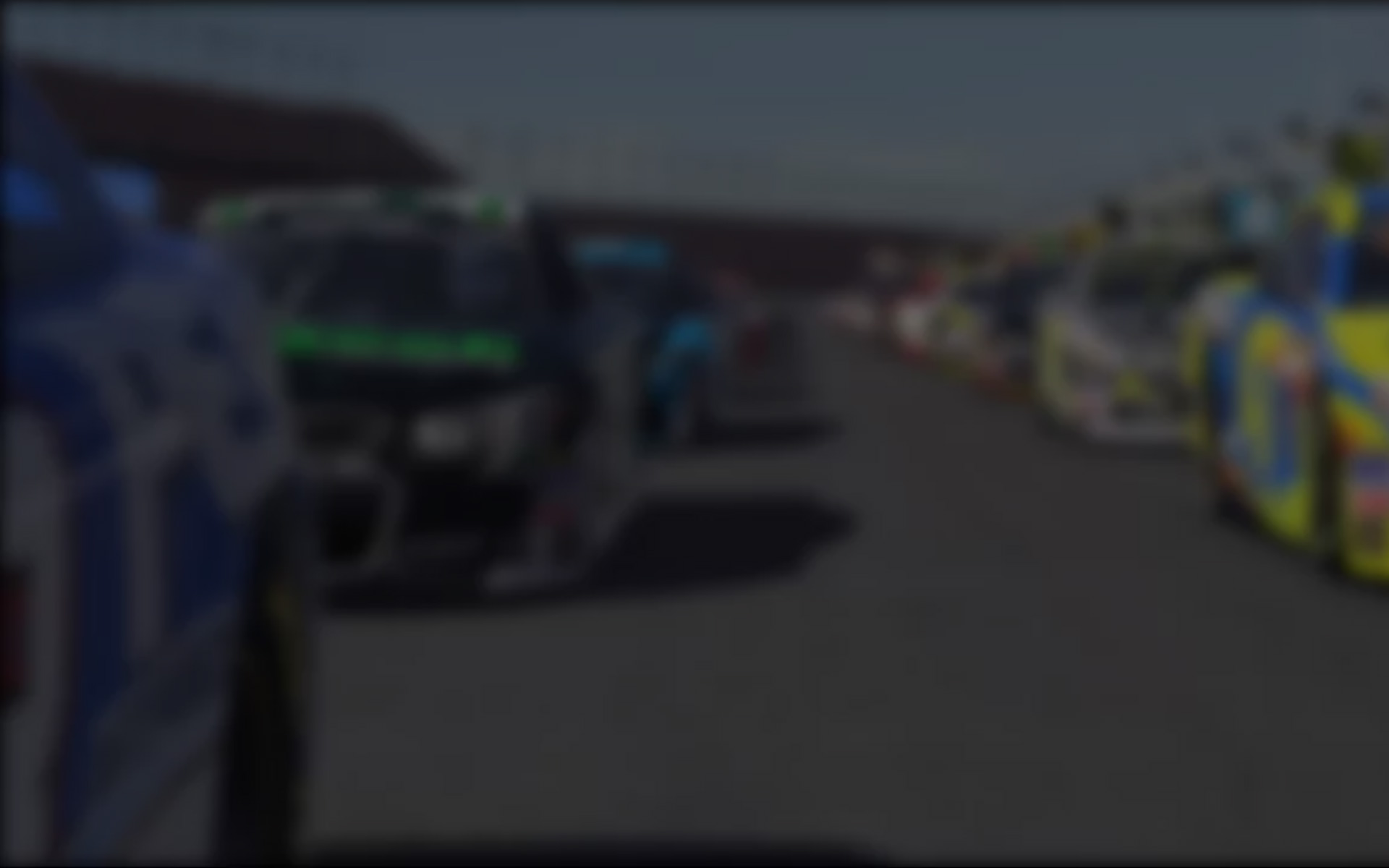 Hayden Cardwell put the "1" in "D1RT" when he won the iRacing World of Outlaws Late Model World Championship season opener from Volusia Speedway Park on Monday night. Making his series debut with the D1RT Racing squad, Cardwell scored the pole position, won his heat race, and dominated the 50-lap feature to beat Swindell Speedlab's Blake Cannon by more than two seconds.
"All in all, it was a good night," Cardwell said after taking the victory and $300 winner's bonus. "I was kind of worried at the end of practice, because a couple of my teammates were running quicker lap times, but I pulled out a lap in qualifying that I wasn't expecting. For the feature, I just kind of threw the kitchen sink at it, and it ended up working out. It kind of got really rough, but we managed to hang on."
35 drivers started the second annual Late Model World Championship season on Monday night, with 17 of them returning from last season and nine coming from other iRacing World Championship series. But it was rookies who took three out of four heat wins, with only defending Late Model champion Zach Leonhardi interrupting the newcomer dominance in the preliminary rounds. The ultra-competitive field left some of the top Dirt Oval drivers in iRacing on the outside looking in, as 2018 Late Model runner-up Howard Weaver and 2019 Sprint Car champion Alex Bergeron each had to advance to the main event through the last chance qualifiers.
Despite intense racing throughout the field, the 20 drivers who made it through the final kept it mostly clean, as only one caution bunched up the field in the main event. Close battling within the top five between Leonhardi and Kendal Tucker set off a chain reaction that spun Austin Carr. Carr rebounded to climb back to 12th, while Tucker fell back on the restart and eventually settled for 11th.
With Cardwell comfortably established in the lead, attention turned to the battle for second, as Cannon and Victory Lane Racing's Evan Seay provided one of the most exciting battles of the night. Seay used the inside line to claim the spot on the penultimate lap of the feature, but Cannon muscled his way back into second in Turn 2 on the final lap and hung on for the checkered flag.
"It was just hard, clean racing," Cannon explained. "I kind of used (Seay) up a little bit, I'm not going to lie, but I feel like he kind of made a hole that wasn't there. Either way, I had a really good piece. That one green flag run, I ran Hayden down a little bit and we had close lap times, but then the top went away and I had nothing. To come home second, I was just hanging on at the end."
"It was fun to come up through the field and run the bottom like that," Seay added. "I'd like to have been run a bit cleaner than (Cannon) pushing me up the track and passing me, but it is what it is. You had to either set your car up to run high or down low, and I knew the bottom was probably going to come in later in the race, so I just stayed patient on the bottom and started to pass some guys in front of me once the track started to slow down on the high side."
Cardwell's D1RT teammate Shad Prescott was fourth, while Leonhardi was the best-finishing returning driver in fifth. Sprint Car veterans Dylan Houser and Bergeron produced two of the most exciting drives of the season to climb to sixth and seventh, respectively; Houser started 15th on the 20-car grid, while Bergeron started 18th after winning his LCQ.
iRacing World of Outlaws Late Model World Championship points are as follows:
Hayden Cardwell, 84
Blake Cannon, 74
Evan Seay, 72
Zach Leonhardi, 70
Shad Prescott, 67
Dylan Houser, 60
Dylonn Fox, 57
Blake Matjoulis, 56
Alex Bergeron, 55
Kendal Tucker, 54
The iRacing World of Outlaws Late Model World Championship season continues on July 1 at Limaland Motorsports Park. The event will be streamed live at 9PM ET/6PM PT on the iRacing eSports Network on Facebook, Twitch, and YouTube.
---
You may also like...
---