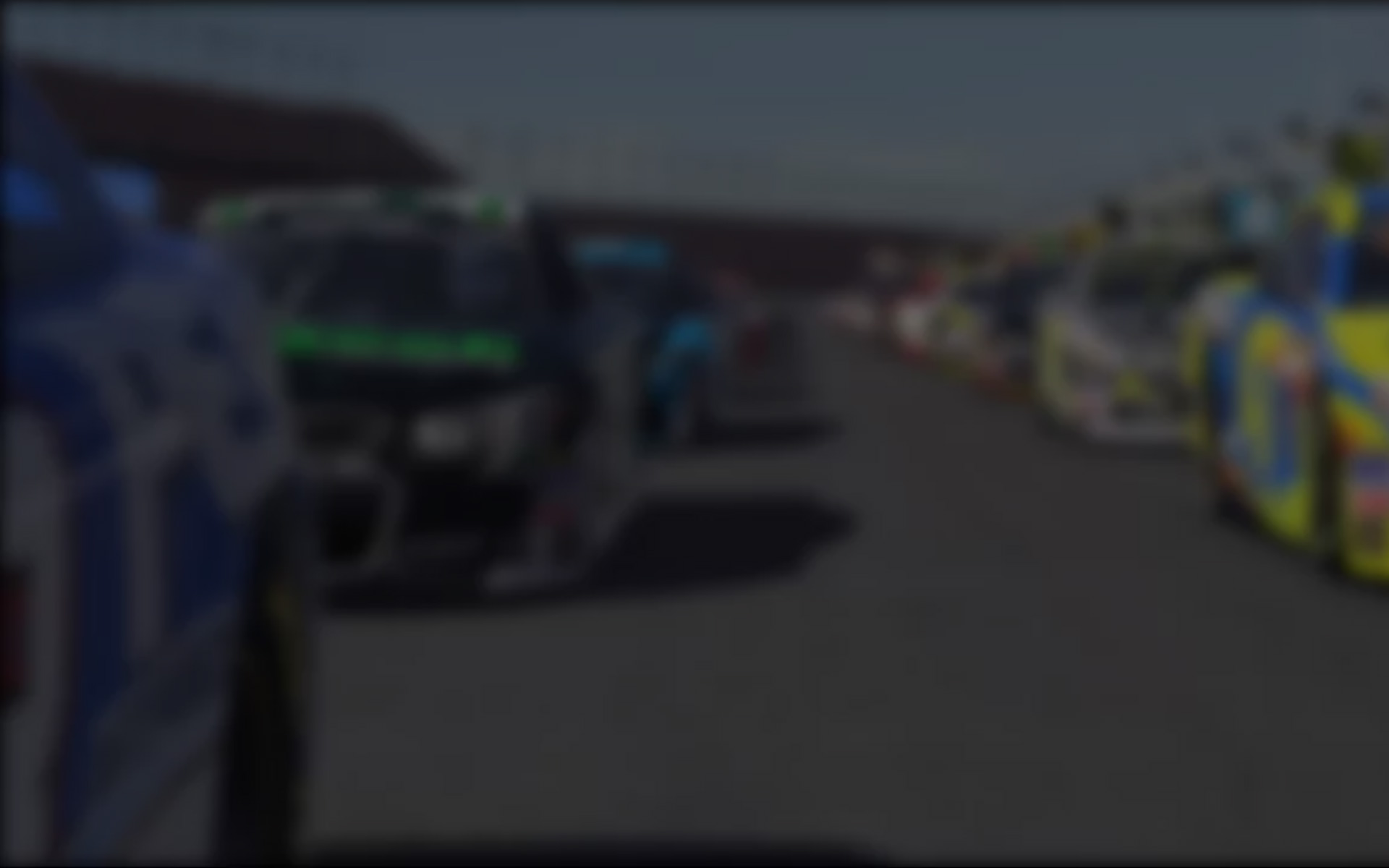 Thomas Hazard (Rochester, MN) picked up where he left off one week ago by taking the victory in Thursday's GSRacing.net 100 at the Charlotte Motor Speedway. Hazard, driving the #9 nVidia Chevrolet Silverado, started sixth in the 32 truck field and wasted no time getting to the front, working his way into the top three by Lap 17 and into the lead for the first time on Lap 48. Daniel Pope II (Smyrna, TN) finished in second place ahead of Brad Wright (High Point, NC) and Brandon Buchberger (Sugar Grove, IL), followed by Dylan Duval (Halifax, NS), who charged from eighth place with 13 laps remaining to take a top five spot.
Adam Gilliland (Dallas, TX) started the night by winning the GSRacing.net Pole Award with a time of 30.552 seconds around the 1.5-mile Charlotte oval. Duval gained the most positions in the main feature after advancing 23 spots from his 28th starting position. The lead was exchanged thrice amongst three sim racers with Hazard leading the most laps of the event (48), besting Wright (47) by a single circuit. The race featured just two caution flags, the first of which came on lap 55 when Gilliland's #8 Justin Brooks Designs Chevrolet slammed into the rear of a pitting Carson Downs (Valencia, CA). The GSRacing.net 100 took just one hour and four minutes to complete. Rob Ackley took the win in the Consolation Race, which punches his ticket into the third event of the GSRacing.net Truck Series season.
With Hazard taking the wins in the first two races in the season, he has opened up a 20 point advantage on Rod Merritts Jr (State College, PA), who finished sixth at Charlotte. Buchberger sits third, just two points out of second while two-time and defending GSRacing.net Truck Series champion Bryan Blackford (Seminole, FL) is fourth, just six points out of third with two races in the books. Hiram, GA's Jon Adams rounds-out the top five in points, one point behind Blackford's pace.
Next up for the drivers of the GSRacing.net Truck Series is the Alabama 200 at the Talladega Superspeedway on October 20. Jean Costa (Mount Pocono, PA) won the only restrictor plate event of the season in the 2011 campaign when he took the victory in the season-opening affair at the Daytona International Speedway. Practice opens for the Alabama 200 at 8pm Eastern on Thursday, October 20 with racing beginning at 9pm.
Click here for complete results.
About the GSRacing.net Truck Series
The GSRacing.net Truck Series is one of iRacing.com's premier independently hosted series. The Truck Series is in its third full season and is frequented by the top drivers in the sim community, including those from the NASCAR iRacing.com Series World Championship. Races throughout the 2011 season are conducted on Thursday nights with live flag-to-flag coverage on WebRacingNetwork.com.
---
You may also like...
---