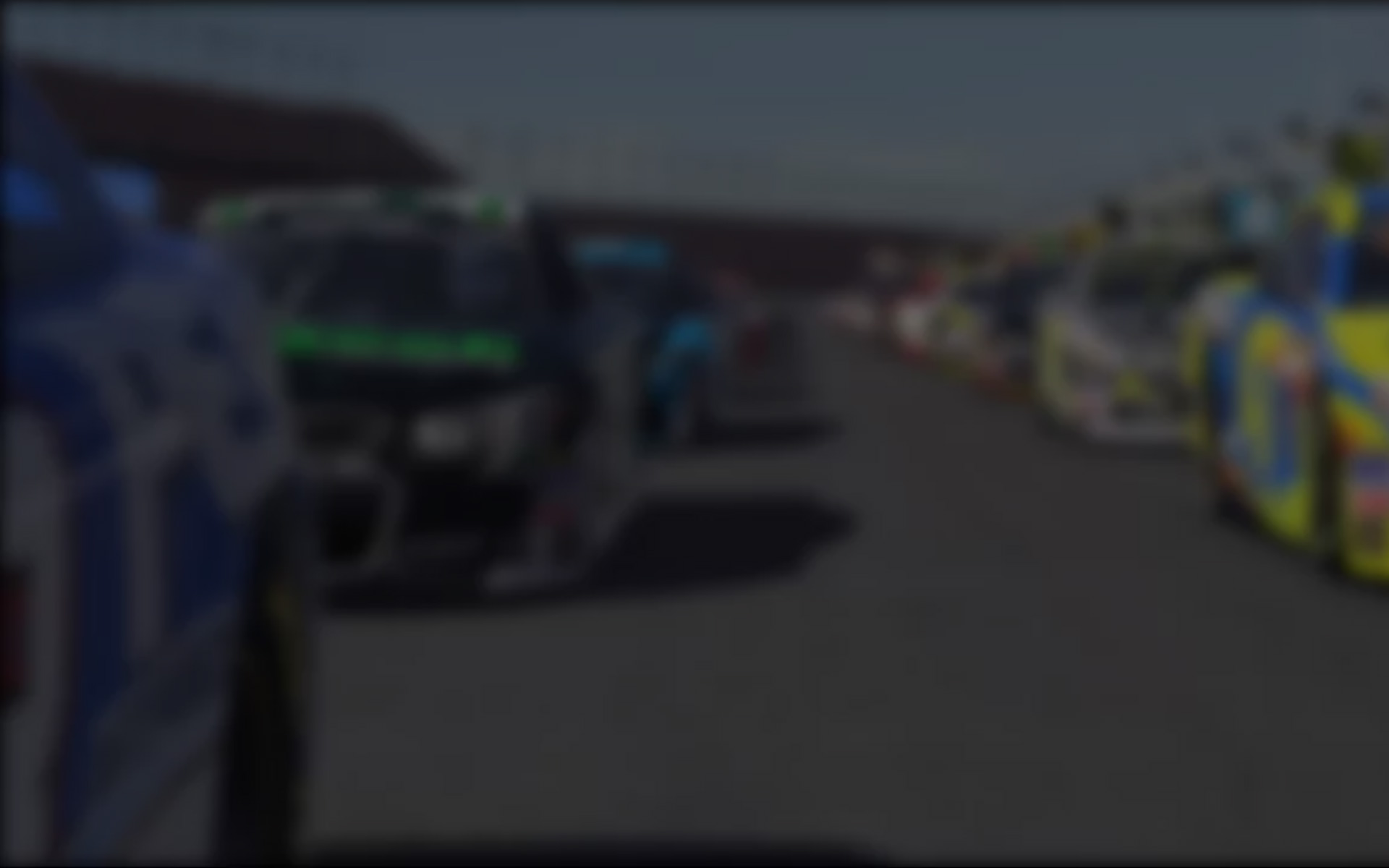 Week Two of 2011 Season One brought the iRacing.com V8 Supercar Series to Watkins Glen.  And in a split worthy of the Upstate New York's track's tremendous heritage, the virtual V8 heavyweights got together for a sim racing rumble on Valentine's Day.  Mitchell McLeod poled with a 1.11.813, from Week One dominator Trond Hjerde. Next came Michael McCabe, Jonathan Salhani, Troy Cox, Darrin Vouch, Shay Griffith, Darren Marsh, Finland's Nicolas Alho and Simon Madden. Such was the strength of the field, the class acts of Wayne Harris, George Fullerton and Justin Strickland were buried in eleventh, twelfth and thirteenth respectively.
As McLeod took off from pole, Hjderde ran onto the dusty runoff asphalt at Turn One and was out-muscled into the Esses by McCabe and Salhani. McLeod broke out to a substantial lead by halfway through Lap One while McCabe came under pressure from Salhani. Meanwhile, George Fullerton and Wayne Harris had a ding dong face-off, squirming under brakes into the Bus Stop with Strickland hanging back waiting for fireworks.
At the beginning of Lap Two, a rattled Hjerde ran wide in the same place which claimed him the previous lap, allowing Cox past.  Cox set off after McCabe, already quite a way ahead, leaving Hjerde to be monstered by Griffith and Vouch. A lap later, Hjerde ran wide exiting Turn One, allowing Vouch through into sixth, and tapping Marsh into the barriers upon rejoining. The Scandinavian was not enjoying The Glen, ruing his average start. Marsh was barely happier but placated an apologetic Hjerde by suggesting some momentary lag was mainly responsible for the contact.
Further up, McCabe drifted too much through the Carousel and Salhani nailed him into the fast left-handed penultimate corner after a drafting match down the back straight at the end of Lap Three.  Moments later, Griffith forced his way through Hjerde at the same spot.
Fullerton was making good progress from his 12th place grid position, up to eighth by Lap Five but dropped out with connection problems on Lap Nine.
Commencing Lap 10, Salhani handed second back to McCabe after doing a Hjerde at the exit of Turn One. They stayed in this formation for a while, Salhani doing some wild drifting through the final turn to keep up what was a mammoth dice in the early laps. Neither could close the gap to lead McLeod.
By Lap Twenty the gaps were fairly equidistant between McLeod, McCabe, Salhani, Cox, Griffith and Vouch, with Hjerde settling in seventh, then Madden, U'Ren, and Nicolas Alho the Finn rounding out the top ten. It was anything but processional from inside the cockpit, however, with the ultrafast and guardrail-lined curves of The Glen testing everybody's setup.
McCabe worked hard on McLeod's lead, a fact not going unnoticed by the leader. "Michael started to pull me in a little bit" said Mitchell later. "So I just tried to keep calm and not do anything stupid…" It worked. McLeod held on to victory by over three seconds from McCabe and Salhani in the Fanatec Falcon in a race that altered his opinion of Watkins Glen.
"Early on in the week I really wasn't enjoying this track at all, amazing how a win can change your opinion of a track!" — Mitchell McLeod
The young Country Victorian also managed to launch into the lead of Division One.
RACE RESULTS
1. MITCHELL MCLEOD
2. MICHAEL MCCABE
3. JONATHON SALHANI
4. TROY COX
5. SHAY GRIFFITH
6. DARRIN VOUCH
7. TROND HJERDE
8. SIMON MADDEN
9. SCOTT U'REN
10. NICOLAS ALHO
11. WAYNE HARRIS
12. JUSTIN STRICKLAND
13. MATTHEW NETHERCOTE
---
You may also like...
---