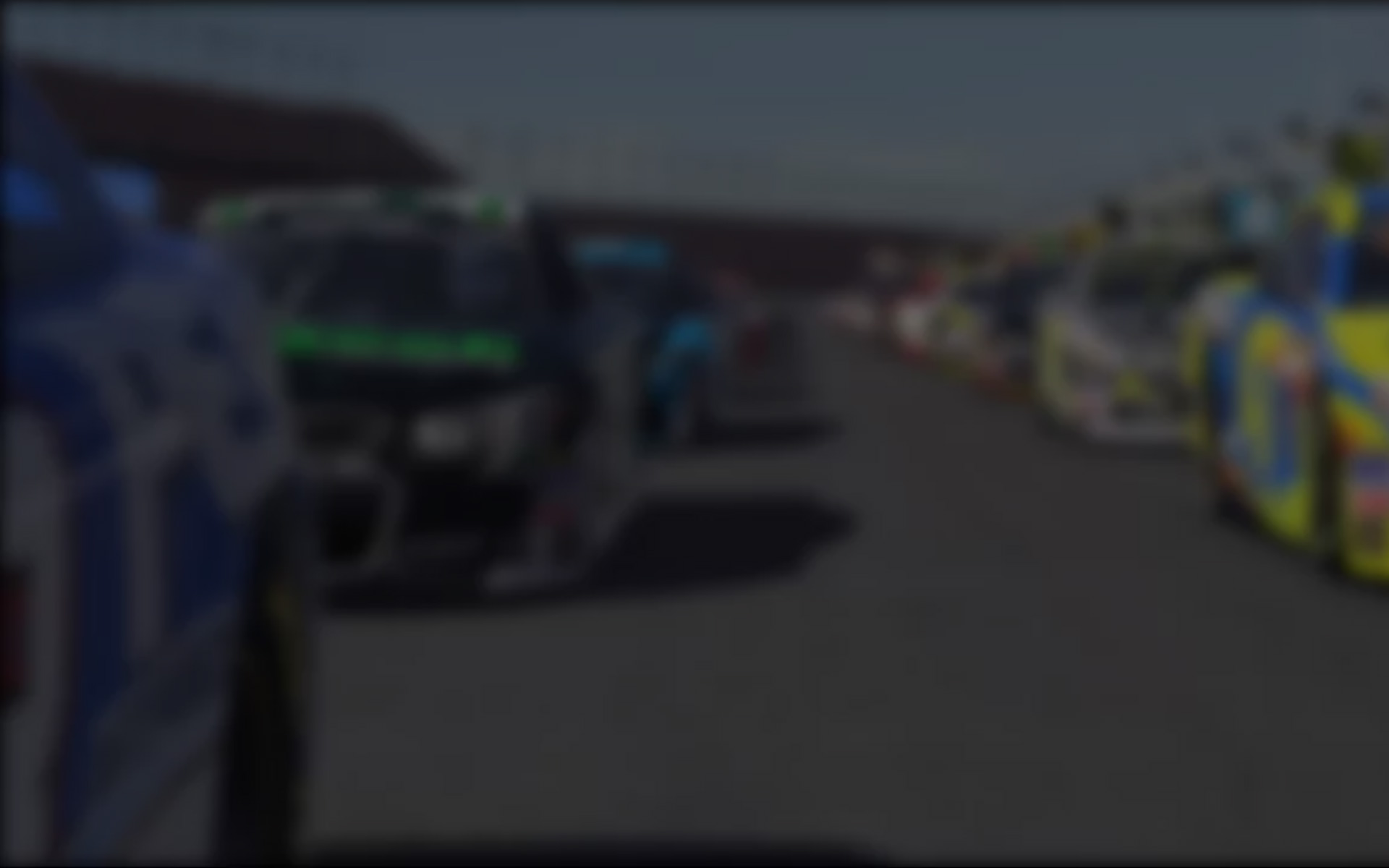 August 15th, 2017 by Dan Ensch
With only three races remaining Tim Holgate went a long way towards retaining his Apex InfoTech Elite Oval title by dominating the field from pole to checkers to win the Milwaukee 150 at the Milwaukee Mile on Sunday, August 6th.
Christopher DeMerrit, on break from his college studies, was the only sim racer to challenge Holgate as he led 35 laps including most of the opening 30. But a strategy choice to pit during the final caution of the day on lap 32 eventually cost him as Holgate stayed out. DeMeritt would have to settle for fourth place.
"I had a good car, but I got on the wrong strategy," said DeMeritt. "I ran my own race from there. We had a good car and I'm not too happy with the result, but we had a good showing, at least."
Holgate also pointed to the crucial decisions made at lap 32 as the turning point of the race.
"We were working backwards as far as the strategy from that point," said Holgate, who now has brought his Sam Maxwell sim racer to a more comfortable 33-point lead heading into the final stretch.  "With the earlier yellows we had pitted and we knew we were going to be able to make it with two more stops, and that was going to be a good strategy. Everybody else got to pit around the same time but I got to pit on the second stop. There was a lot of traffic today but I got to run mostly in clean air. For the most part it was smooth sailing. I saved a little gas, and just kept it clean for the win."
While the race featured only four early caution periods before sprinting the final 115 miles under the green flag, those early cautions played heavily with the Elite standings. Andrew Kinsella took a tumble in the rankings when he tapped Joe Branch from behind in turn 2 on lap 17. Initially, it looked as though Kinsella would be able to continue while Branch looked headed for a dismal meeting with the wall. But Kinsella inadvertently tapped the nose of the sliding Branch, giving Joe a chance to recover enough to keep his classic Pennzoil machine off the wall while Kinsella's sudden deceleration caught Andreas Eik off guard. Eik wasn't able to avoid, sending Kinsella hard right and into retirement from the race. Branch would go on to post a hard-earned podium, less than eight tenths of a second behind Brandon Trost at the line. Eik would finish sixth.
For Branch, who climbs back to fourth in the standings after missing the race at Iowa, it kept dim hopes for a championship alive.
"I think I have to win a couple (of races) to even have a chance at that, and not have Holgate win. So I don't know about that, but we'll take it."
Trost battled with a car that was unpredictable and had to fight to hold off Branch and take second place not only in the race, but in the points standings as well.
"It just seems like we missed something, because these Snakepit cars have something in the setup that causes them to be wrecking-loose on cold tires. Our set was junk after five laps but we managed an O.K. points day."
Tim Doyle rounded out the top five following an adventurous run.
"After not racing for quite a while, I'm happy with a fifth. The first few laps I was really battling with the car and I lost a few spots. Then once we got green I started feeling the car out and we got it back in the groove and worked my way back up there. Then, coming out of the pits I got sideways. I thought I destroyed the front end of the car but I got going and it ended up being pretty good. Then it just became a battle between me and Chris since we were on the same strategy."
Christian Steele, Liam Quinn, Vinicius Gotardello and Joe Flanagan rounded out the top ten.
The Elite series gets no rest as it heads for Texas Motor Speedway this Sunday at 7 PM Eastern for the Texas 133, followed by the Fallen Heroes 140 Memorial at Gateway presented by WebSports Radio on September the 10th, and winding up with the Lionheart Retro Series 325 at Pocono on September 24th.
FOTOS
Ready, Set..-The Milwaukee Elite field, led by Tim Holgate, prepares to launch.
Need a Lift? – Michael Peters finds an upside down Bradley Walters to be an unwelcome hitchhiker.
Getting Smoky in Here – Tim Holgate celebrates his win at Milwaukee
---
You may also like...
---