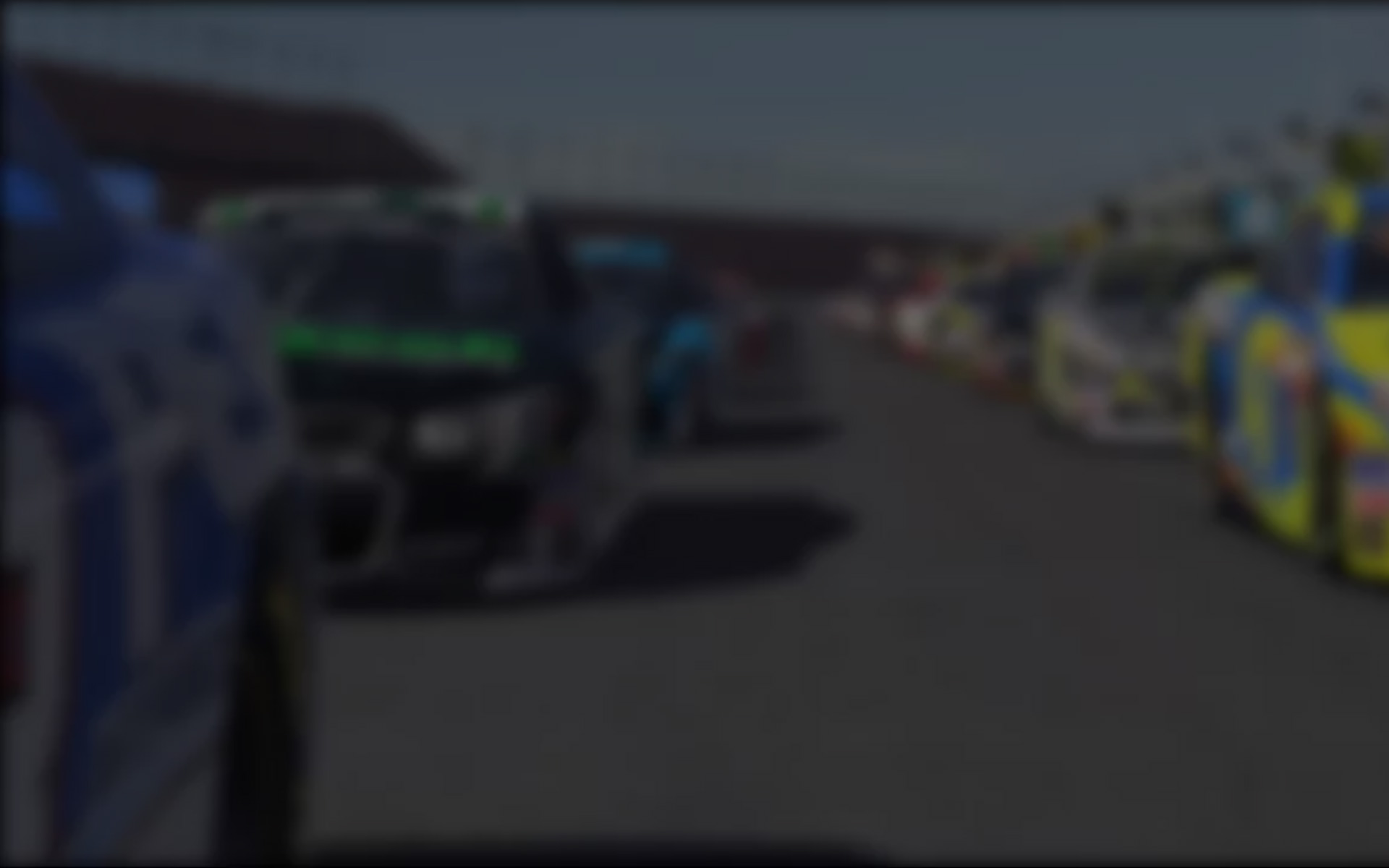 Week Four of the NiCBS traveled to the Mecca of stock car racing, Charlotte Motor Speedway. Top sim racers traveled to Charlotte to try and put a stop to Jared Crawford's domination. Crawford has been hot this season, winning eight out of his 11 races while leading almost 84% of the laps he has ran. In all, 798 drivers attempted at least one race during Week Four while 253 drivers attempted at least one qualifying lap for the week.
Week Four's SoF race took place at the usual time on Friday night and was broadcasted by ETV. The race had 25 drivers and an SoF of 4412. The race had a great battle for the lead by teammates Jared Crawford (Michigan) and Tyler D Hudson (Mid-South).  Crawford would start from the poll and lead the first 45 laps. During a yellow flag pit stop on lap 46, Hudson was able to win the race off pit road and never looked back. Hudson led the final 52 laps in route to his victory. Hudson received 281 points for the win. Crawford finished the race just over two seconds behind and received 269 points for second. David Cater (Carolina) started the race in the third position and finished in the same spot. For his efforts, Cater received 257 points. Brandon Buie (Atlantic) and Chad J Laughton (Carolina) rounded out the Top Five. Buie received 245 points for fourth while Laughton, who started second, received 234 points for fifth. The race had four cautions for 17 laps and 2 lead changes. Hudson led the most laps with 52 while Crawford led 45 and Paul E. Cline (Carolina) lead three laps.
Click here to watch broadcast.
For the second week in a row, Cater sat on top of the weekly point's standings. Cater ran two races during the week and netting one Top Five with 257 points. Buie finished the week in the second spot after only running one race during the week, a fourth place finish in the SoF race. Buie finished with 245 points. Crawford was third on the week after opting to run four races on the week. Crawford won three of his four races, leading 319 out of 400 laps and finished the week with 229 points. Hudson finished fourth on the week after running seven races. Hudson won three of his seven races, including the SoF race, and finished Week Four with 201 points. Adam Gilliland rounded out the Top Five after winning in his only start of the week. Gilliland finished the week with 201 points.
"I'm sitting 4th in overall points that is really a cool accomplishment!" – EJ O'Rourke
After four weeks of the season, Brad Mahar (New England) still leads the season standings. Mahar had a difficult week at Charlotte, only netting 161 points. Mahar's lead of 109 points after Week Three shrunk to just 13. Cater sits in the second position, only 13 points behind. Buie finished Week Four in the third position, 162 points while EJ O'Rourke (Massachusetts) sits in fourth. O'Rourke is only one point out of third place. Rounding out the Top Five is Crawford. Jared has one less week counted and only sits 165 points out of first.
"I had a blast racing hard up front the whole race! Chad Laughton got me on the last lap for 5th place, but I'm sitting 4th in overall points that is really a cool accomplishment!" said O'Rourke at the end of Week Four.
Jared Crawford once again showed his speed as he turned the fastest qualifying time for the third time this season. Crawford turned a 29.262. Chad Laughton finished in the second position after turning a 29.294. Cater finished the week in third with a 29.316 while Ian Hann (Mid-South) was fourth with a 29.321 while Jason Karlavige (Pennsylvania) rounded out the Top Five with a 29.332 second lap.
After four weeks of the season, Mahar sits on top of the standings although his points lead is quickly shrinking. David Cater has proved he is a contender while Jared Crawford slowly creeps his way to the top, after missing Week One. The NiCBS will travel to Dover International Speedway for Week Five. Who will come out on top at Dover? Find out next week at InRacingNews!
---
You may also like...
---