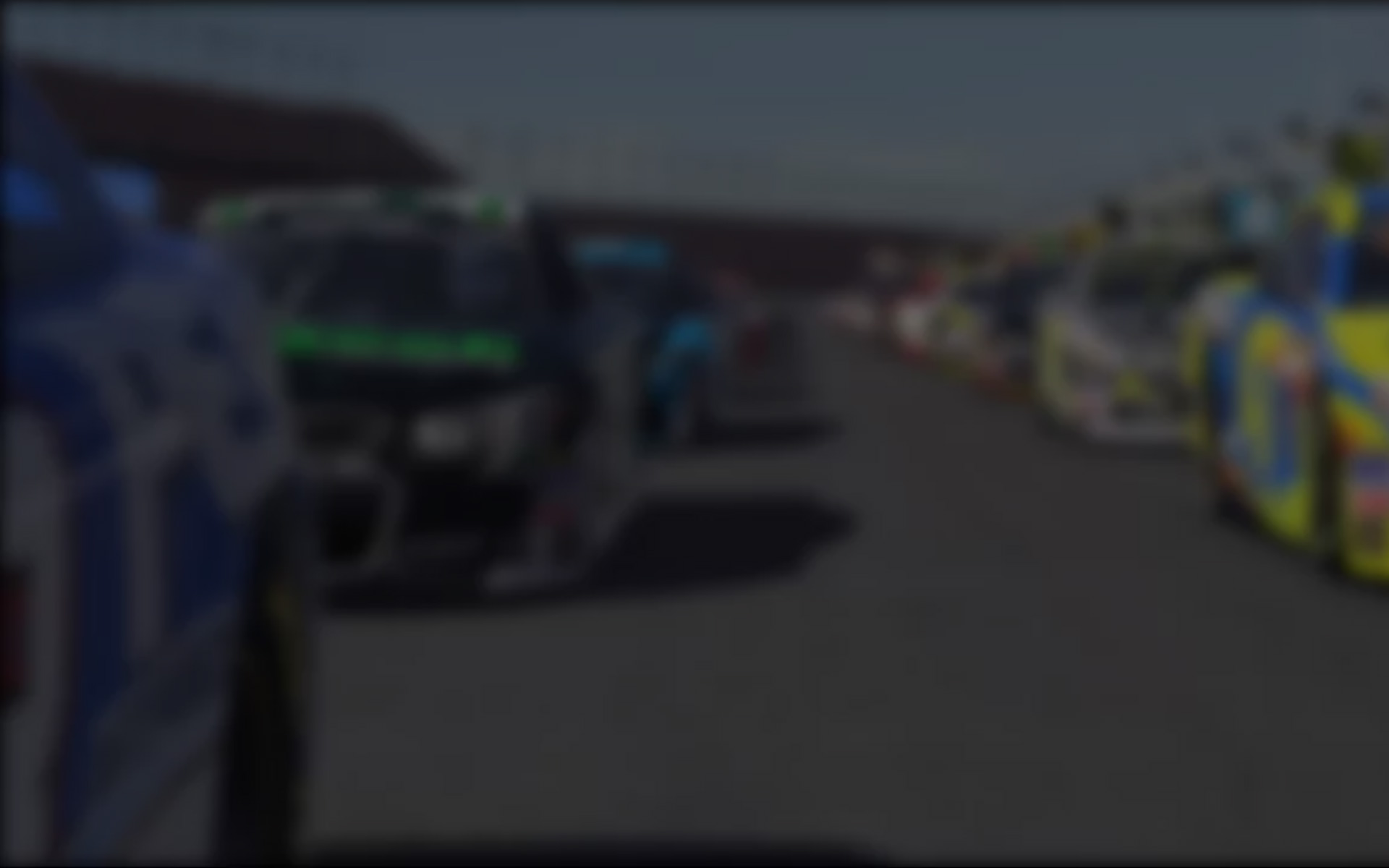 With 14 rounds of the iRacing World Championship Road Racing series complete, Greger Huttu remains the dominant force in the standings with a 100% winning record.  However, the Finnish sim-racer didn't have it all his own way on the Silverstone GP circuit.  The Team Redline online racer failed to maintain his flawless record of qualifying on pole, as Richard Towler took the top spot for the first time this season. Despite his second position start, Huttu steered his Dallara IndyCar to victory after capitalising on Towler's slow pit-stop to take the chequered flag after 50 laps of racing.
"I didn't have the ultimate pace here, but still could have done a slightly faster lap in qualifying," shared Huttu. "Starting from P2 was OK though, and it made the first stint interesting, especially to see when everyone would be pitting. I was somewhat faster than Rich towards the end of the run but it's always difficult to even get a chance to make a move when you're running about the same pace.  I was hoping to be the last to pit from our group with Ilkka (Haapala) in third and I was hoping to pit on Lap 20. Being behind Rich for the whole run meant that my fuel consumption wasn't as high as it would have been normally so I made it to Lap 20 and got the jump on him during the stops.
I managed to build enough of a gap to stay in the lead after the second stops even with Rich pitting two laps later. The last run was just about keeping up a good pace and not making any mistakes. So overall the race was fun and I'm happy with my performance since I didn't feel as good with the car as in most other races."
After sealing a hard fought victory over Huttu earlier in the day in the Intel GP series, Englishman Towler headed to the fourteenth round of the iWCRR buoyed with confidence. Racing on his 'home turf' Towler became the only driver in the iWCRR besides Huttu to start a race from the inside of the front row.
"My first stint went OK," Towler told inRacingNews. "I knew Greger had run tighter than me as he was slower the first few laps, but I was pretty confident if I just didn't make a mistake I'd be able to keep the lead until the pit stops.  I missed going one extra lap by about 0.1 gallons of fuel which cost me a little time. Nothing compared to my awful pit stop though, the longest I've had all season, and I pretty much filled up the car at the first stop. So it wasn't the fastest car in the middle stint to say the least and probably cost me a shot at going for the win as this was were I lost all my time to Greger.
But that's the fun in these two stop races: you never know how it's going to play out."
Giving his hopes of sealing third in the overall championship a major boost, Illka Haapala claimed the final podium spot at Silverstone to leave the British circuit with a slender standings advantage over fourth.
"I was able to keep the gap to Richard and Greger in about a second for the whole first stint, but on second stint I caught some lapped cars in difficult spots and lost touch with them," explained Haapala post-race. "It was difficult to find a rhythm and the gap kept increasing. I then decided to just keep my eye on the gap behind to Shawn (Purdy). My main goal was to score more points than Ben (Cornett) and his unfortunate problems made it more relaxed for me. Rest of the race was pretty straight forward, almost boring as I had gotten used to battling hard in last couple of races.
But I'll take a podium after a 'lonely' race over fighting through from back of the field any day."
Haapala's OrionRaceTeam.com team-mate (and fellow challenger for the $1000 worth of prizes that comes from finishing the season in third position), Shawn Purdy claimed his seventh top five finish of the iWCRR.  The Canadian, who admitted to having limited seat-time before the 50 lap event, drove a consistent race to finish a handful of seconds behind Haapala.
"Overall I'm very happy with my pace this week. Mmight not be a podium but was my best driving all season, so I'll take fourth," proclaimed Purdy. "My first stint I just tired to close the gap a bit to Ilkka and Greger, after I lost a bit of time when Jesse (Nieminen) spun off at Turn One. I'm glad I was able to stay within five seconds of the leader on the first stint, and I took a pretty heavy (fuel) load on the second stint as well as I lost some time on the strategy. Basically, I was keeping the gap to Ilkka around three seconds the whole race. In the last stint I took it a bit easier as there was quite a bit of traffic, and guys battling so I didn't want to risk too much."
In only his second race of the iWCRR series, Jesse Nieminen continued to maintain his reputation as a name to look out for in the future, after following up a second place finish at Mosport, with a top five in round 14. The Finnish sim-racer had qualified his Dallara in fourth position, but a mistake during his first stint put him out of contention of another podium.
"Before the race I made some small changes to the set and wasn't too happy at Turn One," Nieminen shared this week. "After the first few laps I totally messed up the entry and almost spun, was pretty happy about not hitting the wall though. I dropped to sixth I think, behind Dion (Vergers), and I couldn't really get past. I decided to to pit a few laps earlier than the rest but it went horribly wrong when I lost some time by missing my pit-box, and came out behind two slow cars.  Blake Townend managed to jump me and despite being faster than him I couldn't get past during the second stint. I pitted a couple laps before him and leap-frogged pretty handsomely, and then it was just about closing the gap to Dion. I managed to catch him on the last lap and we went side-by-side through the last sector. I already thought I didn't get the position but he ran a bit wide on the exit of the last corner and missed a gear-shift, so I was just able to get past before the line."
Despite Vergers losing-out on a top five finish in a drag race to the line, the Benelux Club driver was delighted with his best performance of the season so far. "All in all a great race for me, being more competitive then I've been so far. And bringing the SimSport Orion Dallara home in sixth ain't bad at all. I just was so close." confessed the Orion Race Team sim-racer. "I went into the final lap and was able to keep the gap (from Nieminen) sort of the same since he was now in my draft, until I messed up a bit going into the stadium section. So I went defensive and actually stayed in front until the exit onto the start-finish straight.
But I missed a shift on exit and he got by me with 0.01 on the line. I mean, grrrrrrrrrrr."
Making his début in the iRacing Drivers World Championship, Blake Townend secured a seventh place finish at his 'home' circuit. The Englishman who had started in eighth position was fortunate to survive a pit-lane collision with Cornett, to take the chequered flag unscathed and lay down a marker of his future potential. The aforementioned Cornett who is battling for the final prize winning position in the Championship with Haapala and Purdy, openly admitted the collision with Townend that sent him to a ninth place finish behind Brad Davies, was his fault.
"Going into the pits for the first stop I didn't expect Blake to brake so early, or enter the pits so slowly," Cornett explained. "He had someone in front of him though, so he was being careful. I basically drove straight into the back of him at big speed."
With just four rounds of the inaugural iRacing World Championship Road Racing championship remaining, Huttu holds a 128 point lead over Towler.  If results go the way of the Finn next week at Indianapolis, the Team Redline racer could officially seal the title. Towler holds a 131 mark advantage of his own over Haapala, who has Cornett breathing down his neck, just 23 points behind. Will Round 15 of the iWCRR  from the Indianapolis Motorspeedway see a sim-racing champion crowned, or can the inevitable be prolonged even further?
---
You may also like...
---