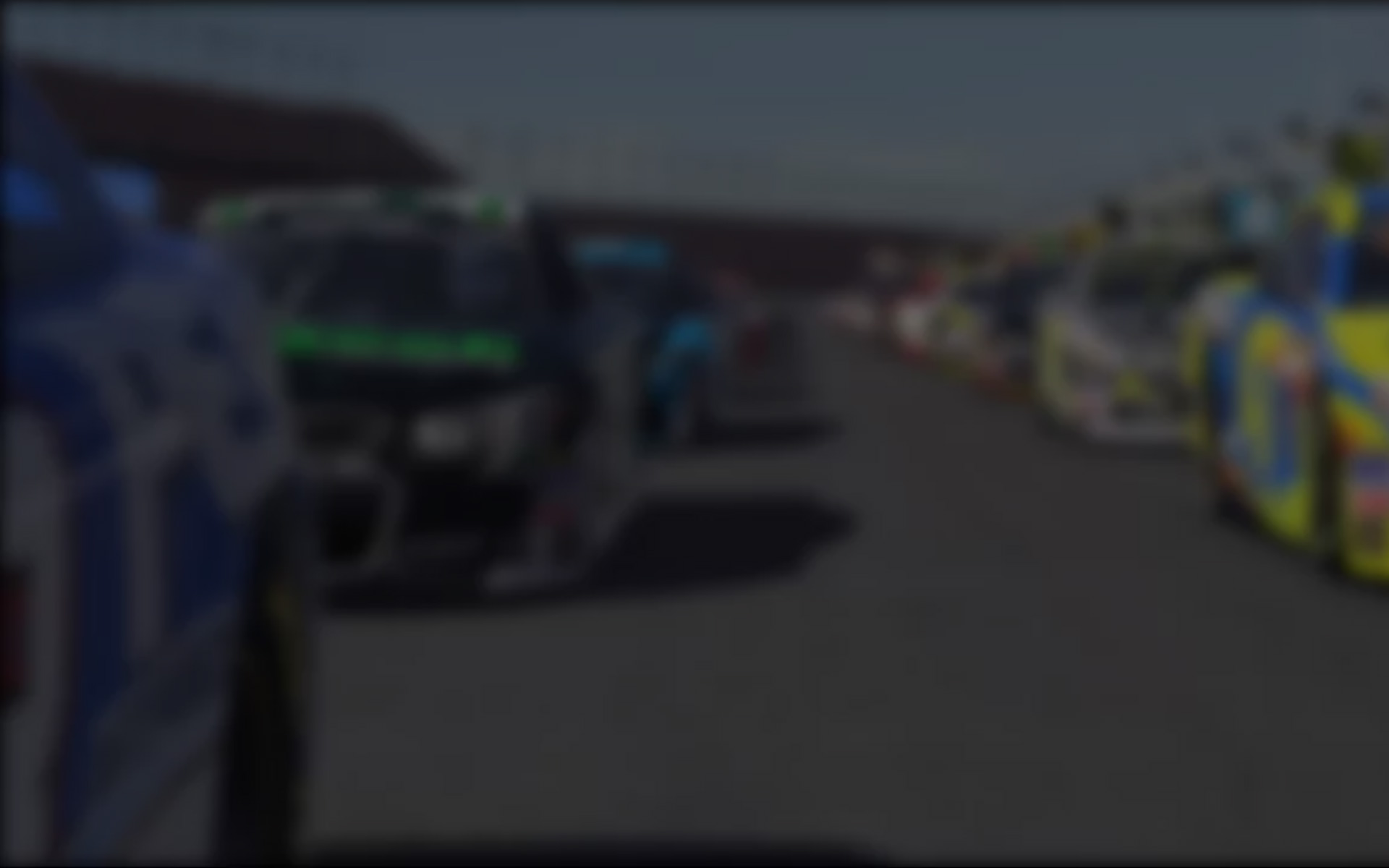 The second round of the 2013 iRacing.com World Championship Grand Prix Series saw Greger Huttu power to a flag-to-flag victory to claim his first finish at the front of the field in the young season. The Finn's dominant display was his one hundredth official iRacing win from 129 starts, which reflects his formidable form that has earned him two world championship titles . . . so far.
Starting from pole position, with a lap time of 1:11.833, Huttu maintained his spot at the front as the field filtered through the tricky opening chicane, with 2011 iWCGPS champion Hugo Luis following in his tow. In what evidently became a two-stop strategy, Huttu was then able to break clear and establish a lead of several seconds within a handful of laps. By the time the Team Redline pilot had completed 24 laps and headed to the pits, his margin was up to 21 seconds.
After taking service for fuel and tyres, Huttu rejoined the circuit, less than a second behind Luis, who was electing to make a single stop over the 71 lap race. When Luis did bring his virtual Williams-Toyota FW31 down pit-lane on Lap 40, Huttu was left with a clear track ahead, to lay down some blistering lap times. Unfortunately for My3id's Luis, his pit-stop sealed his fate, as he emerged back on to the 2.6 mile Interlagos circuit with a host of lapped traffic ahead of him. This allowed Huttu to establish a gap of 32 seconds by the time Lap 48 came around and he headed to the pits for his final service.
"Things worked out perfectly for me in this race." – Greger Huttu
"My original plan was to go with a safe one-stop strategy, but after getting the pole I made a quick decision to go ALL-IN with two stops since the car was much more fun to drive with less fuel on board," the reigning World Champion shared. "It's always a bit risky as you have to get the start right and avoid getting in too much traffic. Well, things worked out perfectly for me in this race. Turn One was a bit slippery in the start but I managed to hold on to the lead and then the rest of the race and especially the first stint was all about hot-lapping every lap."
Once Huttu had headed back on to the circuit, he'd kept his position at the front, with close to 11 seconds in his pocket.  And with Luis being out of the local vicinity, he was able to cruise his Williams-Toyota FW31 to the finish line for maximum points. Whilst Luis was unable to make any inroads on Huttu's well established lead, the Brazilian did still bring his car to the chequered flag in the runner-up position, which was enough to keep him perched at the top of the standings leader-board.
Despite nursing a heavy cold, Atze Kerkhof made it two podium finishes within as many races, after bringing his Team Redline Williams-Toyota to the line, 19 seconds behind Luis. In the early stages of the race, the Dutchman had kept Luis in his sights, but by the time he headed to the pits for his solitary stop on Lap 38, Kerkhof was six-seconds off the lead. He then found himself embroiled in a 'mini' battle with Martti Pietila for a handful of laps, furthering stalling his progress, until the Finn took to pit-lane to play out the final stage of his two-stop strategy. This left Kerkhof over twenty seconds adrift of the leader, enabling him to consolidate his position on the podium to the flag.
"I build up a proper gap to Fulvio for the pit-stop and from there I thought I could relax," Kerkhof explained this weekend. "Unfortunately, I couldn't count on my relaxation because I completely messed up after, losing a whole lot of my gap to Fulvio (Barozzini). So I had to get myself together and finish this race. My next tactic was to plan every corner up in advance which kinda worked. In free air I was able to respond to Fulvio's lap times, so I prevented unnecessary risks and just drove to keep the gap consistent."
"Thanks so much guys for leaving me alone in P4 while smashing each other, I appreciate that." – Fulvio Barozzini
Earning a career best finish at Interlagos, Barozzini, put on a race long battle to claim fourth position in the second round of the iWCGPS. Whilst the Italian had started on the second row of the grid and maintained the position at the start, Barozzini was continuously hassled by Pietila, until he relinquished the fourth position on Lap 22. However, three laps later, the MMM! team racer had regained the spot, when a mistake by Pietila allowed Barozzini to slip back into fourth spot. Once he and the remainder of the field had completed their scheduled spots, Barozzini was several seconds clear of those behind him, and was able to head to the finish unchallenged, for his best ever finish in the championship.
"What an eventful race! Behind me! Thanks so much guys for leaving me alone in P4 while smashing each other, I appreciate that," Barozzini joked post-race. "Honestly I don't think I could catch Atze for P3 – I guess he had his problems too – but looking at lap times it looks like I got the worst from lappers, and I am glad I didn't even crash! In the end I finished fourth which is my best ever (P4 in qualifying also is) and I am extremely happy with this result and looking forward to other lone races like this one instead of being under the lens, part of a spectacular show but… behind."
Within a few laps of the start of the Interlagos event, Jake Stergios barely looked capable of grabbing a top-ten finish. After getting away from twelfth place grid position when the green flag dropped, the American lost control of his Williams-Toyota FW31 over the kerbs within a few laps, and then a circuit later, collided with Stephen Michaels. Miraculously, Stergios was able to turn it around, and claw his way through the field. By the time he made his first scheduled stop on lap 36, Stergios as up to sixth, and then an incident for Enzo Bonito who was several seconds ahead handed the iNex team member his first top-five finish of the season.
The aforementioned Pietila, whose mistake in the opening third of the race cost him fourth position, was able to continue on with his two-stop strategy, to bring the Foracer Ajira entry to the finish in sixth position, eight-seconds clear of Ilkka Haapala.
For Haapala, the seventh place finish served as bonus present for his race-day birthday. "Quite happy to bring the Jimm's Orion Race Team FW31 home in seventh place. I didn't quite have the pace I hoped for in race, but a good result nonetheless," the birthday-boy told inRacingNews. "After things settled down I was chasing down Yudai Narumi. Jake Stergios quickly caught me as well and just swooshed by, I had nothing on him at that stage. I had a good battle with Yudai for a while. A bit of a close call once, but we came away cleanly from it."
Putting in an accomplished drive to claim eighth position, Narumi was the highest placed rookie at the virtual-Interlagos. The Japanese based sim-racer, who was a front runner in the 2012 Pro Series that earned him qualification to the World Championship, had fought his way to seventh within just a few laps of the start. Then the likes of Stergios and Haapala demoted the iNex racer to ninth, but the demise of Bonito in the latter stages, handed Narumi a late promotion.
Rounding out the top-ten, Simon Cattell and Mogar Filho sealed ninth and tenth positions respectively. The Englishman and Brazilian were the final two cars to finish the race on the lead lap, and both had made big gains from their starting positions, with Cattell gridding in fifteenth and Filho nineteenth.
With a brace of rounds now complete in the iRacing World Championship series, Luis continues to head the standings table on 90 points. After taking his first victory of 2013, Huttu moves into second, five points behind the leader, with Kerkhof maintaining his third spot on 75.
Round Three of the Championship heads to Suzuka, and it's anyone's guess as to who will take the spoils of victory. Will it be Luis, will it be Huttu, or could it be Kerkhof who proved so strong in victory at the Japanese circuit last year? Tune in to iRacing.com/live to find out, and read about it here on inRacingNews.com.
---
You may also like...
---