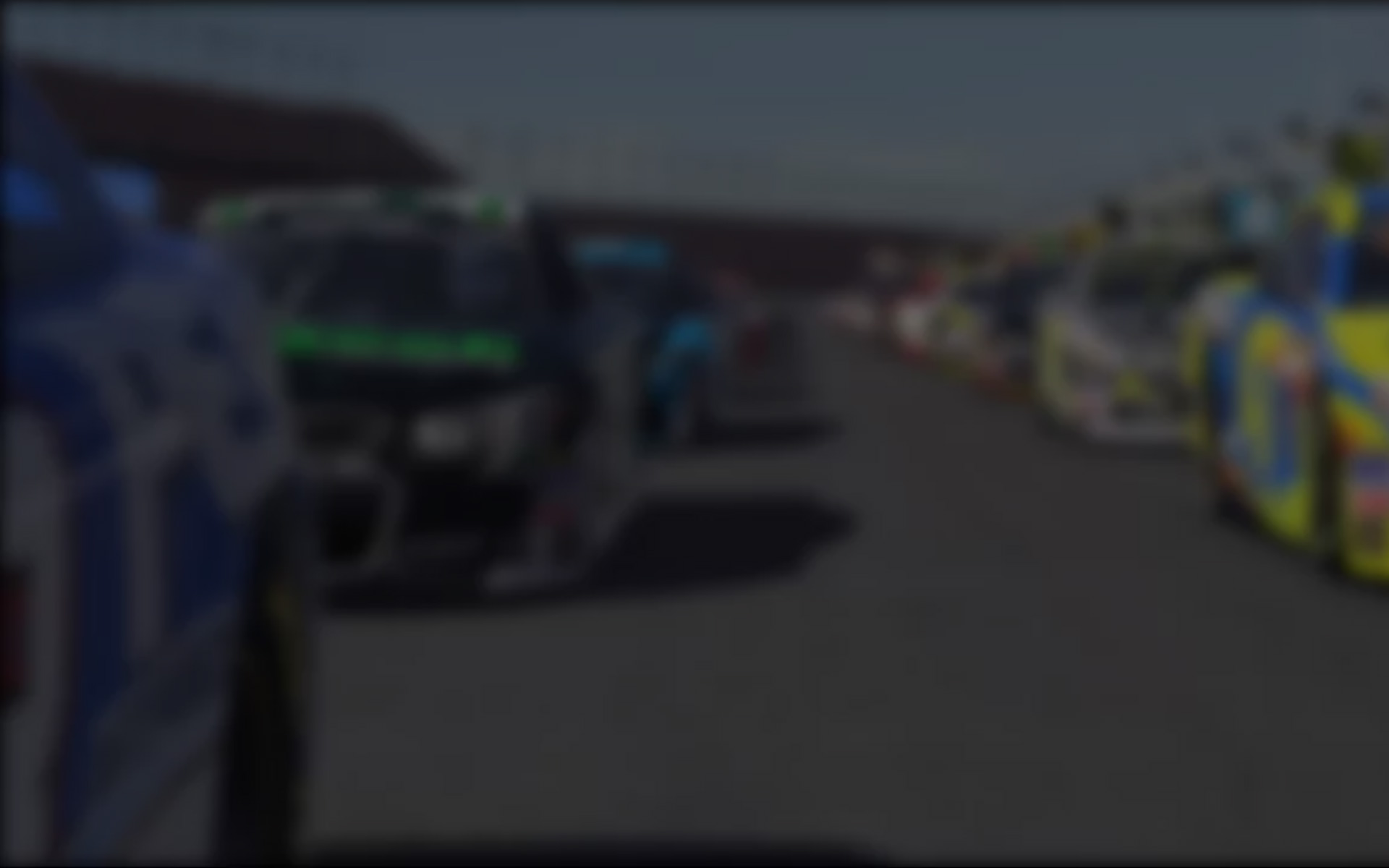 Remember as a kid the first time you sat in your parents' car?  You grabbed the steering wheel tight, raised your arm out the window and imagined taking the checkered flag at Daytona or Indy.  Did you ever think that even if you were talented enough to pursue a career that you would need financial backing from your family or a sponsor?
Enter Ray Alfalla, a native of Matanzas, Cuba who came to the United States in 1995 when he was six years old. Quickly, he developed the aspiration to follow in the footsteps of his boyhood idol: NASCAR's Rusty Wallace.  Since Ray lived in Miami, he would frequent Homestead-Miami Speedway as a spectator to watch NASCAR races, but obviously Ray had dreams of his own – being behind the wheel someday.  His mom and dad struggled to make ends meet, meaning Ray's dream would be put on hold. In 2003 Ray turned to the virtual racing world to fill his desire and proved to be one of the most skilled sim-racers on the NASCAR Racing 2003 Season platform.  When iRacing.com released its state-of-the-art motorsport simulation software in 2008, Ray was among the charter members.  In 2010, the NASCAR iRacing.com Series World Championship (NiSWC) was established, and he won a race and finished eighth in points, respectively. The next two years saw Ray win eight races in 35 starts en route to the 2011 and 2012 NiSWC titles.  At the end of each season, he found himself at Homestead-Miami Speedway where he was presented with the champion's trophy and check for $10,500.
So how would a World Champion with 472 iRacing-sanctioned wins to his credit do on a real track with a real race car?  Ray finally got his chance to answer that question in a test of a spec-Mazda Miata arranged by Lisa Pineda of the Science Center of Pinellas County and Pirelli World Challenge rookie driver (and fellow iRacer) Ernie Francis, Jr. and his Breathless Performance race team.  Ironically, the test would be held at Homestead-Miami Speedway's road course!
In 2012, Ernie Francis Jr. won 21 races in 36 starts and is the NASA and FARA Championship.  This year, the youngster is on track to become Pirelli World Challenge Champion in the TC-B class. The sky is the limit for this 15-year old's racing career, as he shows maturity, confidence and knowledge beyond his years. As an iRacer, there was no better instructor for Ray to have when he made the transition from virtual to physical racing.
iRN:  How'd you sleep last night?
RA:  Not very well.
iRN:  What was the first thing that entered your mind as they rolled the spec-Mazda off the trailer?
RA:  It was the number 2 and orange which I'm very familiar with, so it seemed very fitting.
The day started with sign-ins followed by a mandatory hour-long driver's meeting.  The drivers were split into three groups based off experience and skill level. Ray was put in "Group C" where all rookies are required to be. There were all types of vehicles present – Ferraris, McLarens, Porsches, and Corvettes – just to name a few. However, the rules were strict in Group C, as there was no passing in the turns and the lead car had to point you by to attempt a pass.
iRN:  How did this test come about for you to drive a spec-Mazda at Homestead-Miami?
RA:  Lisa Pineda had done PR work for the Science Center of Pinellas County's new "STEM iRacing Camp" where she met the Breathless Performance race team. She works with an iRacing friend of mine, Bryan Blackford. One thing led to another, and now Lisa does some PR work for me and she arranged this session.
iRN:  How much time did you put in on the iRacing simulator to prepare you for this test?
RA:  A few hours, I mostly worked on the shifting aspect.
Before the first session, Ray noted to Ernie Jr.'s Breathless team that he had never driven a manual transmission before. Jr. calmly, but quickly told Ray to jump into the Miata with him. Ray's iRacing experience gave him a general sense of how to shift the car, but Jr. gave him several key pointers that allowed Ray to get around the parking lot.  In a matter of minutes, Ray was ready to hit the track with other cars.
Ernie Jr. would be his instructor in the passenger seat – offering the virtual racer some general pointers about the car and track.  After running several laps, it was clear that Ray was well off the pace – frequently having troubles with the manual transmission.
After debriefing with the team, the C-group was back on track once again and this time Ray was told to upshift  and downshift in third and fourth gears only.  With his mind no longer overly-focused on all the shifting, his times started to drop and the car looked very smooth on track.  By the end of his second session, Ray was almost under the two minute mark with two sessions left to go. "Ernie is amazing, I mean he's just out there hitting his marks every lap. As an instructor, he's very relaxed, not freaking out [laughs]. He's been great." said Alfalla after taking a break to step away for a brief interview with TopSpeed.com.
iRN:  While on track did any iRacing practice come to mind?
RA:  I knew the track and was just trying to get used to the elements.  I knew the turns, the racing line and where to pass from practice on iRacing.
During the third session you could tell Ray was gaining confidence in the Miata as he began passing more powerful cars.  The Spec Miata is rated at 130 BHP, probably the lowest powered car in the group, but it didn't stop Ray from passing Mustangs and Porsches.  It was in this session when Ray got under the two minute mark with a time of 1:58.
In the final session of the day, Ernie Jr. felt Ray was ready to hit the track without a copilot. Jr. followed Ray during this session in his Chevy Camaro. During the session, his times continued to improve. His best lap of the day was an impressive 1:54.6.  In one day, with help from Ernie Francis Jr. and his Breathless Performance team, Ray had gone from never driving a manual transmission to turning a competitive lap time.
"Based on what I saw today, iRacing definitely helped him hit all his lines. He's definitely using all the track and hitting all his apexes, he's braking late and showing experience of someone who's been racing for months, maybe even a year and he's only driven on a computer, so that's pretty good." said Ernie Francis Jr. in his TopSpeed.com interview.
iRN:  How do you think the test session went today?
RA:  Pretty well, I didn't have very high expectations but it went more less how I expected it to go.
iRN:  So what's next for Ray Alfalla?
RA:  Try to make the leap from sim- to real racing, just looking for seat time.
So after an entire day of testing, Ray overcame several unfamiliar obstacles, including the elements (eg 130 degree heat inside the race car, the constant smell of exhaust fumes, lack of visibility, g-forces and, of course and inexperience with a manual transmission.)  If all this wasn't enough there was the media attention all around him, the cameras in his face for hours at a time and onboard cameras in the car.  With all eyes on him, there was no hiding on this day and with all this pressure, Ray exceeded everyone's expectations.
Special thanks to Lisa Pineda for arranging this session, to Bryan Blackford for covering the video/photography for this event, Ernie Francis, Jr. and his father Ernie Sr. from Breathless Performance who provided the equipment and instruction for Ray to have the opportunity to live out his dream.
*Note: Following the test, inRacingNews learned that Ray may have additional test sessions planned.  You can check Ray's website for more information and follow his progression from sim to real racing at www.rayalfalla.com. Also, follow Ernie Francis Jr, www.erniefrancisjrracing.com as he goes for the championship in the Pirelli World Challenge.
---
You may also like...
---