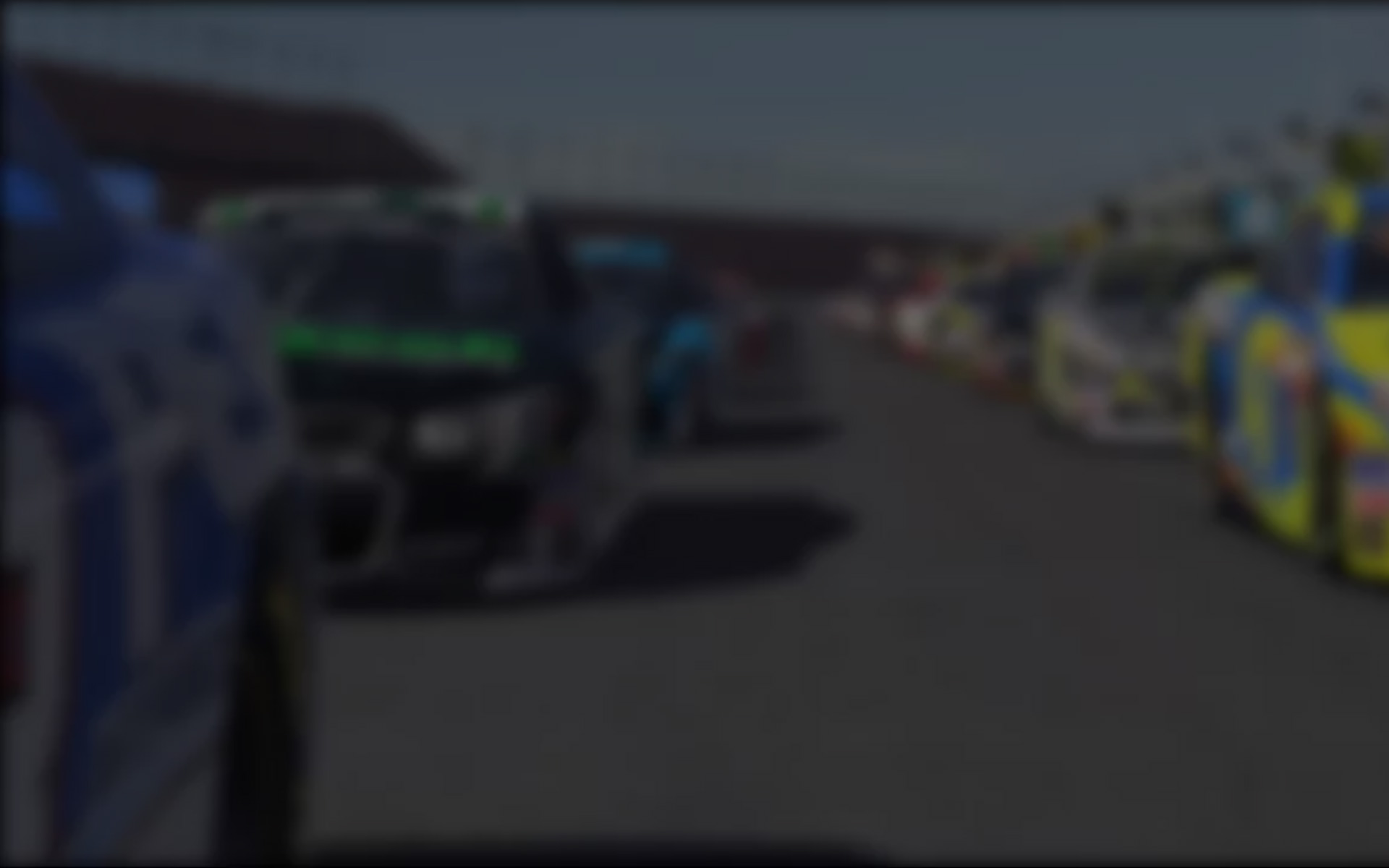 When Brian V Macklin goes sim-racing nowadays you could say the fix is in.  That's because he favors the fixed setup versions of his favorite series, be it NASCAR Class A, B or C.  Why not?  With 29 wins in 97 starts in the Gen6, Chevy COT and Chevy Silverado in Season 1 – so far — the iRacing setups seem to be working for him . . . just as the generic iRacing package did in 2012 when the Harrington, Delaware sim-racer captured the overall National series title on the strength of six wins and 18 top fives.
But while Macklin's clearly favors the fixed oval packages, it doesn't mean he's afraid to play with the settings . . . or turn right as well as left.  In fact his numbers on roads and ovals are pretty similar, given that in 1600+ oval races starts and 80 road races he's led roughly 20% of the laps – 21.2% on ovals and 20.18% on road courses, to be precise.  What's more, after not making a single road course start last season, he scored a win in the iRacing.com GRAND-AM Sports Car Series aboard his Riley MkXX Daytona Prototype in one of his first outings of 2013 Season 1.
Clearly, Macklin's approach to sim-racing is working . . . and is likely to continue.  After all, if it ain't broke, why fix it? 
Q:     How long have you been sim-racing?
A:    I started racing in August, 2007 racing the NR2K3 platform. Made the switch to iRacing in August, 2009.
Q:     What attracted you to iRacing?
A:    The league I was a longtime member of decided to move away from Nascar 2003 and move to iRacing, so I made the switch with them.
Q:    What are favorite iRacing cars/tracks?
A:    My favorite car currently is the Impala B car. However the new Gen6 car has grown on me quickly. My favorite track in iRacing is by far Martinsville, followed by Iowa and Richmond.
Q:     What do you like most about iRacing?
A:    The thing I enjoy the most about iRacing is the ability to race whenever you want to. I like having the freedom of racing whenever I want, rather than be stuck to a regular schedule. That's not to say league/hosted racing is bad, this format is just more convenient.
Q:    What would you change about iRacing?
A:    If I had any control in iRacing, I would take a few seasons and stop trying to produce new content, and instead work on fixing the content we have. This is a simulation that is seven years into its creation, and there are still key features that this sim lacks. There are numerous tracks that only have one groove, that in real life have multiple grooves. iRacing did an incredible job fixing the draft on the superspeedways; surely they can fix the single groove racing we have on so many tracks.
Q:    How many hours a week do you spend on iRacing?
A:    Way too many. I usually spend anywhere from 10 -15 hours a week on iRacing.
Q:    Tell us about the paint schemes on your helmet/car(s)
A:    The scheme that I run on the Gen6 car really doesn't bear any major significance to me, other than I just really like the way the paint scheme looks. I saw it on track in the Nationwide series back in 2007, and really liked it. It's pretty much just been the scheme I've preferred to have since then.
Q:    What other sim racing activities (Forza, Gran Turismo, rFactor, Live for Speed, etc.) do you do?
A:    I don't really do much for other sim-racing nowadays, I just run iRacing. I used to do some rFactor, running the off-road trucks in a league for almost a year.
Q:    What are your favorite video games? Other hobbies?
A:    My other favorite video games are mostly first person shooters. I play CrossFire quite often, along with Battlefield 3. As for other hobbies, I go up to Pennsylvania in the summer to run the trails on ATVs with my family and some friends.
Q:    What is your most memorable iRacing moment?
A:    In my eyes, I'm still looking for that most memorable iRacing moment. I've had some cool accomplishments, I qualified for the Landon Cassill Qualifying Challenge at Darlington back in May, 2011. To date, that's probably the biggest accomplishment I've had. However, I've never had that "OMG" moment in iRacing that I feel like has defined my sim-racing career.
Q:    What is the iRacing moment you'd love to forget?
A:    A couple of years ago right after iRacing switched to the format of racing to make Pro by running the A car, I made a run at it. I was running in a top split race at Dover, with an SOF well over 5000. I was running third with about 40 laps to go and we had a caution. We had just pitted about five-six laps prior so we weren't going to pit. I tried to fake some people out and ended-up nailing the pit wall at the entrance to pit road; by far the worst moment in my career.
"It's awesome to hop in a race and look at the driver list and see a guy from Australia."
Q:    What car/track would you like to see iRacing add to the service?
A:    Honestly, I'm happy with the cars we have. iRacing has a very good variety and I feel as though they have done an excellent job giving everyone in the service something to race. I would love to see Toyota in the top three NASCAR Series at some point in time, and with the rumors going around that it's possible, I'm excited. As for tracks, I'm a huge short track fan. Most of the tracks I love have shut down, so it's not likely, but I would love to see Memphis, Mansfield, Gateway and North Wilkesboro added to the service.
Q:    What person, living or dead, do you most admire? Why?
A:    If I was to refer to racing, it would have to be Dale Earnhardt Sr. The man revolutionized racing in his day, and without him in the sport who knows if NASCAR would even exist still today.
Q:    What's your favourite real world racing series?
A:    The NASCAR Sprint Cup Series.
Q:    Name the title of the most recent book you read.
A:    I haven't read a book in a long time, I honestly don't even remember the last book I read. However, I recently ordered Bob Howard's book (former WWE superstar Hardcore Holly) The Hardcore Truth and really look forward to reading that book.
Q:    Name of your favorite movie/TV show
A:    My favorite TV show is NCIS.
Q:    How many of your close friends are iRacing members?
A:    I have many close friends on iRacing, and love racing with them and hanging out with them on Teamspeak. E.J. O'Rourke is probably the person I talk to the most on the service, out of everyone on here.
Q:    Has competing with iRacers all around the world influenced your opinions/outlook on life/world events? How?
A:    It most certainly has. It's awesome to hop in a race and look at the driver list and see a guy from Australia. It shows just how much a simulation can bring different countries and different cultures together. It's a common hobby for racing fans around the world to have a chance to do what they love to watch, and it also offers a chance to possibly progress if you are working on real life racing. It's just an overall amazing experience to have.
---
You may also like...
---