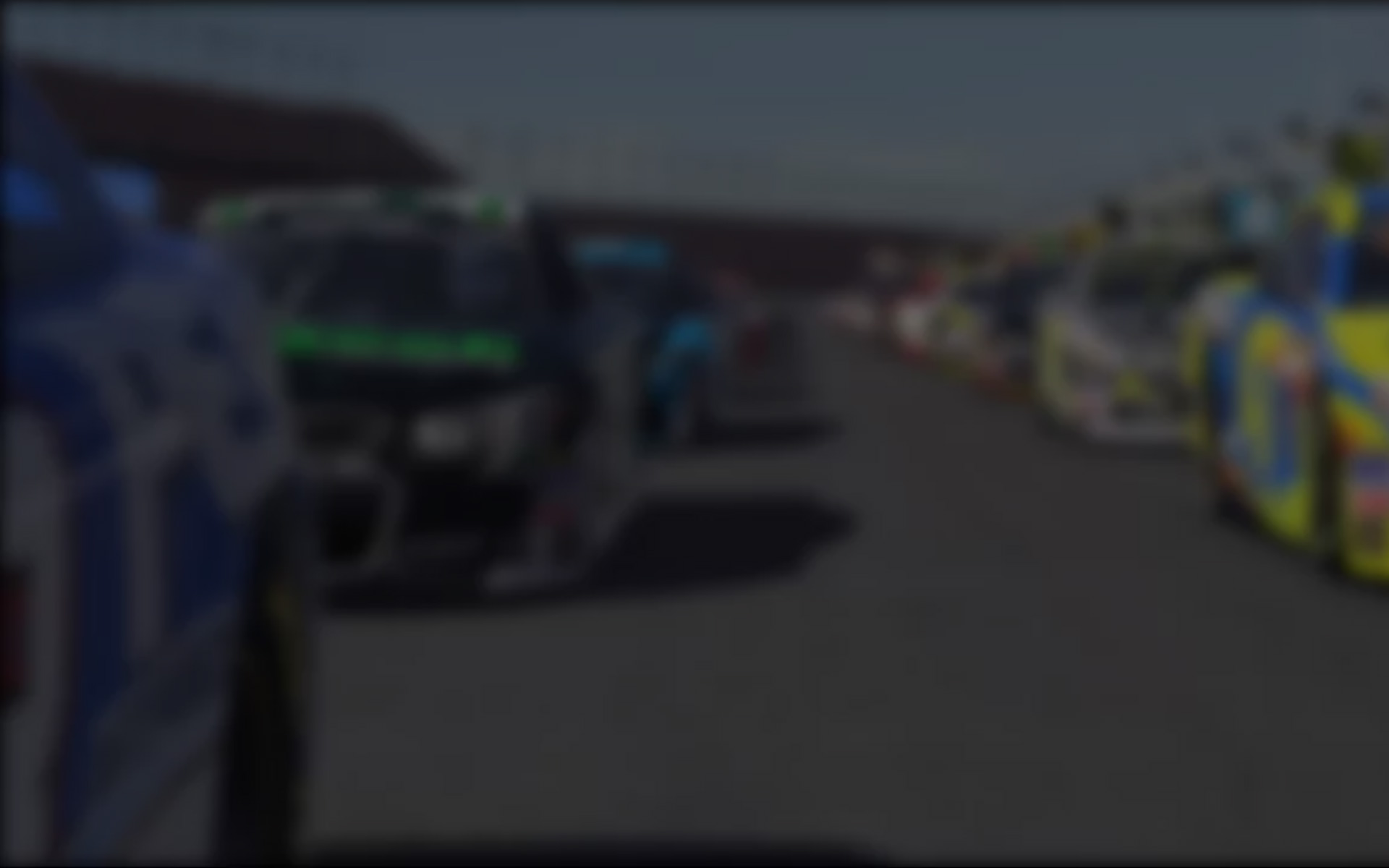 When considering Bruce Perry's iRacing career, depending on your perspective, it's either 4038 down, 962 to go or 2439 down, 2561 to go.  It's 4032 down, 962 to go for the New Yorker who counts the day his oval iRating topped the 4000 mark as the best day of his sim-racing career . . . and is now aiming for 5000.  He has a little further to go on the road side but, hey, you gotta have goals, right?  And with a couple of GrandAm Series divisional championships to his credit, it's not like he can't turn left and right.
If Perry's goals include championships he added one in 2013 Season 3, when he added the NASCAR iRacing.com National Series Division 1 title to his resume, taking six poles, ten top fives and a trio of wins.  The D1 crown is nice compliment to the D2 crown he won in Season 2, although somehow the overall championship eluded him both times.  No matter, as Perry says, "when you think you are good at something, someone comes along who is better at it . . . and hopefully we learn from them."
Doubtless plenty of iRacers have already learned a few things from Bruce Perry!
Q: How long have you been sim-racing?
A:  I joined iRacing in December, 2008.  It's my first and only experience with sim-racing.
Q: What attracted you to iRacing?
A: My best friend got me involved.  He suggested I take a look at iRacing, and it was love at first sight! The depth and realism of the sim hooked me right away.
Q: What are favorite iRacing cars/tracks?
A: On the road side I enjoy the Riley prototype and McLaren.  On the oval side I enjoy the National Impala, as well as the Late Model and Silverado.   As far as tracks go, Watkins Glen, Daytona (road course), Richmond, Bristol and Charlotte are my favorite tracks.
Q: What do you like most about iRacing?
A: The rating system iRacing uses to put you in races with members at or near your level of skill. Generally makes for good racing.
Q: What would you change about iRacing?
A:  I would like to see Green/white/checker finishes, and changing weather.
Q: How many hours a week do you spend on iRacing?
A: Some people say too many hours. I feel not enough.  I spend most nights after work practicing and racing.
Q: Tell us about the paint schemes on your helmet/car(s).
A:  Currently sporting the colors of one of my favorite WOO Late Model racers, Tim Fuller.  I've followed Tim since he started racing Dirt Modifieds here in the Northeast. Matt Rolfe of Matt Rolfe Designs did a great job of painting the cars for me.
Q: What other sim-racing activities (Forza, Gran Turismo, rFactor, etc.) do you do?
A: There are other sim-racing games out there?
Q: What are your favorite video games?
A:  No time for other video games right now, just iRacing.  Back in the day I did enjoy Grand Theft Auto though.
Q: Do you do any real world racing? Has iRacing been of any benefit?
A: I crewed for a GRAND-AM team for a few years, does that count?! I would like to think that if I ever did get behind the wheel of a real world race car, that my iRacing experience would be of help.  Time will tell, I guess.
"Did I mention dirt?"
Q: What is your most memorable iRacing moment?
A:  The day I achieved 4000 iRating.  Worked hard to get there, and here's looking forward to 5000!
Q: What is the iRacing moment you'd love to forget?
A: First night in a league race, I was running well in what was a high SOF. I was trying to private message another racer and hit the ignition key somehow.  Didn't know at that time there even was an ignition key, so obviously had no clue what happened.  Caused a few guys to get black flagged, and of course messed-up my chances of a good finish in my debut.
Q: What car/track would you like to see iRacing add to the service?
A:  Dirt tracks, Dirt Late Models and Dirt Modifieds.   Did I mention dirt?
Q: What person, living or dead do you most admire?
A: I admire Tony Stewart, and his versatility to go from asphalt to dirt, and stock cars to sprint cars and do well.
Q: What's your favorite real world racing series?
A:  WOO/Lucas Oil Late Model Series.
Q: Name the title of the most recent book you read.
A: Started a few and can't seem to finish any. I do read local racing papers and many racing magazines.
Q: Name of your favorite movie/TV show?
A: The Wire.
Q: How many of your close friends are iRacing members?
A: While my closet friends either never have or no longer subscribe to iRacing (gotta work on that) the cool thing about iRacing is all the new friends I have made through the service.
Q: Has competing with iRacers all around the world influenced your opinions/outlook on life/world events? How?
A: One thing about iRacing, I have learned that no matter how fast you are there is always someone who is faster.  For example, I am frequently amazed at the speed that members from the DE-AT-CH club possess on the road courses.  Those guys know how to drive, and I have learned a lot from them. I guess it's the same in real life.  When you think you are good at something, someone comes along who is better at it . . . and hopefully we learn from them.
---
You may also like...
---