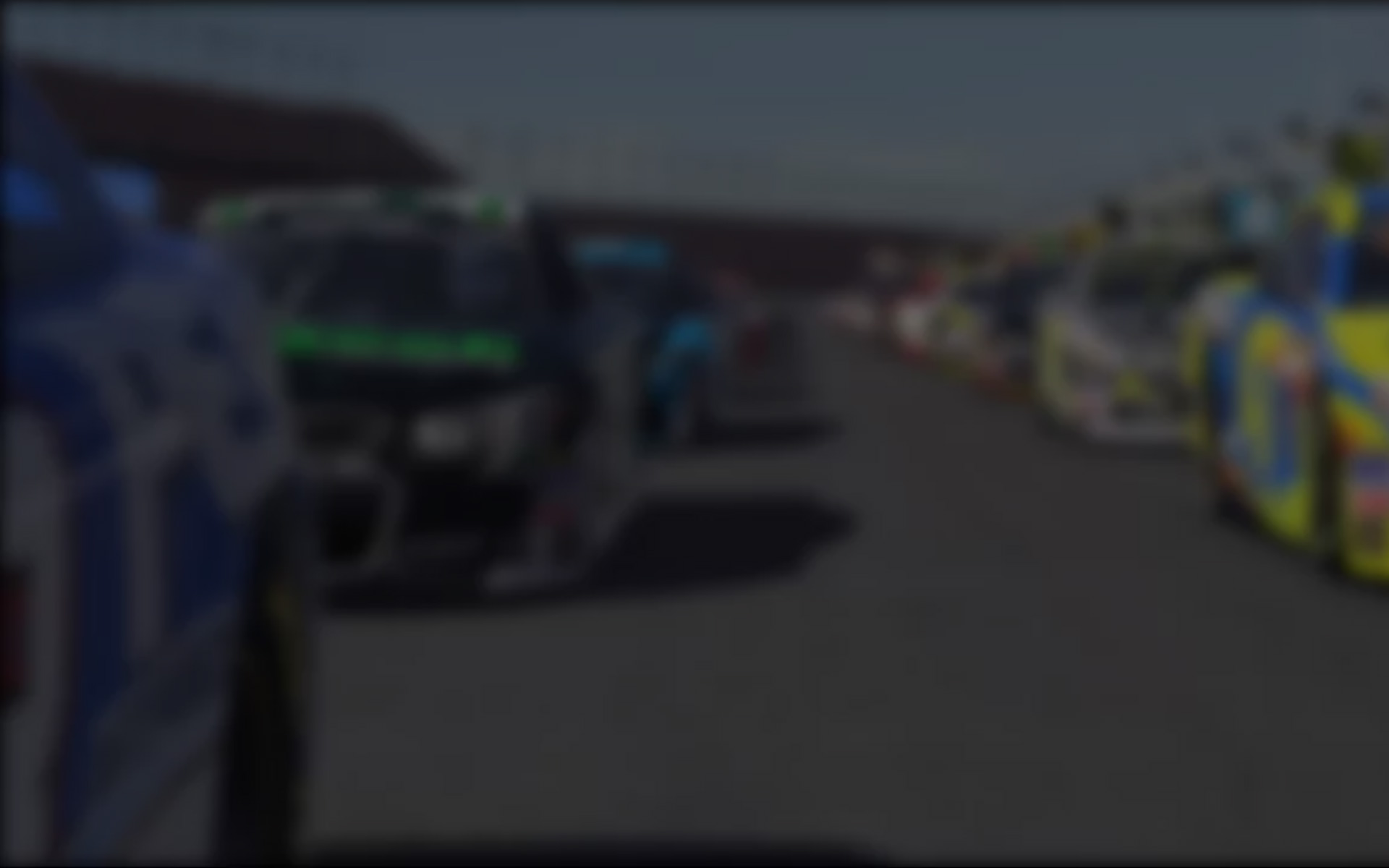 It would be easy to characterize Chris Hughson as the king of the inRacingNews Challenge.  After all, in the inaugural season of the iRNC, Hughson came close to running the table, winning the Pontiac Solstice class and finishing third to Daniel López and Gaston Taberner in SpecRacer Ford . . . this after compiling a jaw-dropping record of 100 wins and 128 top five finishes in 128 starts in the Solstice and a mind-numbing 198 wins and 247 top fives in 247 starts in SRF.
The Elmira Heights, NY resident is trying for the iRNC double again in 2011 Season One.  He currently leads the Solstice class and runs second to Gabriel Tobar in SRF on the strength of 33 wins in 48 starts in the Pontiac and 86 wins in 93 starts in the SRF.  In a total of 141 starts he's finished in the top five 139 times.  But there's more to Hughson's sim racing than the iRNC.  He's also currently in the top ten in both the NASCAR Tour and SK Modified standings and his record includes plenty of top finishes in everything from Advanced Legends and Silver Crown cars to the Riley MkXX Daytona Prototype.
Q: How long have you been sim racing?
A: Since the summer of 2004 when I bought a copy of NASCAR Racing 2003 season for $12.
Q:  What attracted you to iRacing?
A:  My friends over at the old ndrn.net sim racing forum got me interested in iRacing, after I started asking questions about the service and was getting some good answers and reviews of how everything worked as far as irating and safety rating and how to rank up in licenses at the time.
Q:  What are favorite iRacing cars/tracks?
A:  On the road side I would say the SpecRacer Ford and Daytona Prototype would be my favorite cars and my favorite tracks would be Summit Point Jefferson and Watkins Glen. On the oval side I like to drive the Advanced Legends, Tour and SK Modifieds and the Late Model. As far as the tracks go, I like any short track.
Q:  What do you like most about iRacing?
A:  How easy it is to join a race or practice session , and there are races going on every 2 hours and I don't have to worry about downloading a certain mod or car or downloading a certain version of a track to join a server or do a race.
Q:  What would you change about iRacing?
A:  I would probably make qualifying sessions more frequent,  maybe one every 30 minutes instead of every hour because it seems half the field doesn't qualify for the races and that may help that problem.
Q:  Tell us about the paint schemes on your helmet/car(s)
A:  A bunch of my cars are yellow/black because I've always been a Matt Kenseth fan and always thought his Dewalt schemes were cool looking.
Q:  What other sim racing activities do you do?
A:  Right now all i run is iRacing but i used to run rFactor, ASR ,and NR2003. Every once in awhile I might fire up nr2003 and do a league race every couple of months.
Q:  What are your favorite video games? Other hobbies?
A:  Need for Speed;  Hot Persuit 2,3;  Twisted Metal 1,2,3,4 and Final Fantasy 7,8,9,10 are probably my favorite video games on the old ps2.  On my ps3 Modnation Racers is a pretty fun video game.
Q:  What is your most memorable iRacing moment?
A:  I don't think I have a single memorable iRacing moment that sticks out, but it's pretty cool if I can come from the back of the field and work my way up to the front without any incidents.
Q:  What is the iRacing moment you'd love to forget?
A:  Probably a Radical race at Infineon quite a few seasons ago where on the starting grid of a standing start I told everyone to be careful in the first couple of turns.  Naturally I was the first person to spin out all by myself in Turn Two at the top of the hill in front of most of the field. After that incident I just keep my mouth shut on when I get on the grid for a race.
Q:  What car/track would you like to see iRacing add to the service?
A:  Chemung Speedrome.  A 1/3 mile asphalt track would be a nice track to have for the late models,street stock car, legends and the modifieds.
Q:  What's your favorite real world racing series?
A: I like all kinds of different racing series NASCAR, IndyCar, GRAND-AM, etc.
Q:  What person, living or dead, do you most admire? Why?
A:  Probably my dad who passed away in 2007 because he took me to my first real life racetrack at Chemung Speedrome just after I started watching NASCAR races; my dad also taught me a lot of good things about life, too.
---
You may also like...
---