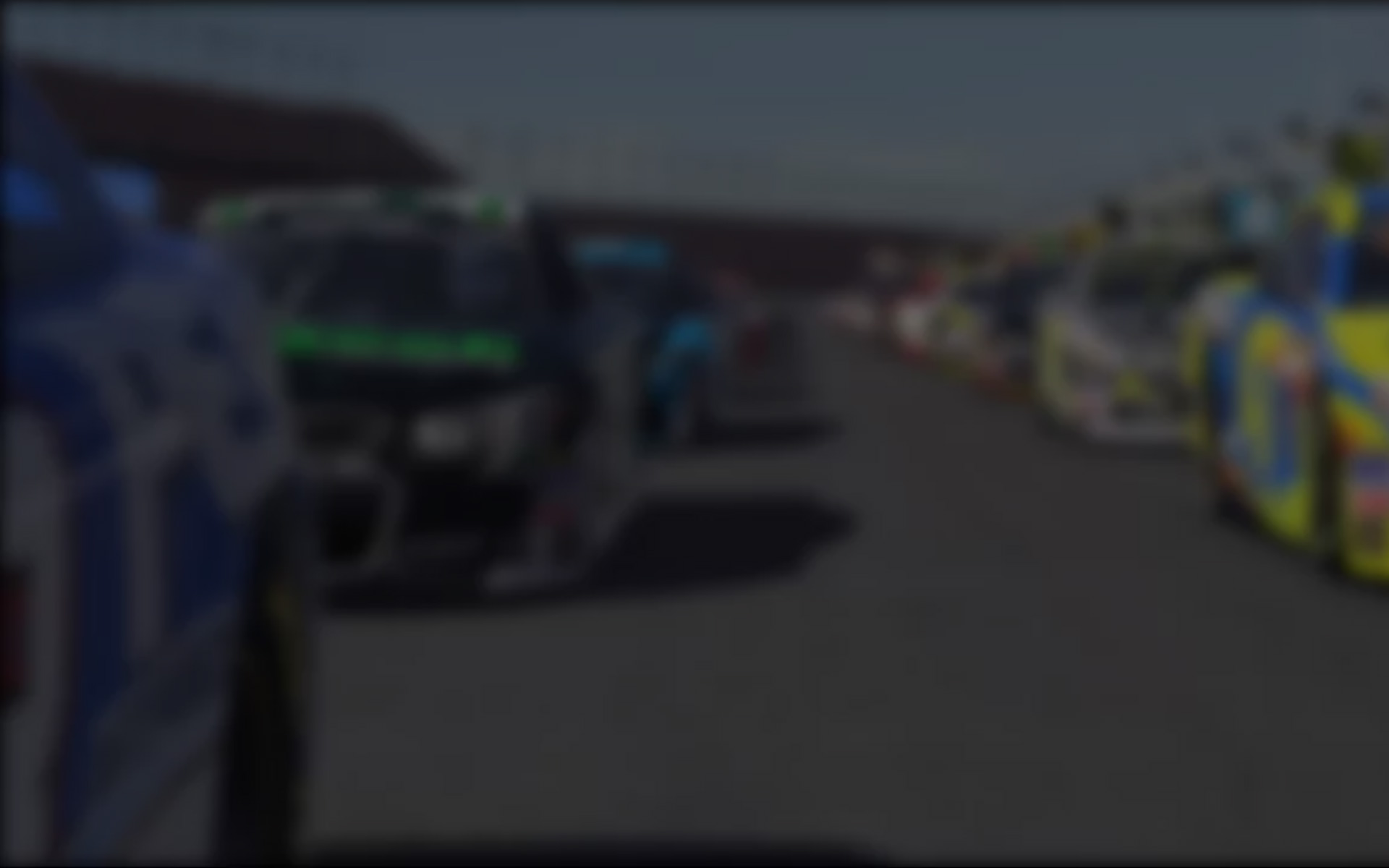 If at first you don't succeed, try, try again.  Just ask 2011 Brickyard 400 winner Paul Menard;  or one of his biggest fans – Chris Overland.  The San Antonio resident's bid to qualify for the 2013 NASCAR iRacing.com Pro Series came up a bit short in Season 2 – despite a trio of wins and eight top five finishes in the NASCAR Class A Series.  But there's always Season 3, and a record that includes a twelfth place finish in the 2011 NiPS and a P32 in the 2012 NASCAR iRacing.com Series World Championship suggests Overland has every chance of punching his ticket for the upcoming NiPS.
Of course, there's more to Overland's iRacing program than NiPS and NiSWC.  Winner of the 2010 S3 NASCAR iRacing.com Class B (Fixed) Division 3 title, he's also got a runner-up certificate to his credit in Class C (2012 S2) and he's a fixture in the top ten of the current Class C (Fixed) standings with 15 wins in 73 starts.
Q: How long have you been sim-racing?
A: I've been sim-racing on consoles since the early 2000s, but I've only been racing PC sims like NASCAR Racing 2003 Season and iRacing for about four years.
Q: What attracted you to iRacing?
A: I was on youtube one morning and was recommended a video that DWC driver Jon Adams made . . . and ever since I've been hooked.
Q: What are favorite iRacing cars/tracks?
A: Without a doubt my favorite car on iRacing is the Gen6 Ford Fusion.  As a NASCAR fan I think that's the only reason I need. As far as tracks are concerned, I personally love Chicagoland; the bumps and character that track has caters to my driving style and I love the racing the track produces.
Q: What do you like most about iRacing?
A: The structure.  I loved when I first made DWC because I knew that I had raced my way in amongst the best. Nothing immerses the player better than seeing their name at the top of a leader board.
Q: What would you change about iRacing?
A: I'd have to say the lack of multi-groove racing. Honestly that's a big thing that iRacing is missing and I'd love to run different lines around tracks like Texas and Atlanta.  I'm a rim-rider so I'd enjoy the opportunity to be fast on different parts of the track. It's really disappointing when you're faster than someone and can't make a pass because you lose speed when you deviate from the racing groove.
Q: How many hours a week do you spend on iRacing?
A: More than the average person. I'd say anywhere from 12-15 hours lately, but back when I first got sucked-in I spent literally all of my free time on here. Sometimes you gotta devote yourself if you wanna be fast.
Q: Tell us about the paint schemes on your helmet/car(s).
A: I'm a huge Paul Menard fan, and I've always loved the bright yellow schemes. I actually got Paul to sign off on a contract which would allow me to run Menards in DWC if I made it back. I'm really excited about that. A lot of people recognize me from those schemes and it's good to have an identity in this sim.
Q: What other sim racing activities (Forza, Gran Turismo, rFactor, etc.) do you do?
A: I tend to still run alot of NR2003, something about that game just never gets old.
Q: What are your favorite video games?
A: I don't do much other than sim racing. I really enjoyed the NASCAR: Thunder Series by EA, simply because of the career mode.
Q: Do you do any real world racing? Has iRacing been of any benefit?
A: I actually haven't. I use iRacing because I'm fairly certain I'm a good driver, but I have no funds to go into real racing.
"I think I speak for everyone when I say we all want to be the best we can be."
Q: What is your most memorable iRacing moment?
A: Definitely proving I belonged in the Pro Series in 2011.  A lot of people doubted me and showed me no respect on the race track.  Five races in I was third in points and ended-up finishing 12th in standings. That's probably the proudest moment I had. A lot of people have treated me different since then.
Q: What is the iRacing moment you'd love to forget?
A: In my first DWC start I was so nervous that I sped on pit road in my first pit stop and never recovered. Finished 29th with a winning car; that really bummed me out.
Q: What car/track would you like to see iRacing add to the service?
A: I'm pretty much set, I'm a huge NASCAR fan, and all three of the top level cars are already added. Just put Ford logos on the trucks and Nationwide and I'll be a happy camper!
Q: What person, living or dead do you most admire?
A: Either Jamie McMurray or Kevin Harvick.  It's safe to say that those two drivers had one shot at a good career and they went out and made the best of it. People who refuse to let anything get in the way of their dreams have my full respect.
Q: What's your favorite real world racing series?
A: The NASCAR Sprint Cup Series, I've been watching since late 2001.
Q: Name the title of the most recent book you read.
A: I actually re-read A Child Called It a few weeks ago. It's a book about a child who is severely abused by his mother and survived the turmoil. I have a ton of respect for Dave Pelzer.
Q: Name of your favorite movie/TV show?
A: I love Breaking Bad and The Walking Dead. They've taken over my life and I can't wait for them to come back this fall.
Q: How many of your close friends are iRacing members?
A: Close friends? Only Adam Gilliland, but I've made many friendships through sim racing that I'd love to carry over to the real world.
Q: Has competing with iRacers all around the world influenced your opinions/outlook on life/world events? How?
A: My outlook on life hasn't changed.  I think I speak for everyone when I say we all want to be the best we can be. I'm gonna try to do that whether it be in the racing or real world. iRacing has only given me motivation. I know I have an understanding for the way race cars act and I feel like I could show my skills in a real car.
---
You may also like...
---