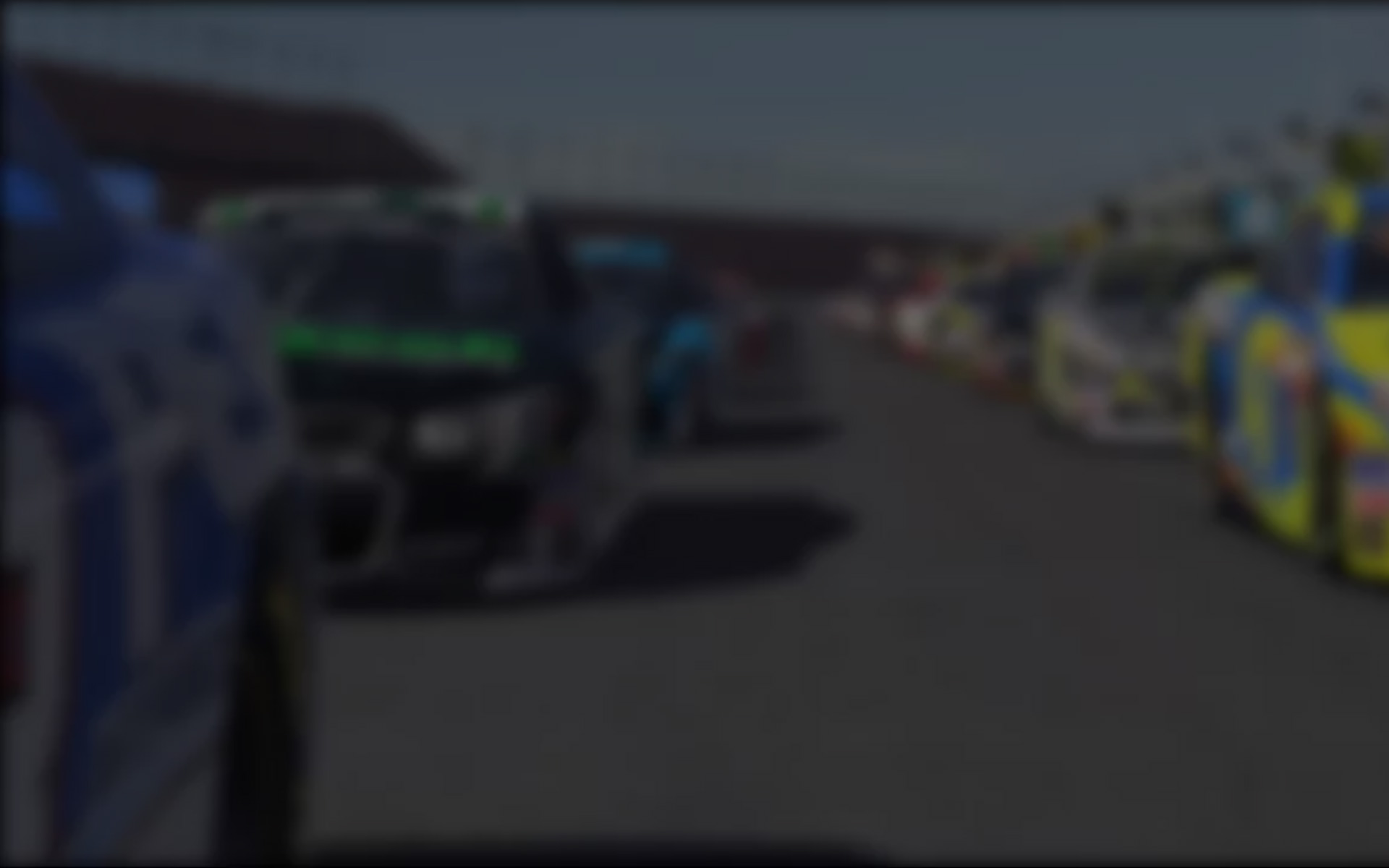 It's easy enough to think of Dave Judson as an IndyCar sim-racer.  After all, he twice finished runner-up in the Division 2 standings of the iRacing.com IZDOD IndyCar Series – Oval (Fixed-Setup)  in 2012, and in the top five in both the open and fixed setup IndyCar oval series in 2012 Season 3.  And, with eight wins to his credit do far, 2013 S1 finds him trailing only friend/rival Tim Doyle in the IndyCar Oval (fixed) standings . . . and with four wins in the books so far, he's P3 in the open setup IndyCars behind Martin Miller2 and Terry Matthiensen.
But pigeonholing the Mentor, Ohio native as "just" an IndyCar driver, would sell him short.  Judson has earned a couple of Dayton Prototype class wins in the iRacing.com GRAND-AM Sports Car Series so far this season and, in January, he scored a worthy World Tour of iRacing "double" when he won his DP split in "2.4 Hours of Daytona" and took an overall Mustang class win in the "Roar Before the 2.4."  If only iRacing would get around to building the gone-but-not- forgotten Burke Lakefront Airport circuit, he'd be one happy Buckeye!
Q:    How long have you been sim-racing?
A:    I have been sim-racing for the last 2.5 years.
Q:     What attracted you to iRacing?
A:    My friend/fellow iRacer Eric Vanek kept telling me some good stories about truck races he had been doing at Talladega.  I was intrigued so I looked into iRacing and saw how realistic it looked and I signed up and haven't looked back!
Q:     What are favorite iRacing cars/tracks?
A:    I love racing the IndyCar on the oval side of things and the Daytona Prototype on the road side.
Q:     What do you like most about iRacing?
A:    The thing I like most is the competition with your rivals and the comradery between friends and teammates on the sim.  Being able to race against real people all the time everytime on the service takes it just that extra step above the console games I used to play.
Q:     What would you change about iRacing?
A:    If I could change something about iRacing, I would change the Safety Rating system.  I feel it's too generous and it's too easy to gain safety rating back by running time trails.
Q:    How many hours a week do you spend on iRacing?
A:    I probably spend about 10-15 hours a week on iRacing.
Q:     Tell us about the paint schemes on your helmet/car(s).
A:    I have two great supporters that I feature on my IndyCar, Tuffy Auto Center of Mentor, Ohio and a friend of mine's charity bike ride "Spokes of Green."
Q:    What other sim-racing activities (Forza, Gran Turismo, rFactor, etc.) do you do?
A:    I used to race Gran Turismo but after joining iRacing it just didn't feel real enough and I haven't really been on there since.
Q:     What are your favorite video games?
A:    My favorite video games are "old school" games for Sega Genesis like NHL '95, Deion Sanders Prime Time Football and Road Rash 3.
Q:     Do you do any real world racing? Has iRacing been of any benefit?
A:    I unfortunately have never had to opportunity to do any real life racing.
Q:     What is your most memorable iRacing moment?
A:    I'd have to say that I have two most memorable moments.  The first was winning the SoF race in the Indy Fixed Series this season with an outside pass in Turn 4 on the last lap at the Indianapolis Motor Speedway.  Running the outside lane is usually an invitation to smack the wall coming out of 4 but somehow I made it work and was able to drag race Tim Doyle to the Yard of Bricks.
The second was winning the 16th Street League race at Michigan.  It was the third of their Triple Crown races and to be able to win a full distance race against the talent that is in the series made it so memorable.
"Running the outside lane is usually an invitation to smack the wall coming out of 4 but somehow I made it work."
Q:     What is the iRacing moment you'd love to forget?
A:    The moment I would love to forget was back a few years ago in the Indycar at Texas.  My friends Eric Vanek (on pole) and Chuck Eisenbarth (starting P4) were in the race with me.  I was starting second and I had forgotten to change my setup from a qualifying set to a race set.  I didn't figure that out until after the start of the race where I put the throttle down and the car unexpectedly jerked to the left and I took-out Eric and Chuck before we could even get to the line to start the race.  Eric never lets me forget that I wrecked all of us!
Q:     What car/track would you like to see iRacing add to the service?
A:    If it was possible to add the Burke Lakefront Airport course in Cleveland, Ohio I would be a very happy man!  Maybe that would encourage IndyCar to return to Cleveland!
Q:     What person, living or dead do you most admire?
A:    I admire Ayrton Senna the most.  He always got the most out of his cars and was unrelenting in trying to be as fast as possible each time he was on track.  I would like to think I have a little bit of that attitude on the virtual track.  He was always so good at defeating alot of his competition mentally before even racing against them on track.
Q:     What's your favorite real world racing series?
A:    My favorite series is Formula 1.  At this time I feel it has the best racing and the best competition among its competitors.  A series where all the cars are not the same makes it that much more enjoyable to watch because the team with the best car and driver should be rewarded with the win.
Q:     Name the title of the most recent book you read.
A:    A Mechanic's Tale by Steve Matchett.
Q:     Name of your favorite movie/TV show?
A:    My favorite movie is Shawshank Redemption and my favorite TV show is Seinfeld.
Q:     How many of your close friends are iRacing members?
A:    Three of my close friends are iRacing members.  I have made a lot of friends on iRacing since I have joined.  I really enjoy racing or just shooting the breeze with guys like Wil Vincent, Jon Porzuc, Brad Sanford and all my teammates at Banshee Autosport.
Q:     Has competing with iRacers all around the world influenced your opinions/outlook on life/world events? How?
A:    It has really made the world smaller for me, just because we're countries or continents apart we all have the same passion for racing and the thrill of the competition.
---
You may also like...
---