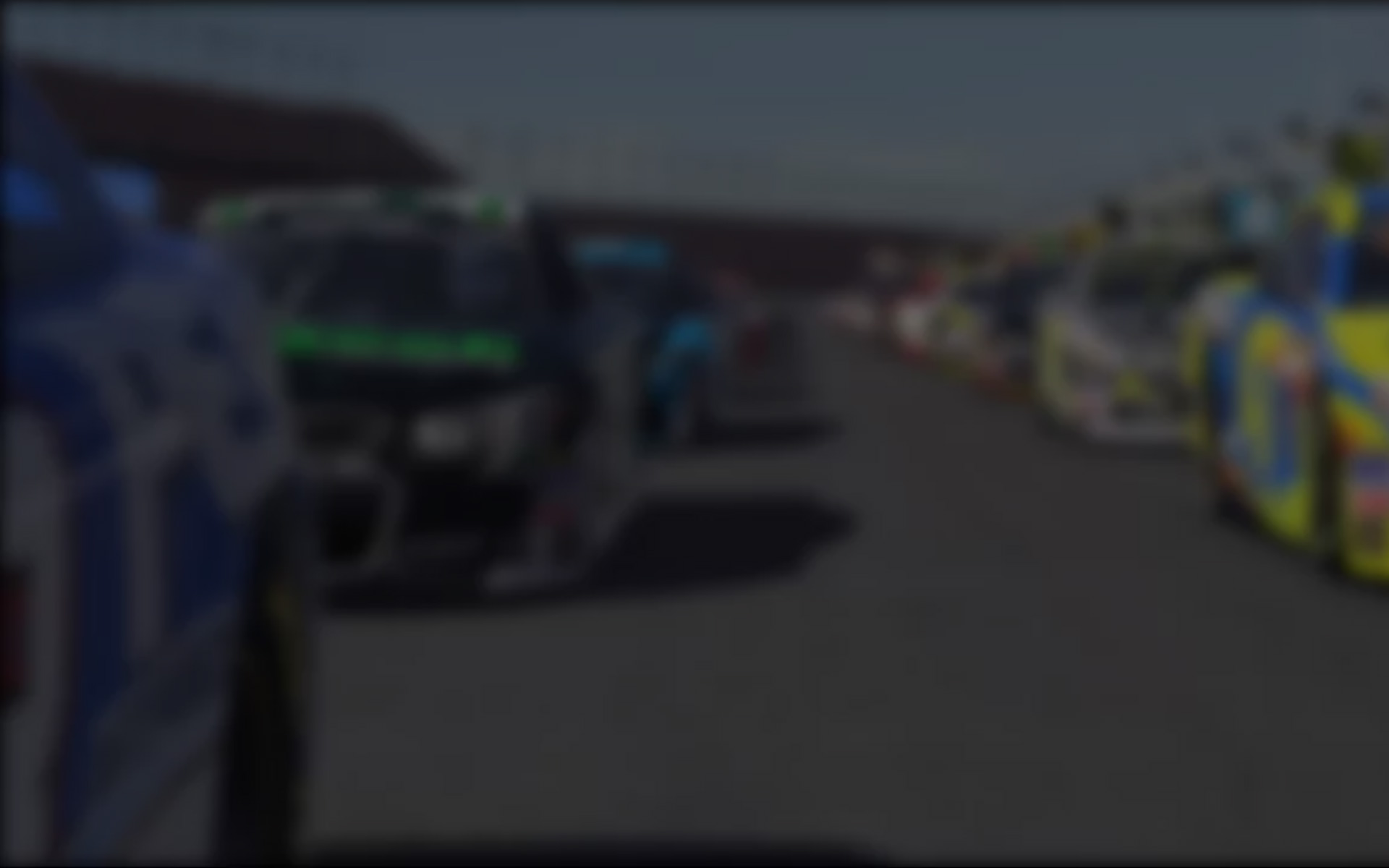 Dylan Duval (aka D-Twice) is a quick learner.  Introduced to sim racing a little over a year ago, the Halifax, Nova Scotia resident rocketed from rookie to Class A (oval) license in no-time and quickly established himself in the front ranks of the NASCAR iRacing.com Class C Series by finishing runner-up to Josh Laughton in 2011 Season 2 thanks to a record of 31 wins in 88 starts.    A fan of the Chevy Silverado. Duval is also a regular front runner in the GSRacing.net Truck Series and has a finish in the top three of the 2011-12 championship in sight.
Duval has other series in his sights as well, having placed 22nd overall in the 2011 Season 4 NASCAR iRacing.com Class B Series and finished-up 2011 Season 4 with a trio of wins in NASCAR iRacing.com Class A at Kentucky Speedway in his Juan Pablo Montoya-inspired Chevy Impala.
Q:    How long have you been sim racing?
A:    I have been sim racing since December 2010 (13 Months)
Q:    What attracted you to iRacing?
A:    The things that attracted me to iRacing were the realism. I also heard a lot of good things about it from friends.
Q:    What are your favorite iRacing cars/tracks?
A:    My favorite iRacing car is the Chevrolet Silverado; second to that would be the Class A Impala. My favorite tracks are Pocono, Martinsville and Phoenix.
Q:    What do you like most about iRacing?
A:    The thing I like most about iRacing is that you can at anytime join a good pickup race. Also there's very good organized racing. I also really enjoy the competition level.
Q:    What would you change about iRacing?
A:    If I could change one thing about iRacing I would add smoke to the new tire model. Also, I would love to see iRacing put more road courses on the NASCAR schedules.
Q:    How many hours a week do you spend on iRacing?
A:    It's hard to say, 10-15? It all depends on how much practice is needed for races I plan to run.
Q:    Do you do any "real world' racing?  If so, do you use iRacing to practice or prepare for your real world races? If so, how?
A:    No, I don't do any real world racing. I would absolutely love to but I just can't afford it.
Q:    Tell us about the paint schemes on your helmet/car(s)
A:    All of my paint schemes are painted by my sponsor Thomas D Smith (www.TDSMotorsports.net).   My Class A scheme is based off of a Juan Pablo Montoya paint scheme because he is my favorite real world driver.
Q:     What other sim racing activities (Forza, Gran Turismo, etc.) do you do?
A:    I currently don't do any other type of sim-racing. Before I got iRacing I raced on EA Sports' NASCAR '09 game.
Two people I admire are Juan Pablo Montoya and Eminem.
Q:    What are your favorite video games?
A:    Definitely any Grand Theft Auto title, especially San Andreas for PC. I also enjoy the Call of Duty franchise.
Q:     What is your most memorable iRacing moment?
A:    I believe that my most memorable moment on iRacing was finishing second to Josh Laughton in the Truck Series Class C overall points. (2011 Season 2)
Q:    What is the iRacing moment you'd love to forget?
A:    The iRacing moment I would love to forget actually just happened recently. I was in position to finally win my first GSRacing.net Truck Series race, and I messed-up a late restart and gave away my shot at the win. I finished fifth.
Q:    What car/track would you like to see iRacing add to the service?
A:    I would love to see iRacing add a NASCAR Canadian Tire Series, and also I would like to see Montreal (Circuit Gilles Villenueve).
Q:    What person, living or dead, do you most admire? Why?
A:    Two people I admire are Juan Pablo Montoya and Eminem.  Juan Pablo I admire due to the fact that he can be competitive and win races in any type of car he was been in. Also Eminem because he has come through so much controversy to become what he is right now.
Q:    What's your favorite real world racing series?
A:    My favorite real world racing series is the NASCAR Sprint Cup Series.
Q:    Name the title of the most recent book you read.
A:    I genuinely don't like reading.  The last book I read was The Crucible for a school book report.
Q:    Name of your favorite movie/TV show?
A:    My favorite movie is 2 Fast 2 Furious, my favorite TV show is Two and a Half Men.
Q:    How many of your close friends are iRacing members?
A:    None, with me being from Canada there is not as much interest in sim-racing where I am from.
Q:    Has competing with iRacers all around the world influenced your opinions/outlook on life/world events? How?
A:    Not really.
---
You may also like...
---