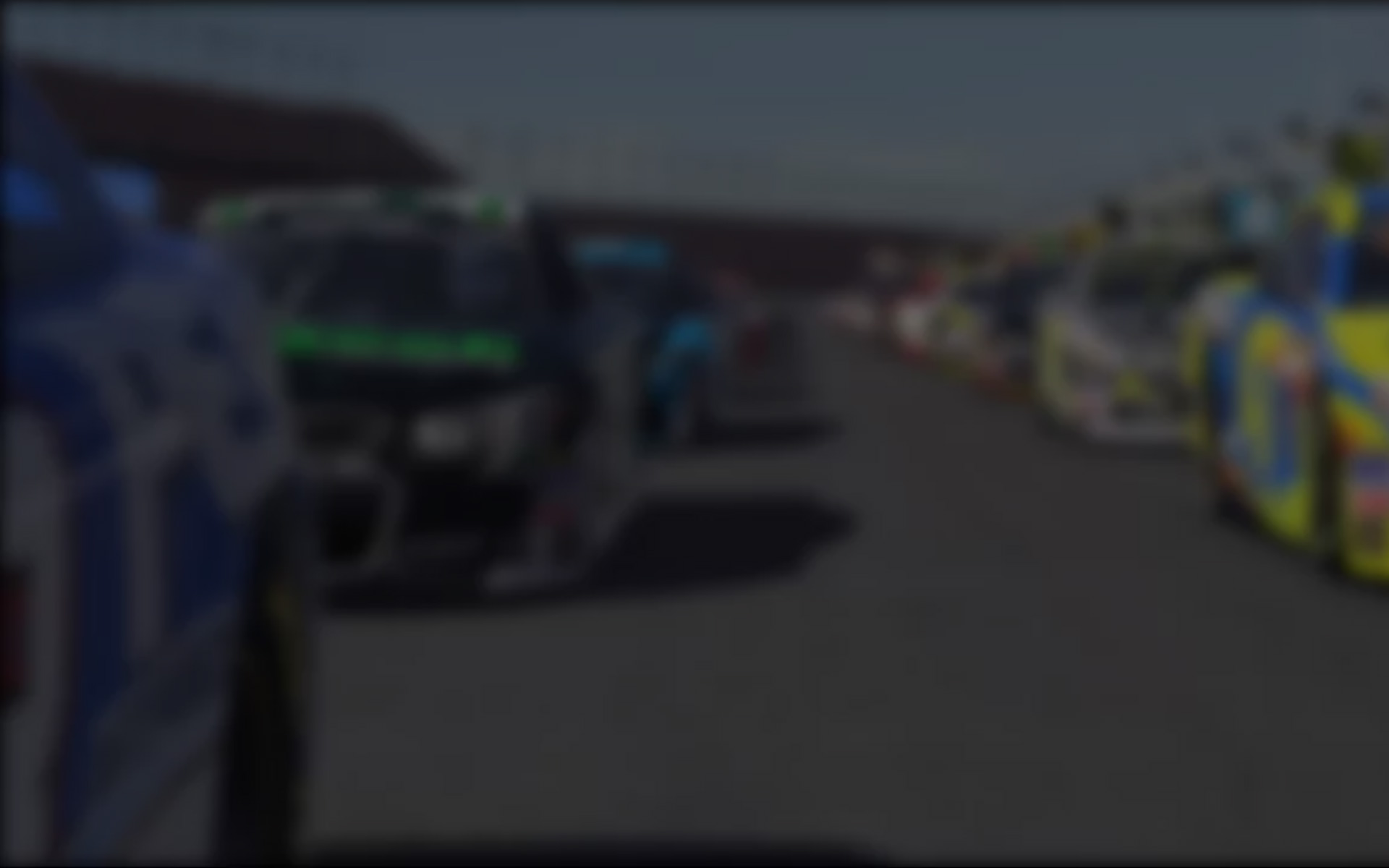 Given that he hails from Campinas, Brazil, you'd think the catalyst for Eduardo Prado's entry into the world of sim racing might have been Ayrton Senna, Nelson Piquet or Emerson Fittipaldi; Tony Kanaan, Cristiano da Matta or Rubens Barrichello; Raul Boesel, Helio Castroneves or Bruno Junqueira  . . . or any number of his countrymen who have stamped the motto "Ordem e Progresso" across the world motorsports map for generations.  Although Senna, in particular, looms very large indeed in Prado's consciousness, it was Italy's Pierluigi Martini — in a Minardi no less — who colored his earliest days as a sim racer.  And continues to do so.
18 years — and with experience in just about every major sim racing title — Prado is a confirmed iRacer, albeit one with a diverse range of interests witness the fact that he has been active in the inRacingNews Challenge (SpecRacer ford), the Skip Barber Race Series, the GRAND-AM iRacing.com Online Sports Car Series and NASCAR iRacing.com Class C Series (despite the fact that he is "not a big fan of ovals").  His current metier, however, is the iRacing.com V8 Supercar Series in which he currently holds-down fifth spot — between Madison Down and "real world" V8 star Shane van Gisbergen, on the strength of four wins in five starts, including Thursday night's win at Sebring.  From SpecRacer Ford to Chevrolet Silverado to Ford Falcon FG, Prado's virtual cars are distinguished by their yellow and black liveries which, as he explains, dates back to his appreciation for Martini's Mindardi.
Q:     How long have you been involved in sim racing?
A:     The year was 1993, I remember walking inside a computer games store with my father and getting my hands on the marvelous World Circuit (GP1), the four greatest 5 inch floppy disks I ever had. Spent lots of time driving 100% length championships using Pierluigi Martini's car (black and yellow Minardi), and started my passion for street circuits after getting addicted on Phoenix. Since then I've been on most of the racing sims. Several times I tried to finish a full length race on Indianapolis 500 using the red Lola-Buick but never managed to accomplish that, then along came GP2 and IndyCar Racing 2, those two got me busy for a long time, and with ICR2 my love for street circuits just kept growing. Had lots of fun on Grand Prix Legends, with my father being my engineer and helping me tuning the car, passed through Nascar 2003, I'm not a big fan of ovals but I gave it a shot, F1 Challenge 99-02, rFactor (where I started racing online on leagues), all SimBin titles since GTR2, and now here I am enjoying iRacing. So from my 24 years, in 18 of them I was involved on sim racing.
Q:     What attracted you to iRacing?
A:     Laser scan tracks and those videos comparing iRacing with real world footage. At beginning I was a little skeptical about the iRacing system, having to pay not only for the service but for every track and car I decided to buy, but after few hours driving it I realized that it was worth it. It's getting to a point that nowadays I'm happy to pay for new contents and think it is completely deserved.
Q:     What are your favorite tracks and cars?
A:     I like almost all tracks and cars from iRacing, but my favorites would be the Ford Falcon V8 and the Indycar, and the high downforce tracks, with Infineon IRL being on the top of the list.
Q:     What do you like most about iRacing?
A:     Very accurate tracks, the best sense of immersion I had (compared with) all other sims I raced and the extremely high level of competition.
Q:     What would you change about iRacing?
A:     Only thing I would like to change is the contact sensibility on some cars, especially on the Mustang and the Falcon V8.  Those classes are known for very close racing and they are huge heavy cars, so small contacts and door-to-door moments happens very often and don't damage the car at all.  But instead of receiving a 0x for the contact, most of the times you get a 4x, and it can be frustrating sometimes.
Q:     How many hours a week do you spend iRacing?
A:      The most that I can. Impossible to know for sure but almost every night I join the TeamSpeak with the friends from my team and we usually do some practice and racing. So trying to make a number, two hours a day during the week and maybe five on weekends, so, about 20 hours of driving, without counting the time we spend talking about sim racing, real racing and visiting the forum.
"Almost every night I join the TeamSpeak with the friends from my team and we usually do some practice and racing."
Q:     Tell us about about the paint schemes on your cars/helmet.
A:     Yellow is my favorite color, so since other sims i always painted my cars on that color, and black just gives a good combination. It started with World Circuit Pierluigi Martini's car, and I still like it today. Besides that, in every car I can, I like to draw those two stripes that cross the whole car length on top, and that is because of the Dodge Viper famous painting scheme, my favorite car.
Q:     What other sim racing activies (Forza, Grand Tourismo, etc.) do you do?
A:     After iRacing I pretty much stopped with other sims, but I still race in an endurance and Formula 1 league on rFactor. I'm still a member of another league that I like and respect very much, where sometimes I join races using rFactor, GTR2 and his Power and Glory mod, or the Race On series.
Q:      What are your favorite video games?  Other hobbies?
A:     After Mega Drive (Genesis) and Super Nintendo, my favorite games were FIFA 94, Ayrton Senna Super Monaco GP, Mario Kart and International Super Star Soccer deluxe.  I got used to playing games on computer and barely touched other consoles, only when in some friends' houses. On my computer nowadays I play mostly the racing sims and Team Fortress 2. My other hobbies are play guitar/ keyboard and watch movies/series/anime.
Q:     What is your most memorable iRacing moment?
A:     Ford Falcon V8 race in Infineon Short, had a great race with Mick Claridge and Sebastian Hutchinson in a constant three way battle during the whole race. Started second and did my best to make a pass, when trying an outside move at the last corner Sebastian came on the inside line and I dropped to third. Some laps later I managed to get the position back in the same corner, and on the last lap made my best overtake maneuver on iRacing until now and got the victory.
"On the last lap made my best overtake maneuver on iRacing until now and got the victory."
Q:     What is the iRacing moment you'd like to forget?
A:     There is no moment on iRacing that I would like to forget. Of course there were some terrible races but for my luck I already forgot about them.
Q:     What car/track would you like to see iRacing add to the service?
A:     On the tracks side I really would like to see some street circuits, I know very well of the difficulties iRacing have for this kind of tracks, but those would be my dreams track, like Long beach, Toronto and Surfer's Paradise. About cars I would like to see the BMW E90 from WTCC and a GT3 Porsche.
Q:     What person, living or dead, do you most admire?  Why?
A:     Ayrton Senna. I follow Formula 1 and many others racing categories since I was very young, so I have a huge passion about it. I can only remember from live races that Senna was in from his last two years of life, but I watched all the racing footage I could find about his career and documentaries. So since I love racing so much, my greatest idol must be the best ever on this segment.
Q:     What's your favorite real world racing series?
A:     Formula 1. I also follow and like very much many other categories like FIA GT, IndyCar, DTM, Australian V8s, WTCC, GRAND-AM, ALMS, LMS, and many times I like more of those races than the F1 race itself. I don't know exactly why, but I have to put F1 in the top of the list.
Q:     Name the title of the most recent book you've read.
A:     I'm not a huge fan of books, the last one I read was a couple years ago, when a friend of mine lent me The Book Thief and in fact it turned to be my favorite.
Q:     Name of your favorite movie/television show?
A:     I watch so much movies that I found extremely difficult to name one favorite, but some of them are Gladiator, Lord of the Rings, Avatar, Pan's Labyrinth, Batman – The Dark Knight, The Ring, The Matrix, The Others, and the list goes on, same thing for the series but what I've been following are The Big Bang Theory, Mentalist, Fringe and Game of Thrones.
Q:     How many of your close friends are iRacing members?
A:     None, but I've been racing with some guys from my team for about five years now, and almost all of them are on iRacing, and I consider all of them good friends.
Q:     Has competing with iRacers all around the world influenced your opinions/outlook on life/world events? How?
A:     It didn't because before I join iRacing I was on an rFactor league that had members from all around the world also, so iRacing didn't bring anything new to me in this aspect. But getting to know people from other countries are very interesting, it is always nice to get to know different cultures and sometimes notice that we are actually pretty much similar, lol.
---
You may also like...
---