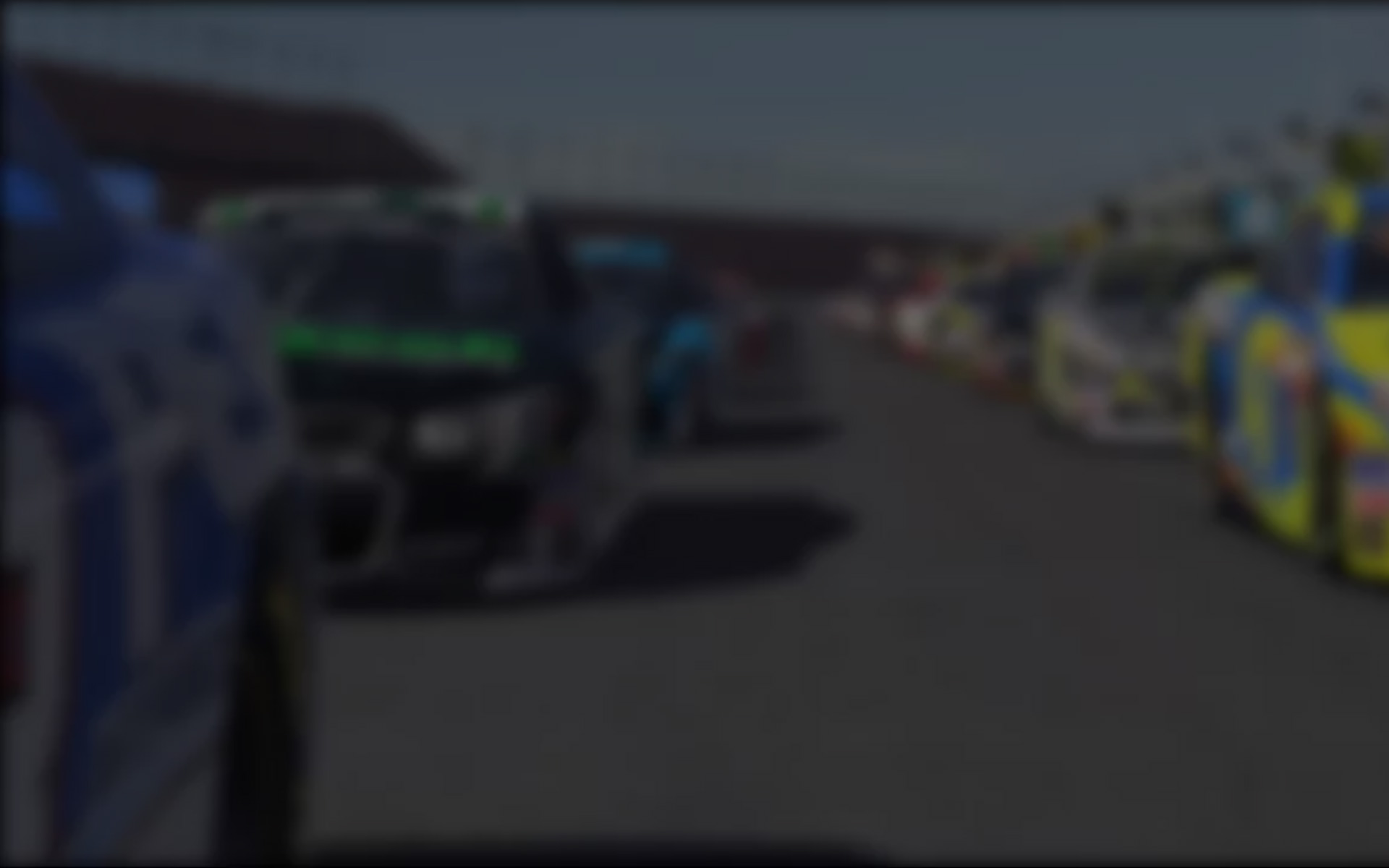 James Kirkham is fortunate to have what many fellow iRacers would consider a dream job: working in the motorsports arena.  Not long after relocating to Charlotte from Oregon Kirkham landed a job with Motorsports Management International which represents many of NASCAR's  top drivers including Kyle Busch, Denny Hamlin, Jamie McMurray and Tony Stewart — to name a few.  Trouble is, Kirkham wants to be on the other side of the equation as a successful race driver in his own right.  He's willing to make the sacrifices to make it happen, witnesss the fact that the former real estate salesman/successful SCCA club racer and his wife moved to Charlotte to be in the midst of the American motorsports scene.  Currently, Kirkham is putting is sales and marketing savvy by, among other things, posting a series of videos on YouTube and his own web site www.indieGoGo.com/Racing in a support of his efforts to secure financial backing for a front line ride for the upcoming GRAND-AM Continental Tire Sports Car Challenge even at Virginia International Raceway on May 13-14.  But Kirkham isn't overly choosy — in the even the budget isn't there for VIR he'll refocus on Lime Rock on Memorial Day, Watkins Glen in June and so on.
And when he takes time a break from the ongoing search for sponsorship, Kirkham keeps his racing skills sharp on iRacing, racing everything from NASCAR iRacing.com Class C Series and Late Models to the NVIDIA Cup, with several wins to his credit of late at Concord Speedway and Lime Rock.
Q:      How long have you been sim racing?
A:     I'm fairly new to sim racing. I started shortly after moving to Race City, USA (aka: Charlotte, NC) to chase the racing dream…so about a year and a half ago.
Q:     What attracted you to iRacing?
A:     We had a SimCraft simulator up at MMI (Motorsports Management International), when I had just started circle-track racing. It allowed me to get some hands-on training, not only from running iRacing on the sim, but also from the other talented stock-car drivers and spotters who would come through MMI to use the sim. This quickly turned into on-going battles between drivers to see who could post the best times. You should see our wall of fame…or shame for some people. haha
Q:     What are favourite iRacing cars/tracks?
A:     Hmm…that's tough. They are all fun for different reasons. I've just recently gotten into running hosted races. There are always guys running trucks at Talledega, we all know that's fun. I just got Phillip Island, the Nationwide car is a good challenge there. Really… they are all fun!
Q:      What do you like most about iRacing?
A:     The fact that I can study tracks is pretty huge. I also love that I can jump on at 2 am and get my racing fix in!
Q:     What would you change about iRacing
A:     I would add my home track, Portland International Raceway. 🙂
Q:     How many hours a week do you spend on iRacing?
A:     I better not say.
Q:      Tell us about the paint schemes on your helmet/car(s)
A:     All white, nice and clean… and incognito.
Q:      What other sim racing activities (Forza, Gran Tourismo, etc.) do you do?
A:     I have GT-5 when I want something easy to waste my time on… I mean… something fun to play.
Q:     What are your favourite video games? Other hobbies?
A:     I don't really play video games other than iRacing. I love anything active, outdoors preferably. Cycling, surfing, snowboarding…. RACING. 🙂
Q:     What is your most memorable iRacing moment?
A:     Probably my first truck win at Darlington, that was intense. Saved that replay!
Q:     What is the iRacing moment you'd love to forget?
A:     Anytime I wreck anybody, that sucks. Same goes for real-life. I like to play clean.
Q:     What car/track would you like to see iRacing add to the service?
A:     Portland! Porsche! Lets get a Cup car on here, come on!
Q:      What person, living or dead, do you most admire? Why?
A:     Probably my Dad. He sacrificed everything and worked a job he hated to support his family and to make sure we were happy. Before he passed away, he made me promise I would never settle for a job I didn't love.
Q:     What's your favourite real world racing series?
A:     LMS, GRAND-AM, DTM, F1, NASCAR – I like them all for different reasons, I can't pick just one.
Q:     Name the title of the most recent book you read.
A:    As A Man Thinketh by James Allen. I come from the mind-set that any of us have the ability to do WHATEVER we want in our lives and long as we can convince ourselves to truly believe in it. This book reminds me of that. It's really short, everyone should own a copy of it.
Q:     Name of your favourite movie/TV show.
A:    I don't really have favorites. I just saw The Fighter, man that was cool. I see myself as the Micky Ward of racing. Gotta love a good underdog story. As for TV, Modern Family has been really funny to me lately, but again, I don't watch much TV.
Q:     How many of your close friends are iRacing members?
A:    Close friends… not many actually. A lot of guys I race with are though.
Q:      Has competing with iRacers all around the world influenced your opinions/outlook on life/world events? How?
A:     Perhaps, a little. It's definitely cool to interact with people in different countries. We are all so different, but  we also have a lot in common at the same time. It's nice to have something like iRacing to share our commonalities.
---
You may also like...
---