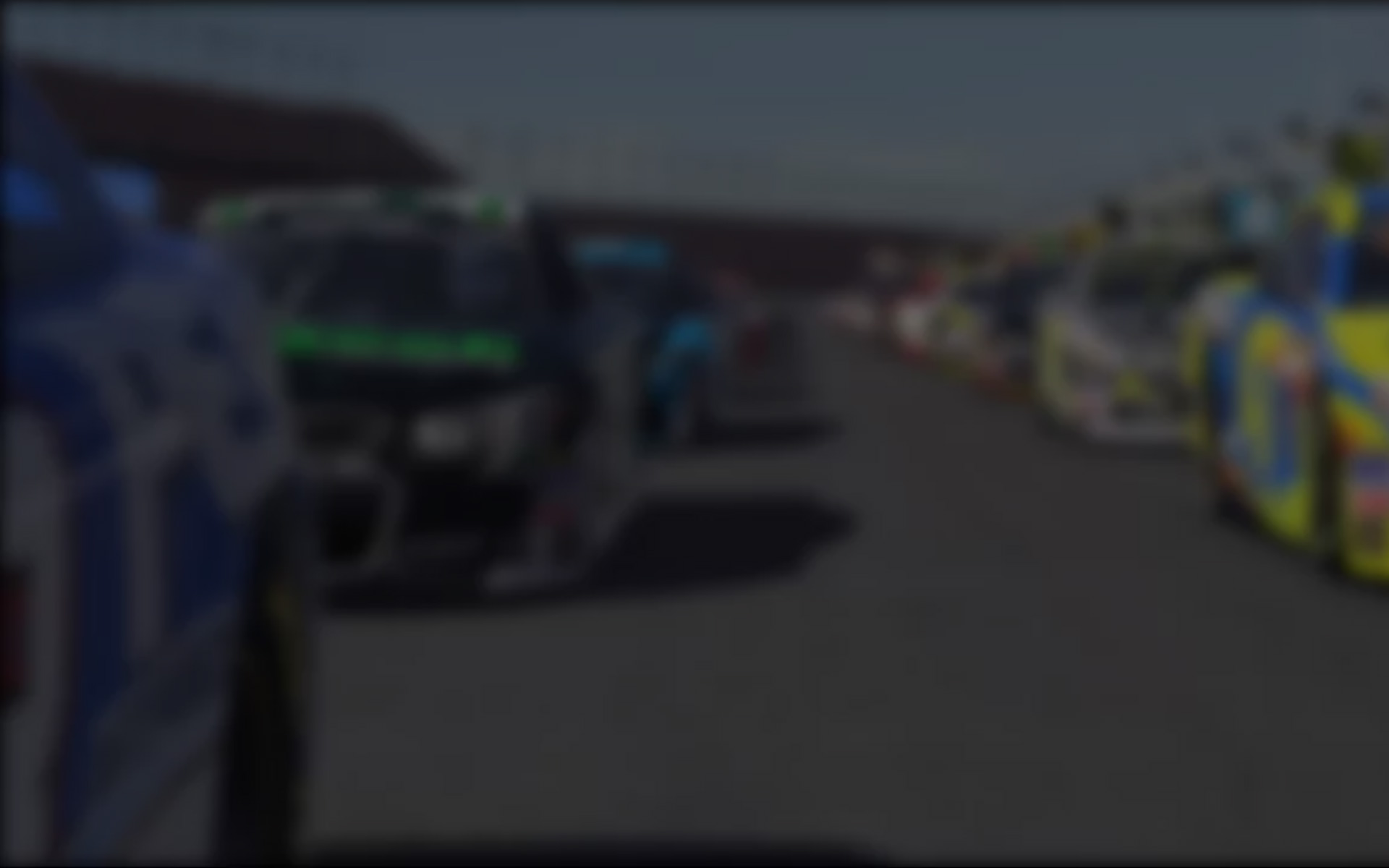 If you want to meet Jeremy Lukaszka, a good place to start is Iowa Speedway.  After all, the resident of nearby Palo hasn't missed many races there since first passing through its gates for the ARCA race in 2008.
Lukaszka hasn't always been an Iowan, having been born in Wisconsion.  He hasn't always been a race fan, having first caught the bug while watching the 2003 Daytona 500.  Nor has he always been an iRacer, having joined the service in May of last year after many years of sim-racing on NASCAR 2003, among other games.
Almost from the first, however, Lukaszka HAS been a winner in iRacing.  He notched his first Legends checkered flag just two days after joining iRacing and his first road racing win (Mazda Cup) a month later.  Since then he's turned into a regular on Victory Lane, coming home P3 in the 2012 Season 3 IZOD IndyCar Oval (Fixed) competition with 14 wins in 35 starts and finishing third overall behind Adam Gilliland and Tyler D Hudson in last season's NASCAR iRacing.com Class B Series (Fixed) on the strength of 20 wins in 50 starts . . . and with 26 poles to boot.
Season 4 finds the 18 old Lukaszka back in his old stomping grounds – NiCBS and IZOD IndyCar – but also running in Class A and the National Series, where he's already collected a win in each.  Come to think of it, another good place to look for Jeremy Lukaszka is in Victory Lane of just about any race he enters . . .
Q: How long have you been sim racing?
A: I've been sim racing since 2003. I remember playing a demo of NASCAR Racing 2002 Season just before NASCAR Racing 2003 Season (NR2003) came out and ever since then I've been hooked on it and haven't been unable to get it out of my blood.
Q: What attracted you to iRacing?
A: The main thing that attracted me to iRacing was the frustration of the online league I was in while playing NR2003. I always talked smack about iRacing and how you had to pay to race back then, but with so many people playing it, and with the help of a convincing friend, I decided to give iRacing a try.
Q: What are favorite iRacing cars/tracks?
A: My favorite car is without a doubt the Chevrolet Impala Class B. For some reason, there's something about that car that just fits me and I can usually be one of the fastest people on track without much practice, although I never choose to do that. My favorite track is Dover without a doubt. Ever since NR2003, Dover has been my best track. Something about that place just fits me. I don't know whether it's the high banking, fast corners, or the transitions, but I really love that place.
Q: What do you like most about iRacing?
A: The thing I like most about iRacing is the competition. When I was racing in a league with NR2003, I was easily one of the fastest people without any practice even in the most "competitive" series.
Q: What would you change about iRacing?
A: If I could change anything about iRacing, it would definitely be to make the Dallara IndyCar an A-class car and give it its own pro divison. Another change I would make would be to make every world tour event split to be set by iRating, not qualifying time.
Q: How many hours a week do you spend on iRacing?
A: Currently, on average I'll just spend about 3-6 hours on iRacing practicing and racing every week. I used to spend a ton more time on it, but with the new job I've started, and my Xbox 360 intriguing me as of late, that number has substantially dropped.
Q: Tell us about the paint schemes on your helmet/car(s).
A: The paint schemes and helmet designs were just something I made because I didn't want to ask for custom paints being a newbie to the service. I plan to start using custom skins in Season 1 however. Any painters?!
Q: What other sim racing activities (Forza, Gran Turismo, etc.) do you do?
A: None.
Q: What are your favorite video games?
A: I really enjoy playing The Sims 3, as well as Grand Theft Auto IV, and campaign mode on Halo.
"With only one or two cautions and none the last hundred laps I drove my way all the way up to a fifth place finish and even beat Ray Alfalla."
Q: Do you do any real-world racing? Has iRacing been of any benefit?
A: I have never done any real-world racing.
Q: What is your most memorable iRacing moment?
A: My most memorable moment would be in this year's top split of the .com Brickyard 400. I qualified fourth, was wrecked about forty laps in, used my one reset, restarted from the back of the pack, and with only one or two cautions and none the last hundred laps I drove my way all the way up to a fifth place finish and even beat Ray Alfalla.
Q: What is the iRacing moment you'd love to forget?
A: Any moment when I make myself look bad when I'm in front of a pro driver. Whenever there's a big name black striper behind me (King, Alfalla, Hudson, Karlavige) I always choke and knock down the wall or do something completely stupid while trying to impress.
Q: What car/track would you like to see iRacing add to the service?
A: At this time I want to see the DW12 added. As far as tracks, it would be awesome if Long Beach was added, but for right now I'm just waiting for Montreal, Kansas, and Fontana.
Q: What person, living or dead do you most admire?
A: I didn't admire him until it was too late, but definitely Dan Wheldon. I was actually at the Las Vegas race last year and that was the most agonizing two hours I think I've ever been through and something I'll never forget.
Q: What's your favorite real-world racing series?
A: In 2012, I definitely followed IndyCar more than I did NASCAR. IndyCar provides some of the best racing ever, but with the recent firing of Randy Bernard we'll see how that affects my decision for 2013.
Q: Name the title of the most recent book you read.
A: Harry Potter and the Goblet of Fire.
Q: Name of your favorite movie/TV show?
A: I don't watch too much TV, except for racing, so I don't really have a favorite TV show. However, some of my all-time favorites movies include V for Vendetta, Marley & Me, and The Dark Knight.
Q: How many of your close friends are iRacing members?
A: I don't have any friends that live near me that have iRacing, but my brother finally got iRacing in May after I convinced him to get it. Thomas Hitch, who I used to race with on NR2003, has iRacing and I finally met him back at the Indianapolis 500 this year.
Q: Has competing with iRacers all around the world influenced your opinions/outlook on life/world events? How?
A: Without a doubt, absolutely. When you're in certain positions on the virtual track, you can relate to that when you see drivers in that position on the real track. That being said, whether or not you even like the driver, you still understand what s/he went through and sometimes why they reacted the way they did.
---
You may also like...
---