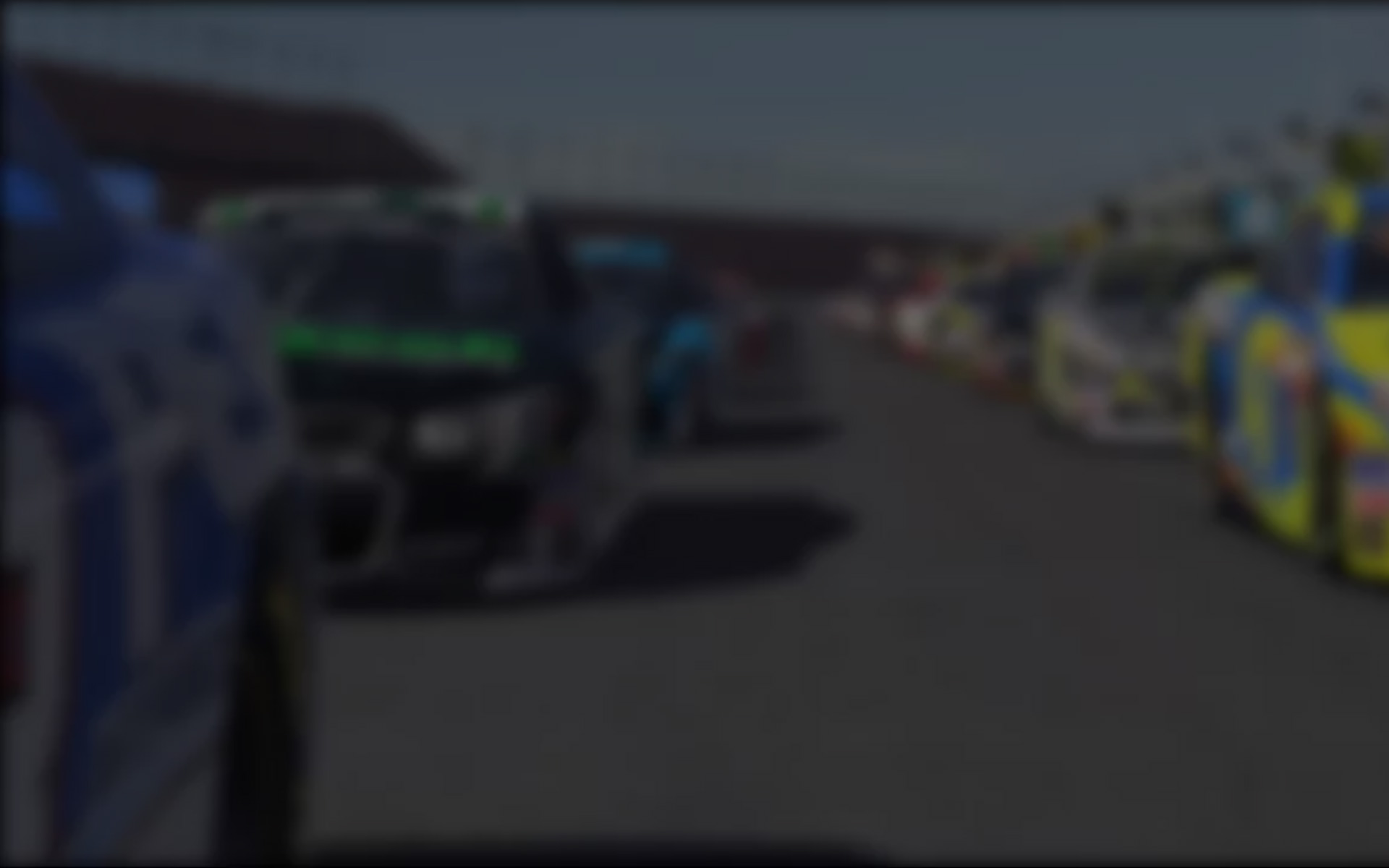 If you tend to think of the name "Tyler D Hudson" when you read the name "Joshua Laughton" there's a reason.  The twosome battled for the NASCAR iRacing.com Class C Series title in two of the past three seasons.   And don't look now, but Hudson and Laughton are a familiar one-two in the NASCAR Class C 2011 Season 2 standings.
A little too familiar for Laughton for, as it was in 2010 Season 3 and 2011 Season 1, Hudson is out front.  Fierce as their rivalry may be, however, Laughton counts Hudson as a "great friend."
But what else would you expect from a sim racer who says he was motivated to become an iRacing member by the opportunity to competing with online racing's top talents in the NASCAR iRacing.com Series World Championship?  Speaking of which, although the Fresno, CA-based Laughton is currently 29th in the NiSWC standings, still looking for his first top five finish but with an eighth place finish at Bristol his best result to date.  With 59 wins in 117 Class C starts in the past four seasons, however, it can only be a matter of time before Laughton hits his stride in NiSWC.
Q:     How long have you been sim racing?
A:     For about 12 years now. (I) started running Nascar Racing 3, Dirt Track Racing Spint Cars, Nascar 2003, rFactor, ARCA Sim Racng, and then finally iRacing.
Q:     What attracted you to iRacing?
A:     The iRacing Drivers World Championship.  I wanted to race with the best. To be the best you have to race against the best. I dominated ARCA Sim Racing for a couple years and decided it was time to move on.
Q:     What are favorite iRacing cars/tracks?
A:     All the short tracks. Richmond, Bristol, Dover, New Hampshire. For cars the trucks are my favorite.  I love the Sprint Cars, that's what I grew up around.
Q:     What do you like most about iRacing?
A:     The amount of content the offer. It gets overwhelming at times 'cause there's so much to choose from.
Q:     What would you change about iRacing?
A:     The tire model is the #1 and that is already coming out. Other things I would liked to see changed is the netcode and the areo revamped. Especially in the CoT, the further you get back in the back, the worse the car drives.
Q:     How many hours a week do you spend on iRacing?
A:     Depending on whether I'm working out of town or not. When I'm home I'm usually on everyday. I love racing. I work for Hoosier Tire West, we are the west coast distributer for Hoosier Racing Tire. So pretty much every weekend I'm at a race track. I can't afford any real racing, besides racing my parents' go kart from time to time and I've run a Ford Focus Midget a few times for a guy, but this is my racing fix.  It's cheap, affordable and fun.
Q:     Tell us about the paint schemes on your helmet/car(s):
A:     My cars and helmet are usually always orange. I love the color orange.  It's bright and stands out. My boss owns a USAC Race team and all of the cars were always orange, so it kinda stuck with me.
"To be the best you have to race against the best." — Joshua Laughton
Q:     What other sim racing activities (Forza, Gran Tourismo, etc.) do you do?
A:     iRacing is pretty much it. I'll still go run ARCA Sim Racing from time to time.
Q:     What are your favorite video games? Other hobbies?
A:     I'll play Madden from time to time or NBA, or some other racing game at a buddy's (place), but I don't own a PS3 or XBOX360
Q:     What is your most memorable iRacing moment?
A:     Beside making PRO and then DWC in less that a year, it would probably winning the 2010 Bristol 200 in iRacing. That was a pretty big win for me.
Q:     What is the iRacing moment you'd love to forget?
A:     Any crashes I'm involved in.
Q:     What car/track would you like to see iRacing add to the service?
A:     I would love to see the USAC Midgets added. Would also like to see dirt racing in iRacing with wing & non-wing Sprint Cars as well as dirt Midgets, Dirt Late Models. For Tracks I would like to see ORP, Iowa, & Salem Speedway.
Q:     What person, living or dead, do you most admire? Why?
A:     Besides my dad, I would say Tony Stewart. Tony can race anything and win, I've seen it first hand, he is amazing in a race car. Kyle Busch would be another, that kid can flat wheel a race car.
Q:     What's your favorite real world racing series?
A:     USAC Sprint and Midget Cars.
Q:     Name the title of the most recent book you read.
A:     Books? Who wants to read books when you can be racing.
Q:     Name of your favorite movie/TV show:
A:     Blue Collar, Burn Notice, Entourage.
Q:     How many of your close friends are iRacing members?
A:     I'd say all the guys are our Wheelmen Inc. Team. We have a great group of guys. My best friend on iRacing would have to be Tyler D. Hudson. He's really a great friend and always fun to race with and has made me a better racer.
Q:     Has competing with iRacers all around the world influenced your opinions/outlook on life/world events? How?
A:     I wouldn't say it's influenced me.  It's cool to meet and race people from around the world; some you get to know on more of just a first name basis. I've made some great friends on iRacing, that I've never met in person, but maybe one day will get the chance to.
---
You may also like...
---