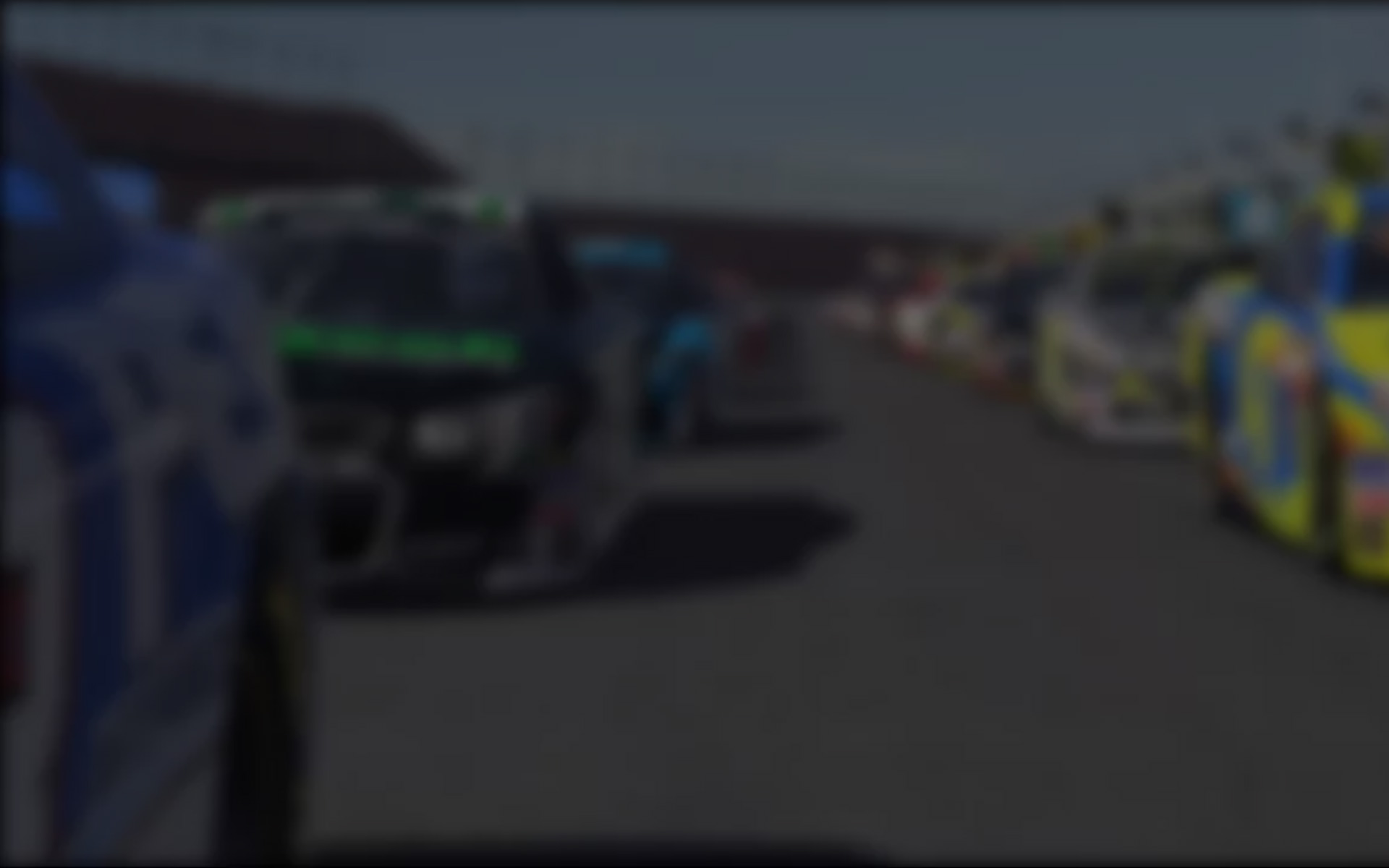 Kevin Burris is not content with the status quo.  2011 Season 4 capped his rise to the top of the NASCAR iRacing.com Late Model Tour, as he took the series title over rival Trenton Moriarity on the strength of 15 wins in 23 starts, this after having placed 26th in points in Season 3.  So does 2012 Season 1 find him defending his hard-won Late Model crown?
Not hardly.  After a couple of seasons of near-full body immersion in the NiLMT, the Lillington, NC resident  has driven the Monte Carlo in just three official sessions (all practice) since the holidays.  Period.  Instead, he's turned his focus to the Class A Chevy Impala, racing in the NASCAR iRacing.com Class A Series.  He hasn't had the easiest of times making the jump from Late Models to Class A — witness the fact that a 16th place finish at Homestead-Miami Speedway in mid-February – stands as his top finish.  But things are looking up of late, with Burris winning one pole position and started no worse than third in a trio of Class A races at Daytona last week, even if the top five finishes that became a staple of his Late Model career have so far proved elusive.
With Burris' proven track record – and support from his RadicalRacer teammates – it's only a matter of time before he's a regular on the Class A podium.
Q:    How long have you been sim racing?
A:    I started sim racing in Sept. 2010 right here on iRacing.com.
Q:     What attracted you to iRacing?
A:    First the competition here. It's unmatched to anything I have raced whether it be real life or racing games. Second would be the realism. I liked the fact that you have to come up through the ranks to compete with the big boys.
"With over 30,000 members there is always something to talk about."
Q:    What are favorite iRacing cars/tracks?
A:    By far my favorite track has to be Irwindale, followed closely by New Smyra. Cars would be the Late Model and Trucks, by far the funnest on the oval side.
Q:    What do you like most about iRacing?
A:    The community! With over 30,000 members there is always something to talk about. Good or bad depends on the crowd lol.
Q:    What would you change about iRacing?
A:    It goes back to when iRacing released the "old" New Tire Model on the Late Model. I took the brunt of the conflict between iRacing staff and members. There were some who liked it but there were more that disliked it. So, thanks to iRacing engineer Eric (Hudec) and a select few iRacers, we set out to fix what we thought needed to be fixed.  That led to one of the best series on iRacing.
Things that I think need to be worked on still would be a way to control who makes top split races. I think you must be able to run a certain time to get in the upper series races. Not so much lower series but A Class Cup car, B Class Nationwide and Trucks. Just something that needs to be looked at.
Q:    How many hours a week do you spend on iRacing?
A:    As many as the wife will let me lol. I've been sleeping on the couch for the past season. I think I need a break; my back is starting to hurt lol.
Q:     Do you do any "real world' racing? If so, do you use iRacing to practice or prepare for your real world races? If so, how?
A:    I race every now and then, but thanks to iRacing I stay sharp. I think iRacing is a great tool to prepare yourself for battle so to speak. It allows you to stay sharp mentally. The only thing it lacks is the physical side of things. Other than that everything can cross over.
Q:    Tell us about the paint schemes on your helmet/car(s)
A:    I'm running the www.RadicalsOnline.com sponsored by Steelseries ride on everything. I think it's funny that Radicals are known by their road heritage but there is also an oval side as well. Either way, it's a great group of guys.
Q:    What other sim racing activities (Forza, Gran Turismo, etc.) do you do?
A:    I have Gran Turismo collecting dust. I only run on iRacing. I tried.   Trust me, I've tried.  Just not the same.
Q:    What are your favorite video games?
A:    Call of Duty series! I dont have Mw3 but I will tear anyone up on some Black Ops. I got a K/D ratio of a 3.00 and I don't camp. lol Anyone who wants some and has a PS3, look me up.
Q:    What is your most memorable iRacing moment?
A:    I try to make every moment memorable but I would have to say at Iowa this past season in the Late Models. Trenton (Moriarity) and I were battling all race long: side-by-side, respectful, hard-nosed racing . . .  for second lol. It had me on the edge of my seat the whole race. After that race I couldn't feel my fingers. lol
I had a death grip on the wheel trying to get that car around the track. I beat him though lol but I know we both had a smile on are faces after that one.
Q:    What is the iRacing moment you'd love to forget?
A:    Last year's Daytona 500 race… OMG nothing but wrecks lol. I would like to throw that memory away.
Q:    What car/track would you like to see iRacing add to the service?
A:    Tracks would have to be Myrtle Beach Speedway, Hickory, and got to have Rockingham. All great tracks not to mention I grew up not even five miles from Rockingham. I used to be able to sit in the front yard and listen to them run practice laps. Good memories lol
Q:    What person, living or dead, do you most admire? Why?
A:    My uncle Bill. He was my mentor. He thought me about life. He used my love for racing to teach me little things that turned out how I live today.
"Radicals are known by their road heritage but there is also an oval side as well . . . it's a great group of guys."
Q:    What's your favorite real world racing series?
A:    World of Outlaws Late Model series. Some of the best racing imo anywhere.
Q:    Name the title of the most recent book you read.
A:    Circle Track magazine; a lot of good info in them there books lol.
Q:    Name of your favorite movie/TV show?
A:    TV show would be Family Guy and movie would be Fracture.
Q:    How many of your close friends are iRacing members?
A:    I think I have about 40 or so friends on iRacing. There are quite a few good people that share the same passion as you do. It's all about getting to know one another.
Q:    Has competing with iRacers all around the world influenced your opinions/outlook on life/world events? How?
A:    Not really, but I can see how it would or could help some people if they choose to use the lessons that you learn from other members.
Finally, I'd like it if you could put in a couple of thank yous for me.
I wanna thank Kevin J Myers for helping me all season;  Thomas over at TDS Racing designs and all of the Radicals at www.RadicalsOnline.com.
And last but not least my family.
---
You may also like...
---