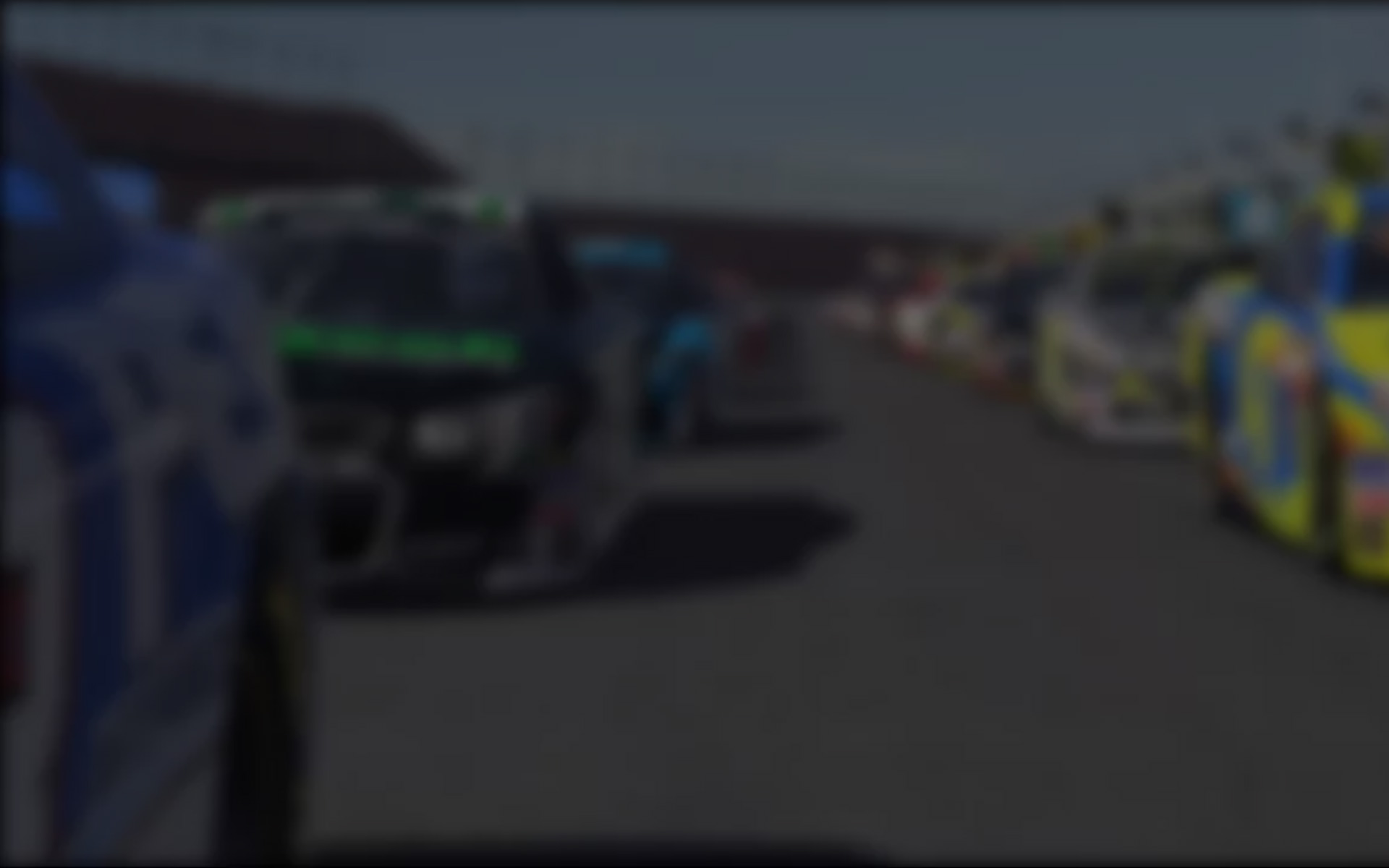 On the face of it, Marcus Dean is a bit of a contradiction.  The Greenville, SC resident loves his short track racing, particularly at his "home" track, ½ mile Greenville-Pickens Speedway, a track awash in stock car racing history.  Given that, you might expect Dean to be a regular in iRacing Street Stocks, Late Models and Class C.  Instead, Dean's sim-racing tastes run to open wheels, IndyCars, Sprint Cars and, most of all, Silver Crown.
He's currently in a familiar spot in the iRacing Silver Crown Cup – chasing perennial front runner Vinnie Sansone in the overall standings while vying for the Division 2 title.  It's a title he won in a Season 1 that also saw him place runner-up to Sansone in the overall rankings and one he'd very much like to retain in Season 2.  With a little help from his friends and teammates at Crankenstein Racing — not to mention his "co-pilot" —  it's a goal that's within reach.
Q:        How long have you been sim racing?
A:        I've been sim racing a little over two years.
Q:        What attracted you to iRacing?
A:        I had a friend that told me about iRacing and let me use his wheel and I've been hooked ever since.
Q:        What are favorite iRacing cars/tracks?
A:        My favorite iRacing car would be the Silver Crown, I think it is the best car in the sim. My favorite track is Irwindale with the Silver Crown. It's a hard track to pass on but a lot fun with the right group of iRacers.
Q:        What do you like most about iRacing?
A:        What I like most is that iRacing keeps evolving and improving with every new build.
Q:        What would you change about iRacing?
A.       If I could change something about iRacing i would give the Silver Crown and the Sprint Car the new tire model.
Q:       How many hours a week do you spend on iRacing?
A.       I usually spend about 10 to 15 hours a week on iRacing.
Q:      Tell us about the paint schemes on your helmet/car(s).
A.     My paint scheme on my Silver Crown is based-off the Caterpillar NASCAR Sprint Cup car. The reason why I chose Caterpillar is because I deliver Caterpillar heads to one of their plants here in Fountain Inn, SC.
Q:     What other sim racing activities (Forza, rFactor, Gran Turismo, etc.) do you do?
A.      I don't play any other sim racing games.
Q:     What are your favorite video games?
A:      My favorite game to play is UFC on Xbox 360. I like to play it with my kids.
Q:     What is your most memorable iRacing moment?
A:      My most memorable moments in iRacing to date is, one, winning an official race in the Silver Crown at Las Vegas with Vinnie Sansone.  I've been trying to win a race with him in it for close to a year.  Number two is winning the Division 2 2012 Season 1 championship and finishing second overall in the Silver Crown.
"I couldn't make it without (my wife).  She is my spotter in life."
Q:     What is the iRacing moment you'd love to forget?
A:      I was running a live web broadcast, don't remember who was hosting but it was Indy cars at Indy.  I came in for the first round of pit stops and come out of the pits, looped it, hit the wall and ended my race. I watched the replay later and saw they were talking about it in the broadcast.
Q:     What car/track would you like to see iRacing add to the service?
A:      The car would I add to iRacing would have to be a Monte Carlo street stock. The track would I add would have to be my local track Greenville-Pickens Speedway. It has a lot of history, GPS held the first flag-to-flag televised NASCAR race and the past track champions are painted on the wall starting in Turn 3 and continuing down the backstretch to the middle of Turns 1 and 2. Drivers like Lee Petty, Ralph Earnhardt and David Pearson just just to name a few.
Q:      What person, living or dead do you most admire?
A:      My wife.  I couldn't make it without her.  She is my spotter in life.
Q:      What's your favorite real world racing series?
A:      Local short track racing at Greenville-Pickens Speedway.
Q:      Name the title of the most recent book you read.
A:      Dave Ramsey Financial Peace.
Q:      Name of your favorite movie/TV show?
A:      South Beach Tow.
Q:      How many of your close friends are iRacing members?
A:      There are 17 of my closest friends on iRacing and we all make up the team of Crankenstein Racing.
---
You may also like...
---