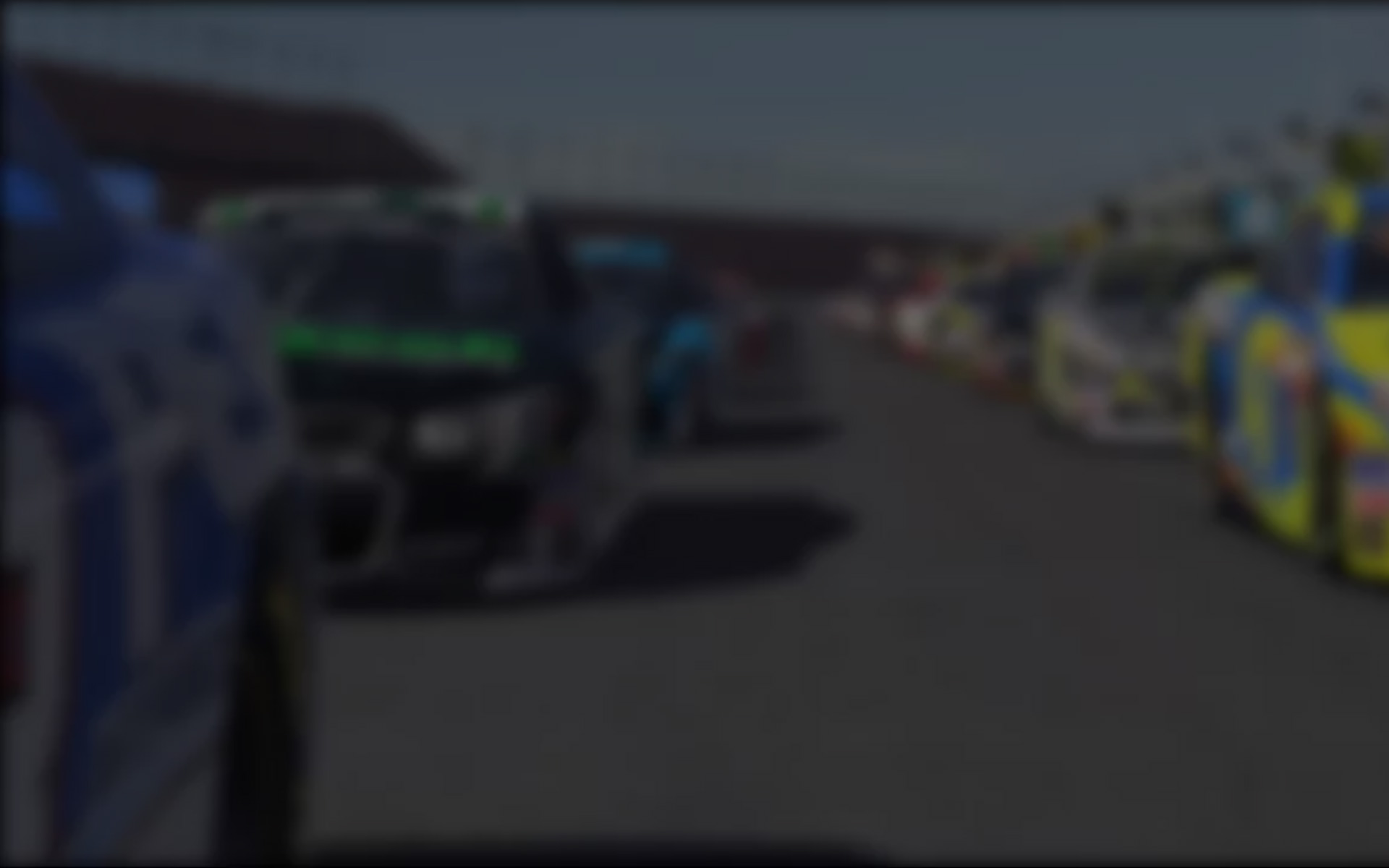 In many racing circles "Squirrel" would not necessarily be a nickname of endearment connoting – in most circles – an excitable, unpredictable driver.  Yet, Sam Edwards proudly carries the bushy-tailed rodent's handle and although he may be excitable, he's anything but unpredictable.   In 2011 Season 2, for example, you could have set your watch (figuratively of course) by the consistency of his performances in the NASCAR iRacing.com Late Model Series.  How else to describe a sim racer who recorded 41 top fives in 43 starts, completing 23 of them in Victory Lane?
But what would you expect from a professional racing instructor?  (Edwards works for the Dale Jarrett's racing school.)  And don't pigeonhold Edwards as "just" a Late Model racer.  The resident of Cullman, AL is branching out to Class A and B this season and, despite being firmly grounded in oval racing, has dipped his toe in the road racing waters of late, earning a respectable two top fives in five starts in last season's Thrustmaster Mustang Challenge.
Q:     How long have you been sim racing?
A:    On and off for years, started with Nascar 3 and eventually migrated to iRacing.
Q:     What attracted you to iRacing?
A:    The stiff competition was the main thing. I wanted to race with people who are just as fast as I am. It rings true.  Also, I am always up on the wheel fighting for positions.
Q:     What are your favorite iRacing cars/tracks?
A:    I run a lot of Late Models and Trucks but since the NTM has come about I am going to run the Nationwide and Cup car.
Q:     What do you like most about iRacing?
A:    All of the different cars and tracks that are available. I am an oval racer but with iRacing i can learn different disciplines such as road racing.
Q:     What would you change about iRacing?
A:    The only thing I am not to fond of is the Safety Rating System. All it takes is one little bobble (generally not your fault) and it is very costly. I have been at a Class A 4.99 for some time now and it is tough to keep it there. I wish it was structured a little bit different where you could lose as much as you gain.
Q:     How many hours a week do you spend on iRacing?
A:    15-25 hours. It really depends, I spend most of my time as an instructor for Dale Jarrett Racing Adventure.
Q:     Tell us about the paint schemes on your helmet/car(s)
A:    Well i remember growing up and my Dad drank Red Dog beer. We went to the Nashville Fairgrounds for a Craftsman truck race and Kenny Wallace was sponsored by Red Dog. My Dad saw the truck and instantly fell in love. So that has stuck with me over the years.
Most memorable iRacing moment?  "Every time I log-in is my favorite moment."
Q:    What other sim racing activities (Forza, Gran Tourismo, etc.) do you do?
A:    None
Q:    What are your favorite video games?
A:    iRacing is it!
Q:     What is your most memorable iRacing moment?
A:    Every time I log-in is my favorite moment.
Q:    What is the iRacing moment you'd love to forget?
A:    I was in a league race once at Lanier and made a late race pit stop for tires and repairs. As soon as the jack dropped I was wide open.  Knowing I was in jeopardy of going a lap down,  I sped out of the pits. Not paying close attention, I came straight out onto the track hitting the leader in the door. Needless to say, I was so embarrassed I didn't say anything the rest of the race.
Q:     What car/track would you like to see iRacing add to the service?
A:    I would like to see is another late model with more power,  just for the sole fact that there is such a big jump from Late models to trucks.
Q:     What person, living or dead, do you most admire? Why?
A:    Being from Alabama, my hero is Davey Allison. I met him when i was young. Unfourtunately, I was too young to remember it. My family, being from the same area, knew the Allisons and from all the stories I heard, Davey was an extraordinary individual. I think if Davey was still here today, he would have had a huge impact on NASCAR as we know it today.
Q:    What's your favorite real world racing series?
A:    All NASCAR sanctioned series.
Q:    Name the title of the most recent book you read.
A:    I have a copy of Larry McReynolds' book (The Big Picture), but have yet to open it!
Q:    Name of your favorite movie/TV show?
A:    NASCAR Performance
Q:    How many of your close friends are iRacing members?
A:    I have met so many people on iRacing. Some of them are really close friends now and we even talk on the phone on a weekly basis.
---
You may also like...
---