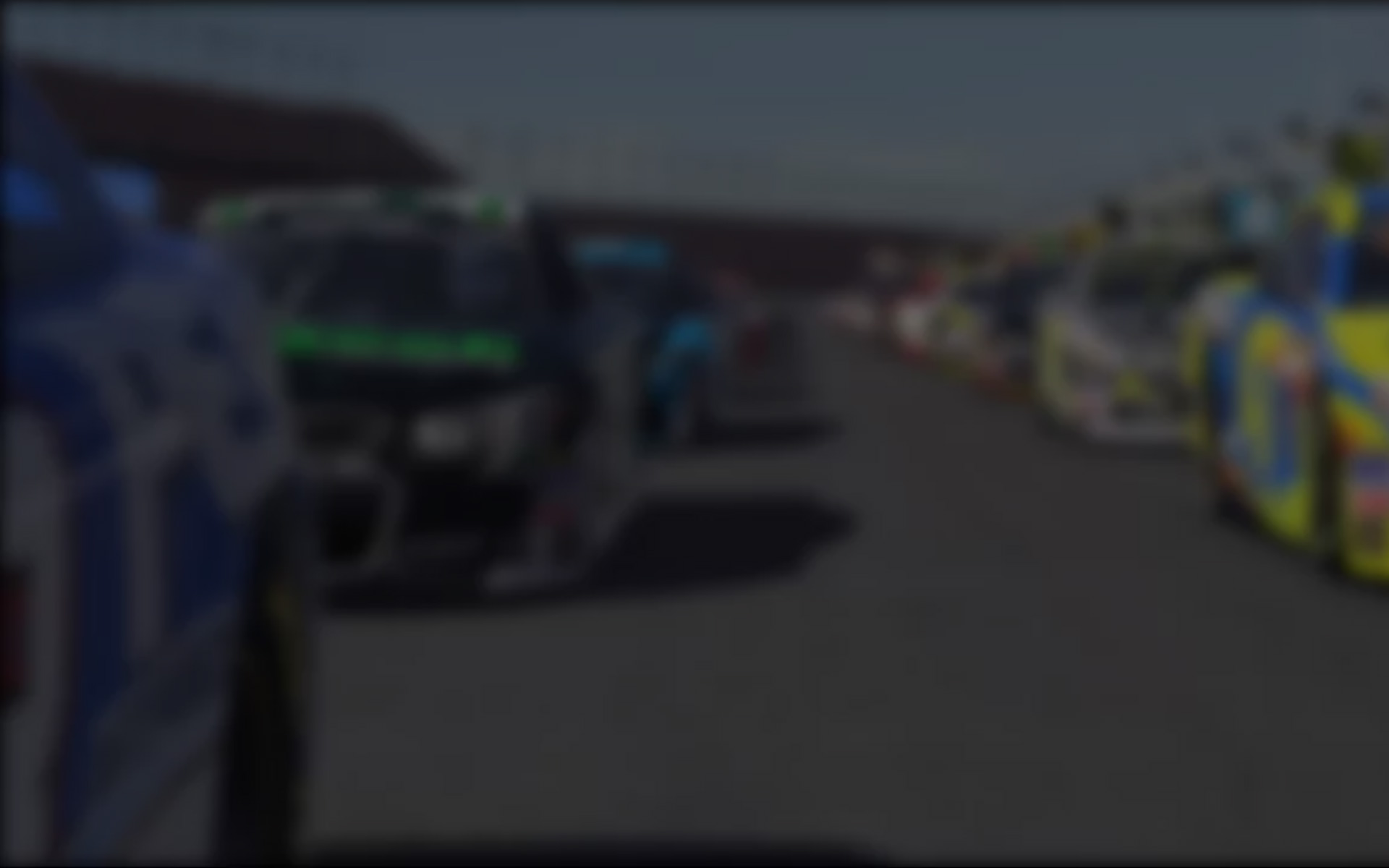 iRacing isn't just about the DWCs, A licenses, stratospheric iRatings and pro racers like Dale Earnhardt Jr and Joey Logano,Will Power and Justin Wilson who you'll occasionally bump into (hopefully not literally) on the site.  It's also about the thousands of casual hobbie-ists who are content with their B, C and D licenses . . . and the scores of newbies (aka "rookies") who join the service every week.
Sean Tait is one such newcomer.  The Quispamis, New Brunswick resident joined iRacing in July and already has four wins to his credit.  He leads the rookie standings in two different series, the IZOD IndyCar Oval (fixed setup) and NASCAR iRacing.com National Series, and occupies fourth spot in the Late Model rookie standings.  The next Ray Alfalla or Greger Huttu?  Or someone who enjoys racing online and making sim-racer friends around the world?  Only time will tell but, for now, welcome to iRacing Sean.
Q: How long have you been sim racing?
A: I have been sim racing for two to three years now starting in 2010 with the Forza games on the Xbox360.
Q: What attracted you to iRacing?
A:The pick-up and play racing that iRacing has to offer. The sim I've been on for two years has a smaller community, so you have to be in a league to just race whenever you want unless I played NASCAR 09 for Xbox360 or ps3.
Q: What are your favorite iRacing cars/tracks?
A: My favorite I racing cars so far would have to either be the National series D class car or the Late Model as they offer a good entry point of entry into the Stock car racing. It also offers a good competitive arena for the up and coming rookies such as myself who have only been a part of the iRacing community for a short time.
Q: What do you like most about iRacing?
A:The thing I like most about iRacing is the amount of diversity in the racing and the type of racing you can do. If I want to race Late Models I can race them . . . or if I want to race the Cup Car I may have to find a hosted session, but I can race them.
Q: What would you change about iRacing?
A: I would change the damage model to more reflect the real world with the tires when they blow out and have them shred apart, as well as have parts and pieces fall off so you get cautions for debris.
"I have a ton of other games I play as my backlog of games keeps growing.  Right now I probably have over 100 games in my backlog . . ."
Q: How many hours a week do you spend on iRacing?
A: It varies. For the most part I have a ton of other games I play as my backlog of games keeps growing.  Right now I probably have over 100 games in my backlog, so I'm trying to cut that down some. For the most part, I can spend anywhere for an hour to eight or nine hours on the service.
Q: Tell us about the paint schemes on your helmet/car(s)
A: The paint schemes I run are just ones that I like out of the schemes and sponsors I can choose from on the iRacing service.  None of them are too important to me.  I'm not that good a painter, so I find the quick and easy way is the best for me, and I try to chose the colours that best suit me.
Q: What other sim racing activities (Forza, Gran Turismo, etc.) do you do?
A: I race on many different sim games. I race Grid made by Codemasters, Forza by Turn10 studios, Gran Turismo by Polyphony Digital, and Arca sim racing 08 by the simfactory . . . all amazing games made by amazing groups of people.
Q: What are your favorite video games?
A: My favorite video games would have to Be Team Fortress 2, Portal 2, The Mass Effect series and the Borderlands series.
Q: Do you do any real world racing? Has iRacing been of any benefit?
A: I wish I did real racing but sadly I do not
Q: What is your most memorable iRacing moment?
A: That would have to be battling for a second place at Bristol in the National Series car.  It would have to be the most exciting thing I've done in sim-racing since I started. Sadly, I didn't finish second – I got third – but I was trying to get second by running the low line but that didn't work out.
Q: What is the iRacing moment you'd love to forget?
A: I can't honestly recall any incidents that I would love to forget.  Most of the bad ones I've had I forget about it and move on.  In any case there are very few incidents that I remember that I want to forget.
Q: What car/track would you like to see iRacing add to the service?
A: I would love iRacing to add the Canadian Tire Series cars to the iRacing service, as well as my home track: Speedway 660 in Geary, New Brunswick.  It's a fun little track that has had such great racers race there, names like Terry Labonte and his son Justin.
Q: What person, living or dead do you most admire?
A:The person I admire the most is my dad because he never stops believing in you.  He's always there when I need him and he's taught me so much.
Q: What's your favorite real world racing series?
A: My favorite real world racing series would have to be the NASCAR Sprint Cup Series and the Nationwide Series as to me they provide the most exciting racing.
Q: Name the title of the most recent book you read.
A: Star Wars: Darth Bane Dynasty of Evil by Drew Karpyshyn.
Q: Name of your favorite movie/TV show?
A:The Dark Knight would be my favorite movie and the BIG Bang Theory is my favorite TV show.
Q: How many of your close friends are iRacing members?
A: None of my close friends are iRacing members, but 15 of the friends I've made through racing at the Nuffworld Racing leagues are iRacing members.
Q: Has competing with iRacers all around the world influenced your opinions/outlook on life/world events? How?
A: Not really.  I like to form my own opinions of thing and no one's opinion has every really changed my outlook on life or world events.
---
You may also like...
---