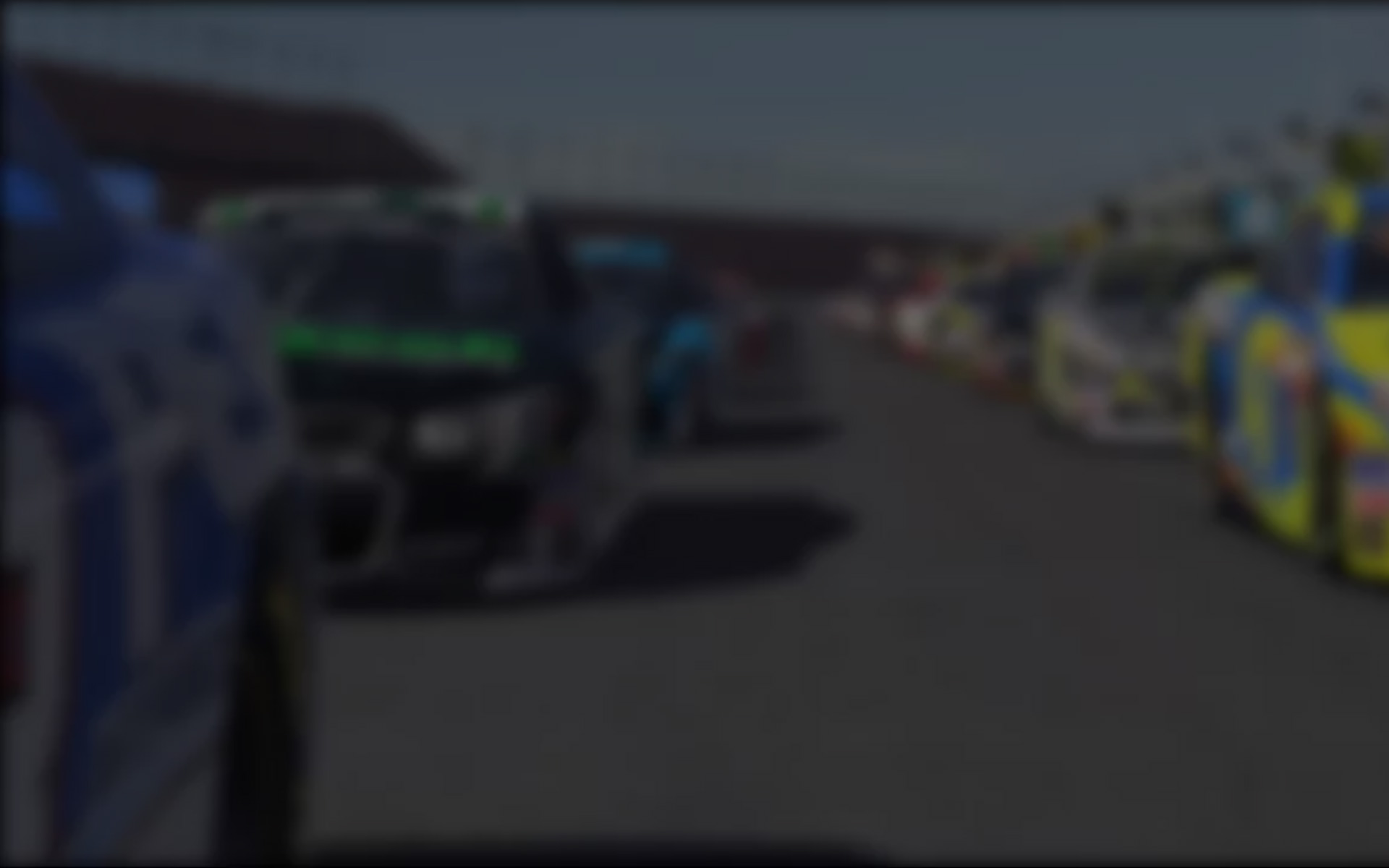 September 17th, 2011 by DavidP
There's more to Trent Brown than Sprint Cars.  After all, he owns a fair number of iRacing vehicles and holds-down P26 in Division Three of the iRacing.com GRAND-AM Online Sports Car Series in Daytona Prototypes.  He's currently finishing his mechanical engineering degree at the University of Michigan and, as an alumni of legendary Ilmor Engineering, not surprisingly he loves race cars with big time horsepower.  Oh and, as you'll see, he's married to a very supportive wife, Kelly.
But when it comes down to it, at least in terms of iRacing, this Wolverine is first and foremost a sprint car racer.  After finishing behind Vinnie Sansone, PJ Stergios and Kayne Hills in the 2011 Season 2 iRacing.com Sprint Car Cup, he is solidly ensconced in second place in the Season 3 standings ahead of Sansone and Stergio, albeit a fur piece behind points leader Alan Binder; still looking for his first Sprint Car win mind you, but racking-up points with consistent top five finishes in a schedule that often finds him torn between sim racing and hitting the books.
Q:        How long have you been sim racing?
A:        Well that goes back a long way.  I was never really into leagues or took it too seriously until iRacing, but I remember playing Indycar Racing 2 back in middle school. My cousin, iRacer Paul Gibson, originally introduced me to ICR2.  I was hooked the first time I plowed into the AI field full speed at T1 of Burke Lakefront Airport.  The object of the game was to end up with only the cockpit of the car left and inflict as much damage as possible on the field.  I remember one time Paul and I long-distance dialed each other…and we were pretty young so we didn't know much about phones or long distance calling fees…We were causing carnage the whole night, so it was a crazy expensive phone call.  Paul got in a bunch of trouble for that because I think somehow his parents were the ones who got charged a lot of money for the call.  I guess I still don't understand long distance phone calls!!
Q:        What attracted you to iRacing?
A:        I think the first time I saw iRacing was in a YouTube video back in '07.  It was a video of a Late Model driving around Concord.  I can't remember how I found it, but I stumbled onto it somehow.  I couldn't believe how awesome it looked, so I signed-up to get it as soon as it went public.
Q:        What are favorite iRacing cars/tracks?
A:        Oh, without a doubt, the sprint car.  One gear, 800+ hp, giant tires, solid axles front and rear….to me, it' one of purest racecars on the planet; engineered and built for doing one thing only- turn left….really fast.  My favorite track has to be Indy…not so much to race on, but I have a lot of great personal memories there.  Iowa has quickly climbed the ladder as far as favorite iRacing track.  When LORP becomes public, it will instantly go to #1.
Q:        What do you like most about iRacing?
A:        This is a big list.  But I think the thing I like most about iRacing is the strong community of the service.  I have to give a shout out here to my teammates over at Black Magic Motorsports.  They're just a great group of guys and I'm lucky to be associated with them – even if it is on a limited level at this point.  Also I'd like to say thanks to all the guys I race the sprints with on a regular basis.  They really make that series the best in the service.  Also I'd like to thank the engineers like Eric Hudec at iRacing for taking the time to share the science behind going fast.  There are a lot of talented people over at iRacing that do a great job of blending virtual and real world racing.
Q:        What would you change about iRacing
A:        There are two things I'd like to change about iRacing.  First, I'd really like iRacing to start going back and make improvements on existing track content.  It's easy to tell that there's a huge artistic difference between Concord and Iowa.  It's obvious iRacing artists continue to refine their craft, and I'd really like to see the older content get spruced up a little bit and the proper attention given to fully debug existing track surfaces at places like Stafford and South Boston.  We have some great short track content, they just need a little TLC.  Second, I'd like to see some sort of punkbuster-type of software to make sure everyone is in check.  Let's face it, it's racing…everyone's trying to get the edge on everyone.  iRacing does a really good job keeping everyone on the same playing field, but people will always try to defeat the system.  Being that this is a paid service, I'd like to see something a little more invasive…just to give myself peace of mind- if not for anything else.
"I was hooked the first time I plowed into the AI field full speed at T1 of Burke Lakefront Airport."
Q:        How many hours a week do you spend on iRacing?
A:        Depends on the time of year…and how busy things are here at home.  Bouncing back and forth between finishing my ME degree at the University of Michigan, everything at work is always due yesterday, and all sorts of stuff going on at home…I don't get to race as much as I'd like to.  It could vary anywhere between 0 to 15 hours a week.  There was a time last year when I let my subscription run out because school was getting so hectic, I just couldn't find any seat-time.  Thank goodness iRacing lets people keep all their cars/tracks when that happens.  I get to race a lot more in the summer than the fall/winter/spring months.
Q:        Tell us about the paint schemes on your helmet/car(s)
A:        Well, my helmet paint scheme is the U of M football helmet for obvious reasons.  My paint scheme is based off of Brad Sweet's Silver Crown ride, except I replaced the Factory Kahne decal with my current employer.  I really enjoy painting cars when I have the extra time.  It's very relaxing.
Q:        What other sim racing activities (Forza, Gran Tourismo, etc.) do you do?
A:        I don't really have any time for other sim racing titles.  I don't have anything against them – or very well formulated opinions about them either, for that matter.  I like iRacing…and I'm the type of guy that once I find something I like, I really don't have a big desire to sample what else is out there.  My wife says I'm predictable.  I say I'm reliable.
Q:        What are your favorite video games?
A:        Al Unser Jr Turbo Racing.  I love the crowd noise at the beginning of the races.  It's what I think someone blow torching a bird nest full of birds would sound like.  And plus, mega-huge flames out of the back of an Indycar that didn't have Mendards on the sidepod…it was a nice change of pace for back in that time period.
Q:        What is your most memorable iRacing moment?
A:        I don't know, I've had a lot of fun iRacing.  I'd say the most memorable moment was a couple years ago when we had a Club Michigan cook-out that Frank Schwartz hosted.  I got to meet Alex Horn, Reed Rundell and Tim Gould.  I got to put some faces to names and we all had a blast.
Q:        What is the iRacing moment you'd love to forget?
A:        I don't have one yet!  I'm sure there have been times when I've offended someone or made someone mad.  It's really hard to effectively communicate nyuks through the interwebs.
Q:        What car/track would you like to see iRacing add to the service?
A:        Since LORP is already scheduled to join the service, I'd like to see Anderson Speedway get scanned in…either that or the Indianapolis Speedrome.  I'm a sucker for grassroots short track racing.  As far as the next car to the service…I'd like to see the USAC National Midget join the ranks.  We have the Silver Crown, we have the Sprint car, it just makes sense to do either the National Midget or Focus Midget next.
Q:        What person, living or dead, do you most admire? Why?
A: Oh, without a doubt, my wife Kelly.  We basically moved up to the Metro-Detroit area (from Indy) the day after we got back from our honeymoon in the spring of 2008.  Ilmor had just hired me and moved us up there.  I had my dream job – engineering in the racing industry, a new wife, a new car, new geography.  Everything was looking so perfect.  Well, my mom passed away a month later, then Ilmor then let me go three months after that when the economy in Detroit basically hit rock-bottom.  It was an insane time of my life.  Kelly could have packed-up and went back to Indy if she really wanted to but she's been so strong through it all.  I got lucky!!
Q:        What's your favorite real world racing series?
A:        Hands down, the NHRA Full Throttle Series.  It's family-friendly, every ticket is a pit pass, and the raw power and brute force the cars put on the pavement is the most amazing thing in the world to me.
Q:        Name the title of the most recent book you read.
A:        I don't really read books for fun.  The last book I read out of was from the last class I had a final in…so that would have been the Fundamentals of Engineering Thermodynamics.  Fun stuff.
Q:        Name of your favorite movie/TV show?
A:        Seinfeld, Three Stooges, Marx Brothers.  As far as movies go, I really like 80s comedies like Planes, Trains and Automobiles, The Jerk and Spaceballs…no matter how many times I've seen those movies, I can sit and chuckle at those for hours on end.
"The (iRacing) forum echoes everything that happens all over the globe- the good and the bad.  I find it a fascinating place…"
Q:        How many of your close friends are iRacing members?
A:        Well I think Paul (Gibson) counts.  We don't get to race each other as much as we used to but when we get a chance, we love beatin' and bangin' on each other.  He's always been a lot faster than me in pretty much any car we drive, so I have to level the playing field somehow.
Q:        Has competing with iRacers all around the world influenced your opinions/outlook on life/world events? How?
A:        Absolutely.  If you think about it….the people of the iRacing forums represent a lot of different cultures in the world.  The forum echoes everything that happens all over the globe- the good and the bad.  I find it a fascinating place…especially when other members post pictures of their European town or village, or even giant spiders in Australia!  I am definitely more up to date on my world current events thanks to the iRacing community.
---
You may also like...
---