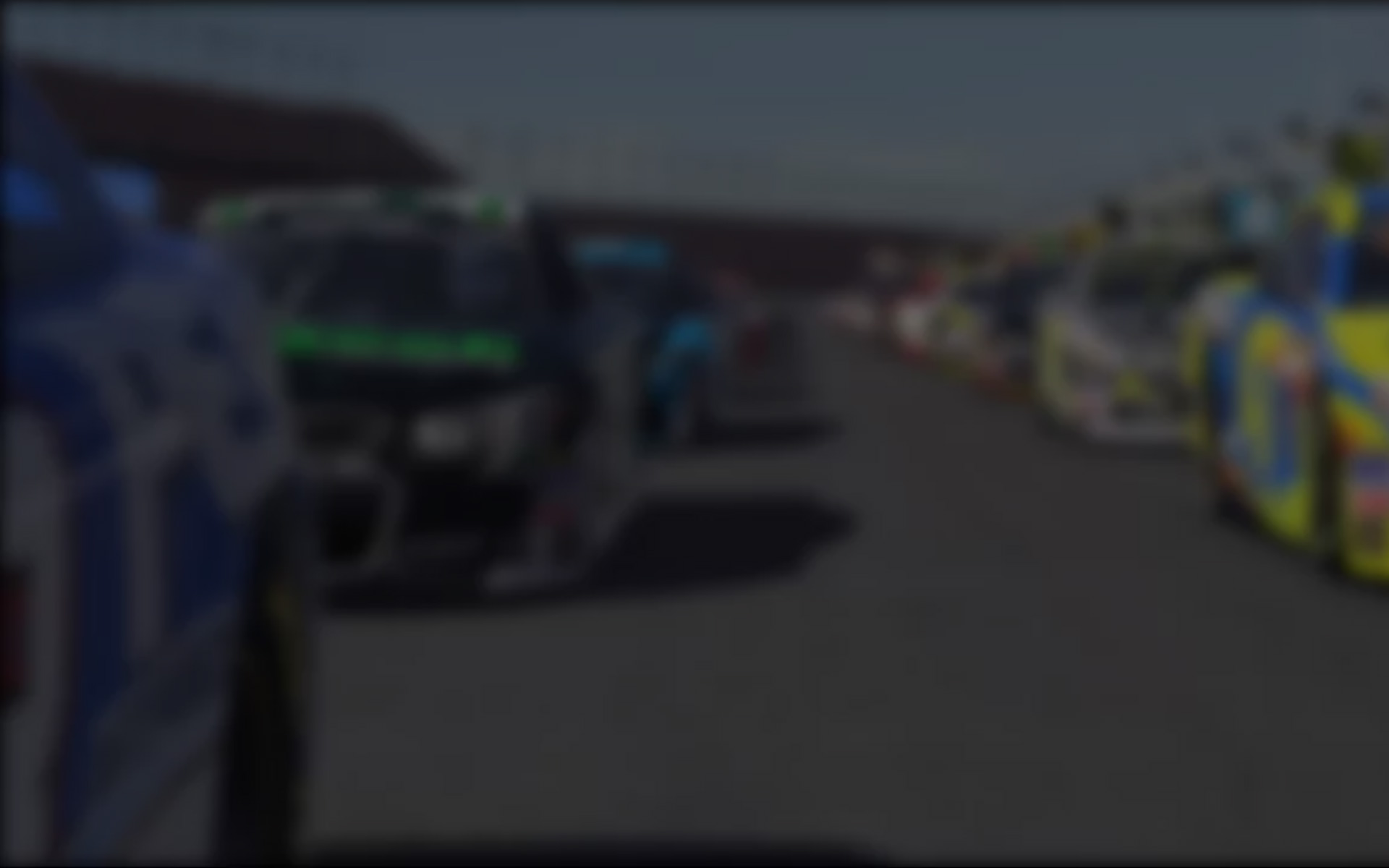 It might be bit of a stretch to call Troy Schulz the James Hunt of iRacing, but there are some similarities in the arcs of their careers.  After all, "Hunt the Shunt" did not have a particularly outstanding record in the junior formulae of his day.  But once he found his way into Formula One, he quickly established himself as one of the world's top race drivers, taking ten wins in 92 starts and, of course, winning the 1976 World Drivers Championship in an epic dual with Niki Lauda that is the subject of Ron Howard's upcoming movie Rush.
Schulz' record in the "junior" formulae of iRacing was similarly unremarkable.  Good, mind you, but nothing to suggest a top level championship was in the cards.  Yet after finishing P10, P11 and P7 in successive iRacing Star Mazda Championships, the Oregonian took the bull by the proverbial horns in the 2012 Season 2 iRacing Grand Prix Series driving his Williams-Toyota FW31 to four wins and a dozen top five finishes in 18 starts to edge Mogar DG Filho for the title by six points (2038-2032).
It seems big horsepower, high-downforce cars suit Schulz, witness the fact that he took 50 wins in 62 starts (!) en route to runner-up behind Rocco Barone in the 2012 S4 iRacing Prototype and GT Challenge (Fixed Setup), while taking top Time Trial honors in the series Open- and Fixed-Setup competition.
It can only be a matter of time before Ron Howard calls . . .
Q:    How long have you been sim racing?
A:    I've been driving various racing games for many years, Started with IndyCar and Nascar 2002.  But I skipped most games from that time up until more recently.  I've never done on-line racing since I've lived in rural locations where high-speed internet isn't available, until 4G internet was made available at my current home. Shortly thereafter, I got into online racing via iRacing.
Q:     What attracted you to iRacing?
A:    There's really two things that attracted me to iRacing. First, not having to deal with installing mods and servers is a real benefit.  I'm just not a fan of tracking down good cars/tracks and then trying to find a good group of people to drive with.  The competition just doesn't attempt to solve this like iRacing does.  Second, the fact that iRacing provides a sanctioning body and a system to deal with drivers that deliberately wreck you is what pulled me away from the consoles.  Consoles may not have the mod problem, but the quality of driving is beyond crazy.
Of course, I love the laser-scanned cars and tracks, but they just make the experience more immersive.
Q:     What are favorite iRacing cars/tracks?
A:    The car I have driven the most is the Star Mazda and I'll always have a place in my heart for it.  It's the car I drove to learn how to be fast.  However, I really enjoy the HPD ARX-01c as well as the Williams FW31.
For the tracks, it's hard to pick one.  The Star Mazda on Road Atlanta is quite special.  For just the track, I really enjoy driving Suzuka in any car because every time I drive it I learn something new.  It's such a technical track, I'll likely never learn all its secrets.  Not to mention that the track is modeled incredibly well.
Q:     What do you like most about iRacing?
A:    The community.  It's been great being able to drive against the fastest sim-racers in the world and gaining their friendship and respect.
Q:     What would you change about iRacing?
A:    I'd really like to see iRacing provide additional top-tier series similar to the DWC. Providing a V8SC series that is targeted at the Australian time-zone and a multi-class Prototype series targeted to the US time zones would be a great compliment to the FW31 series that it targeted at the European time-zones.
These series wouldn't be at the same level of promotion and prizes, but it would give the top drivers that are fans of other disciplines a place to aim for that they just don't have currently.
Q:     How many hours a week do you spend on iRacing?
A:    Currently I spend a lot less time racing than I have in the past.  I spend roughly 10 hours a week either practicing or racing.  When I was driving for my Pro license in the FW31, I was spending probably 20 hours practicing each week.
Q:     Tell us about the paint schemes on your helmet/car(s).
A:    I am the co-captain of TNT Racing.  We all run the same livery on our cars with an accent color being the difference between each driver.  My accent color is blue and appears on all of my liveries.  Nothing special for the helmet, just something that seemed to go well with the paint scheme we have.
"It's been great being able to drive against the fastest sim-racers in the world and gaining their friendship and respect."
Q:     What other sim racing activities (Forza, Gran Turismo, rFactor, etc.) do you do?
A:    iRacing is the only sim racing activity.  It's too hard for me to switch from the different physic models and since iRacing is my sim racing tool of choice, I spend all my time there.
Q:     What are your favorite video games?
A:    I'm a fan of real-time strategy games like Star Craft and the original WarCraft series.  I also enjoy some realistic first-person shooters, like the Tom Clancy series.  However, iRacing consumes all of my gaming time these days.
Q:     Do you do any real world racing? Has iRacing been of any benefit?
A:    I own a 125cc shifter kart.  I've done other karting in the past, but bought this kart early in 2010.  I drove the kart a bunch the first year I owned it and a friend of mine that's been karting non-stop for the last 20 years was nearly a couple seconds faster than I was.  No matter how hard I pushed, I just couldn't get close to his time.
After that first year, my funds ran low, and that's when I started thinking about on-line racing.  I knew iRacing was more expensive than most games in the market, but compared to a set of kart tires, it was pretty cheap.  So I justified getting started in iRacing because I wasn't going to drive my kart much the following year and compared to my karting budget, it would be cheap.
Shortly after I joined iRacing, Charlie Bass made a post on the Star Mazda forum that he wanted to start a team.  I responded to the message along with a few others, and TNT Racing was born.  The majority of the initial members are still part of the team.  In the beginning, I was the slowest of the bunch.  However, over the next five iRacing seasons, I was able to improve considerably and was winning a large number of races.
I had been in the kart a few times early during that time, but did not drive my kart during the last six months when I made the most improvement.
The first time I got back on the track was at a winter practice day.  It was quite cold and I had used tires that really should have been replaced but I didn't want to waste a new set of tires for a practice.  My prior personal best at the track was set with new tires and 88F weather.  So I really didn't know what to expect, but I was pretty certain I would be able to use what I had learned about slow in, fast out.
Sure enough, my first session, I ran a full second faster than anything I had run before.  I was quite happy with the results and it made all that work well worth it.
Q:     What is your most memorable iRacing moment?
A:    I'm very proud of winning the 2012 Season 2 Grand Prix Series championship.  I raced against some very talented drivers and the only way I was able to beat them was by working harder than they did.  Even if I only won by single digits, it was still the greatest moment yet.
Q:     What is the iRacing moment you'd love to forget?
A:    On the way to that championship, I had an incident with a back-marker that resulted in some choice words.  I was protested for that and rightly so.  I regret letting my emotions get the best of me and wish I could do it over.
Q:     What car/track would you like to see iRacing add to the service?
A:    Track: Circuit De La Sarthe – would be a fantastic addition along with a full 24-hour event.  Car: An LMP1 – either the Toyota or Audi
Q:     What's your favorite real world racing series?
A:    I enjoy watching many forms of motorsports, but Formula One is my favorite.
Q:     Name the title of the most recent book you read.
A:    The Hobbit, just in time for the movie.
"Interacting with people from all around the world, at various levels, reminds you of the differences in culture across the globe."
Q:     Name of your favorite movie/TV show?
A:    I'm a huge fan of the Lord of the Rings books and movies.  I'm a huge fan of fantasy in general.
Q:     How many of your close friends are iRacing members?
A:    None of my former real-life friends are iRacing members.  They fear getting sucked-in like I have.  🙂
Q:     Has competing with iRacers all around the world influenced your opinions/outlook on life/world events? How?
A:    I'm not sure it's something so easy to identify for me.  However interacting with people from all around the world, at various levels, reminds you of the differences in culture across the globe and is a constant reminder to be sensitive to others' beliefs and cultural differences.  When you only interact with people locally, the differences are so subtle you start to forget they're there.  When interacting with different vastly different cultures, the differences are more obvious and it makes it easier to identify.  Then you get in the habit of being sensitive to these differences and it transfers to interactions with everyone . . . hopefully that makes some sense.
---
You may also like...
---