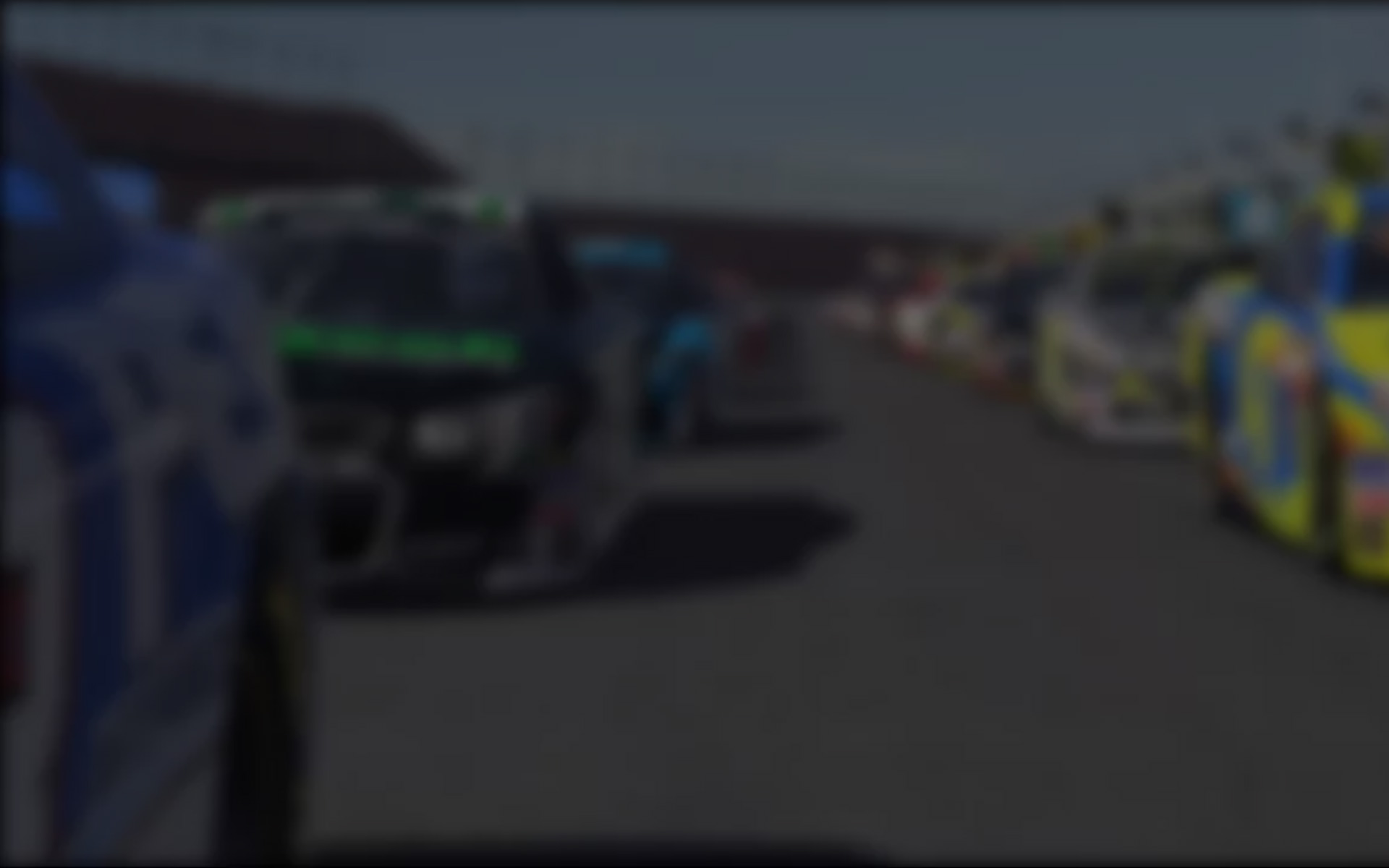 WATKINS GLEN, NY – Over the past seven weeks, The Red Sox Racing League's GT Battle has brought its band of teams and drivers to some of the most iconic racetracks to be found, and with round eight meaning a trip to Watkins Glen International, that trend continues. League members are certainly no strangers to "The Glen," as each season almost invariably finds its way to upstate New York's high speed, 3.4-mile, 12-turn road course. As a change of pace, this season's race takes place on the NASCAR version of the track, avoiding the four turns that comprise the "boot" section and making each lap almost a mile shorter. Adding to the excitement, Round 8, the Skip The Boot 30, will be a thirty-minute sprint race that also serves as Round 2 of the ITT Engineered For Life Sprint Challenge.
Before the field even unloaded on the paddock, a few new mandates from iRacing sanctioning body FIRST midweek were sure to make some rethink strategies going forward. Outside of a few balance of performance adjustments and a cosmetic change bringing new number plates for BMW and McLaren teams (but not RUF competitors for some reason), two major changes grabbed headlines. Now the use of tire warmers is allowed, and for safety reasons, fuelling and tire changes are to be completed separately, as is the case in other sportscar series. Asked about the changes, Caribbean Food Delights BMW Z4 driver James Prostell Jr. was quoted "There's only one thing better than a fresh set of tires, a fresh set that's already up to temp! All joking aside, I'm glad we're not trying to fuel and change tires at the same time. I know it'll throw a wrench in some plans, especially now that taking on tires will be a huge time penalty, but anything we can do to make sure the guys out there aren't in harm's way I'm definitely all for."
Qualifying brought some familiarity right back, with some very familiar faces at the head of the pack. Putting 21 laps in and literally saving the best for last, Brian Irby and his Caterpillar BMW Z4 takes another Wil-Trans Pole Position Award. His time of 1:09.385 was just enough to clear Reed Rundell's Harley-Davidson RUF Rt-12t by two tenths of a second, with Les Turner's iRacing BMW Z4 a close third. Joseph Jordan follows in fourth, the fastest McLaren MP4 qualifier in the field. Starting up front will be a big advantage, but with 13 drivers of the 16 car field qualifying within one second of the pole, long straights to draft on, and a bus stop chicane ready to trip competitors, nothing is guaranteed at this point.
When the Ford Mustang pacecar pulled into pitlane, Irby took his lead at the green flag and let the jockeying for position take place in his mirrors. Turner made his way by Rundell for second position, but the trade in spots was only temporary. Rundell clawed back into second and the chase was on for the lead. It seemed that Irby would be able to inch away from the field, but a determined Rundell chipped away at the one second gap, and by lap 10, a great run into the chicane gave the Harley-Davidson RUF a shot at the lead. Rundell made the best of the opportunity, diving to the inside and leading laps 10 and 11. Irby fought back immediately, regaining the lead in the same manner before Rundell retreated to pitlane for fuel to finish the race. Irby pitted a few laps later, handing the lead to Joesph Jordan who extended his first turn to lap 17 of the 30 minute contest.
In order to help establish the season schedule and ensure participation, teams are asked to submit a small list of favored tracks. When RUF RT-12t driver and Seattle Seahawks fan Scott Husted submitted his list, only one location, Watkins Glen, was typed in – twelve times! "To be fair, I did list all four different layouts," joked the RacingHistorian.com moderator, "but I'd have absolutely no problem gridding here all season." Unfortunately, a lap 6 incident with Caribbean Food Delights BMW Z4 driver James Prostell Jr. made things bumpier than he'd like. Exiting the chicane, Husted found himself swerving to regain control and got tagged into a spin by Prostell Jr. who was just behind. The two ended up making more contact with the inside guardrail and grinding to a halt. "Looking back, I should have backed off and given him some space, but I was too focused on the BMW race ahead. I was hoping Husted's mistake would send him wide and give a chance to get by, but I was wrong!" Prostell rejoined the race with body damage, while Husted went straight to pitlane, finishing 13th and 14th overall, respectively.
Sam Dobie's race went sour as well. Things started fine enough, running as high as fifth entering the pit cycle, but it was on pit road that a costly error began to derail Dobie's drive. The new pitstop rules prohibit tire changes during fueling, but the team planned on a fuel only stop. Not every team member got that memo, though – just as Dobie expected to be released back into the race, the car was hoisted into the air, and by the time the error was realized, the #27 Liqui-Moly RUF left with one fresh tire! "A stop that should have been 10 seconds or so ballooned to 26!" fumed Dobie. To his credit, laps following the pit road mistake were near his fastest, but two spins in the chicane resulted in a spectacular exit. Following one harmless spin lap 18, four laps later another spin sent Dobie careening into the tire barrier, rolling the racer onto the roof before resting again on all fours.
Another RUF driver, Reed Rundell, ran into his own set of issues. All this season, the #43 RUF has been a threat to take the checkered flag at almost any event entered, and, be it a lapse in judgement, a mistake on pit road, or just plain bad luck, something just seems to get in way for Rundell. After the pit cycles, Rundell found himself chasing after Irby when a spin out of turn one on lap 20 relegated him to sixth. Another spin a lap later compounded the error, only to crash again a lap from the checkered flag. "It just goes to show how much concentration goes into driving these machines. Not happy about throwing another podium away, maybe a win, but we're not giving up, no sir! I'm not givin' up, the guys in the back aren't givin' up, we'll see ya at Road America" said Rundell, limping home 12th overall.
One of the few RUF drivers to avoid trouble on the track, Arrested Development Racing driver Ed Sutcliff had something to smile about. Qualifying 16th and spending much of the race battling with the #23 McLaren of Dennis Griffen, Sutcliff kept all four on the pavement, methodically picking off those with issues, and even passing Griffen as well with two turns to go. "Wow, a top-10 finish overall and 2nd place in the RUF class, this was a great race for the 33 team!  Our car has been struggling all season, but the guys at the shop never gave up and their hard work finally paid off.  I spent most of the race chasing Dennis Griffen's # 23 McLaren.  It felt really good to be able to challenge for position again.  Congrats to Brian Irby on a fantastic win.  He was in a class all by himself tonight."
Irby certainly was the class of the field. With Rundell falling down the running order, Dave Hoffman became the next in line to challenge for the lead. Hoffman faltered as well – a lap 23 spin and heavy wall contact dropped Hoffman from second place to a 15th place finish one lap down. Leading the final nine laps to cruise to a 13-second victory, Irby heads to Road America with another dominant victory. Joseph Jordan finishes second overall in his McLaren MP4, followed by Les Turner in the iRacing.com BMW. Corey Wolf, fourth overall, takes the RUF class victory followed by ITT Engineering sponsored Storm Front Racing teammates John Koscielniak and Terry Daul for 5th and 6th overall.
Class Results
BMW Z4 GT3
1. Brian Irby
2. Les Turner
3. John Koscielniak
4.  Terry Daul
5. Dean Moll
6. Kevin Kyle
7. James Prostell Jr.
McLaren MP4-12C GT3
1. Joseph Jordan
2. Chris Weidner
3. Dennis Griffen
RUF RT-12R Track
1. Corey Wolf
2. Ed Sutcliff
3. Reed Rundell
4. Scott Husted
5. Dave Hoffman
6. Sam Dobie
Next up, Wisconsin serves as host for the Red Sox Racing League's 9th round, the Elkhart Lake 45 at Road America.
---
You may also like...
---