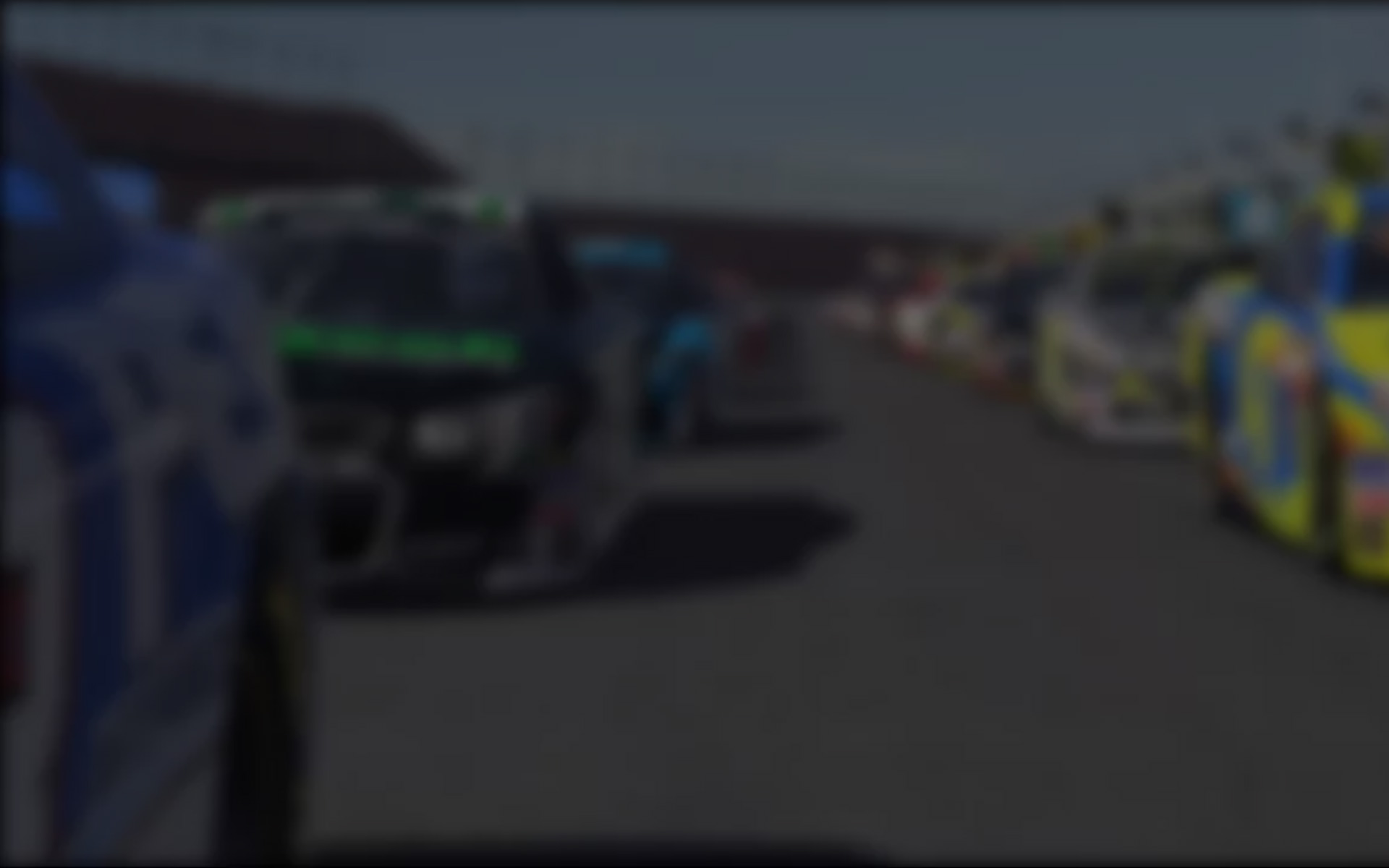 Mark Lambert continues on a roll in the NASCAR iRacing.com Late Model Tour as he has extended his point lead in the popular short track division through five weeks of online racing in 2012 Season One. With two short tracks as characteristically different as New Smyrna and Oxford Plains Speedways in the last two weeks of the season, it was Lambert who adapted the quickest, scoring big wins at both facilities in Weeks Four and Five respectively.
While it was Lambert taking the highest strength of field (sof) win for the week at New Smyrna Speedway, it was second place finisher Max Paquette who took top point honors due to multiple starts by the point leader. Lambert's win came in a 3070 sof race on February 23rd in which he led all 50 laps in the event. Nearly six seconds behind in second was Paquette with Division Two point leaders Heath Smith and Jeremy Ahlum not too far behind in third and fourth. Logan Sheets completed the top five in the race. Paquette's 175 point win total came from this race while Smith's 160 mark was good enough to capture fourth for the week. Lambert would go on to make a total of four starts, capturing three wins and coming home with 161 points from the Florida hotspot.
NASCAR iRacing.com Series World Championship driver and 2012 Late Model Championships winner Tyler Hudson came home second in the weekly standings at New Smyrna after his victory in a 2725 sof race on February 24th. Hudson, who won the Late Model Championships event in February at the New Smyrna track, edged-out teammate and former multi-time iRacing Street Stock champ Nick Ottinger by two tenths of a second at the end of 50 laps. Rick Ricketts, Craig Kast and Liam O"Neill rounded out the top five in the race. Hudson was awarded with 164 points at the end of that race.
Chad Wills was the busiest sim racer of Week Four, making a total of 32 starts over the seven day span. He turned eight of those starts into wins, the most of any other driver during the week. Lambert took the top honors in qualifying with a 17.578 second lap, defeating the laps turned in by Kenneth OKeefe, Trenton Moriarity, Tony Dugan and Johnny Housley. Lambert also  had the top Time Trial effort, chased closely in that discipline of Late Model racing by Smith, Ahlum, Housley and Taylor Meyn at New Smyrna.
The series motored north to the Oxford Plains Speedway in Maine for Round Five of the series. Oxford is a tricky little track that didn't fool Lambert as he sat atop the standings with 172 points. He obtained those valuable championship points during a 2798 sof race on March 5th where he led wire-to-wire in the 65 lap event and took the win by nearly six seconds over Robinson, Michael Fisher, Gary Limitone and Baylee Brown. While Lambert finished atop the heap when it came to the weekly point picture, Robinson was making headlines of his own, winning in five of his seven starts of the week and coming home second overall with 151 points.
Division One driver Jeff Conover looked strong on Week Five as well as the Late Model veteran turned in 148 points in his victory at Oxford. Like Lambert, Conover led flag-to-flag in his trip to Oxford victory lane and defeated Limitone by three seconds at the end of the 65th circuit. Vinny Troia was third in the race, followed by Matthew Gain and Nick Ladyga in fourth and fifth places respectively. Conover would be third for the week with this victory.
Ian Blanchard and Smith completed the top five for the week at Oxford with 147 points each. Blanchard got his points by going to victory lane in a 2411 sof race over Limitone and Dallas Debard while Smith got his points by finishing second to Robinson in one of his five victories of the week. That race was rated at 2610 sof and also featured Limitone on the podium.
Tyler Janocha2 made the most starts of the week with 26, one more than Limitone's 25 appearances on the grid.  Four drivers each made five trips to victory lane, including Robinson, Limitone, Gary Dawson and Christoher Curtis. Paquette was the quickest in qualifying with a time of 15.042 seconds, besting the runs put in by Lambert, Brett Robinson, Josh Smallidge and Smith. Lambert was once again quick in the Time Trial competition, putting up the best effort of the week over Paquette, Smith, Joel Skowron and Craig Pearson.
Lambert holds the point lead after five of 12 weeks of the season with 820 points. Division Two point leader Smith is second with 731 points, followed by Division One's Dugan (723) and Conover (719), who are waging war for third overall. Division Two's Ahlum is holding onto fifth overall with 654 points, just five points ahead of Division Three leader Brian Lambert. Divisional leaders from Four to Ten include Mark Meech, Chad Arnold, Sean Odea, Fausto Bessa Gomes, Darrell Phillips, Cale Thompson2 and Dustin Bryson.
The next round for the NASCAR iRacing.com Late Model Tour takes the series to Iowa Speedway. With lots of room to race around the popular short track, it is anyone's guess as to who will come out on top after seven days of racing for Round Six of the 2012 Season One.
Until next time, keep the hammer down and we'll see you at the track!
---
You may also like...
---