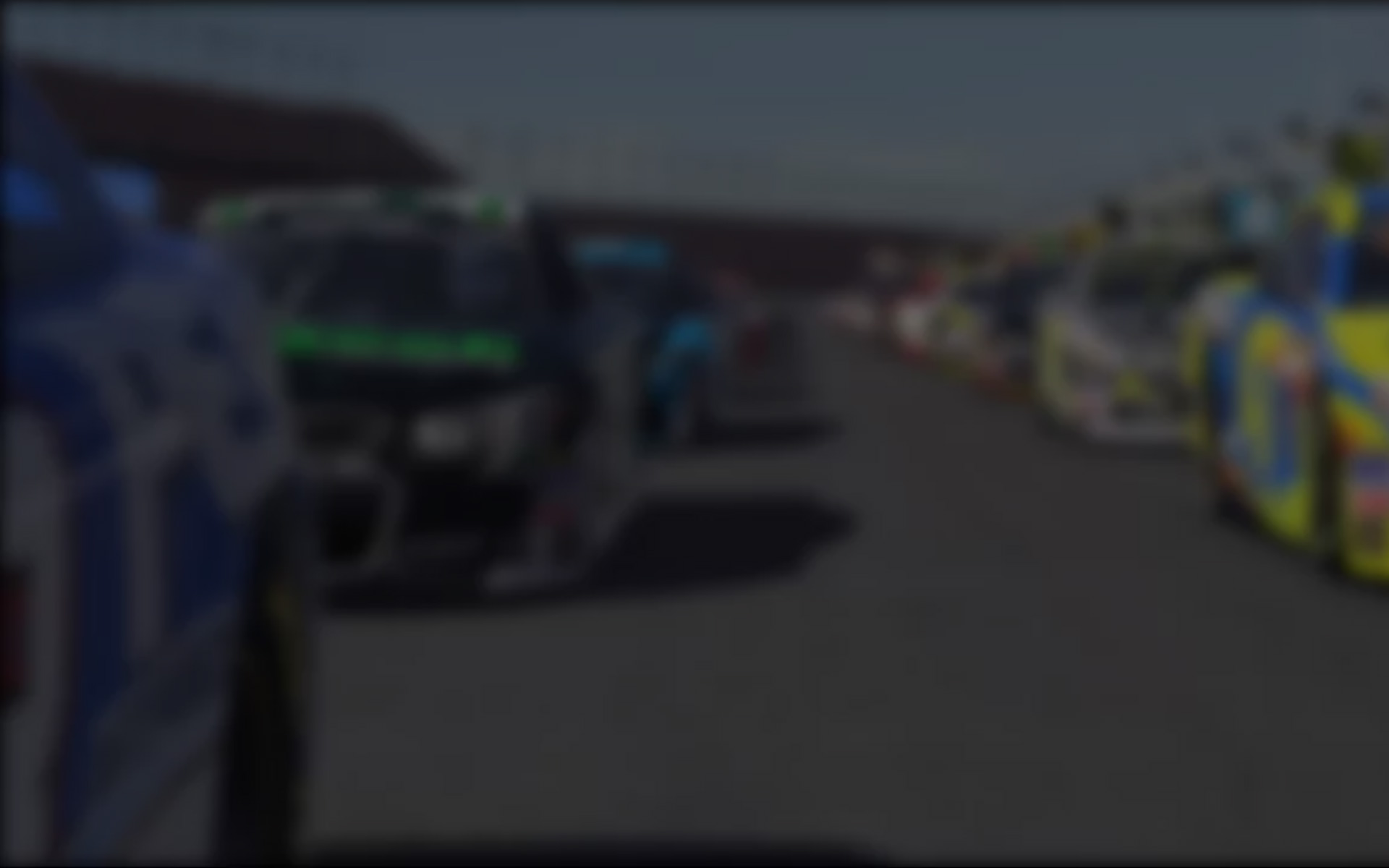 Tyler Laughlin scored a surprise victory Tuesday night in the NASCAR iRacing Pro Series race at Richmond International Raceway after making the right call to stay on the race track with 38 laps to go when the leaders chose to pit for new tires.  Five cautions slowed the field during the last 33 laps, allowing Laughlin to survive despite running on very used rubber. Trey Eidson and Tyler Hill, both on the same strategy as Laughlin, finished second and third after coming-up just short on the final one lap shootout. Kevin King wound-up fourth after dominating most of the race and Brian Schoenburg rounded out the top five.
Richard Dusett started on pole but King flexed his muscle early, taking the lead 13 laps into the race. King rode ahead of the pack at a comfortable margin for most of the first 82 laps, which ran without a caution. Once in traffic King gave back a little of his margin to Brandon Hauck, who had moved up into second position. However, before Hauck could make his move, the first yellow flew after a spin by Matt Spangler.
The next run was much shorter than the first — just a dozen laps – which resulted in differing pit strategies and cost King the lead for the first time since passing Dusett. Taylor Hurst, Brandon Chubirko and Eidson all gambled and stayed out on old tires, hoping that a flurry of cautions would allow them to keep their track position.
Unfortunately the cautions did not come quickly enough for the leading trio and King made quick work of them to re-assume the lead.  King built a huge lead as Tyler Hudson and Josh Berry took almost 20 laps more before they worked their ways around Hurst. Once Hudson and Berry dispatched Hurst it was clear they were quicker than King.  Another yellow on Lap 143 allowed the field to catch King and set up a critical pit stop.
As all the leaders pitted, Andrew Fayash III stayed out and assumed the lead. Dusett, who had fallen back during the last run, opted for two tires and came out second with King, Hudson and Berry right behind. When the green flew both Fayash and Dusett were quickly overmatched by the top three, but this time King did not have the luxury of building a gap: Husdon and Berry were right on his tail. With 40 laps to go it looked like just a matter of time before Hudson would grab the lead, but another spin by Spangler brought-out another yellow and the competitors were posed with another tough decision: to pit or not to pit?
All three of the leaders decided to hit pit road despite having less than 15 laps on their tires, while many others – including Laughlin — decided to stay out. Both King and Hudson took two tires, with Hudson beating King off pit road. However, they would restart in tenth and eleventh respectively behind the cars that chose not to pit, while Berry was back in seventeenth after taking four tires.
Laughlin led the field to the green with 33 laps remaining, hoping that by some stroke of luck King, Hudson and Berry would be mired too far back in traffic to reach him. The plan worked. The cautions flew early and often but King kept clawing his way forward, even though he was only getting a lap or two of green flag sim racing each time to make passes.
In contrast, Berry met his demise on a restart with 20 laps to go when he and Ryan Lowe got together going into Turn One. Both cars made hard contact with the outside wall as others piled in from behind. Berry suffered heavy damage and finished fortieth.
The frequent cautions proved to be King's downfall as he just could not get enough time under green to challenge for the win.  King appeared to be quick enough to move forward, even with the yellows, but he always found himself re-starting on the outside, which hurt his progress. Nor could Hudson make much headway, as he too was stuck on the outside on more than one restart.
The NiPS championship standings, which were close coming in to RIR, are now even closer with just four weeks remaining. Fresh off yet another top ten, Hill now leads the standings by a single point over Hudson and King, who are tied for second. Another 12 markers back comes Eidson in fourth while Corey Vincent rounds-out the top five, 26 points back of the lead.
With the championship as tight as it has been all season, all eyes will be on the top three as the NASCAR iRacing Pro Series moves to Charlotte Motor Speedway for Week Seven of the season. Charlotte is known for its blistering speeds and qualifying will be important considering how tight times have been in recent weeks. Will King or Hudson put a complete race together or will there be yet another surprise in store late in the going?
Tune in to LSRTV next Tuesday night to catch all the action from Charlotte!
---
You may also like...
---