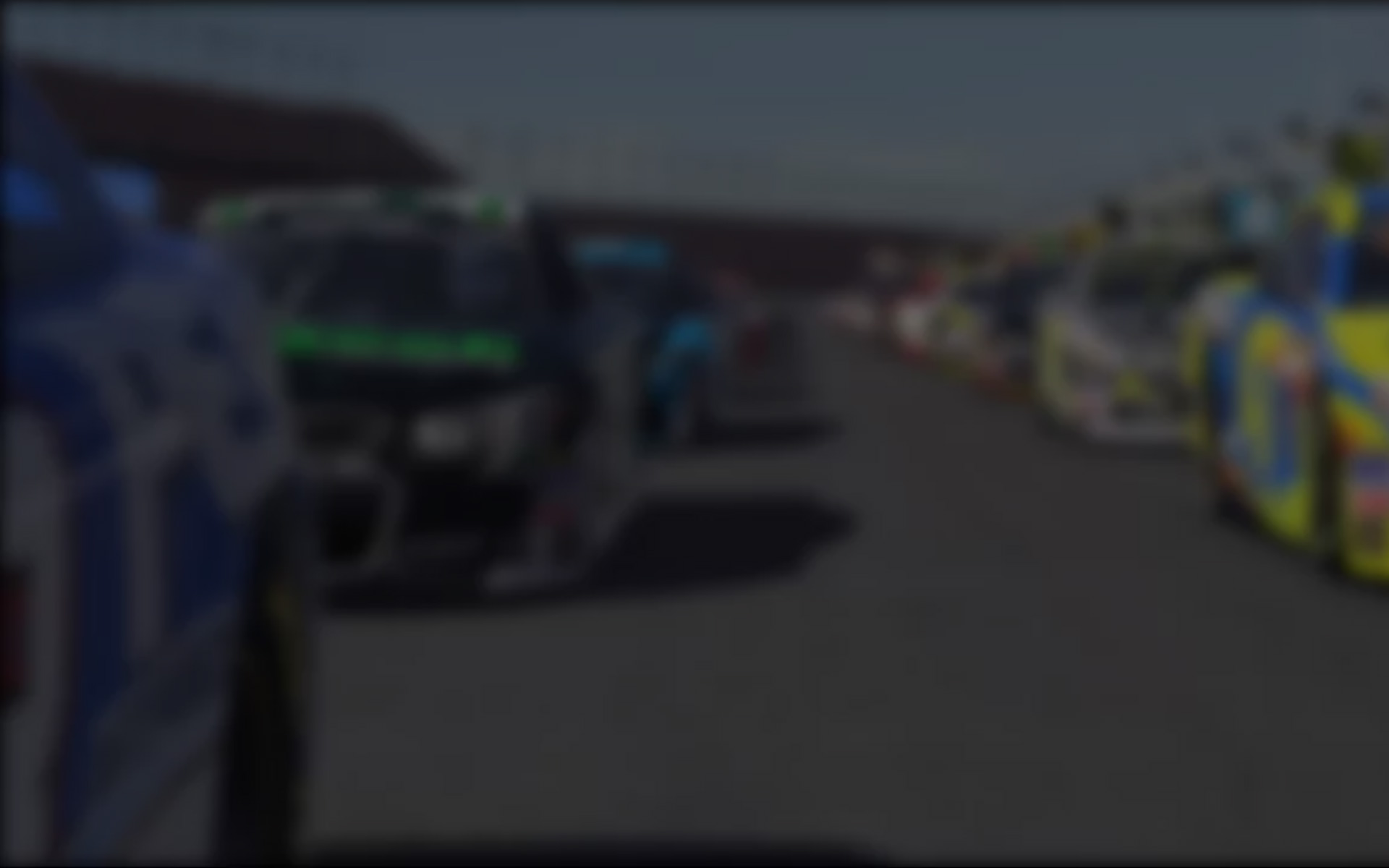 With the way Chad Laughton's 2014 season has been going, everyone knew it was only a matter of time before he would find victory lane.  The time finally came last night.  Laughton won his first race in the NASCAR PEAK Antifreeze Series Powered by iRacing at Michigan International Speedway after passing series points leader Michael Conti during the final round of stops with 30 laps to go.
Conti finished second after a late-race try for the lead followed by Nick Ottinger and Mitchell Hunt with Justin Bolton recording a strong fifth place finish.
After the final round of stops was completed, Conti appeared to hold back and ride in line behind Laughton, biding his time. The two were joined by Ottinger, Hunt and Kenny Humpe in a five car lead draft.
By the end the draft was cut to three cars as both Humpe and Hunt experienced "self-inflicted" difficulties with their cars.  With 13 laps to go, Humpe got loose off of Turn 4 and hit the wall. The damage took its toll on Humpe's handling and he started to slide back. Two laps later Hunt too was bitten by Turn 4 and had to lift, dropping him too far behind the front three to make a charge.
After riding around behind Laughton for nearly 30 laps, Conti made his move down the backstretch with two laps to go. He got a strong run off Turn 2 and began to draft up on Laughton as they approached Turn 4. Conti dove to the bottom, but Laughton made a bold move and shut the door on him. Conti, unwilling to use the very bottom of the track, fell back in line behind the race leader but did not have another shot at the win. Instead, his focus shifted to defending second from Ottinger, which he managed to do.
Despite falling short on picking up another victory, Conti remained positive. "Coulda, shoulda, woulda, all that matters is that we are still leading the points, finished second in a great field of cars, and have a lot of momentum heading into the second half of the year," he said.
"Coulda, shoulda, woulda . . ." – Michael Conti
Ottinger was also pleased to come home third, knowing how important consistency is in the quest for the NASCAR PEAK Antifreeze championship. "Smart racing up front and thoroughly enjoyed it," he said.  "Tried waiting for the 5 to make his move and it just was not happening."
The race was briskly run and competitive with 13 lead changes among six drivers. Only two cautions slowed the pace, both of which occurred before Lap 25. Unfortunately for some drivers, they could not make it a lap before chaos broke out entering Turn Three. Brian Day did not realize he was three wide and came up slightly into Thomas Lewandowski, setting off a melee that collected several strong cars including those of Ray Alfalla and Brian Schoenburg.
With all of the top five in the series point standings having good runs, there was not much movement at the top of the leaderboard. Conti still leads with a nine point gap back to Ottinger. Laughton inched closer with his win and now is 18 points out of the lead. Jake Stergios is fourth after a mediocre eighteenth place showing at MIS and Alfalla is fifth after rallying for a tenth place finish following his early trouble.
With half the 2014 season in the rear-view mirror, the NASCAR PEAK Antifreeze Series heads to Kentucky Speedway to kick-off the second half under the lights. Kentucky is known for being one of the most challenging 1.5 mile tracks on the schedule thanks to its narrow groove and numerous bumps. A setup that is not only fast but can handle the bumps without losing grip is key to a strong result.
There is plenty of sim racing remaining in this season, but the trio of Conti, Ottinger and Laughton have looked nearly unbeatable in recent weeks. If anyone can unseat them it might be Alfalla, who is still without a win in 2014 but who has looked much better in recent weeks. Can Alfalla or someone else steal the show, or will a familiar face taste victory once again? Find out in two weeks' time on iRacing Live!
---
You may also like...
---