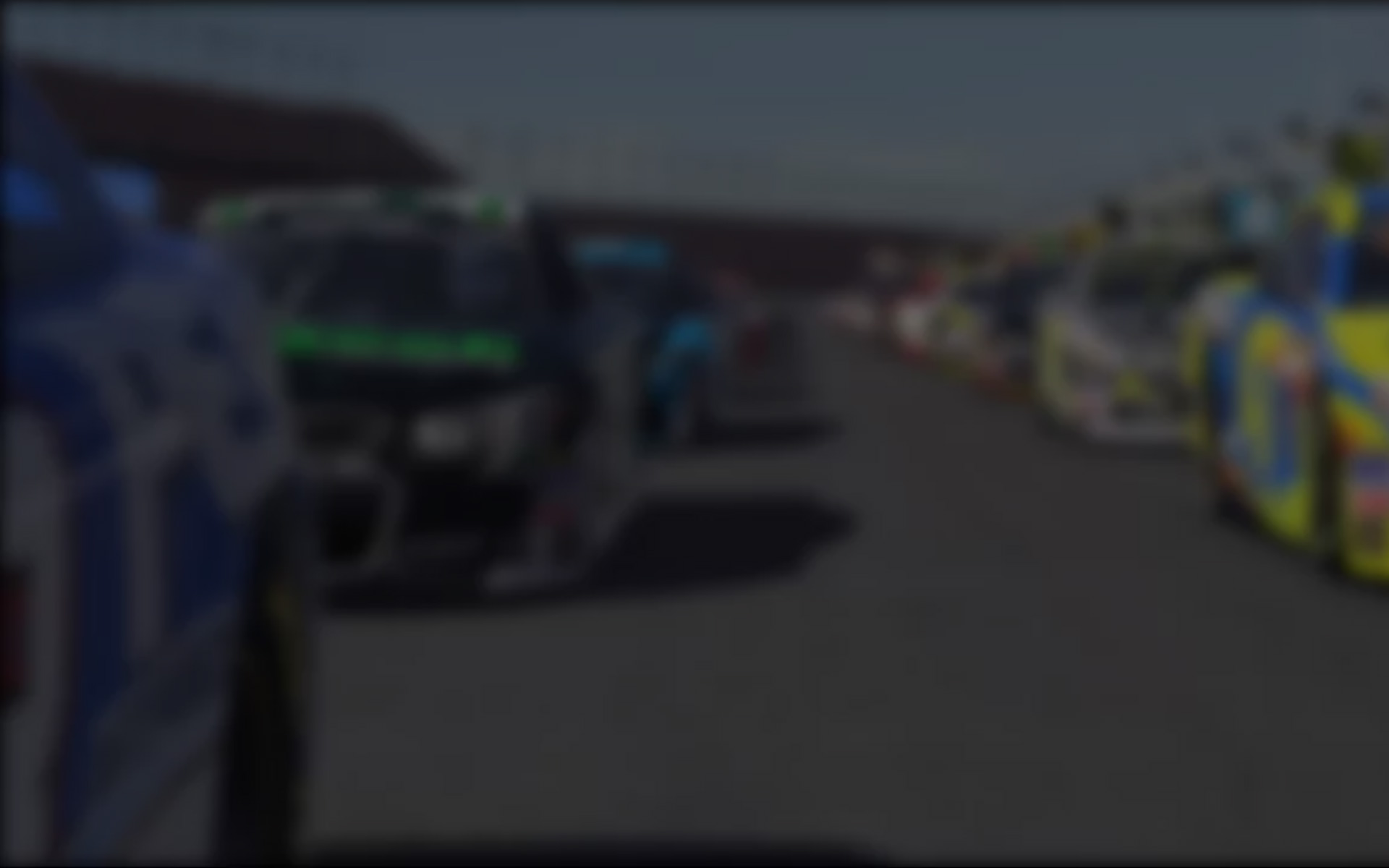 Chad Laughton continued his dominant NASCAR iRacing.com Pro Series season, picking-up his third victory under the lights at Kentucky Speedway. Laughton started tenth, but worked his way to third by the time the first caution flew on Lap 64. He took the lead on Lap 79 shortly after a restart and held-off Jared Crawford for the remaining 56 laps.
The win is Laughton's third in five online races in the 2012 NiPS season and he appears to be in a class of his own when it comes to speed, especially on fresh tires. Kentucky was no exception as Laughton drove from fifth to the lead in less than 10 laps after a restart and was never threatened on a restart for the rest of the race.
Crawford looked to have a slightly better car on a long run, but could never get close enough to the leader to mount a serious challenge and finished .8 seconds behind. Still, second place was not bad considering Crawford started a distant thirty-third.  Jake Stergios finished third while Carson Downs finished fourth. Last weeks' winner, Danny Hansen, settled for fifth after fighting an ill-handling car for most of the evening. Just missing out on the top five was Landon Huffman, who started dead last on the grid but rallied for a sixth place finish.
Josh Berry started on pole and led the 61 first 65 laps before losing the lead during the first round of yellow flag pit stops. On the ensuing Lap 69 restart, Berry got loose off of Turn Two and was spun around into the inside wall by Dustin Montgomery. Both drivers sustained damage but were able to continue, with Montgomery finishing eighth and Berry settling for tenth.
Joey Brown's rough stretch continued, but this time his troubles were his own doing. Brown was running third late in the first run when he got a bit high off of Turn Two and hit the wall. The impact damaged his car and his pace dropped off considerably and it looked as if Brown was going to fall outside the top 20. The caution flags helped him fix the car, though he still did not have the speed he did before the damage.  All things considered, Brown was fortunate to finish eleventh.
Kentucky has always been known as a track where overtaking opportunities are few and far between, and last night's race was no exception. For such a tough track to pass on, the racing was clean with just four cautions over the 134 lap race. That is not to say there were not a few close calls out there, but there was plenty of give and take for most of the race.
The race went green for the first 64 laps; one of the longer green flag stretches of the season. It also featured a round of green flag pit stops during the opening stint.
The win allowed Laughton to open-up his championship lead a bit more on Crawford.  He now sits 22 points ahead of Crawford with four races remaining, with Montgomery and Hansen tied for third, 19 points out of second. Stergios moved up to fifth in the standings after his strong finish, and is only four points back of the battle for third.
The battle for the Top 25 is tight, with Dylan Duval holding a one point cushion over Jukka Savolainen and Andrew Fayash III. In all, five drivers are within five points of the final transfer spot into the 2013 NASCAR iRacing.com Series World Championship.  If it is anything like past NiPS seasons, this battle will come down to the bitter end.
After back-to-back races at larger tracks, the NiPS returns to short track action for Week Seven. Richmond International Raceway plays host to the second straight night race of the schedule and promises to offer some good old fashioned short track racing. Richmond could turn into one of those races with plenty of yellows, but if it goes green expect a slick race track with comers and goers as drivers fight with loose racecars. Crawford has been slightly better on longer runs recently, but if the cautions fall often, Laughton could be in the driver's seat once again.
---
You may also like...
---