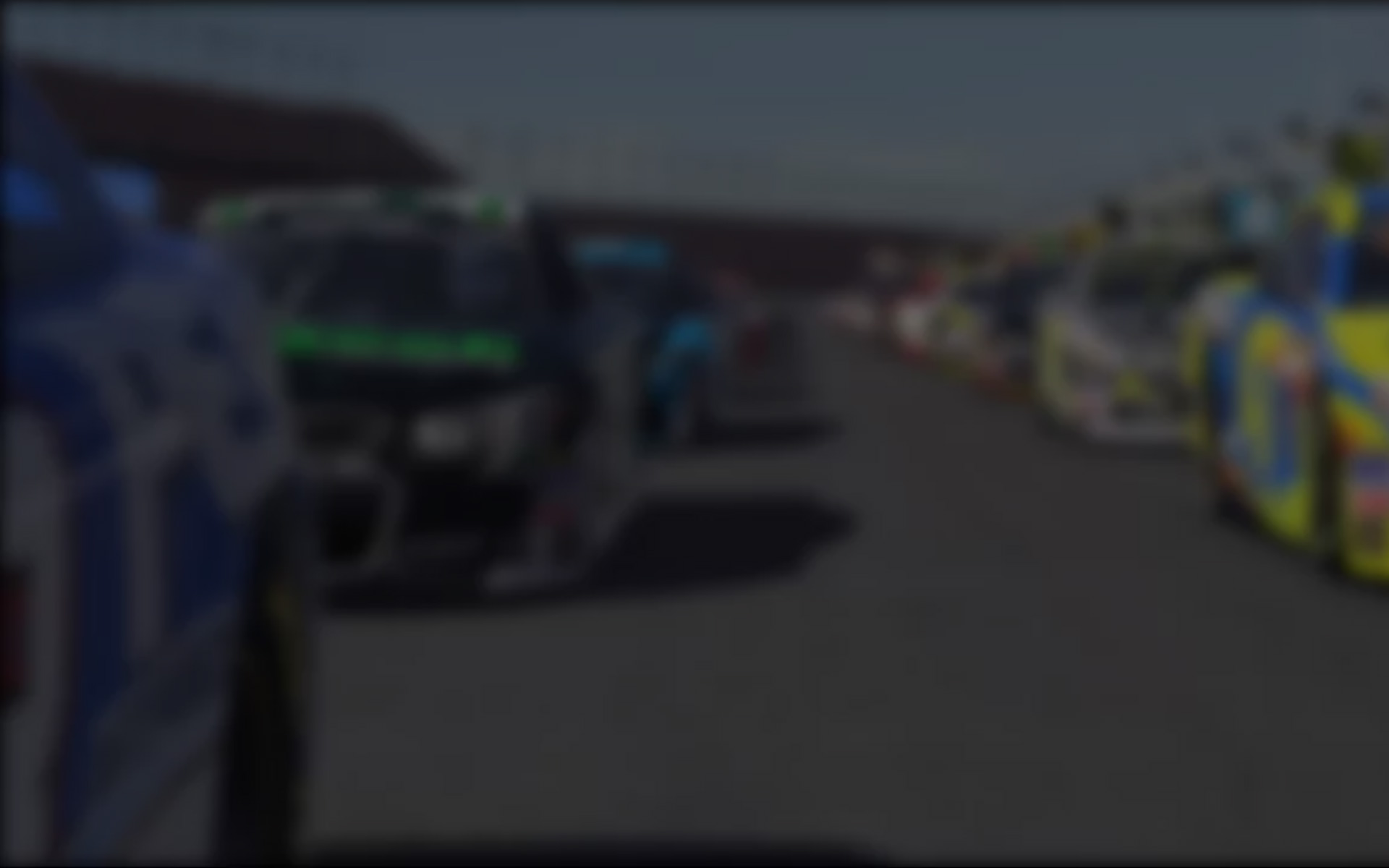 Lanier National Speedway played host to Week 2 of the NASCAR iRacing Limited Late Model series.  Although the north Georgia track is not seeing racing except in the virtual sim of iRacing, it still provided great action.  At a "massive" .375 miles in length, this banked short track would put the sim-racers in close quarters for 60 laps.  This week's feature race Strength of Field was at a 2113 and saw drama in masses, in the form of a leader being taken out and a drag race to the finish for the win — in short, all the excitement you expect in short track sim racing.
While James Linkiewicz rolled-off as scheduled in P1, Dalton Collins was supposed to line-up second but was a little slow to grid and was forced to start from the pits, moving Scott Lawrence up to the second spot.
As the green flag dropped Linkiewicz jumped out to a three car length lead over Jeremy C Poole.  Linkiewicz' lead would be short-lived, however, as he tangled with the lapped car of Zachary Schucker on Lap 15.  The incident dropped Linkiewicz to sixth a half lap behind Poole who now enjoyed a six car length lead over Lawrence.  Poole would see his lead grow and shrink through the last 49 laps.  Then, with two to go, the leader encountered lapped traffic, allowing Lawrence to jump inside going into Turn One.  As Poole and Lawrence raced side-by-side coming into Turn 3 on the final lap a couple of lapped cars just ahead got together forcing the leaders to split them with Poole going to the high side and Lawrence taking to the bottom.  Poole lost precious  momentum going to the high side and while Lawrence made slight contact with the two spinning cars, he was able to maintain his momentum and pulled off a big win while Linkiewicz battled back for P3 after his earlier incident.
Linkiewicz  was not the only competitor to encounter early trouble.  It only took half a dozen laps for some sim-racers' chance at victory to take a massive hit, as a five car log jam covered the front stretch.  The incident started on the exit of Turn Four when Brandon J Bailey hit the wall as Geneva Yovanovich was trying to pass him on the low side for seventh spot.  Schucker tried to duck inside the two cars — unsuccessfully it turned out — causing a chain reaction and spinning Bailey hard into the inside wall. Yovanovich spun into the outside wall while Zachary Schucker rotated in the middle of the track, collecting the car of Kyle Willis who was pushed into him when Kyle Welch was unable to slow down in time.
The contact came early and late, with the final race-altering incident of the night coming on the final lap between Bailey and Brandon McKissic as they battled hard for fourth spot.  McKissic drove hard into Turn Three and got into Bailey's bumper, causing him to spin, blocking the middle groove of the track and forcing the leaders to take evasive action in their pursuit of the checkers.  With Bailey's car blocking his path, McKissic was forced to stop, enabling Bailey to limp home fourth and forcing McKissic to settle for fifth.
Behind the top five, the final running order saw Andrew Trawn take sixth ahead of Schucker, Zach Duncan and Kyle Welch P9 with John Fread taking the final spot in the top ten. Kyle Willis came home P11 ahead of Collins and Yovanovich.
Top Ten Overall Points
1. Ty Majeski – 346                                6. Kevin J Myers – 297
2. Bill Martin – 315                                 7. Kenneth Smith3 –  291
3. Stan Bragg Jr – 312                            8. Tyler Price – 290
4. Darrell Hamlin – 306                           9. Tim Bills –  285
5. OJ Dumpier – 299                              10. Cody Thompson – 269
---
You may also like...
---