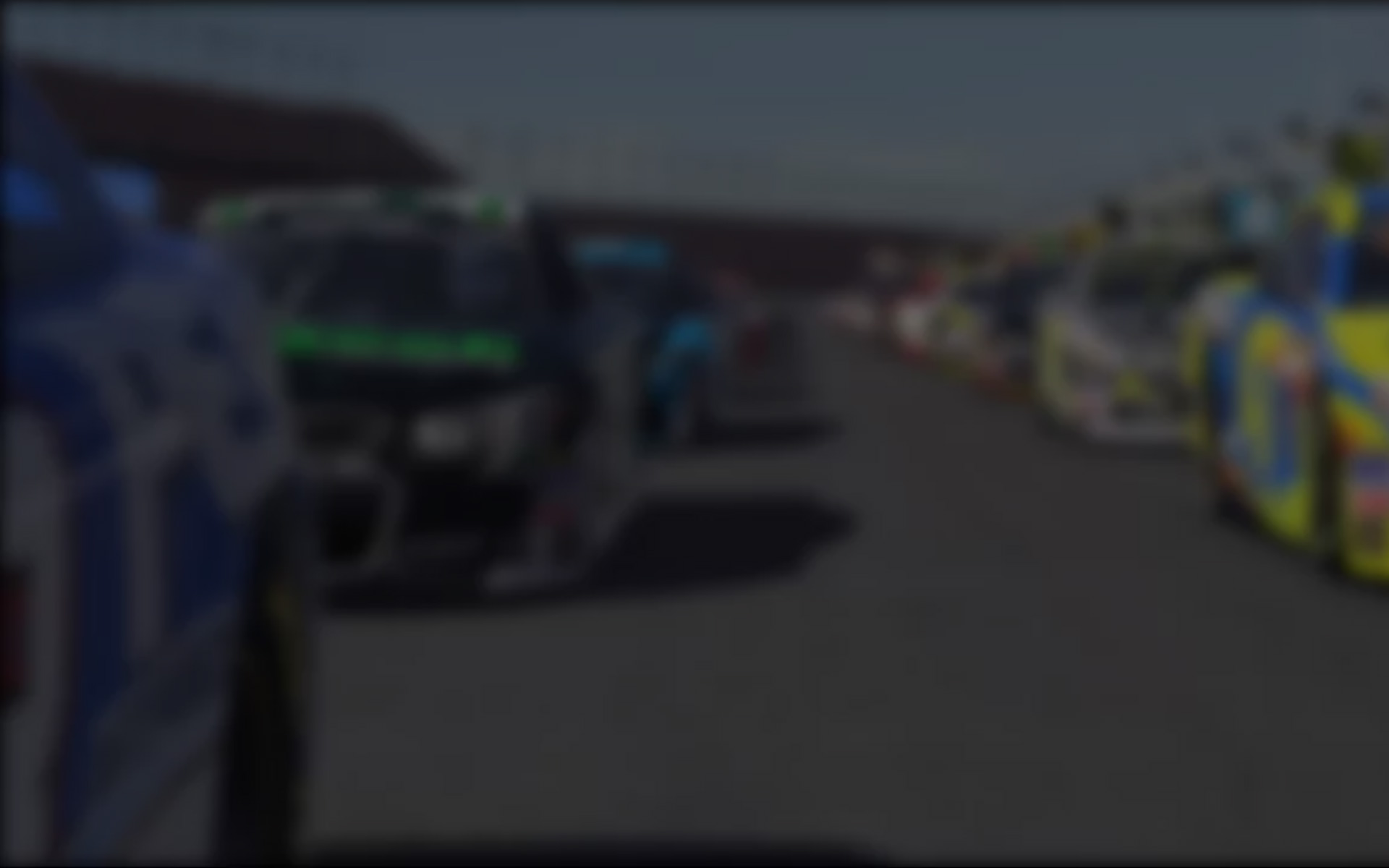 Week 4 of the 2015 NASCAR iRacing Series Open keeps us in the West at Auto Club Speedway in sunny California. Auto Club Speedway is one of two 2.0 mile tracks on Sprint Cup series schedule, the other being its Midwestern cousin: Michigan International Speedway. Interestingly enough, although the two tracks race and drive similarly, I usually run well at Auto Club despite struggling at Michigan. Last year I recorded a fifth place at Auto Club; with past success at the track, I always have high expectations for a good finish.
As this was the first large track we have visited with the new rules package, I had no idea what to expect, handling-wise this week. Early in practice the car felt quite different due to the large horsepower difference to last season, but the way I drove the track remained similar. The team and I built a very neutral-to-slightly to tight setup out of the gate which felt great and I was able to hit some fast lap times. I also tested a looser feeling setup as well, but I ended-up burning-off my right rear tire, which led to some extreme discomfort on the long run. I actually ran a race with the looser setup due to usually not liking tighter setups, but struggled greatly for an 18th place finish. After that race I knew which setup to use for sure and was ready to race!
I had another good qualifying lap this week which placed me in the sixth starting position. I was able to work my way around a couple of cars and advance to fourth before our first caution on Lap Seven. Due to the success I had last week after an early two tire call paid dividends, I opted to see how it worked this week.
Not so well . . .  Two tires turned out to be a bad call as the car handled poorly and I quickly dropped from the lead to fifth before another caution. I pitted for four tires because of how much I disliked the handling on the two new tires, which cost me a lot of track position at a track where passing is difficult. I restarted 21st and did not make much ground despite a fast car, and found myself in 18th at the time of the next caution on Lap 22.
This would be our last caution before a long green flag run. During the run I continued to struggle to make passes and my car felt way too tight behind other cars. I eventually had to start using the apron to help the car rotate through the center. This eventually backfired as I grabbed just a bit too much of the apron on Lap 60 and spun, triggering caution number four.
After my huge mistake, I restarted 18th and got one position in the next 10 laps before the yellow lights flashed again on Lap 72, followed by another short run as we had yet another caution on Lap 77.   Nevertheless, I made up some ground during that short run and moved up to P12 before pitting to address some slight damage from my earlier spin, which put me back to 17th.
After a nine lap run we had another caution on Lap 89 but, after pitting on the last stop, I opted to stay out and get the track position I had longed for since the early stages of the race. I restarted 10th and yet another caution came out two laps after we went green. I restarted in ninth for a green-white-checker finish. A huge crash broke out in Turn 1 after the restart and a car came within inches of hooking me into the outside wall, but I avoided the crash and it resulted in a great sixth place finish!
With the complete struggle of a race I had, P6 was a win for me. Although I felt like I had a fast enough car to keep myself in the top 10 the whole race, the early two tire blunder put me in the back where I struggled to make passes and couldn't escape 'til late in the race.
From California we head east to a track I'm really looking forward to next week, a track where I had a top five in Open and a W in Fixed last year: Martinsville Speedway.
---
You may also like...
---