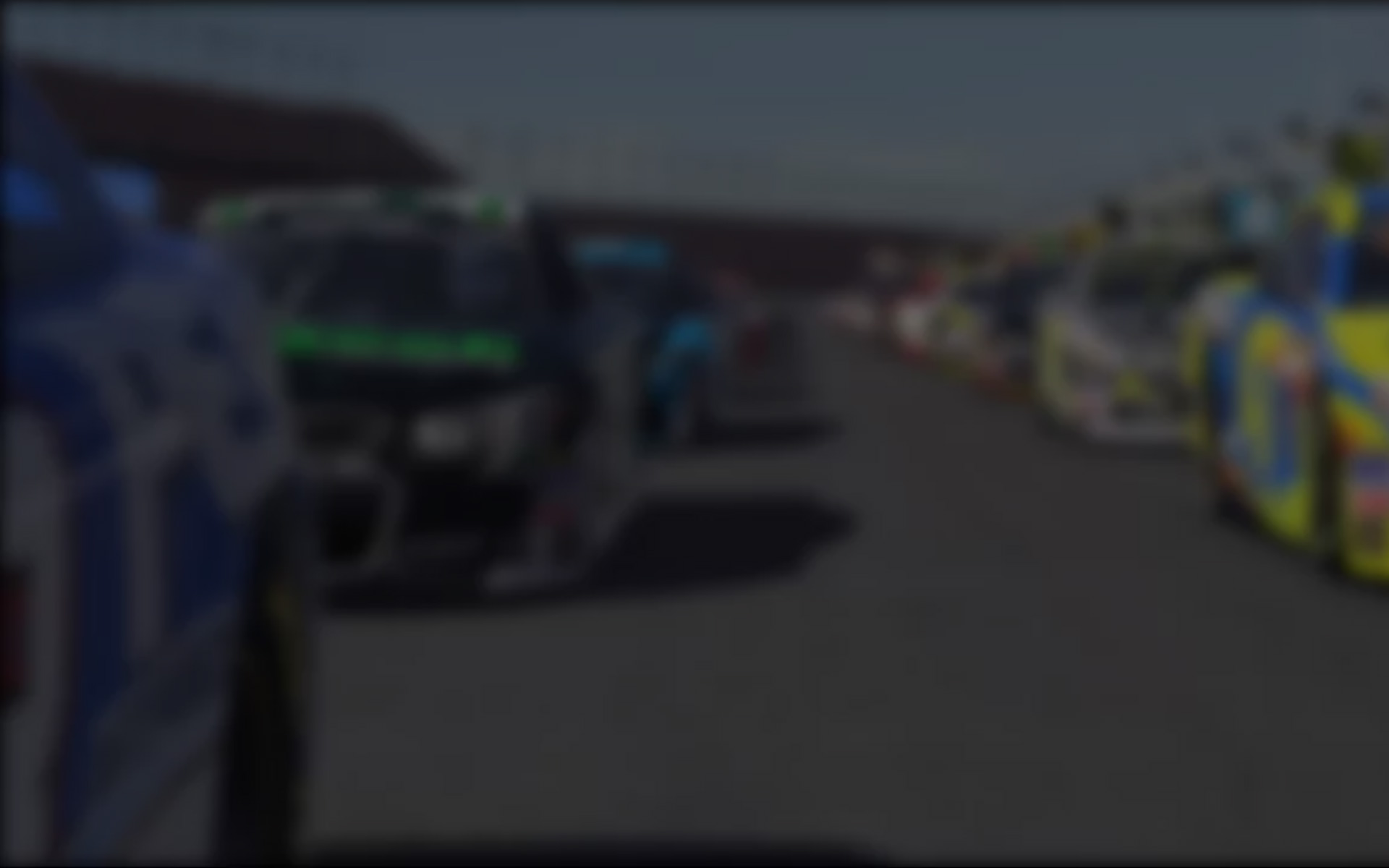 Round 5 of the Lionheart IndyCar Series Presented by Overdrive Graphics heads to the Richmond International Raceway for a night race broadcast flag-to-flag on the Global SimRacing Channel.
Tuesday Practice Race
Tuesday's practice race saw 16 drivers take the green flag with Dan Geren from Team #nailedit on the pole with a lap time of 15.046 seconds. Qualifying second was Unacceptable Racing's James Krahula and third was Team #nailedit's Ian Adams.
Geren led the field to the green, and would lead the first two laps before James Krahula would pass him. The first incident occurred on Lap Nine and involved Pete Edwins in the DirtyBlinds.com entry. However the first caution would not fall until Lap 11 for an incident involving Jason Robarge, Pierre Daigle, and Terry Matthiensen. A second caution waved on Lap 23 for a second incident involving Matthiensen and Robarge. On the restart, Pete Edwins and Tony Showen had a run-in, bringing out the third caution, before the fourth caution of the night came when Pierre Daigle hit the apron and Justin Laxton from Goin' Broke Racing ran into Daigle's Dallara Dw12.
The green flag flew again on Lap 43 with Jake Wright leading from James Krahula and Dan Geren in third. 15 laps later Joe Hassert hit the wall, but did not bring out a caution and on Lap 62 James Krahula slide through the frontstretch grass, again not triggering the caution.
The first round of green flag pit stops allowed Justin Laxton and Pierre Daigle to cycle through as the leaders, before Laxton made an early pit stop after having contact with the wall exiting Turn Two. The fifth caution of the race would fly on Lap 106 for an incident involving Vincent Bluthenthal. Under the caution, Justin Laxton assumed the lead.  He pacec the field to green before getting passed by Jake Wright on Lap 118. Just seven laps later, the night turned from good to bad for Laxton when he and Rick Music tangled in Turn Two. Laxton hit the wall, but Music would continue without any damage.
Music and Jake Wright battled for the win in the closing laps, with Wright edging Music by .382 seconds. No Name Racing teammates Tony Lurcock and Pierre Daigle finished third and fourth, with Jorge Anzaldo rounding out the top five.
Chicago Fire Department Heroes 150 Preview
Tuesday's practice race showed that any driver who can escape the race without incident, will be assured a good finish. Of the 16 cars that entered the race, just four cars made it through without any incidents.
In addition to avoiding incidents, pit strategy will likely play a factor. In last night's race, many drivers at the back of the field pitted on each caution, allowing them to top off on fuel, which allowed them to run the entire green flag run on a tank of fuel.
Drivers to Watch I
Several drivers such as Dan Geren, Tommy Rhyne and James Krahula have shown they have single lap speed; however none of those drivers have been able to translate one-lap speed to race pace. Drivers such as Rick Music (started 16th in the practice race) and Tony Lurcock (started 15th in the practice race), were able to keep their cars clean, and drive through the field for a second and third place finish in last night's practice race.
Drivers to Watch II 
Dan Geren: Dan has started the season slow, and finds himself 16th in points just nine points ahead of the 20th place lock-in. Geren is currently averaging 6.75 incidents per race. He'll look for a clean race to help jump start his season.
Jonathan Goke: Goke missed several races earlier this season and currently finds himself 22nd in points, just four points behind the 20th place points cut-off. Goke is always fast in official iRacing Series races, and knows how to drive a DW12. He'll certainly be a driver to watch at Richmond.
Jason Robarge: After finishing ninth in the series point standings last season, Robarge is currently 27th in points and has not had a top 10 finish this season. He finds himself 20 points behind 20th place, and unless he wants to run the LCQ all season, he'll be looking to use Richmond to jump start his season.
Sleeper Pick
Chris Lanini: Lanini has quietly found himself 11th in points and has a top 5 finish this season. Could this be the week that the Dragonfly Racing driver finds his way to another top five finish, further solidifying his place inside the top 20 in points?
Race Info
The Lionheart IndyCar Series presented by Overdrive Graphics, Chicago Fire Department Heroes 150 will be broadcast live on the Global SimRacing Channel at 10:35pm eastern time.
For more information on the series, you can visit their website at lionheartracingseries.com.
---
You may also like...
---