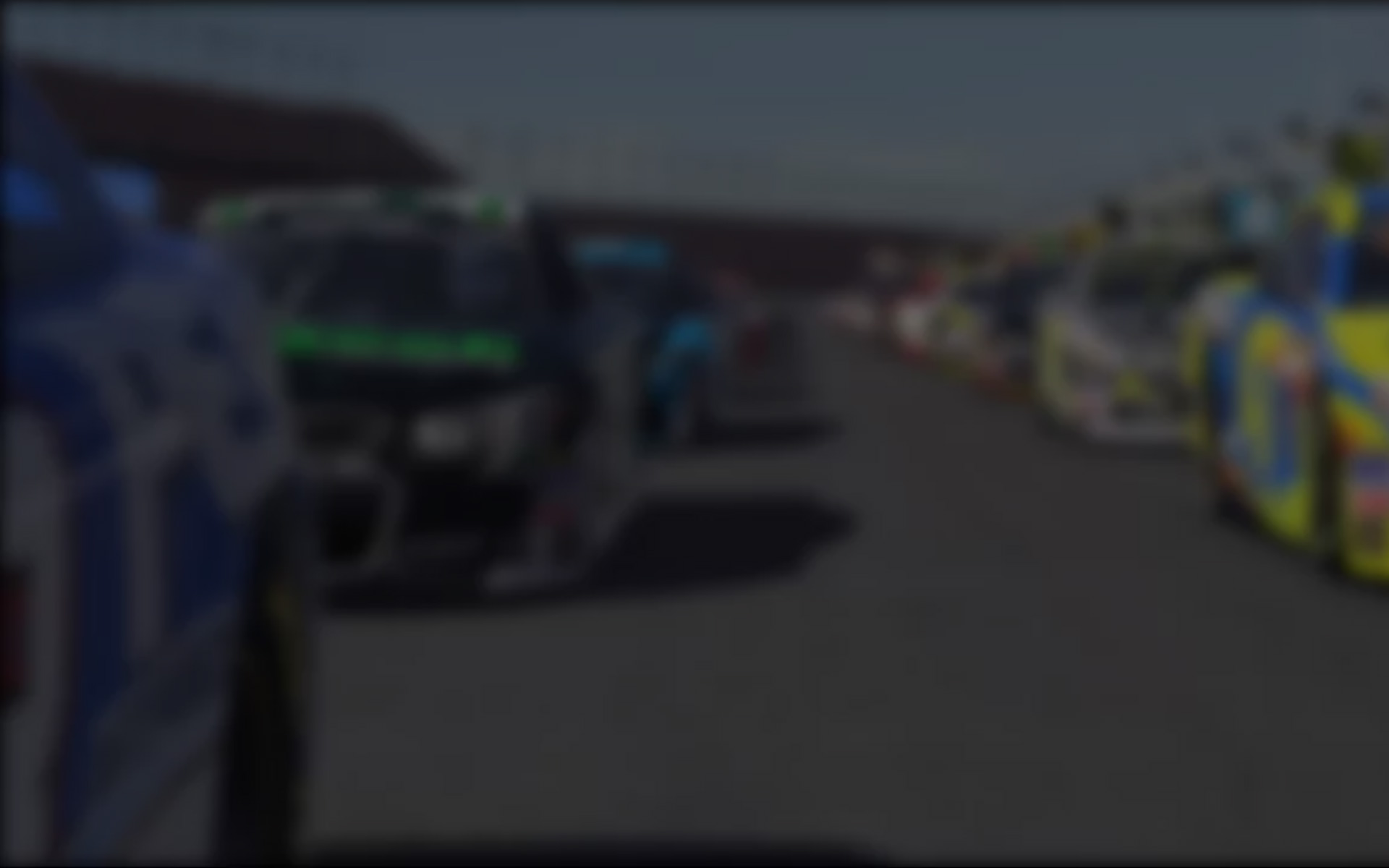 Week Six took the NASCAR iRacing.com Class B Open Series to the close confines of Lucas Oil Raceway in Indianapolis, Indiana.  The .686-mile oval, better known to many as Indianapolis Raceway Park, was a new venue on iRacing to the Impalas and Mustangs and after lots of bent sheet metal, the series saw its sixth weekly champion in as many weeks.
Southport, North Carolina's Brian Lovingood became the sixth winner in six weeks narrowly edging out Lima, Ohio's Allen Boes by a single point.  Lovingood, who is coming off a 2014 Season 1 Division Two championship in the NASCAR Class C Series (along with a third overall) is another member of the BRB Motorsports team who made the jump up to the B series in Season 2.  Lovingood's win at Lucas Oil, coupled with teammate Anthony Price's win the week before at Dover, gives BRB back-to-back wins as the season gets ready for the second half of the schedule.
The Wednesday night 10:00pm race was the scene of Lovingood's win as a small, but strong field took the green flag for the 110 lap event.  Current points leader and Lowline Racing ace, Trent Ringler started from pole and let the first 16 laps.  Lowline's Brian Sandoval grabbed the lead for three laps before Lovingood took command for the final 91 trips around the tight oval.  Ringler continued challenged for the win throughout the event, which showed a total of six caution periods.  Although Ringler kept up the pressure, he could not find a way past Lovingood and finished .509 seconds behind the winner.  Lovingood set the fastest lap of the race at 22.245s while earning the week high total of 183 points.  Ringler collected 160 points for his runner-up effort while Chad Pruitt grabbed third and 137 points.  Sandoval took home fourth with 114 points and BRB's David Spencer rounded out the top five with 91 points.
"I really had to fight for that one," said Lovingood.  "I really felt like I had the best car for the longer runs, but the yellow flags kept coming out keeping Trent (Ringler) on my bumper for what seemed to be the whole race.  It is really hard to pass on this track and even harder to do without getting into the car you are passing.  I'm sure Trent could have bombed it in hard and risked taking us both out, but he raced me clean the entire time.  He just isn't making many mistakes right now and that is why we are all chasing him in the points."
"I really had to fight for that one."  — Brian Lovingood
Lovingood collected a total of two wins in three starts for the week and a top five in his other run.  Boes finished second for the week, just one point back after grabbing wins in both of his starts.  BRB's Shannon Segler got third place with 173 points for collecting a win and three top five fives in four starts while BRB teammate Price took fourth with 171 points on the strength of four top fives in all starts, including one win.  Ringler tied for fifth with Fastlane Motorsports' Sam Adams with 160 points.
At the midway point of the season, Ringler continues leading the championship with 1087 points.  Price moved up to second in the standings and continues to chip away at Ringler's lead trailing now by only 62 points.  RPM's Jonny Reed Foley remains in the hunt in third, 89 points back of Ringler while Lowline's Brian Ammerman trails by 98.  Lovingood's win moves him into the top five overall for the first time this season as he  trails Ringler by 128 points.
Given that Lucas Oil Raceway is new to the service (along with its tendency to be rough on safety ratings), turnout was light for the week with no driver starting more than four races.  Price and Segler turned the most laps for the week putting-in a total of 440 laps in their four races.  Price led the most laps for the week at 281 and started from the pole in three of his four races.
Division winners for week 6 at Lucas Oil Raceway were:  1 – Brian Lovingood 183 (Carolina).  2 – Shannon Segler 173 (Mid-South).  3 – Nathan Sedlak 138 (Carolina).  4 – David Bachand 85 (New England).  5 – Steven Pearson 119 (Mid-South).  6 – N/A.  7 – Richard Stallings 76 (Mid-South).  8 – Joseph Grijalva 27 (Texas).  9 – Lyle Wright 104 (Australia/NZ).  10 – Scott Martin 4 (New York).
Division leaders at the half way point are: 1 – Trent Ringler 1087 (Indiana).  2 – Roger Wagner 845 (Plains).  3 – Randall Drake 644 (New York).  4 – Danny McCune Jr. 550 (Virginias).  5 – Loren Arden 451 (Northwest).  6 – Justin Hirst 289 (Ohio).  7 – Jeremy Gannon 405 (Mid-South).  8 – James Hollern 260 (Australia/NZ).  9 – Noel Koewers 169 (Michigan).  10 – Scott Martin 118 (New York).
Big changes are in store coming off the bull ring action of Week 6 as the second half of the season kicks off at fast and wide Michigan International Speedway.  After a claustrophobic week, the drivers in the NASCAR iRacing Class B Open series will welcome the 2-mile oval in the Irish hills of Brooklyn, Michigan.
---
You may also like...
---