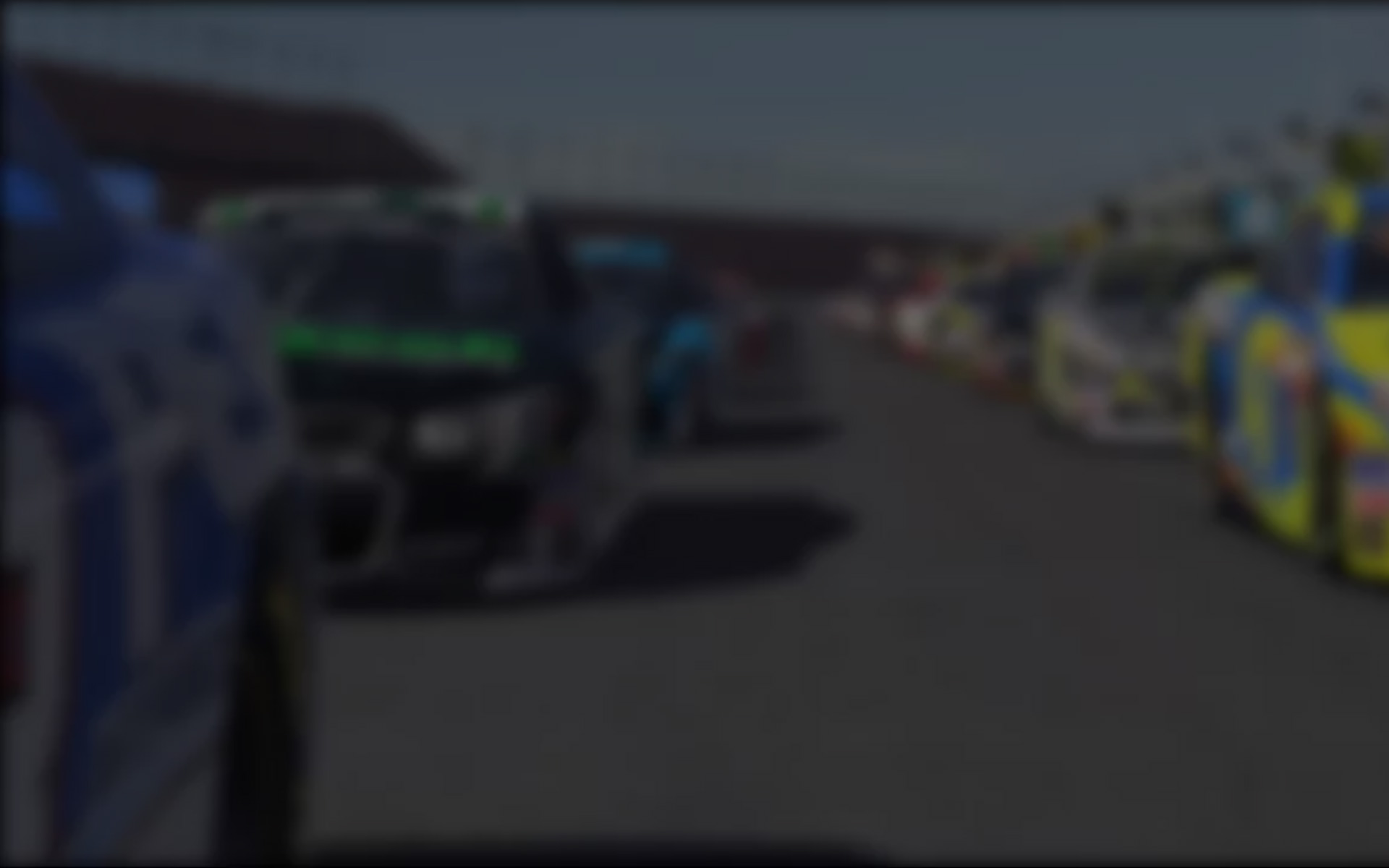 After an action filled week at the Brickyard, the NASCAR iRacing.com Class B Open Oval series packed-up for the long trip over the Pacific Ocean to Motegi, Japan.  However, many series regulars elected to stay state side, leaving Twin Ring Motegi's 1.549 mile oval looking like some post- apocalyptic scene from sim racing's answer to AMC's The Walking Dead.
Those who didn't make one of the races early in the week, were left hanging out in the garage area waiting to be zombie fodder as only two races went official at Twin Ring Motegi.  This was in sharp contrast from the previous week when 70 races went official at the Indianapolis Motor Speedway.  Only 33 drivers made an appearance at Motegi before escaping back to the USA.
BRB Motorsports' Randall Faulks entered the week as the points leader and started the Monday night 9:00pm EST feature race from the third spot.  The 90-lap event had a SOF of 2648.   Two-time defending champion, Trent Ringler with Lowline Racing, started the race where he starts most of them . . . from the pole . . . with Faulks' BRB teammate, Brian Lovingood starting shotgun on the field.
After honorary starter George Romero waved the green flag, it only took three laps for Lovingood laps to take a lead he would maintain for much of the race.  Outside of a yellow flag pit stop at mid-race when Lowline's Tristan Combs took over the point, Lovingood held the top spot for a total of 84 laps.  As with most of 2015 so far in the B Open series, Ringler found trouble early and ended-up with an uncharacteristic 20th place showing.
Whether it was just a slick track, zombie residue or something else, the event was marred by eight yellow flag periods lasting a total of 28 laps.  Fittingly, the race wound-up finishing under yellow flag conditions with Lovingood coasting to a 168 point win.  BRB Motorsports showed plenty of life in the Land of the Rising Sun, sweeping the top five spots with Shannon Segler taking second followed by Faulks, Jeff Baki Jr. and Jason Lupo.  Lovingood set the fastest lap of the race with a time of 37.077s.
"It was a long flight over to Japan and when I got there, I hooked up with these three 'gaysher girls' and well, I was damn near late for the start of the race," said Lovingood.  "I'm just glad I got the win and I really don't know how I did with all that rice and wine in me."
"If the first three races are any indication, this point battle is going to be tight all season." — Shannon Segler
168 points was probably not the only souvenir Lovingood brought back from Japan, but at least he could show that to his wife.  With the other official race sporting a much lower SOF, the top five from Monday night's race was also the top five for the week.  Segler bagged 160 points, followed by Faulks (152), Baki Jr. (145) and Lupo (137).
Lovingood won both Motegi races and scored one pole while leading 165 laps of the 180 turned there.
For the third straight week, the series has a new leader as Segler takes over the top spot with 582 points, just one over Faulks.  Baki Jr. is only 10 points behind in third while Lovingood holds down fourth 41 points back.  Shawn Powell rounds out the top five after three weeks 117 points back of Segler.
"It's good to be in the hunt after some of the luck I have had the past few seasons," said Segler.  "If the first three races are any indication, this point battle is going to be tight all season."
Division winners for the dead week at Motegi were:  1 – Brian Lovingood 168 (Carolina).  2 – Jason Lupo 137 (Mid-South).  3 – Robert Dillow 114 (Virginias).  4 – David Spencer 113 (California).  5 – Joe Dowd 7 (Midwest).  6 – Carl Johnson3 15 (Florida).  7 – Christopher Hunter 60 (Mid-South).  8 – Philip De Nardo 30 (Pennsylvania).  9 – N/A.  10 – N/A.
Division leaders following Motegi are:  1 – Shannon Segler 582 (Mid-South).  2 – Shawn Powell 465 (Carolina).  3 – Robert Dillow 330 (Virginias).  4 – David Spencer 364 (California).  5 – Eric Welch 164 (New England).  6 – Carl Johnson3 141 (Florida).  7 – Darren McCabe 146 (New York).  8 – Philip De Nardo 139 (Pennsylvania).  9 – Jimmy Bridgland 75 (Pennsylvania).  10 – Jonathan Morrison2 49 (Texas).
It will be familiar ground for Week 4 of the NASCAR iRacing.com Class B Series Open as the series makes its seasonal stop at the high banks of Bristol.  The .533-mile 30-degree banked oval is an iRacing favorite so those that missed out on Motegi, should find ample opportunities to race.
---
You may also like...
---