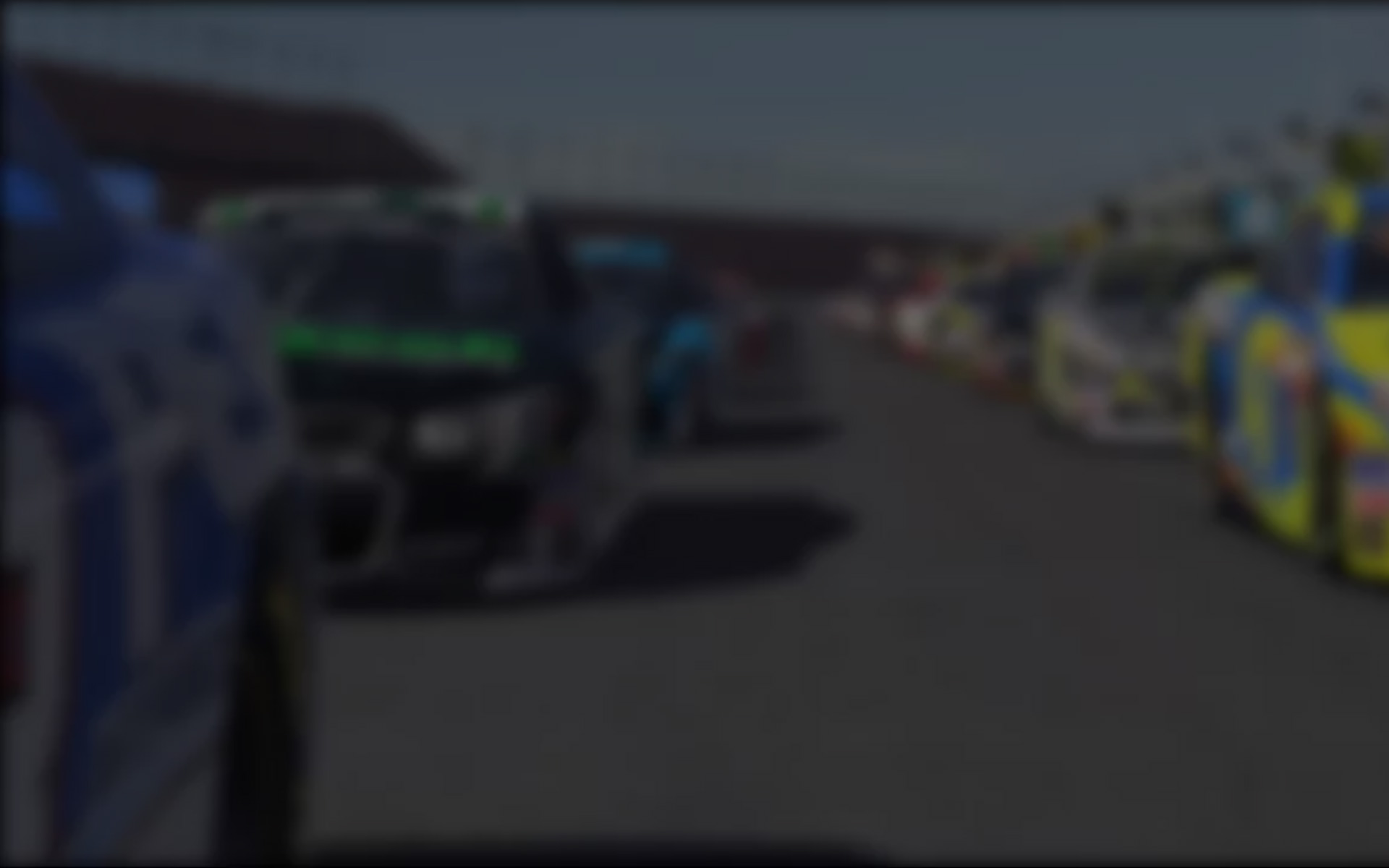 After securing maximum points with his first ever victory in the series at Sebring International Raceway, Hugo Luis has reignited the fight for the top honours in the iRacing.com World Championship Series Road Racing. Starting from the second row of the grid, Luis patiently moved his way to the front of the pack, first taking a position from pole-sitter and My3id team-mate Klaus Kivekäs and, during the first round of pit stops, Team Redline's Luke McLean to step into a barely-challenged lead he would keep to the finish.
"My start was not that good as always, and I also drove over a bump in Turn One that I nearly spun just in front of Matthias Egger who was quite fair for avoiding a possible nasty accident," the Brazilian shared this week. "Having a heavier car I was happy to follow the leaders. As Klaus (Kivekäs) drove over a bump I was gifted with the second spot and with more clean air, so I focused on following Luke but not too close, and leapfrogged him pitting a lap later. Coming back from pits in the lead was a surprise for me and that make me start to think about a possible victory. So I tried to drive as careful as possible instead of over-driving to avoid some silly bumps."
Although current World Champion Greger Huttu struggled in the early stages of the 52 lap race, the Finnish sim racer recovered from a mistake in the final corner on the opening lap to haul his Williams-Toyota FW31 from eighth to a spot on the podium. "I had a horrible start and after getting loose out of the last turn on Lap One I was down in eighth position," the Team Redline pilot explained. "I wasn't too confident at that point especially as I had put the race set-up together the afternoon before the race. The Team Redline Fanatec No.1 car was pretty good though, and after seeing Klaus dropping back I decided to kind of take it easy and at least try to avoid taking risks in some of the corners, like the last turn which was my nemesis this weekend.
"On the first stops Jesse (Nieminen) pitted one lap earlier and I was hoping to get by him which I just managed to do. Hugo and Luke were lighter so they got away and I just tried to keep it on the island until the second stops. I made my pit stop last of the top-four and was a lot closer to the top-two."
Thankfully for the champion, his team-mate McLean decided to move aside and let the team principal take second spot in the closing stages to give Huttu's title defence a boost.
"Luke decided to let me by for P2 which was very nice of him. No team orders, but if it was for the win it may have been a different story," Huttu added.
"No team orders, but if it was for the win it may have been a different story."  – Greger Huttu
For McLean, it was a matter of what might have been, after the Australian saw his race lead evaporate during pit-stops and whilst dealing with lapped traffic, which led to an eventual third place finish. "I got a great start, I didn't push probably as hard as I should have in the first stint with a couple of small errors costing me in the pits," shared McLean. "But I drove my balls-off for the rest of the race. What cost me first was the appalling lapped traffic.  I won't name names but there were multiple drivers who were disgraceful. I probably lost a total of ten-seconds behind them, and it seemed Hugo caught them in great places for the most part."
A fourth place finish for My3id's Nieminen sees the early-season favourite keep his championship challenge well and truly alive, as the schedule heads into its second half. The Finn made no net gain from his starting position, but was still happy to collect valuable points ahead of the points leader.
"In the end I'm happy to finish the race with some good points.  It would have been really easy to crash here with all the atrocious bumps," Nieminen told inRacingNews. "On lap five, Klaus had a big moment in Turn One that allowed me to pass for third. I knew that Hugo in front was heavier than me so it was important to get past if I wanted to have any shot at the win, but just didn't manage to get close enough. Then I got leapfrogged by Greger on the first stops and was again fourth. I was a bit quicker in the second stint but again the same story, no way to pass and had to pit earlier."
"I was promoted to the top-five, which was really nice, but I would have rather made it on track."  – Aleksi Elmomaa
Aleksi Elomaa made it a trio of My3id F1 cars occupying the top-five when the chequered flag dropped, after Richard Towler suffered power failure in the closing laps whilst on course to his best finish of the season. "Just a few laps to go Mr. Towler had some really bad luck with some PC problems and I was promoted to the top-five, which was really nice, but I would have rather made it on track," Elomaa shared post race.
"I started from thirteenth position and got a good start. Derek Wood and David Williams had some problems so I was eleventh after the first lap. After that I was trying to overtake Ben Cornett because he was very slow compared to me. I had a few good tries but wasn't able to do anything until Lap 15.  I started to pull a gap on Ben and was catching Matthias Egger more than a second per lap until we pitted at the end of Lap 19 in seventh position. I overshot my pit-stall but quickly reversed, so I lost only like 0.5 seconds there, and rejoined the track right behind Egger and Cornett rejoined the track a lap later right behind me. It took me two laps until I was able to dive inside in the Turn Seven hairpin and Egger gave me kindly a lot of room there so it was really easy pass for me."
Bringing home his Team Redline Williams-Toyota in a decidedly pre-loved condition, Cornett clawed his way from eleventh on the grid to an eventual sixth position ahead of Williams. For My3id's Williams, Round Nine of the iRacing.com World Drivers Championship proved to be his most exciting yet, as the Englishman had to fight his way back into the top ten following a mistake on the opening lap that dropped him to twenty-eighth.  Williams finally finished the race at the virtual-Sebring just a few tenths off Cornette's tail-pipe.
Despite running out of fuel as he entered pit lane on his opening stint, Orion-Racing's Egger secured eighth position ahead of Kivekäs, whose race was a catalogue of opposite-lock and minor collisions, as he came home as the final car on the lead lap after 52 circuits.
"First of all, big congrats to Hugo for finally getting his first victory," offered Kivekäs.  "It's been a long time coming, well deserved!
"A race of mixed emotions . . . I struggled to find pace for qualifying laps in testing then somehow in the qualifying session I managed to improve my personal best by 0.15s and got my first pole. Getting that first pole was one of my targets for the rest of the season so I'm very happy to have achieved that.
"Unfortunately everything went wrong (at the start). I had a horrendous start with tons of wheelspin, still managed to maintain second position after Jesse went wide in the first corner. Luke was leading but he was going pretty slowly, I knew this had to be because of a heavier fuel load. I tried to push to get close enough to pass but it just wasn't possible with the dirty air.
"Then, on Lap Five I took the entry into Turn One slightly too wide and put my car in a little dip in the road. This gave me a huge slide which allowed Hugo to pass me and Jesse soon did the same in Turn Three.. Ilkka got a run on me into Turn Seven and went to the inside. Unfortunately we had contact on the exit of the corner which ended with him spinning and me having front end damage."
"I can only blame myself . . . The start and that mistake on Lap Five were pretty dumb stuff." – Klaus Kivekäs
After a falling to 30th while pitting for repairs, Kivekäs battled a lack of grip en route to tenth, then picked-up another position in the closing laps when technical issues sidelined the luckless Towler when he was poised to take fifth spot.
"It's very annoying that things went wrong again," said a philosophical Kivekäs, "especially because it seems that for the first time this season I might actually have had the pace to beat in the race. I can only blame myself though.  The start and that mistake on Lap Five were pretty dumb stuff. In the end, ninth place is still a satisfying result after everything that happened and, even more importantly, I had fun fighting my way back up the order."
Rounding-out the top ten, Twister-Racing's Alberto Baraldi took advantage of a heavy fuel load, to take tenth position from his fourteenth spot on the starting grid, making up places as the track ahead of him cleared for scheduled pit-stops.
With the season now at its half-way mark, Kivekäs continues to lead the iWCSRR standings, athough his problematic finish at Sebring sees his formerly comfortable advantage cut to just 16 points over his My3id teammate Luis. Continuing his climb back up the points table following a poor start to the season, Huttu is now just 30 points off the championship lead and 20 ahead of Nieminen as the series heads to the Indianapolis Motor-Speedway for its next round.
---
You may also like...
---